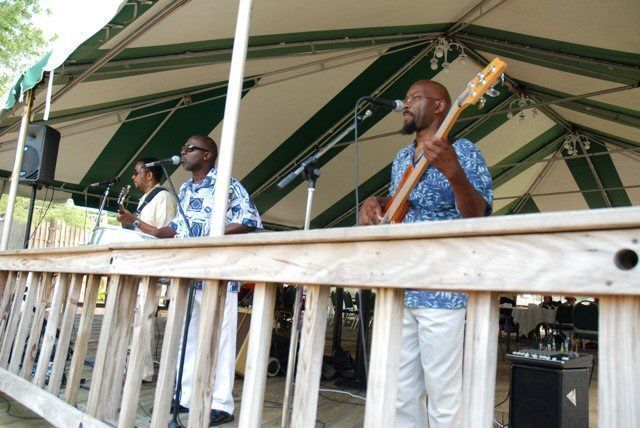 Looking for a weekend getaway close to the New York metropolitan and tri-state area? Check out the Doral Arrowwood for great value and a great time.
The Fourth of July was approaching and my family and I had no plans in place. A weekend getaway was what we wanted. We needed a resort close to our home in New York City, with activities that both my husband, myself and our teen-aged daughter could partake in, with a price tag that wouldn't break the bank. Doral Arrowwood Resort in Rye Brook, Westchester County, New York seemed to be just what we were searching for. It is located a mere 40 minutes' drive from my Manhattan home and it is easily reached by train and a short taxi ride from the train station in White Plains. Mainly a conference center for corporate retreats during the week, the weekend transforms the hotel into a family-friendly, activity-packed resort with activities for every age.
I booked the "Time for Two" package, which included a room with two queen beds and a copious buffet breakfast for 2 for $149. Check in was 3pm on Saturday, but the hotel reservation agent told me that we were welcome to arrive early on Saturday to take advantage of all that the hotel offered. We did just that, arriving at the hotel by 11am and checking our luggage with the Bellman. We were given a list of the non-stop weekend activities planned, all of them included in our room rate.
Doral Arrowwood: Fun on Day One
We began exploring the resort's acres of manicured greenery before finding our way to the huge indoor-outdoor swimming pool. We were clearly not the only ones as the pool area was jam-packed. After a few minutes, a pool boy was able to locate three lounge chairs for us. We positioned them as far away as we could from the crowd, but we quickly realized that no one comes to the Arrowwood for peace and quiet. The large number of families, many of them extended families with grandparents in tow, come summer weekends year after year for the cruiseship-style fun at a low price. The amount of noise from crying babies and boisterous teens was heightened by the fact that the Arrowwood is located right next door to the Westchester County Airport. We were in the direct line of planes taking off every few minutes, right over our heads.
If you are looking for a weekend of tranquility, this is not the place for you.
We decided to get into the swing of things by changing into our tennis clothes in the locker room and joining the one-hour tennis clinic, held on the resort's five tennis courts. The two tennis pros cheerfully counted 30 participants, and divided us into two groups — beginners and intermediate. They began drilling us on forehand, backhand, volley and serve before we started a game called King of the Court. As a novice player, I lucked out with my Pro, Elné, a South African college student who plays tennis for the University of Arkansas. She was both patient and professional, and took the time to correct my grip as well as my other technical mistakes, too numerous to mention. My group included five people over the age of 80, all actively enjoying the tennis clinic. Conversation flowed freely as we improved our strokes.
Everyone that I met was a regular at the resort, and was extremely welcoming to us first timers. We were hot and ready to dive into the pool after the tennis clinic. The outdoor pool was packed with people, from toddlers with water wings to grandmotherly-looking ladies trying hard not to get their recently done hair damp.
But indoors were three lanes for lap swim, all empty. I grabbed my goggles and enjoyed a lovely swim. When I exited the water, I found my family splashing in the outdoor pool. A live three-man Calypso combo, The Linc Carnival band, had begun serenading the crowd. Their repertoire of Reggae and well-known Calypso favorites added to the festive atmosphere, as they played on throughout the afternoon. At 2 pm, face painting began. A crowd of toddlers and children swarmed the artist, who was appropriately dressed for the holiday in a red, white, and blue spangled outfit. The hotel had set up an inflatable structure with a slide, and many small children bounced on it while they waited to have their faces painted.
An elegant silver cart was setting up in a shady spot, and a massive line quickly formed. It seemed to us as if everyone at the hotel was in the know. We were told that it was complimentary sorbet time. The line moved quickly, and while we waited, gregarious regulars seemed pleased to share their knowledge about the hotel.
I learned that every summer weekend offered complimentary activities, but holiday weekends were especially chock full of both activities and guests enjoying them. 5pm brought the weekly cocktail party held in the giant gazebo next to the pool. A cupcake display caught every child's eye, with red, white, and blue cupcakes placed in the shape of the American flag. A bar serving wine, beer and soft drinks was accompanied by a plentiful buffet of classic hors d'oeuvres, like mini egg rolls, pigs in a blanket and skewered grilled shrimp. The crowd literally pounced on the food, but the good-natured staff took it all in stride. Several of the hotel guests arrived with bags and Tupperware, and took provisions that were clearly intended to be consumed later, but no one on staff blinked an eye. We joked that Jerry Seinfeld should have set an episode of his television show at the cocktail party. It was that entertaining.
The Iron Chef competition was next. Two hotel chefs were pitted against each other to produce their best dishes, featuring lobster. Three hotel guests were selected to judge, but everyone was welcome to taste the results. Stamina was needed to get by the crowd of mostly older hotel guests to do so, but it was worth it to sample the delicious results.
Our afternoon was so packed that we had forgotten to check into our room, which by now seemed beside the point. But our room proved a quiet and elegant oasis from the chaos of all that fun.
Evening brought Casino Night, complete with some nice prizes for the winners, such as a dinner dance for two at the hotel. The resort offers a kids Dive-In movie poolside, as well as a film for grown-ups, shown at the hotel's indoor screening room. Both films featured complimentary beverages and snacks. An elegant Dinner Dance is held in the Atrium restaurant each Saturday night, with a live band and vocalist. We had fun spying elegantly dressed couples dance the night away.
We were stuffed from the cocktail party offerings, so we had a light meal at The Pub, which features burgers and sandwiches, all reasonably priced at under $12. A live DJ arrived at 9 pm, and families crowded the dance floor, with everyone from grannies on down enjoying dancing to Britney Spears and Michael Jackson. The Pub was full of kids shooting pool and watching sporting events on the multiple giant screens. There was no pressure for anyone to order anything, only to have fun.
We were exhausted from all the activities and slept soundly, glad that the party atmosphere and overhead planes did not carry over to our room. The beds were very comfortable, piled with luxurious pillows.
Day Two: More Doral Arrowwood Fun
The next morning we rose early as some of the "regulars" had advised us that this was the best way to have a peaceful morning meal. We were pleased to be given a table with a view of the lovely gardens and golf course. We are not golfers, but the Doral Arrowwood is home to a 9-hole course, and the hotel offers weekend golf packages as well. Our waiter brought us coffee and fresh squeezed orange juice, before we hit the buffet. There was a made-to-order omelet station, any hot breakfast food that you could think of, as well as a huge variety of cold cereals. We enjoyed the summer fresh fruits, such as melons and berries. No one could go hungry with the bounty that was offered.
The staff did not seem to mind the slightest bit when guests grabbed yogurts, muffins, boxed cereal, and all other portable food on their way out. This attitude was prevalent throughout our stay. A live and let live spirit seemed to permeate the staff, who never seemed surprised or annoyed by any of the guest's bold and brazen behavior.
We spent Sunday much as we had Saturday. Check out time on The Time for Two package was a rather early 11am, but we were welcomed again to store our bags and stay as long as we liked. We enjoyed another tennis clinic, and checked out the spacious, well-equipped gym. We swam and sunned, and by 3pm, most of the other guests had gone, giving us a bit of tranquility. It was calm, but I surprisingly missed the friendly small talk, the older gentleman who went up to each guest telling the same joke, the small children on the bouncy slide, laughing between crying jags. I even missed the "regulars" and their cornucopia of advice. Strangely, now that silence prevailed, I began to appreciate the circus-like climate that had been annoying only moments before.
After a few minutes of reminiscing, my family and I started to enjoy having the outdoor pool to ourselves. We wandered over to the now empty tennis courts and were spotted by Elné who gave us a mini lesson. When we tried to thank her for her time with a small tip, she refused, saying we looked like we needed the help, and that she did not want any compensation.
We had the ping pong table and basketball courts to ourselves. We were finally able to read a few chapters of the books that we had brought, the only distracting noise now being the jets overhead. We hadn't planned to stay all day, but the afternoon flew by, and it was suddenly 7pm and time to go.
We all felt refreshed, having been away for two full days, while only paying for one night's accommodation. It had been a real experience, more fun than we expected. We are already thinking about spending Labor Day weekend at the Doral Arrowwood.
We won't be the only ones, but that is sure to be part of the fun.
Dear Reader: This page may contain affiliate links which may earn a commission if you click through and make a purchase. Our independent journalism is not influenced by any advertiser or commercial initiative unless it is clearly marked as sponsored content. As travel products change, please be sure to reconfirm all details and stay up to date with current events to ensure a safe and successful trip.
---