Tanque Verde is a deluxe western dude ranch where preschoolers are taken seriously and horseback riding is open to all ages and abilities.
As I glanced around at the striking desert landscape from the back of my palomino horse, it was easy to understand why European families especially love this ranch. It's the quintessential American Southwest.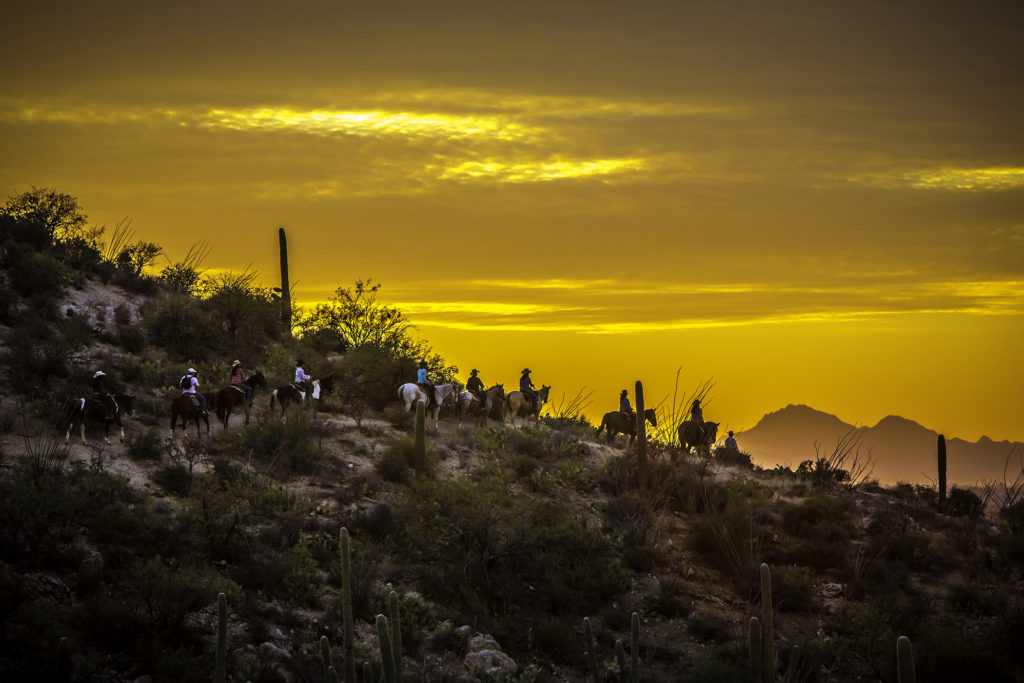 The lonely desert landscape is dotted with cacti of all shapes and sizes. Watch out for cowboys and cowgirls in chaps and boots, paddocks filled with spirited horses and the vast open sky. It's the American West of movies and novels, perfect for a dude ranch family vacation.
A stay at Tanque Verde lets you enjoy that frozen-in-time Western fantasy, whether you're a child or an adult. If you're serious, you can master the art of western riding at one of the best riding instructions programs I've seen at any dude ranch in North America.
More Than Horses at Tanque Verde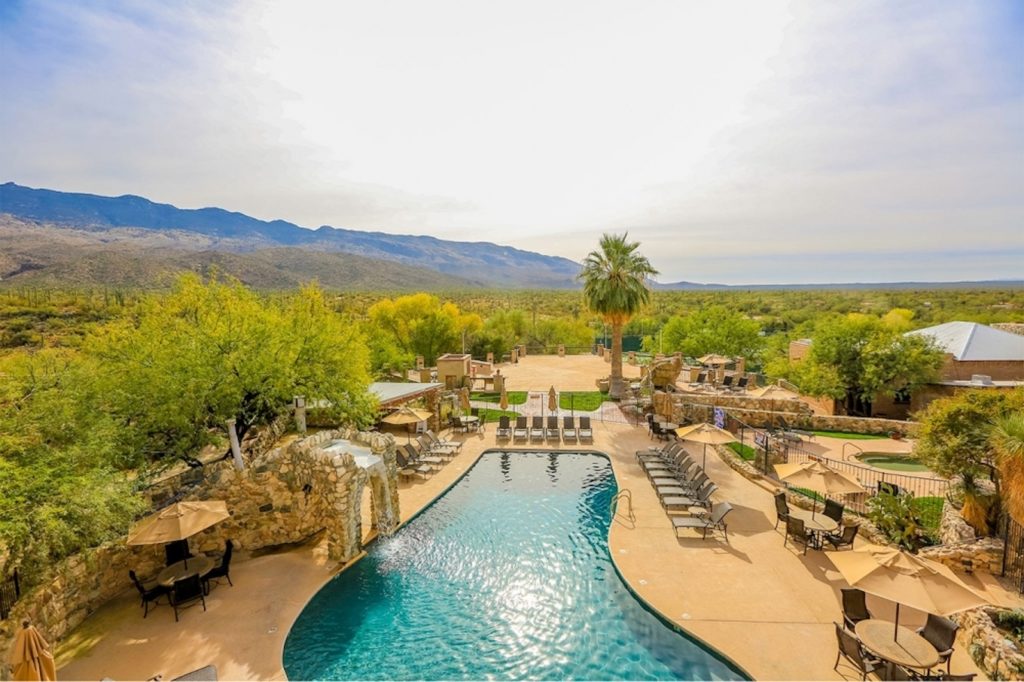 Opt for a couple of simple slow trail rides to set the pace. Then, spend the rest of your time hiking, mountain biking, playing tennis, swimming, or simply settling down with a good book and sampling a spa treatment or two.
The family-run ranch is situated on 6,000 acres in the Sonoran desert outside of Tucson. Another 50,000 acres of adjacent National park and forest land are available for riding and hiking. Many of Tanque Verde's activities are classic dude ranch, like the cowboy cookout in a cottonwood grove complete with cowboy music and poetry. There are also western line dancing classes and talks on horse behavior.
Tanque Verde also offers up–to-the-minute resort amenities, like the spa (massages, body wraps, indoor pool, Jacuzzi) and the accommodations (down duvets, fireplaces and private patios with views of the desert).
Tanque Verde's Riding Program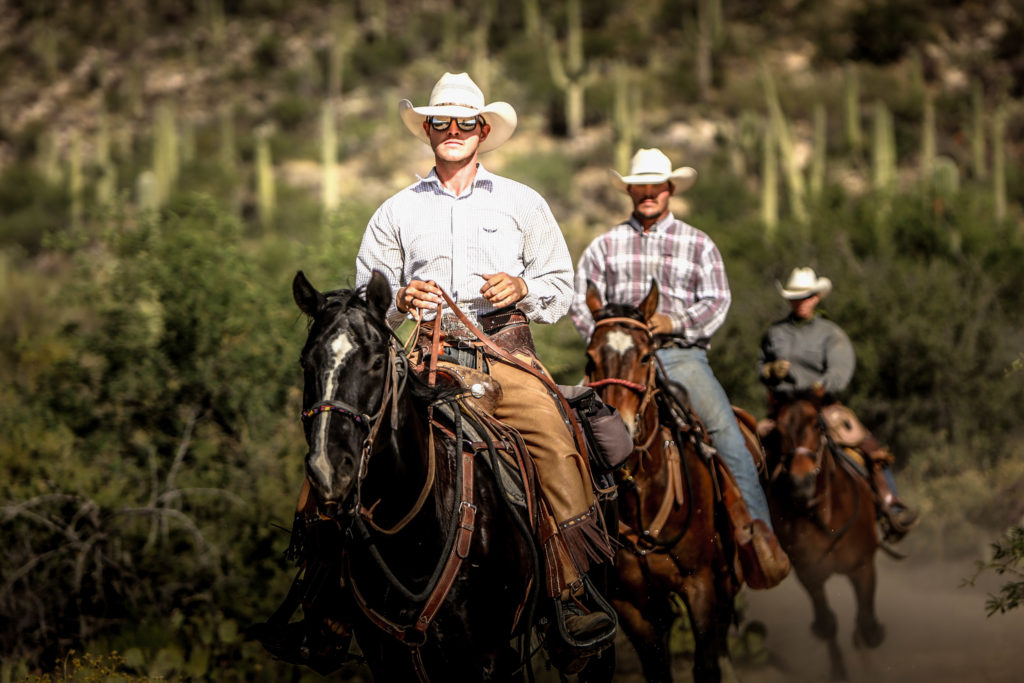 The riding program reminds me of a ski school where the kids and adults are taught to master the elements of a sport. Go step by step and then move up to the next level – there's always something new to aspire to in horseback riding.
Children start riding as young as the age of 4 and begin in a large ring on gentle horses that are known to be patient and steady. Four to 6-year-olds slowly and deliberately learn to control their horse and can build on their skills but need to stay in the ring.
Children ages 7 to 11 are grouped together and quickly become competent young horsemen and women. Once they master the basics they can go on trail rides, ultimately moving up to "the lope group," a great honor. Loping is also lots of fun because that's when the horses start to run. Children also learn to groom their horse and participate in a mini rodeo with obstacle courses, barrel races and funny games.
Enroll kids in the riding program, the centerpiece of the children's program for ages 4 to 11. Plus, there are many other planned activities that take place in the designated kids' room or the designated kid's dining room. For example, book tennis lessons, a nature program that operates from the ranch's nature center, nature hikes, games or horsemanship classes to name a few.
Adults are instructed in horseback riding in a similar fashion, and once they've passed the "lope test" they, too, can go on faster trail rides. Don't miss trying other activities on horseback such as cow penning and barrel racing.
Meet Animals of the Desert
A visit to the Tanque Verde Nature Center is a great way to learn about the critters of the desert, a sampling of which reside in cages and aquariums in the center. Some of the children's nature activities are particularly clever. One of my favorites is designed to teach kids the difficulties animals face in finding and eating their food. To illustrate how birds husk seeds, kids are given wrapped Starburst candies and told to put their hands behind their backs and then try to unwrap and eat them using just their mouths. A variety of naturalist-led hikes begin from the nature center.
Tennis is a big draw, with five courts and one night-lit court. The saddle-shaped swimming pool isn't huge but it has a nice broad waterfall that spills into it, providing a fun diversion for kids. The spa has an indoor pool, sauna, whirlpool, exercise room, massages and treatments.
And just like every good dude ranch, there is a horseshoe pit plus volleyball, basketball and catch-and-release fishing. Several golf courses are nearby.
Tanque Verde Accommodations & Dining
The ranch accommodations are comfortable, elegant and without TV sets. Ranch owners Bob and Rita Cote want to get you and your family out of your rooms. That means go down to the nature center, watch the slide show on birds of the desert or play in the game room. Or, simply get out into the open gazing at the star-packed desert sky.
Most rooms come with a kiva fireplace. Some of the accommodations are set up for families with a suite configuration. Bedrooms that can be added on through connecting doors. Every room has a private patio with comfortable lounge chairs and breathtaking views.
The guest ranch serves up its meals in the quantity that you'd need if you've been out on your horse working on the ranch the entire day. Breakfasts offer a buffet of all kinds of fresh fruit winter and summer. Menu-ordered items include whole-wheat nut pancakes, topped with a sprinkling of crunchy walnuts, sesame, poppy seed, and slivered almonds. Add butter and maple syrup to that and you're ready to ride.
Lunch is buffet style and dinner can be both buffet style or menu-ordered, depending on the day. Meals are often themed, such as a Mexican night complete with mariachi entertainment and south of the border specialties.
Trip Planning Details, for a Tanque Verde Adventure
Tanque Verde Ranch is located at 14301 E Speedway Blvd, Tucson, AZ 85748, just 27 miles from the Tucson Airport. It is open year-round. In the hot summer months, many of the outdoor activities are moved to early morning -– the first hikes go out at 6:30am and the first horseback rides go out at 7am. Early mornings are the best times to see the most animals as they go about their business before it gets too hot.
There are 180 species of birds that live in the area or fly through, and fascinating reptiles and mammals like the javelina, a small pig-like animal with a sweet face. On summer afternoons, cool off at the indoor nature programs and, of course. the swimming pools. Siesta in your air-conditioned casita for another option. Expect family fun; there's a terrific riding program and activities which have won the ranch top family resort honors from Conde Nast Traveler readers choice (Southwest's #1 Resort for the past five years), Travel + Leisure and the Travel Channel.
For 2022, "all-inclusive rates" for a double with two queens start from about $700 per night with two kids under 5. The riding program, activities and meals are included — the exception is alcoholic beverages and spa treatments. Tanque Verde, additionally, is a perfect destination for families with non-riders such as grandparents, because their "Three Squares and a Bed" package doesn't include any prepaid rides.
Discounts and specials are most common during summer — May 1 to September 1 are considered off peak — when the ranch climate is at its warmest. Don't forget there are many other family attractions in Arizona while you're visiting the state.
Dear Reader: This page may contain affiliate links which may earn a commission if you click through and make a purchase. Our independent journalism is not influenced by any advertiser or commercial initiative unless it is clearly marked as sponsored content. As travel products change, please be sure to reconfirm all details and stay up to date with current events to ensure a safe and successful trip.
---