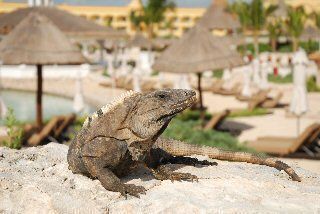 A wary mom's first experience with an All-Inclusive family beach vacation in Tulum, Mexico turns out to be a success, and won't be her last.
I admit that we are an unlikely family to spend our vacation at an all-inclusive resort. My husband and I like to explore the local food, culture and people whenever we travel. Our favorite family trips have been home exchanges that allow us to live like natives and experience the place as insiders, not beach getaways.
The generic feeling of sameness that we imagined at all-inclusive resorts was not something that we sought from a family vacation. We enjoy shopping at local markets and cooking food ourselves, not waiting on buffet lines for bland, unadventurous food. Add to this my husband's disdain of crowds. Some of his happiest holiday memories involve the semi-solitude of sailing for weeks with only his brother for company.
My two teenaged children do not share our idea of fun. Yes, they have seen the Eiffel Tower and gone to a local summer camp in France.
Yes, they have travelled to a multitude of foreign destinations including London, Melbourne and Sardinia, but they often remind me that we have never taken them to Disney World. Amongst their peers this is seen as bordering on deprivation.
Kids Crave Choice & Freedom from Frugal Parents
As they have grown into the teen years, Alec, 16, and Madeleine, 14, recently stopped trying to get us to take them to Disneyworld and started aiming for an all-inclusive resort. According to them, they were practically the only kids to have not experienced the joy of this type of vacation, where anything that you could want is yours for the asking.
I will take at least partial responsibility for this attitude. I love to travel, and we travel frequently as a family, often on a tight budget. My kids know better than to ask for cool refreshments on a hot summer day, as there is usually a water fountain in the vicinity, free of charge.
Shared bathrooms are the norm at many of the youth hostels that we have stayed in, and though they have grudgingly accepted this, they have not stopped complaining. It was only last year, while studying a list of vocabulary for the PSAT exam that Alec realized that the word hostel was not spelled hostile.
For them, an all-inclusive symbolized the luxury to get what you want when you want it, in stark contrast to our frugal travel habits.
Giving the "All-Inclusive" a Try
The summer of 2009, Palace Resorts was offering a special rate where kids under age 18 stayed and ate free at several of its all-inclusive Mexican properties. The newly renovated Aventura Cove, located south of Cancun on the Riviera Maya, was offering two-room family suites at a bargain price. We were going to be in that part of Mexico on a two-week trip, and had a few unplanned days left to fill.
What tipped the scale for me was that guided tours of sites such as Chitzén Itzá, Tulum and Cobá were included in the rate for guests staying at least three nights, as part of the Palace Passport program. If we didn't like the resort, we could spend our three days touring the Mayan ruins of Quintana Roo and the Yucatan. It seemed too good to pass up. Although we are not big drinkers, I reminded my husband of his fondness for tequila, unlimited for guests over 18, and the reservation was made.
[Editor's Note: As of mid 2013, this resort will be rebranded as the Hard Rock Hotel Riviera Maya, so many changes are underway.]
---
Checking It All Out
We arrived at check-in, and were immediately handed cool tropical drinks. We were escorted to our spacious adjoining rooms, with two double beds in the kids' room, and a king-sized bed for the adults. Each room had an over-sized Jacuzzi tub right in the middle of it.
We found a room service menu, available round the clock. My kids were in awe. Room service with no extra fee charged? This seemed unbelievable, but they quickly got into the swing and ordered sandwiches and fries. We liked the names of some of the kids' menu items, like Pollito Estilo Kentucky, which translates to Kentucky Fried Chicken.
We changed into our bathing suits and began to explore. Aventura Cove features a giant swimming pool, more like a series of a dozen connecting pools that serves as the daytime recreational hub. It was by far the largest pool that we had ever seen. The young, enthusiastic staff kept us busy with a constant flow of activities.
We joined fellow guests for water volleyball, water ping-pong, water balloon fights and water aerobics. Just outside the pool, we played bingo and trivia. When my son was quietly sitting alone momentarily, Luisa, one of the pool staff, quickly engaged him with a game of Connect Four. The staff had a knack for getting guests involved, while never being bothersome when we wanted solitude.
To my pleasant surprise, there were many guests who were Spanish speaking. The bi-lingual staff was thrilled that we all spoke some Spanish, and encouraged us in spite of our mistakes. We found the jovial atmosphere made it easy to chat with fellow guests, some of whom vacation at a Palace Resort each year. There were a few family reunions taking place as well, but no activity was ever too crowded.
Ocean or Pool? Spa?
The hotel is located on the sea, but there is only access to a series of small coves, and no direct access to the ocean. As ocean lovers, we found this to be the property's biggest drawback. Kayaking and snorkel gear are available to use in the coves, but we found the coves too contained and generally unappealing. We unanimously preferred the pool. The kids loved the swim-up bar, and ordered what seemed like an endless parade of beloved virgin tropical drinks from the accommodating bar staff.
When my kids got tired of the pool, they headed indoors and checked out the teen's lounge. Designed for kids 13-17, the lounge had plenty of teen-friendly activities, including a jukebox, Dance Dance Revolution game, karaoke, and ping pong. Everything was new, and the lounge was always staffed by a friendly member of the recreation department. Kids ages 4-12 have their own kids club, a drop-off facility with a wide variety of activities scheduled each day. Little ones can stay for as long or as short as they and their families would like.
Madeleine liked the beauty salon, which offers mani-pedi's, hair braiding, and other treatments for kids and teens. These services are not included in the hotel rate, but are fairly priced. The Aventura Cove is a family oriented resort, but it is next door to the Aventura Spa Palace, an adults-only Palace resort.
My husband and I had full access to the Aventura Spa, as do all Aventura Cove guests over 18-years of age. With the kids happily at play in the teen's lounge, we could explore the "other side" on our own. Massive, the spa offers just about any type of massage, scrub and wrap imaginable. These services are not included in the all-inclusive rate, and are quite costly. But as the Aventura Cove's steam and sauna rooms were being renovated during our visit, all Aventura Cove guests were invited to visit the spa for what was called hydrotherapy treatment, free of charge.
We were each led into the single sex spa. I was given a plush robe and disposable slippers, and a lock for my clothing. An attendant brought me over to the hydrotherapy section and explained the service. I started with a shower, followed by a cinnamon scented sauna, a eucalyptus steam, and another shower. I was then escorted to a series of three pools. The plunge-in order was warm, ice cold and hot, with a finale of ice cold. This was followed by an upright soak in a flower infused whirlpool style foot-bath. The hydrotherapy was so relaxing and luxurious that I felt calm yet energized at the same time. My husband and I met for an after spa drink at the adults only bar, and an exploratory stroll around the adults only resort, and he too seemed peaceful and yes, even happy to be at the all-inclusive.
---
Comidas Deliciosas
Food was plentiful at the resort. There were always lots of choices offered, including a wide variety of fresh fruits and salads. We were happy to see that authentic Mexican food was always available at each buffet. Besides three meals per day, a coffee shop with a selection of cakes and sandwiches was always open, and the pool snack bar served pizza and hot dogs.
Dinnertime was the real test for us, food-obsessed New Yorkers. Our first night, we chose the buffet-style Ventanas Pizza & Pasta, which features a wood burning pizza oven. My kids loved the food, and my husband liked the list of Chilean wines. I liked the fact that with so many choices, even the fussiest eater would find something to appeal to his or her taste buds. There was also a separate kids buffet, loaded with mini-burgers, hot-dogs, chicken, and lots of fresh fruit and veggies, all cut into easy to handle, child sized pieces.
We all liked our young waiter, Eduardo who was from Oaxaca. For dessert, he said he wanted to make us something special. He rolled his silver tray over to us, and began tableside preparations for crèpes suzette, chatting away as he expertly prepared the elaborate dish, flambé, of course.
The next night we dined at the more formal La Hacienda, with its à la carte Mexican menu, and its dress code — no shorts and collared shirts required for men, even very young men. Our waiter was Rafael from Mexico City, a real pro. He guided us through the menu, and made worthwhile suggestions. The Sangria, lime soup and shrimp in tequila sauce were excellent.
For dessert, Rafael suggested a sampler plate of the five desserts on the menu that evening. Our favorites were an authentic tres leches cake and creamy raisin studded rice pudding. My husband and I found the meal to be both authentic and delicious. Alec and Madeleine preferred the buffet at Ventanas.
One of the nice options that the Aventura Cove offered was the possibility to dine without the kids. For our last dinner, my husband and I dined at the Asian restaurant, Mo-Mo-No-Ha-Na, on the adults only side of the resort, while the kids were well taken care of by Eduardo at Pizza Pasta . For families with younger children, the Kids Club provides an evening program so that parents can dine tête a tête. It was nice for Antonio and I to share a romantic dinner, with a beautiful ocean view.
---
Entertaining Evenings
The most pleasant surprise at the Aventura Cove was the nightly entertainment. A different show is presented each evening. While its sets, lighting and costumes are not going to give Las Vegas a run for the money, each night featured truly talented young performers. The Capoeira troupe and Samba show was a high-energy mix of live drumming and dancers, two of whom performed a routine with flaming torches in hand, that thrilled the entire audience. The Circus themed night displayed talented acrobats and contortionists in a Cirque du Soleil fashion.
Our favorite nightly show was the Michael Jackson show, where a realistic Jackson impersonator led a talented group of young dancers to canned classics. We enjoyed this, but the real fun started when the professionals left the stage. When the show was over, the master of ceremonies, Federico, who is in charge of the entertainment staff, invited audience members to compete in a Michael Jackson style dance contest, with we the audience acting as judges. This hilarious competition was won by Barry from Texas, a middle-aged gentleman, who wowed us with his moon-walk.
There was even a mechanical bull set-up one evening, which Alec and Madeleine enjoyed riding. We were impressed with the talented performers, and found ourselves looking forward to each evening's spectacular.
Touring the Ruins
We were having such a good time at the Aventura Cove that we only spent one day away from the hotel, on the tour of Tulum. We boarded the resort's comfortable motor coach after breakfast and headed down the coast to see the Mayan ruins in their spectacular ocean front location. The guided tour was informative yet brief, perfect for our family.
We were given time to swim in the magnificent, limpid aqua waters, located right beneath the majestic ruins. We stopped for lunch at the Xpu-Ha Palace, a jungle themed Palace hotel with a large flock of pink-hued flamingoes strolling the grounds. We were back at the Aventura Cove in time to enjoy a dip in the pool before dinner.
Reflections on Our Experience
As we packed our suitcases and prepared to go home, my kids said that this was the best way to vacation. They were busy at work plotting how to get to the Palace Resort in the Dominican Republic. Although I am not sure if my husband will be the first one on the plane, he was pleased with the experience.
While not his cup of tea, he understood why families choose this effortless way of travel. The four of us all sang the praises of the Aventura Cove's staff. We felt they made a real effort to get to know us, and treat us as individuals.
The crowds that we had feared were not to be. The resort was surprisingly empty and the spacious grounds offered privacy for those seeking it. In the late afternoon, our family sometimes had the enormous pool to ourselves.
We left with another pre-conceived notion biting the dust. Aventura Cove may not have been a rustic, hang your hammock on the beach place, but we certainly felt that we were in Mexico. We met interesting people from all over, including a bi-lingual staff who encouraged our linguistic attempts. We were entertained each evening. We left feeling very relaxed and pampered. It was fun to be able to indulge in good meals and wines and it was nice to see the kids happy, and to not have to say no to their requests.
I have to hand it to my kids, it certainly was a convenient way to travel. Could a trip to Disney World be in our future?
Resort Report Card
Name:
Aventura Cove Palace
Address:
KM. 72 Carretera Cancun
Tulum, Riviera Maya
Quintana Roo
77710
Mexico
www.palaceresorts.com
Phone:
800/635-1836; 011 52 984 875 1130
Seasonal Rates:
$$ – $$$
Hotel Setting:
B+
Hotel Staff:
B+
Choice of Activities:
B
Quality of Amenities:
A-
Bonus:
The talented recreation staff kept us entertained each night with their enthusiastic and energetic programs.
Note:
Lots of good dining options, and the opportunity for paents to dine apart from their kids on the "adults only" side.
Dear Reader: This page may contain affiliate links which may earn a commission if you click through and make a purchase. Our independent journalism is not influenced by any advertiser or commercial initiative unless it is clearly marked as sponsored content. As travel products change, please be sure to reconfirm all details and stay up to date with current events to ensure a safe and successful trip.
---