Starting in early September, carved pumpkins, spooky ghosts and candy treats mark the start of Halloween in New York City. Even window shopping is a great way to enjoy free fun. Best yet, it spreads the spirit of autumn across the five boroughs through All Hallows' Eve on October 31… and maybe the following weekend! Whether you watch the world-famous Village Halloween Parade or take the family to discounted Broadway shows, there is no shortage of Halloween in New York City. Remember that current New York City law requires proof of vaccination for ages 12+ and mask-wearing at all indoor entertainment events.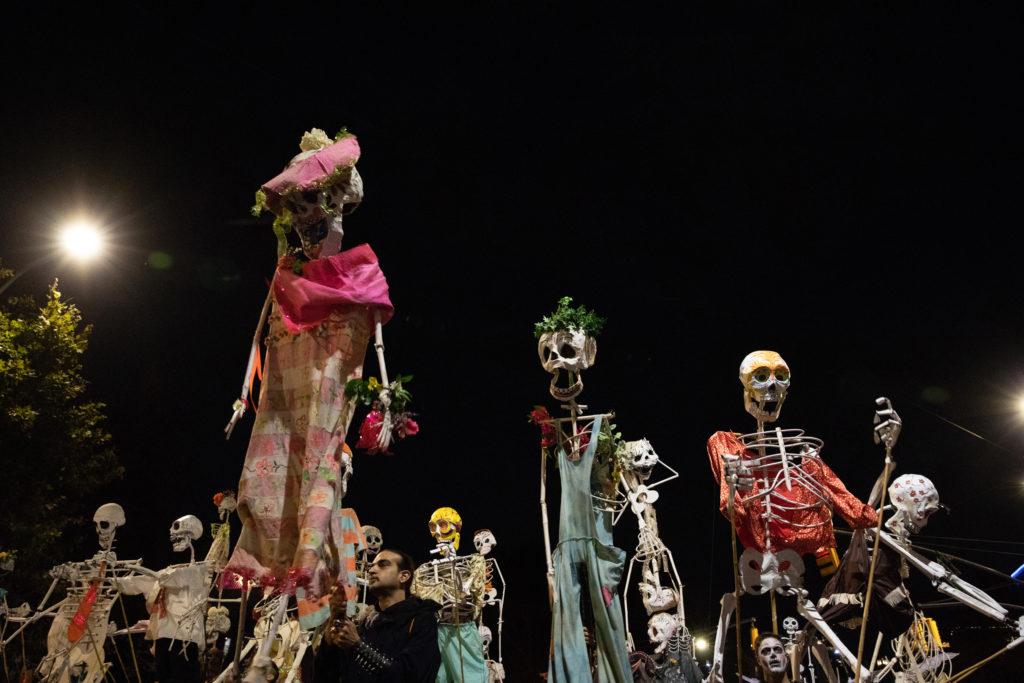 Getting there cheaply with cool new flight booking apps like JustFly makes this a bargain getaway for the whole family.
It's true! Places like historic Chelsea Market, open daily till 2 am most nights, are packed with fun Halloween scares. Don't avoid the aching, screaming and groaning tableaux of your favorite creepy characters tucked between shops and restaurants. Instead, kill hours window shopping, or be killed of course, by the more mature frights. Like Chelsea Market, most retail events are free, some are cheap and all are guaranteed fun.
The Very Famous Village Halloween Parade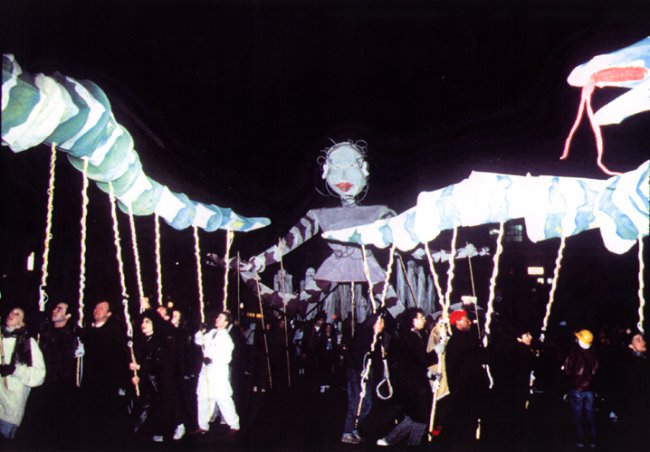 Parades are the perfect opportunity for revelers to strut their stuff — and Halloween costumes — and there's no bigger Halloween in New York City event than the Village Halloween Parade, now in its 48th year. Watching is free!
This year's parade is dedicated to children, and famous Youtuber Randy Rainbow will be the M.C. The theme, "Let's Play," encourages marchers to create their own fun. Donate $35 and all costumed participants can reserve a spot in a special section, skip the lines and march in proximity to Randy Rainbow. His float will carry the NYC Gay Men's Chorus who will perform live.
Expect to see at least 50,000 costumed guests (only those in costume can march) plus more than 50 live bands, dancing and strutting north on 6th Avenue from Spring Street to 16th Street, 7pm-10:30pm on October 31. The spectacular event is full of music, dancers — even puppets — and attracts more than 2 million visitors each year. Arrive early as locals camp out on the sidewalks, bring their own ladders, and even sleep on public benches for hours beforehand!
Get a discount New York City hotel room for your Halloween fun.
Keep in mind that to get there, you'll need to pick a subway stop along the route, since all streets are closed to traffic. We've found that from the West 8th Street-New York University stop on the Red or #1 Broadway subway, you can usually find a bit of sidewalk to watch from.
Free Halloween Fun on New York City Streets
One of our favorite trick or treat outings with little ones takes place on the side streets in Manhattan's more residential neighborhoods. Here, residents decorate the outside of their buildings and take turns serving candy treats on the stoops of each building, so kids and parents don't have to be nervous about going inside a stranger's apartment. It's great fun, and the pedestrian-only zone is ideal for little ones to parade around in their Halloween costume and meet others.
Ask any locals you meet about their neighborhood's Halloween in New York City event. We've seen some streets in the East 70s go all out with stoop-side candy baskets and great decorations, and even found a "haunted house" made of cardboard and flapping black garbage bags that was terrifying the little kids on West 90th Street. Sadly, is the hugely popular West 69th Street Halloween Party, that extends from Central Park West to Broadway along pretty brownstone-lined streets, has been cancelled for 2021 due to Covid. Google your location for suggestions on safe trick or treating in several neighborhoods.
Hudson River Park, which runs from the city's southern tip along the Hudson River to the George Washington Bridge, boasts many scheduled activities. Check out their toddler-friendly autumn events weekends in September and October. On Pier 26 (off Franklin Street) look for Halloween-themed improv shows, plus face painting, mask decorating, magic acts, cotton candy, rides and much more. Similar festivities take place October weekends at the Plaza at Lincoln Center, near Broadway at 64th Street, and it's free.
NYC Real Estate (Cheap) Nightmares
We are afraid to say that one of the city's newest thrills, Bane Haunted House, located at 618 West 46 Street, will remain closed this Halloween season. It is an incredibly clever, three-story maze of horror (assisted by a cast of about 100 amazingly well dressed and made up zombies.) Since Bane Haunted House welcomed more than 30,000 victims last year they look forward to reopening for the Chritsmas season.
When it comes to haunted houses, they have spread like the plague so we must recognize a few others: Blood Manor, a terrifying manor that's been jam-packed into 359 Broadway downtown for more than a decade. The long-popular, high rent haunted house called Nightmare NY has closed.
Alternative Halloween in New York City Family Fun
If you and the kids are terrified of T. Rex and friends, there's no better fright than trick or treating at the American Museum of Natural History. Visit the museum the afternoon of October 26, when more than 30 halls will be full of trick-or-treating, crafts, cartoon characters and live performances.
Stroll around Times Square from mid-October on and pause at the Ripley's Believe It or Not! marquee at 234 West 42nd Street. During Oddtober, you may catch free Sideshows outside this collection of eccentricities, so you're bound to fit right in. Seriously, it's an amazing, no-cost treat to watch sword swallowers and people knocking nails into their own heads… and it goes on even when it's not Halloween. Ripley's usually hosts extra fun with free candy treats over the pre-Halloween weekend, special face painting artists, and much more through the 31st.
Halloween Costumes are a New York City Way of Life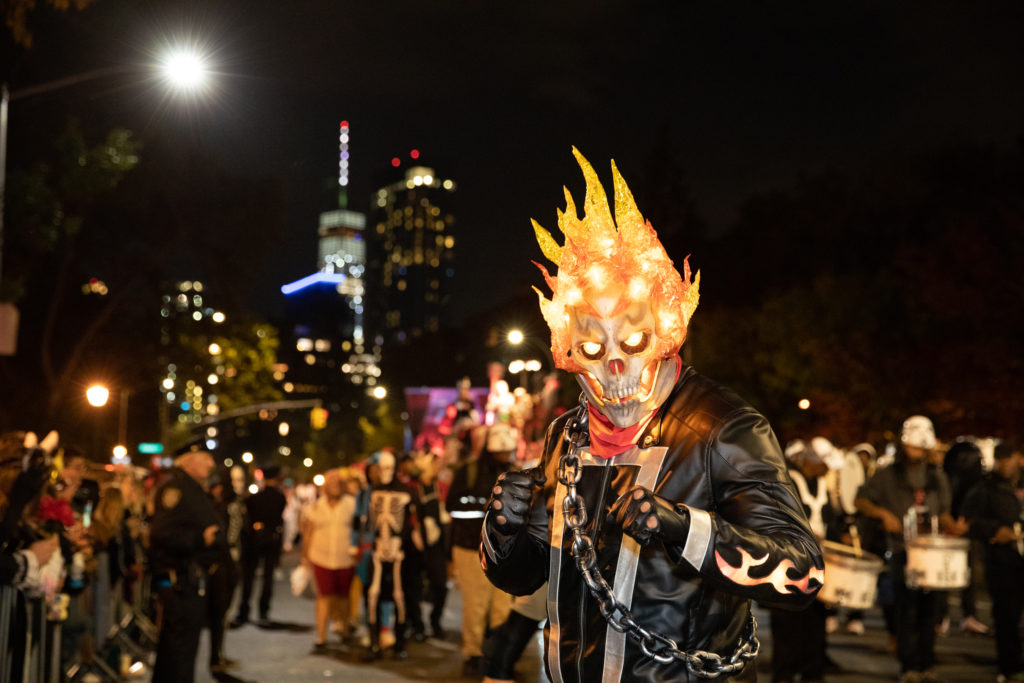 What to wear to a Halloween in New York City event? If you're shopping for Halloween costumes, count on Star Wars aliens, Marvel superheroes, sports celebrities, pets and bunnies to be among the city's favorites. And, of course, everyone's already got their own masks.
Costumes are widely sold and many neighborhoods boast pop-up stores if you didn't make your own. Ricky's is an affordable beauty supply and exotic sundries shop that sells everything from stage makeup to reading glasses, shampoo to wigs. If you're really serious, check out Abracadabra, a huge funky shop in Chelsea that will kit out ghouls, firefighters, call girls, everything from King Ramses to Batman's sidekick Robin. Beware, this place is for an investment in an adult costume!
Kids and their grownups will find that exploring the city's streets in a Halloween costume is an event all its own, as residents dress up and express themselves as only New Yorkers can.
The Boroughs are Terrifying, Too
Of course, beyond Manhattan there are dozens of great pre- and during-Halloween weekend programs for families. Watch or participate in smaller Halloween parades throughout the city. Search the web or ask neighbors about children's parades in Jackson Heights, Queens; Williamsburg, Brooklyn; and New South Bronx. Small neighborhood parades are much easier to handle with young children than the Village Parade,
Attending one will give you a chance to see more of Halloween in New York City, and come into contact with locals who won't be so overwhelmed by the crowds that flock to Manhattan events. Getting around by public transportation is easy via the MTA.
The Bronx Horrifies Halloweeners all October!
The New York Botanical Gardens in the Bronx features Spooky Pumpkin Garden, running mid-September through October 31. Families will love the guided kids activities, carving techniques for pumpkins and gourds and many other events. Roam the grounds and admire pumpkins weighing more than a ton during its Giant Pumpkin Weekend or don costumes the last two weekends of October for Spooky Pumpkin Nights.
Weekends from late September till early November, check out the Bronx Zoo Boo at the Zoo for a full day of Halloween delight with hay mazes and hayrides, pumpkin carving, magic shows, bone murals, corn maze, Bootoberfest beer tastings, live music and more. Costumes and all ages are welcome.
Brooklyn Halloweening
Pack up the kids and head for Prospect Park in Brooklyn, celebrating its 154th anniversary this year. In October, the friendly merry-go-round becomes a Haunted Carousel. In past years, park-goers have found witches — both good and bad — headless horsemen, stormtroopersers and more lurking around the Haunted Barn. Check out Lookout Hill for weekend events.
The New York Aquarium in Brooklyn, which has hosted an annual "Halloween at the Ascarium" in the past, has not announced its Halloween plans. If you go, be sure to visit the famous Coney Island amusement park and see what's up at its delightfully refreshed amusement park.
Speaking of Coney island, the delightful Luna Park midway, now more than 130 years old, hosts Halloween Harvest each fall. Weekends, an extra fee added to your wristband tickets include Halloween themed activities such as including pumpkin decorating, tractor racing and trick or treating.
Ferry Over to Spooky Staten Island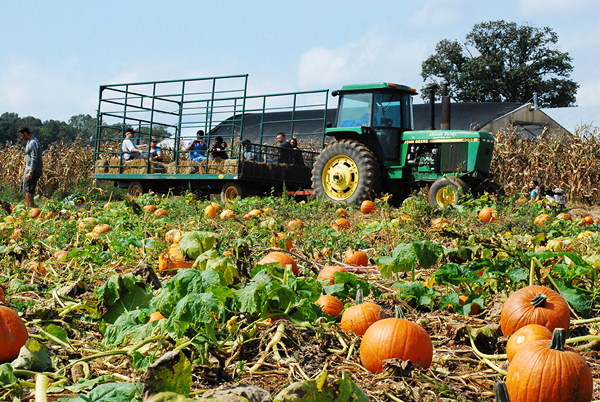 Visit Staten Island for Fall in Historic Richmond Town on the weekends before Halloween, when the whole family can go back in time and experience trick-or-treating as it was in the '50s. How about a lantern-lit Village Ghost Tour? How scary is it? Well, it's recommended for ages 8+. Elsewhere on the property, watch puppet shows and play themed harvest games. Costumes encouraged; reservations are required. Note that this restored village also has other fall activities and harvest events during October weekends. Pumpking picking and pumpkin carving lessons are in full swing and busy at Decker Farm; these activities do not require vaccination.
If you're touring New York City during autumn, the Staten Island Ferry still offers the best views of the Statue of Liberty and it's free. Dress the kids up and let them trick or treat aboard and you can save visiting Liberty Island for another trip.
Queens Residents pick out pumpkins
In Queens, Pick Your Own Pumpkin at the Queens County Farm Museum on Saturdays and Sundays throughout October for a fun and fruitful Halloween in New York City. The little ones will love searching the pumpkin field and choosing the best gourd (for a fee) to carve and decorate. When you've had your fill, try their 3-acre Maize Maze corn maze (open three nights this year!) For something a little spookier, a Halloween Haunted House runs only Halloween day, with hayrides, treats, mulled cider and pumpkins and apples for sale.
You can also head way out of the city and go upstate for a Halloween in New York. Go here to see what all of the frights are all about.
And if this isn't enough….
For more information, the last-minute special events, and up to date schedules of Halloween events in and around New York City, log on to the NYC & Company site or follow #falltrips on Twitter — we guarantee live updates of cool places to be seen.. and see for yourself!
Looking for more fun haunted houses for kids, spooky thrills, and frights? See what's going on this Halloween across the country.
This blog post is sponsored by JustFly.com which helps travelers find cheap flights and save. The opinions are those of the author.
Dear Reader: This page may contain affiliate links which may earn a commission if you click through and make a purchase. Our independent journalism is not influenced by any advertiser or commercial initiative unless it is clearly marked as sponsored content. As travel products change, please be sure to reconfirm all details and stay up to date with current events to ensure a safe and successful trip.
---