Starting in early September, carved pumpkins, spooky ghosts and candy treats mark Halloween in New York City. Best yet, ghostly elves spread the spirit of autumn across the five boroughs through All Hallows' Eve on October 31… and maybe the following weekend!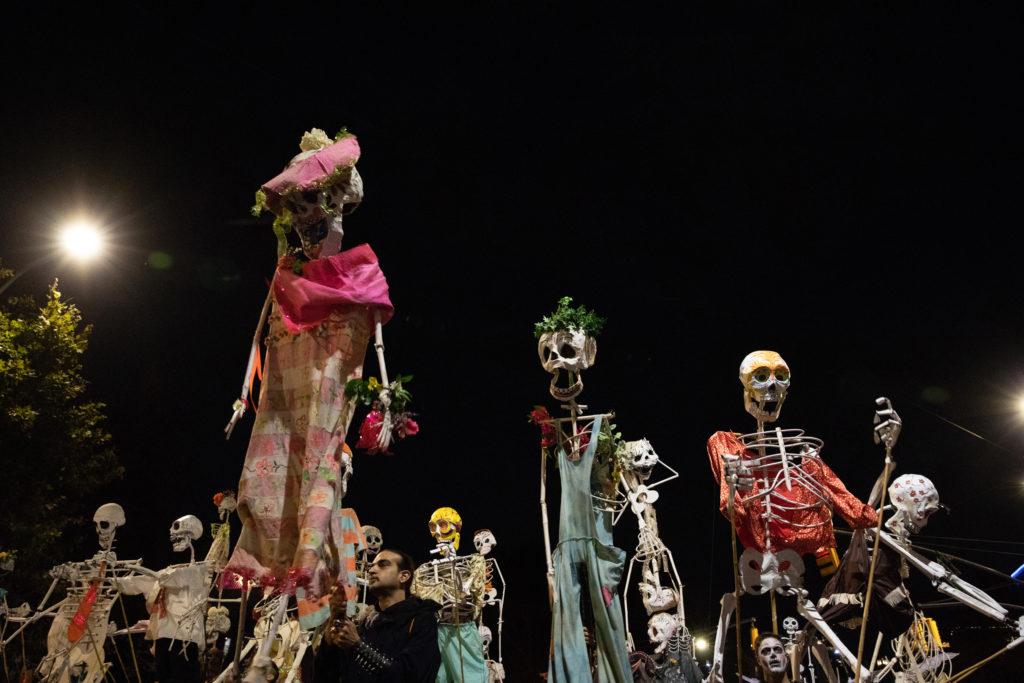 Saving money? Watch and participate in the world-famous Village Halloween Parade. Take the family to discounted Broadway shows; there is no shortage of budget events during Halloween in New York City. Getting there cheaply with cool new flight booking apps like JustFly makes this a bargain getaway for the whole family.
It's easy to enjoy decorated store windows — they go all out! — in a city with 32,600 retail busineses. Places like historic Chelsea Market, open daily till 2 am most nights, are packed with fun Halloween scares. Go for Oktoberfest the last weekend in September, or the October Blood Drives! Don't avoid the aching, screaming and groaning tableaux of your favorite creepy characters. Instead, kill hours street-walking or be killed of course, by the more mature frights. Like nearby Hudson Yards, most retail events are free, some are cheap and all are guaranteed fun.
The Very Famous Village Halloween Parade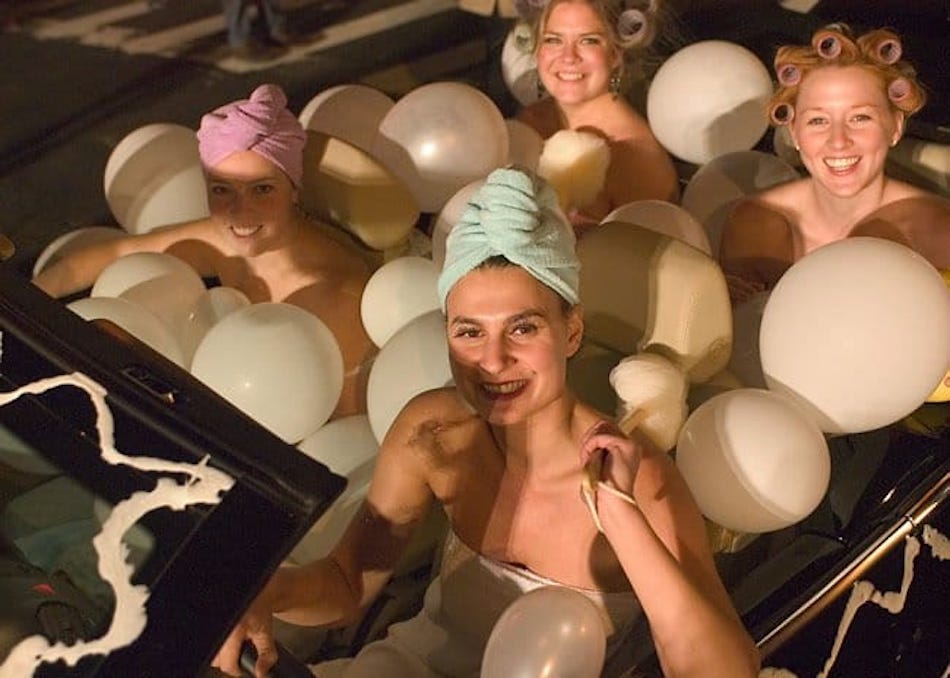 Parades are the perfect opportunity for revelers to strut their stuff and Halloween costumes. Go and you'll see there's no bigger Halloween in New York City event than the Village Halloween Parade, now in its 50th year. Watching is free!
This year's parade theme is Upside/Down : Inside/OUT!! The producers have declared, "The Halloween Parade has always been a night of transformation, but this topsy turvy year feels even more-so in terms of realizing a dream, being who you are most authentically in your imagination. Come on OUT!"
Expect to see at least 50,000 costumed guests (only those in costume can march.) Experience 53 live bands, puppets, dancing and revelers strutting north on 6th Avenue from Spring Street to 16th Street. Join the fun between 7pm-10:30pm on October 31.
This spectacular event attracts more than 2 million visitors each year. Arrive early as locals camp out on the sidewalks, bring their own ladders, and even sleep on public benches for hours beforehand!
Get a discount New York City hotel room for your Halloween fun.
All neighboring streets are closed to traffic. To get there, pick a subway stop along the route. We've found that from the West 8th Street-New York University stop on the Red or #1 Broadway subway, you can usually find a bit of sidewalk to watch from. Alternatively, families who don't like crowds can roost at 16th Street, where the parade ends, and watch as it winds down.
Free Halloween in New York City Street Frights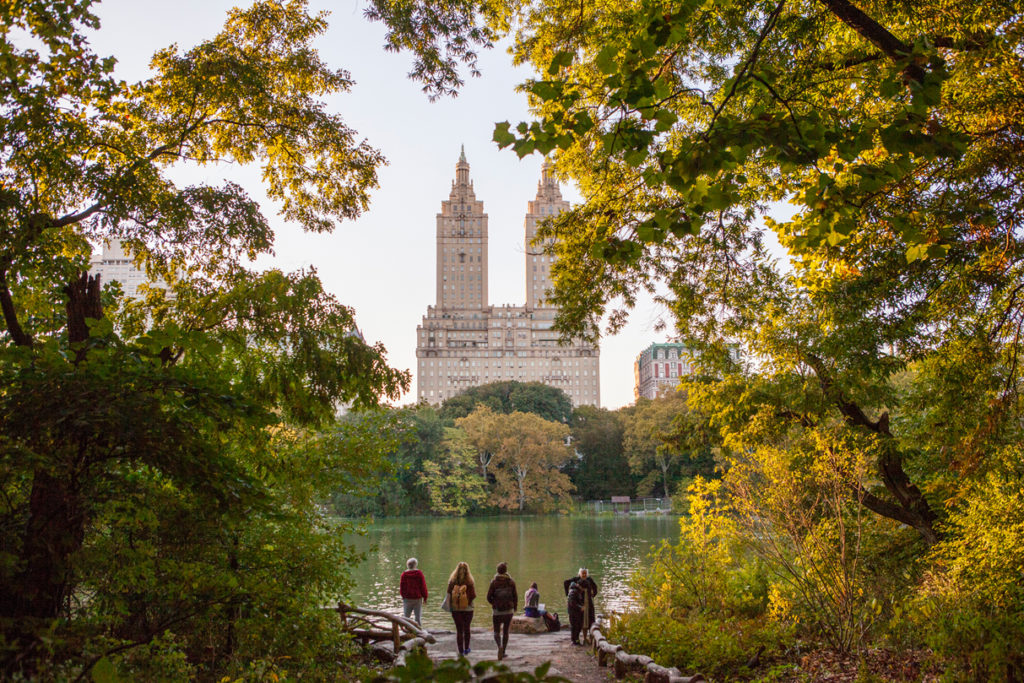 Try one of our favorite trick or treat outings — the side streets in Manhattan's more residential neighborhoods. Here, residents decorate the outside of their buildings and take turns serving candy treats on the stoops of each building. That's so kids and parents are not nervous about going inside a stranger's apartment. It's great fun and free. The pedestrian-only blocks are ideal for little ones to parade around in their Halloween costume and meet others.
Ask any locals you meet about their neighborhood's Halloween in New York City event. We've seen some streets in the East 70s go all out with stoop-side candy baskets and great decorations. This year, look for a "haunted house" made of cardboard and flapping black garbage bags terrifying West 90th Street. Will the hugely popular West 69th Street Halloween Party between Central Park West and Broadway return after its Covid pause? Use Google for suggestions on safe trick or treating in several neighborhoods.
Hudson River Park, which runs from the city's southern tip along the Hudson River to the George Washington Bridge, boasts many scheduled activities. Check out their toddler-friendly autumn weekend events. Bring your pumpkins to Pier 84 the Saturday after Halloween when volunteers smash them into compost for city gardens. Free festivities take place October weekends at the Plaza at Lincoln Center, near Broadway at 64th Street.
Alternative Halloween in New York City Family Fun
If you and the kids are terrified of T. Rex and friends, there's no better fright than trick or treating at the American Museum of Natural History. Visit the museum the last weekend in October to unearth halls full of trick-or-treating, crafts, cartoon characters and live performances.
Stroll around Times Square from late September on and pause for selfies with some frightening characters. Listen well: Pausing is free but characters expect a tip. On 43rd Street off Eighth Avenue, Horrorwood Studios is casting for new talent to be in horror movies. Trust us, you'll need a lot more than self-confidence to audition here. The loose plot of this urban haunted house involves a 'tour' of the 20,000-square-feet highly themed, decorated and gruesome "TerrorVision" set. Encounter creatures ranging from ghoulish to animatronic to homicidal. Endure several screaming women among the skilled cast of 140. It's immersive, it's scary and you'll want a hand to hold. Thankfully, it lasts only 30 minutes. This event is only for ages 13+. Tickets at facetheterror.com start at $39 with various upgrades available.
When it comes to haunted houses, as in many other things, New York does have a classic. Blood Manor is a terrifying haunt that's been jam-packed into 359 Broadway downtown for two decades. It's Tribeca's favorite, recommended for ages 14+. For 2023, it's open Sept. 29 through Nov. 4 and is hosting Student Nights where anyone with a student ID gets $10 off admission.
Halloween Costumes are a New York City Way of Life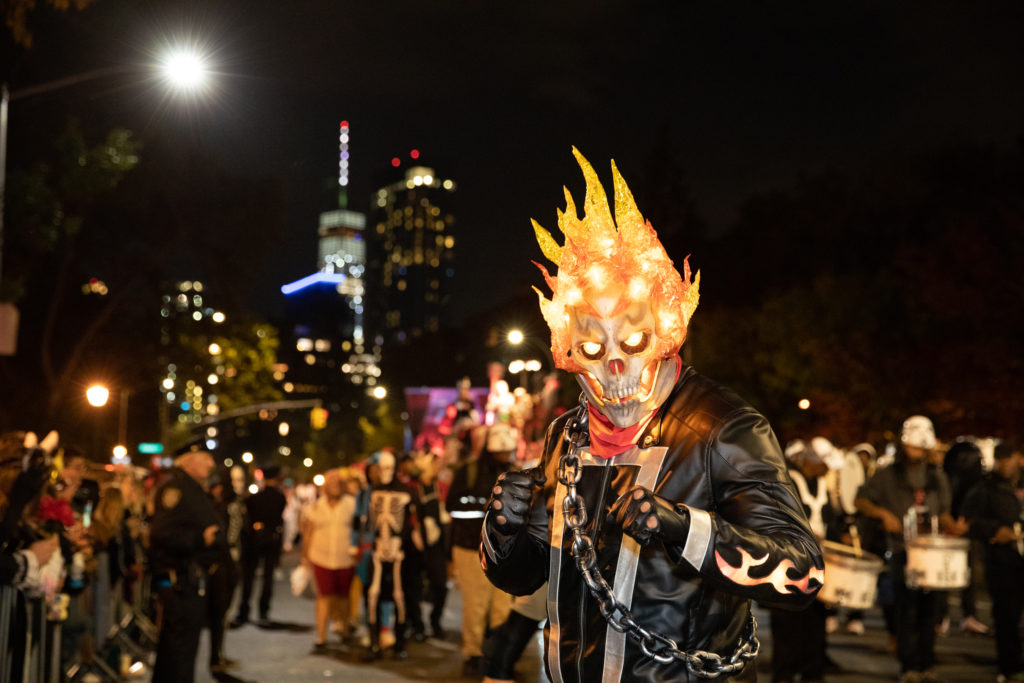 What to wear to a Halloween in New York City event? If you're shopping for Halloween costumes, count on Star Wars aliens, Marvel superheroes, sports celebrities, pets and bunnies to be among the city's favorites.
Costumes are widely sold. The Party Store branches sell inexpensive ones and many neighborhoods boast pop-up stores if you didn't make your own.
If you're really serious, check out Abracadabra, a huge funky shop in Chelsea that will kit out ghouls, firefighters, call girls, everything from King Ramses to Batman's sidekick Robin. Beware, this place is for an investment in an adult costume!
Kids and their grownups will find that exploring the city's streets in a Halloween costume is an event all its own, as residents dress up and express themselves as only New Yorkers can.
Halloween in New York? The Boroughs are Terrifying, Too
Of course, beyond Manhattan there are dozens of great pre- and during-Halloween weekend programs for families. Watch or participate in smaller Halloween parades throughout the city. Search the web or ask neighbors about children's parades in Jackson Heights, Queens; Williamsburg, Brooklyn; and New South Bronx. Small neighborhood parades are much easier to handle with young children than the ginormous Village Parade.
Attending one will give you a chance to see more of Halloween in New York City, and come into contact with locals who won't be so overwhelmed by the crowds that flock to Manhattan events. Getting around by public transportation is easy via the MTA.
The Bronx Horrifies Halloweeners all October!
The New York Botanical Gardens in the Bronx specializes in Fall-o-Ween. Mid-September to late October weekends, plan on guided kids activities, carving techniques for pumpkins and gourds, beer sampling and more. Spooky Garden Nights, runningonly Oct. 21 and 28, is about as hard core as they get. Evening events, however, give all ages the chance to collect treats and show off their Halloween costumes. Sample the flavors of the season with food and drink while admiring the changing fall foliage.
Weekends from Sep. 30-Oct. 29 (plus Columbus Day), check out the Bronx Zoo Boo at the Zoo. Tire everyone out with a full day of Halloween delight: hay mazes, pumpkin carving, magic shows, an animal show, live music and more. Costumes and all ages are welcome. New daytime programming includes "Bones Tells Us Stories" which is an exhibit of animal skeletons — cool and creepy! Make time to listen to folktales from around the world in "Spooky Stories." Go late and stay for "Pumpkin Nights" to catch their carved and illuminated pumpkins Thursday through Sunday from 6pm-10pm. Please use the discount code: MYFAMTRAVELS for a 20% off family zoo plus membership. The code is valid through 10/29.
Brooklyn Parading around Halloween in New York
Pack up the kids and head for Prospect Park in Brooklyn. October weekends, the Prospsect Park Zoo features all things bats for Boo at the Zoo. On Oct. 28, the friendly merry-go-round becomes a Haunted Carousel. While there over a weekend, drop into the restroed Lefferts Historic House for their "J'ouvert Genesis Immersive Experience." The exhibit highlights costumes and customs from the colorful Carnival celebrated in Trindidad and Tobago.
The New York Aquarium in Brooklyn hosts "Halloween at the Ascarium" the last two weekends in October. All the fun and special animal shows are included in admission. Be sure to visit the famous Coney Island amusement park and see what's up at its delightfully refreshed amusement park.
Speaking of Coney island, the charming Luna Park midway, now more than 130 years old, hosts Halloween Harvest each fall. On select dates from Sept. 22-Oct. 29, an extra fee added to your wristband tickets covers Halloween themed activities such as pumpkin decorating, tractor racing and trick-or-treating. Their pumpkin spiced latte costs extra.
Ferry Over to Spooky Staten Island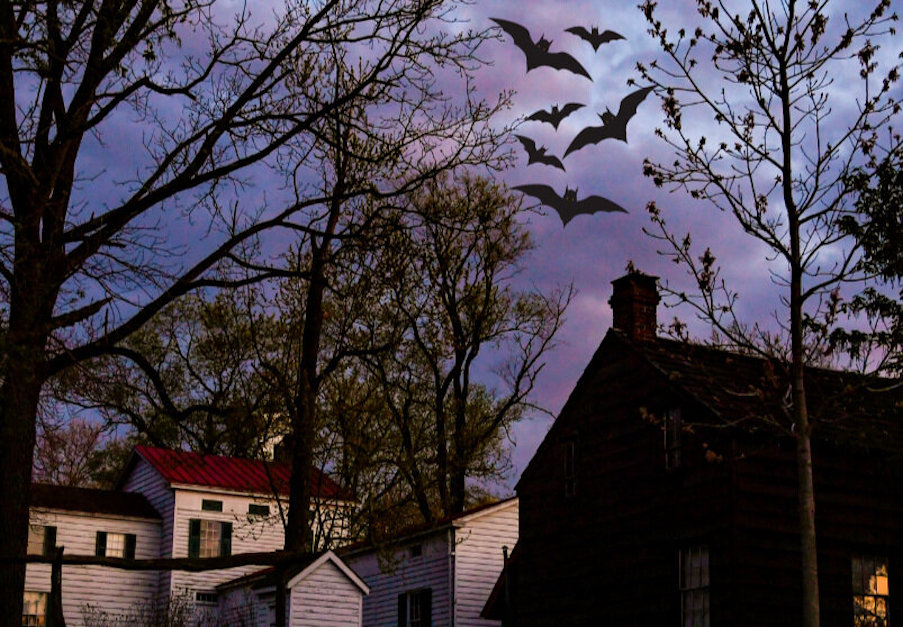 Visit Staten Island for Fall in Historic Richmond Town on the weekends before Halloween. The young at heart will love the pumpkin picking at Decker Farm, running Sept. 30 through Oct. 29. Pick your perfect pumpkin, enjoy a hayride with family and friends and indulge in delicious fall foods.
The whole family can go back in time Sept. 29-Oct. 28, 2023 to experience a candle-lit Village Ghost Tour. How scary is it? Well, it's recommended for ages 8+ and the hour-long walk runs rain or shine. Discover more fall activities and harvest events during October weekends.
If you're touring New York City during autumn, the Staten Island Ferry still offers the best views of the Statue of Liberty and it's free. Dress the kids up and let them trick or treat aboard and you can save visiting Liberty Island for another trip.
Queens Residents pick out pumpkins
In Queens, Pick Your Own Pumpkin returns to the 47-acre Queens County Farm Museum on Oct. 1-28 plus Oct. 30 and 31. We find it a favorite fruitful Halloween in New York City event. The little ones will love searching the pumpkin field and choosing the best gourd (for a fee) to carve and decorate. With your free admission, count on a scavenger hunt around the farm and, with a ticket, a hayride for all ages. Visit the farmstand to find mulled cider, pumpkins and apples for sale. Their Amazing Maize Maze is open weeekends and holidays Sept. 15-Oct. 28 this year. Oct. 29 is dedicated to all things Halloween.
You can also head way out of the city and go upstate for a Halloween in New York. Go here to see what all of the frights are all about.
And if this isn't enough….
For more information, the last-minute special events, and up to date schedules of Halloween events in and around New York City, log on to the NYC & Company site or follow #falltrips on Facebook — we guarantee live updates of cool places to be seen.. and see for yourself!
Looking for more fun haunted houses for kids, spooky thrills, and frights? See what's going on this Halloween across the country.
This blog post is sponsored by JustFly.com which helps travelers find cheap flights and save. The opinions are those of the author.
Dear Reader: This page may contain affiliate links which may earn a commission if you click through and make a purchase. Our independent journalism is not influenced by any advertiser or commercial initiative unless it is clearly marked as sponsored content. As travel products change, please be sure to reconfirm all details and stay up to date with current events to ensure a safe and successful trip.
---