Within a few hours of well-lit Manhattan, the dark dreary forests, fog-shrouded bogs and upstate New York Halloween haunts come to life for spooky autumn thrills. This tranquil region along the Hudson River and farther upstate New York in Westchester, Dutchess, Orange and Ulster Counties is bursting with fun and safe, wear-your-own-mask events and attractions themed to the holiday.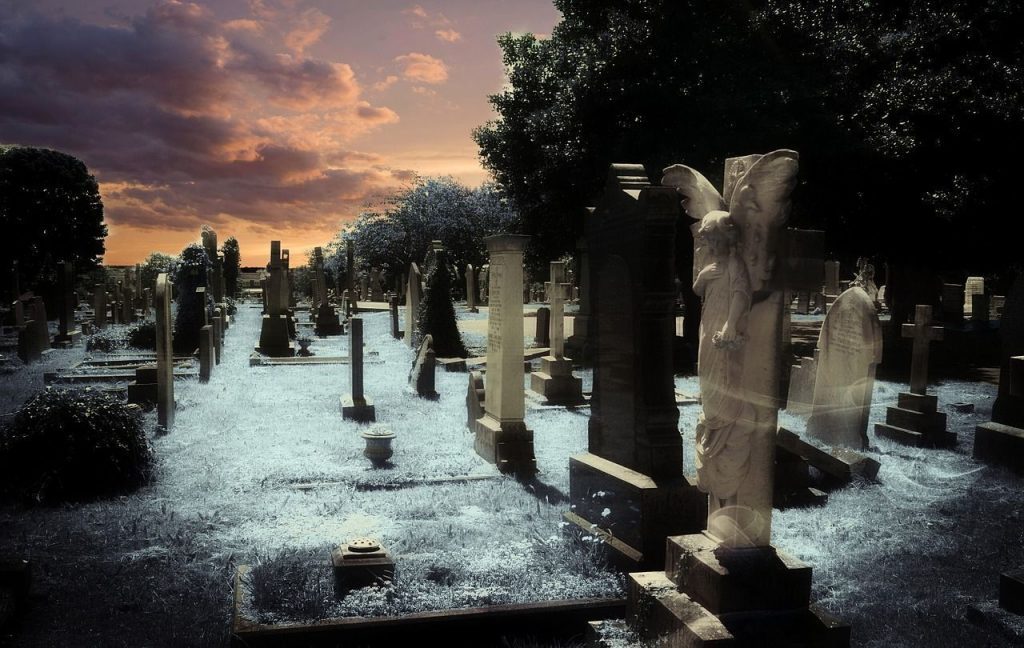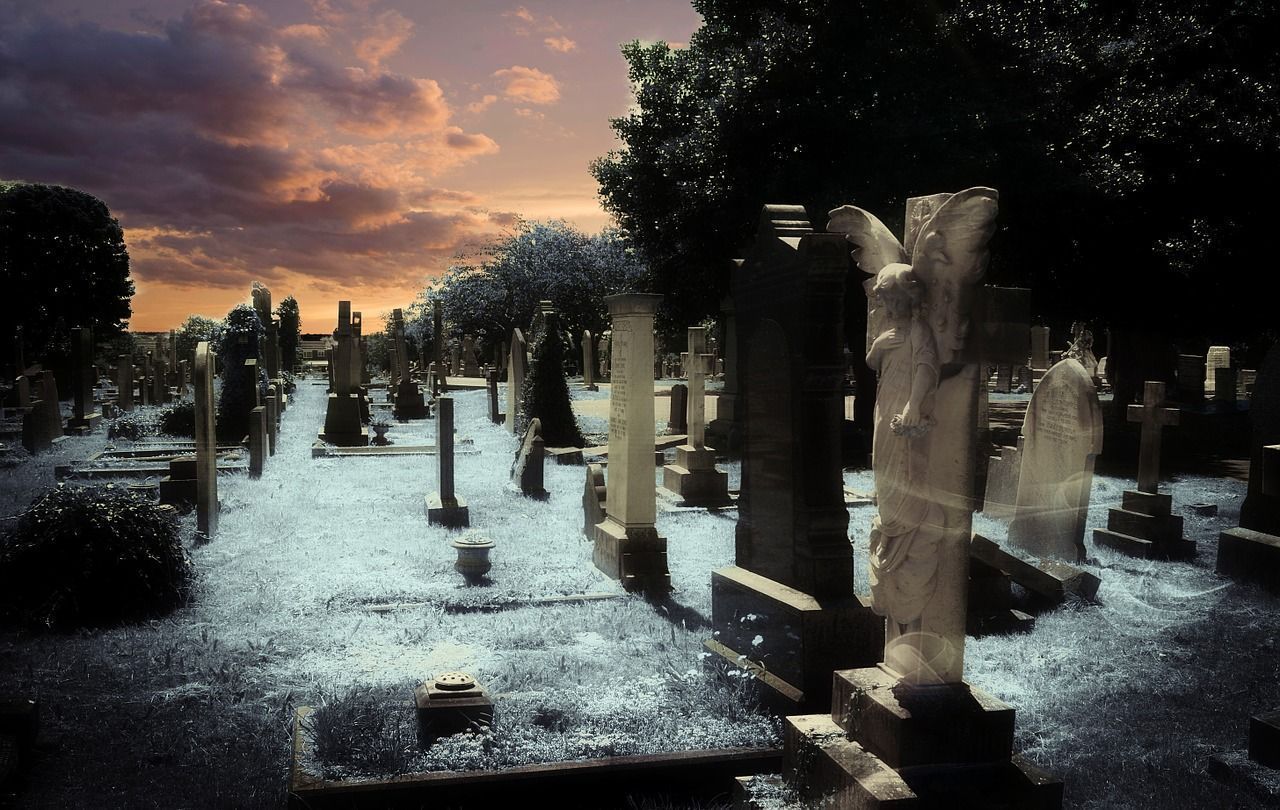 Do it live or virtually, or go for a more fearful celebration. New York state has a frightening Halloween weekend getaway option for everyone. And New York state is not alone; for more haunted house options, visit our Haunted House and Halloween Weekend Breaks Directory.
Staying Safe and Upstate in New York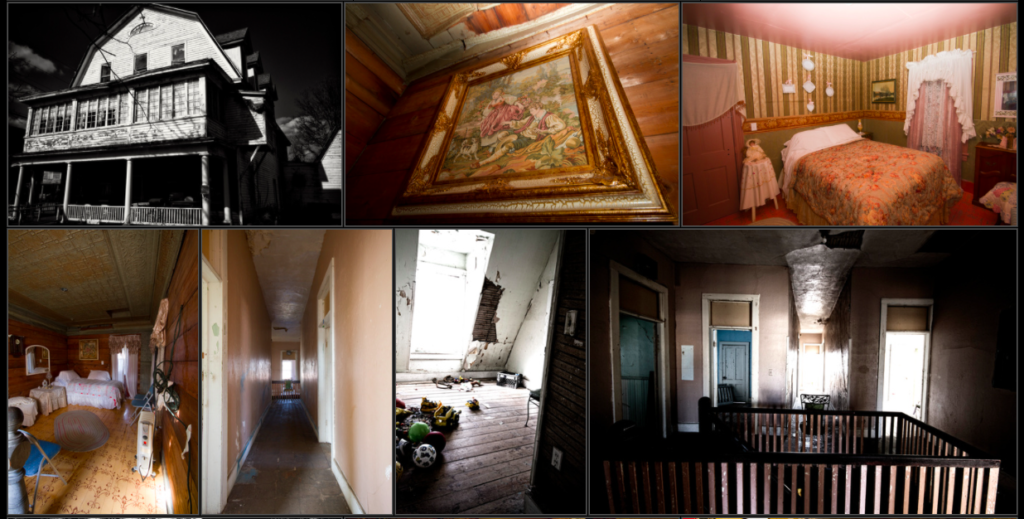 First, you should know that if you're up for a road trip from New Jersey, Pennsylvania or Connecticut, the entire state of New York has a Haunted History Trail featuring more than 90 of the sickest attractions on a tour across the state.
The trail is open year round but gets extra traffic during October. Many attractions have been modified for your health and safety, typically requiring face coverings and reservations for entry. Enjoy the fun, festive occasion for its pumpkins, candy and costumes if the scary stuff doesn't appeal.
Or, celebrate the Halloween holiday in full with a one or two-night travel package (no one lasts longer than that.) The Shanley Hotel, for example, in the Catskills, promises muffled screams, the tinkling of a remote piano, shuffling feet and other far-off sounds to lull you to sleep. Should be a howling fun time.
Finding New York Halloween Fun
Like everything else, when demanding New Yorkers want a haunted house, they want a good haunted house. Forget about Manhattan, where scary things happen all the time. If your kids and teens want a candy-collecting weekend away, with a fun, scary haunted house, a real haunted house, or a haunted house tour, an upstate New York Halloween can supply it.
Need a cheap rental car for an upstate New York Halloween?
From Tarrytown to Woodstock to New Paltz, there are lots of other autumn attractions for a New York Halloween including hayrides, museums, nature hikes, leaf peeking, corn mazes, PYO apple and pumpkin farms and much, much more.
Once you've spooked yourself to tears, you can calm down at one of the many hotels. Hot new hotels include Peekskill's the Abbey Inn, Opus Westchester and the Sleepy Hollow Hotel in the Tarrytown area. Many are open with extra sanitation and hygiene protocols in place. Search for fall getaway packages that include breakfast and Wi-Fi with a double room, as well as local shuttles for the car-less. The Westchester County Tourism Office has a listing of what's available.
Low Freak Out Factor: Hudson Valley's Great Jack O'Lantern Blaze
The Great Jack O'Lantern Blaze at Van Cortland Manor is Hudson Valley's biggest Halloween event, taking place Sept. 17 – Oct. 31 and November weekends. Note that reservations are required to limit the number of participants and maintain social distancing between families and groups.
Visitors get to experience the sight of over 7,000 hand-carved jack o' lanterns and wander through the historic property which is all decked-out for Halloween. In past years, the pumpkins have been astonishing: dinosaurs roam the earth and pirates set sail for buried treasure along Pumpkin Promenade and giant spiders create monstrous webs. Snakes, sea creatures and ghosts entwined in special lighting, effects and haunting music have entertained visitors. Visit Jack O' Lantern Blaze. If they are sold out, there's still a possibility that local hotels featured on their website have tickets if you book a room with them.
Forget pumpkins! Want to get into the Big Apple for Halloween in New York City? Here's where to go and what to see.
Sleepy Hollow Becomes Horseman's Hollow. Not.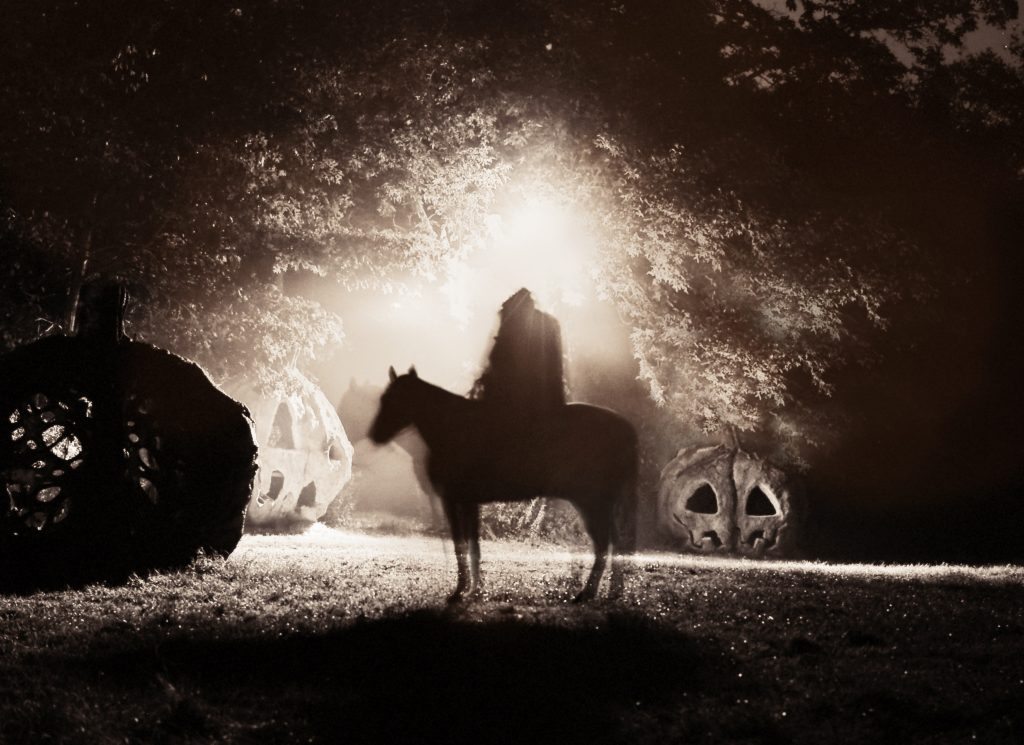 We are sad to report that in Tarrytown, Philipsburg Manor has closed to the public during the pandemic. We have always loved how they transform into a haunted landscape in celebration of the annual Hudson Valley Horseman's Hollow. Out of respect for this once spectacular spook show, we are sharing a photo (above) from the 2019 Halloween events.
And the Real Sleepy Hollow Is?
Fans of Washington Irving's "Legend of Sleepy Hollow," which introduced characters like the Headless Horseman and Ichabod Crane to the world in 1820, should celebrate the book's 201st anniversary this season. At Sunnyside, the author's estate, October weekends come to life with master storyteller Jonathan Kruk who recites sections of the book for fans old and new.
Tour Sleepy Hollow, Westchester County's actual village of the same name, and drop in (or drop out) at the famous, 85-acre Sleepy Hollow Cemetery. It's known for burying the very rich and very famous, including beauty magnate Elizabeth Arden; NY Public Library benefactors Brooke Astor and Andrew Carnegie; car scion Walter Chrysler and his later nemesis, labor leader and AF of L founder Samuel Gompers and local baron William Rockefeller.
Yes, the author of "Legend of Sleepy Hollow" –Washington Irving himself — is buried there too. There are limited day and evening guided tours, operating by reservation only and with strictly limited capacity. There are several scandal-full storytelling tours (some not advisable for kids). Older kids and their parents will appreciate the evening lantern strolls. And lest you worry your visit might cause family members to end up in that cemetery, rest assured that this county has put a strict Westchester With Care protocol in place for locals and visitors.
Orange County Has High Freak Out Hauntings
What about Pure Terror Screampark? See for yourself that it holds the Guiness Book of Records title for longest running haunted attraction. Regardless of your appetite for risk in visiting an indoor haunted house, Screampark is open weekends on an advanced reservation, capacity controlled system of timed tours. Honestly, images of "The Crypt" and "The Coven," among their 10 haunted houses, made us jump when their website loaded. This Catskills scare-atorium has separately themed fright zones, including our favorite "Pure Darkness."
By the way, their website says you cannot carry babies through the exhibits, nor are exhibits recommended for pregnant women. Hmm. Located at 1010 State Route 17M, Monroe, NY 10950 in who-knows-where Orange County, it is just 3 miles from the Woodbury Commons shopping outlet, where you can really freak out spending money.
Upstate New York's Halloween Headless Horseman Attraction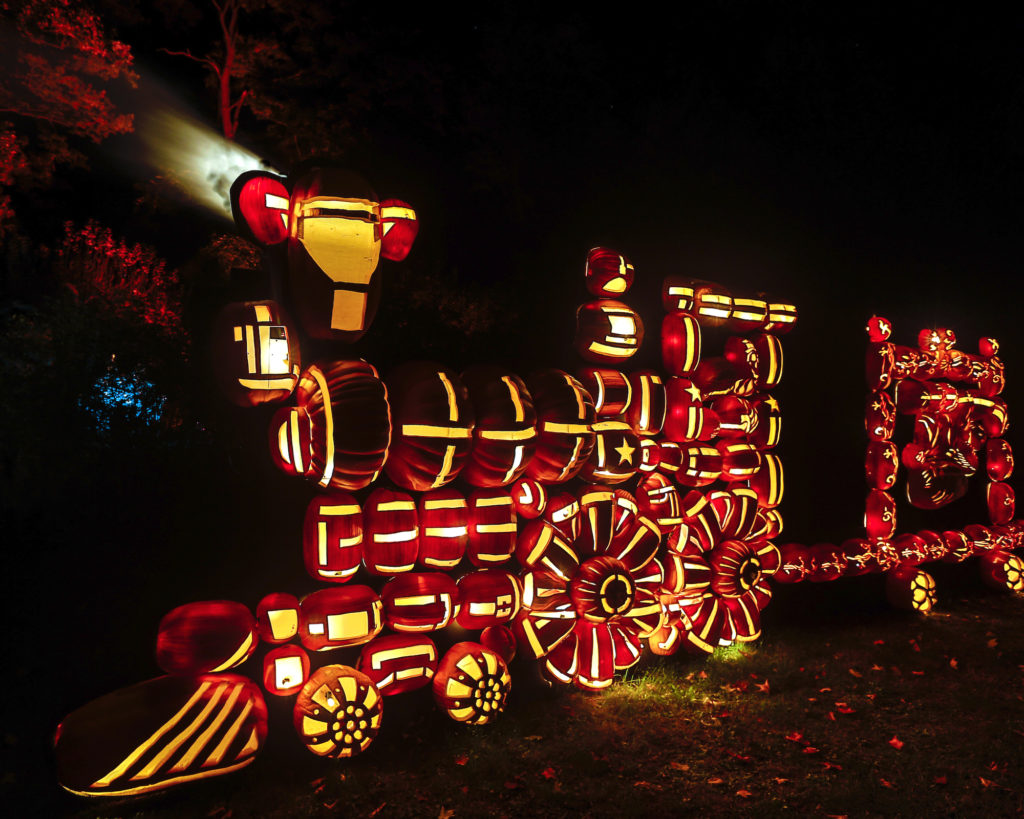 When it comes to New York Halloween scares, however, farther north in Ulster is the place to be — whether you want to scream all night or just enjoy some Halloween activities. The Headless Horseman at 778 Broadway, Route 9W in Ulster Park, NY 12487, has been named the #1 Haunted Attraction in the country by Hauntworld.com. In the past, guests found eight haunted attractions among 65 acres of foreboding woods and surreal ponds, with a theatrical mile-long hayride, corn maze and new escape room style frights.
For 2021, they are replacing the hayride with a Haunted Walking Trail, the Haunting of Pumpkin Jack and some escape rooms among other attractions. The classic Corn Maze, haunted houses and other areas will operate on a reservation-only, timed entry basis.
Look for ghoulish performers and plenty of shops for candied apples, scary gifts and yummy pumpkin pie. Older kids can tour the haunted houses, while the little ones enjoy sweet treats and entertaining shows. In fact, two Saturday mornings in October are dedicated to "Children's Day."
It's Less Scary in New Paltz for an upstate New York Halloween
The city of New Paltz turns a bit scary, too. And we don't mean how spooky the old Mohonk Mountain House looks under a full moon.
Not only are the leaves gorgeous during autumn for the upstate New York Halloween celebration, but there are also plenty of other family-friendly activities. Kelder's Farm has a 100-acre Pick-Your-Own field with pumpkins and a corn maze that everyone can get lost in. The farm is open daily for pumpkin, sweet corn and squash picking (apples are mostly gone by Halloween); mini-golf, a jumping pillow and other seasonal fun. Masks and social distancing are required. Fall Harvest Days take place Saturdays until Halloween.
Ulster County hosts animal sanctuaries where you can learn how to protect animals. The Woodstock Farm Animal Sanctuary, for example, offers an educational experience on how to help our furry friends and our environment. They also have a five-bedroom Gray Barn open for weekly rentals all season so you can work and learn remotely in a very pastoral setting.
There's no better weekend base than the Emerson Resort & Spa, a rural upstate New York Halloween getaway that hosts a famous kaleidoscope and lots of fun family activities and adventures. If you want to play in the outdoors, this may be a better choice for a Halloween weekend for your family than staying in Tarrytown. Note, it's only open Thursday through Monday (daily over the holidays) and is offering 30% discounts on two-night stays.
Adirondacks Boasts a Ghostly Lake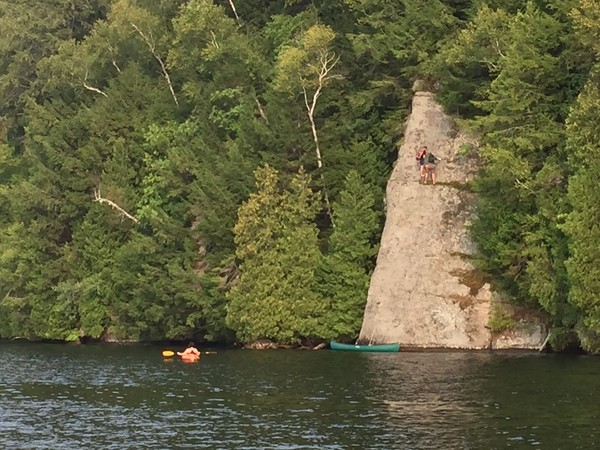 How far north will you go for a scary upstate New York Halloween?
When Mabel Smith Douglass disappeared on Lake Placid in 1933, no one knew she would become a Halloween tourist attraction. The story goes that the former dean of Rutger's Womens College disappeared while rowing on the lake near to an outcropping known as Pulpit Rock. Her corpse, perfectly preserved and with an anchor line around her neck, was found 30 years later by scuba divers. Today you can take a boat tour of the site, admire the fall foliage and hear more details. It's said that campers and boaters have reported seeing a ghostly figure of a woman hovering near Pulpit Rock. These sightings keep the legend of "the Lady in the Lake" alive to this day.
Pretty Whiteface Lodge, a new classic resort modeled after the Adirondacks Great Camps, welcomes families to leaf peep while enjoying a myriad of treats. Explore the charming town of Lake Placid then have a swim in their indoor/outdoor heated pool. Knock down a few pins in their two-lane bowling alley. Hit a few rounds of mingolf. Catch a flick in their in-house cinema. Slow down on the candy while enjoying S'mores by the outdoor firepits or the lodge breakfast — it's included in rates.
Trick or treat anyone? Get haunted house for kids options, Halloween fun and more by visiting our Haunted House and Halloween Weekend Breaks Directory.
Dear Reader: This page may contain affiliate links which may earn a commission if you click through and make a purchase. Our independent journalism is not influenced by any advertiser or commercial initiative unless it is clearly marked as sponsored content. As travel products change, please be sure to reconfirm all details and stay up to date with current events to ensure a safe and successful trip.
---