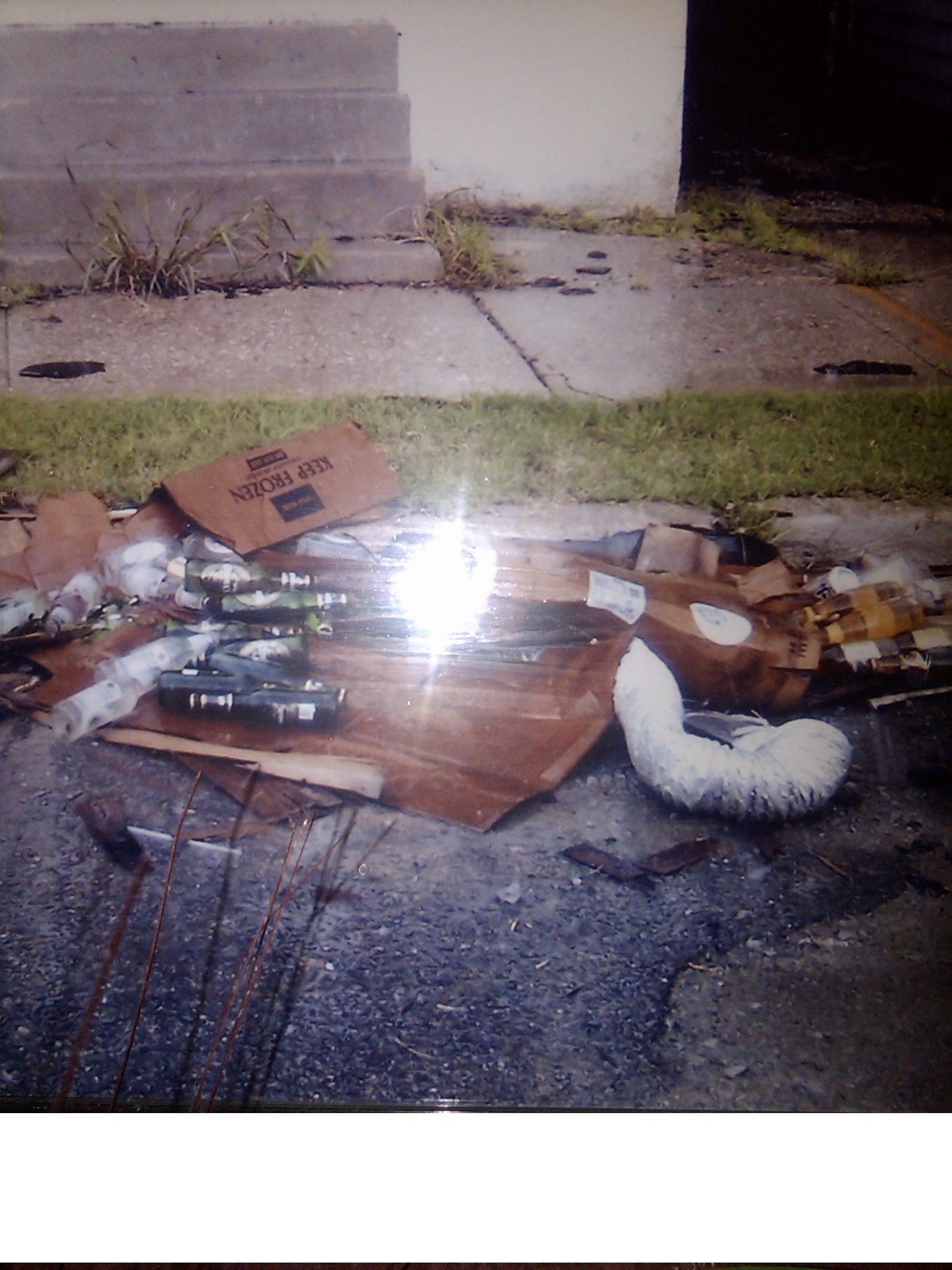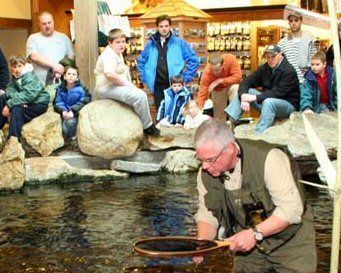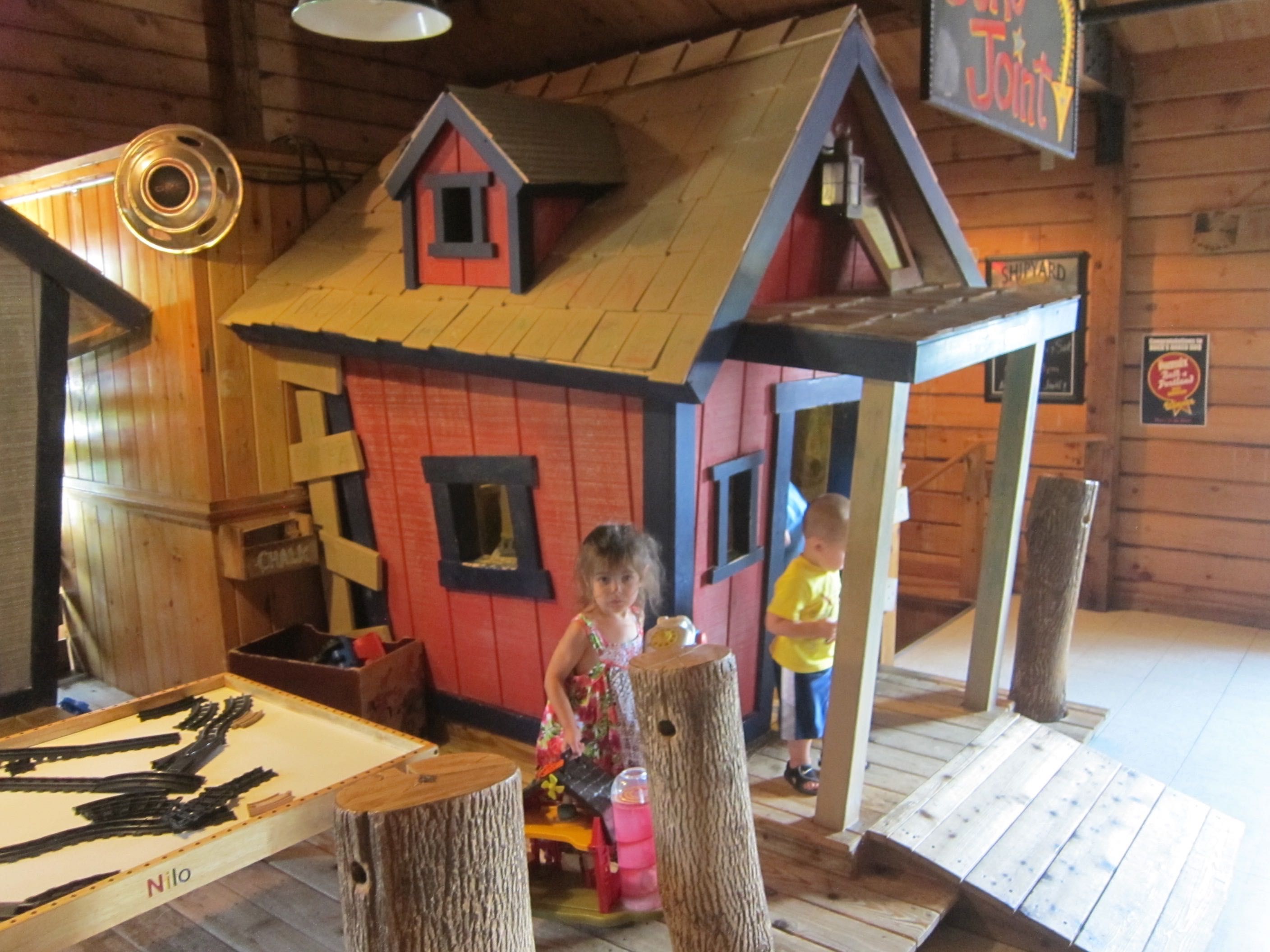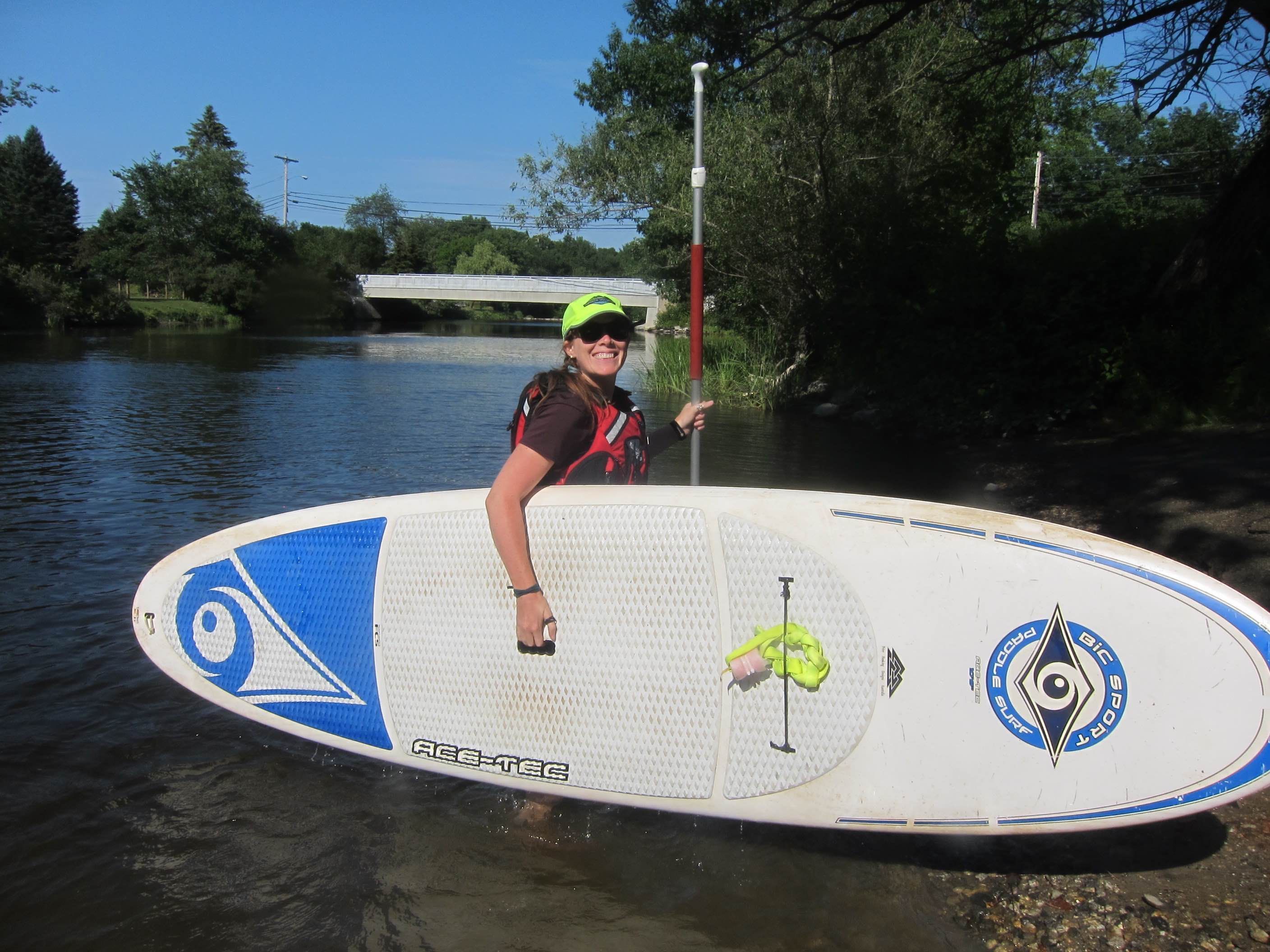 Fun for all ages, great learning activities, eco-adventures and quality merchandise share the shelves of L.L. Bean in Freeport, Maine. Legendary outdoor outfitter L.L. Bean has had their flagship store on the Main Street of Freeport since 1917. Decades of delivering millions of catalogs established this original retail shopas a Mecca for outdoors lovers, and it is open 24 hours per day, seven days a week, every single day of the year.
Families — even certified couch potatoes — love L.L. Bean too; a good thing as it's a great place to entertain all ages with free or low-cost learning adventures. Kids can sense that fun awaits inside once they see the giant hiking boot guarding the entryway.
L.L. Bean Store for Cool Learning Adventures
There are endless activities and cool ways to test the L.L. Bean brand merchandise within the huge, multi-wing store, as well as weekly musical performances, story time, and demonstrations of unusual new tools and camping items throughout the year.
If the kids want to learn more about selecting a proper-fitting backpack, even it's only a daypack to carry their school books, this is the place to do it. Parents can get tips on pitching tents, starting and keeping a campfire or propane camping stove going, and how to use a portable GPS device to its full capacity. (However, you may not be able to change the tone of that annoying voice which reprimands you when you get lost.)
L.L. Bean Outdoor Discovery Schools
L.L. Bean Outdoor Discovery Schools Adventures offers families an inexpensive way to learn a new sport or skill. The cost is a reasonable $25, including expert instruction and all equipment. You may pre-register online, but don't worry if you haven't pre-planned; they are often able to accommodate same day participants. In summer, popular activities include introduction to standup paddleboarding, fly fishing, canoeing and archery. Here's a look at our fun afternoon learning to stand-up paddleboard.
Typically, the program lasts for several hours and is open to ages 8 and up, but age requirements vary by sport. They run special classes for teens and kids during school vacations, including a popular Teen Adventure Week where a different sport is learned each day.
If you are already proficient, they offer more advanced classes in a variety of disciplines. True outdoor enthusiasts should enjoy the overnight kayak camping trips. You'll paddle the stunning Casco Bay with an experienced guide and camp on a scenic island where you'll dine on a traditional lobster dinner.
In winter, there is cross-country skiing or snowshoeing around Freeport Maine, as the L.L. Bean Adventures change seasonally.
L.L. Bean Festivals & Entertainment
L.L .Bean hosts free outdoor concerts and kid-oriented festivals several days a week in the busy summer season. From the week before Thanksgiving to a week after New Years, the place goes wild with the annual Northern Lights Celebration.
At L.L. Bean on winter weekends, there are horse-drawn carriage rides around the parking lot. Outside around a campfire, the experts from Outward Bound hold trainings in wilderness survival skills and serve hot chocolate. Inside, celebrities like filmmaker Ken Burns are autographing new books or holding workshops. Our favorite is a recent midnight session teaching shoppers how to make tree ornaments that look like Mt. Everest.
Of course, there are always sales on the mens, womens and kids clothing, camping gear, canoes, lobster pots, hunting equipment, sneakers and almost anything else you can imagine. And, participating in the L.L. Bean learning adventures earns you a discount coupon to purchase the merchandise you'll need to complement your new skills.
But more importantly, at L.L. Bean there are opportunities for the family to snuggle in a variety of sleeping bags and cozy up together on the floor of several tents. It's a free and fun way to introduce all ages to the pleasures of camping, especially because it's well-lit, and heated or air-conditioned depending on season. There's a climbing wall with instructors standing by, stationary "dogs" to test out saddle bags, and boats set up on dry land to practice your rowing. In short, the whole environment feels safe and cozy, a reassuring place to tackle The Wild.
Dining in and around Freeport, Maine
Portland catches the spotlight as the prime East Coast destination for foodies. But lookout, Freeport is poised to be the next darling of the New England culinary scene. A new wave of chefs is drawn to Freeport's plentiful high-integrity seafood and collaborative food community. Families will find an abundance of inexpensive eateries.
Casual Buck's Naked BBQ serves up gigantic portions of delicious carnivore classics with traditional sides like coleslaw and cornbread. Prices are very fair. There's a wonderful play space for the kids, complete with a walk-in clubhouse, so parents may even squeeze in an adult conversation while junior romps.
If you'd like something a touch more upscale, the Harraseeket Inn's Broad Arrow Tavern New England-style cuisine is wonderful, the hospitality tip-top. Don't miss the award-winning Maine lobster stew or the plump bacon wrapped scallops. The bountiful Sunday buffet brunch is a scrumptious showstopper.
Trip Planning Details for a Freeport Adventure
The flagship L.L. Bean store is located at 95 Main Street, Freeport, Maine 04033. The Harraseeket Inn nearby offers an indoor pool and lovely accommodations in the heart of town. Book one of the 93 rooms directly through the hotel and a lavish breakfast and fireside afternoon tea are included in the room rate.
If you like the intimacy and friendly feel of a B & B, the convivial White Cedar Inn welcomes children in several of its rooms. It's located right on Main Street, but the feeling is serene and low-key. The shady gardens are inviting, the rooms clean and quiet. Innkeepers Monica and Rock are a wonderful resource and Rock's morning repast is noteworthy. Let them know of any dietary restrictions in advance. A real find.
Retail-rich Freeport has blossomed into a shopaholic's dream, with L. L. Bean and other retail outlets attracting over three million annual visitors to this sparsely populated state. My own teens love to stroll the pedestrian-friendly downtown and search for bargains. But don't forget to come back to L.L. Bean again to check out their latest activities. It's quite a steal.
For additional information on planning your trip, go to the Freeport USA tourism site.
Dear Reader: This page may contain affiliate links which may earn a commission if you click through and make a purchase. Our independent journalism is not influenced by any advertiser or commercial initiative unless it is clearly marked as sponsored content. As travel products change, please be sure to reconfirm all details and stay up to date with current events to ensure a safe and successful trip.
---