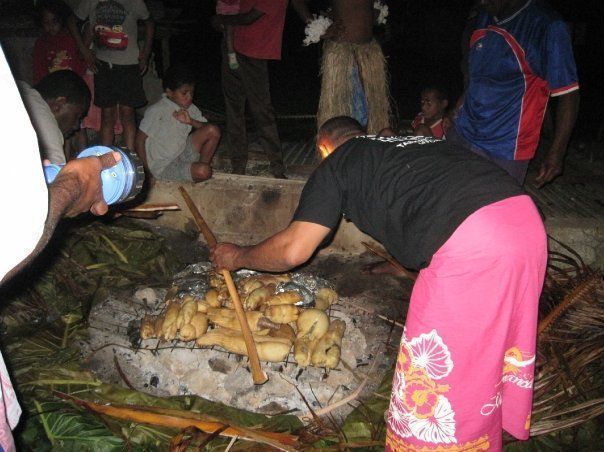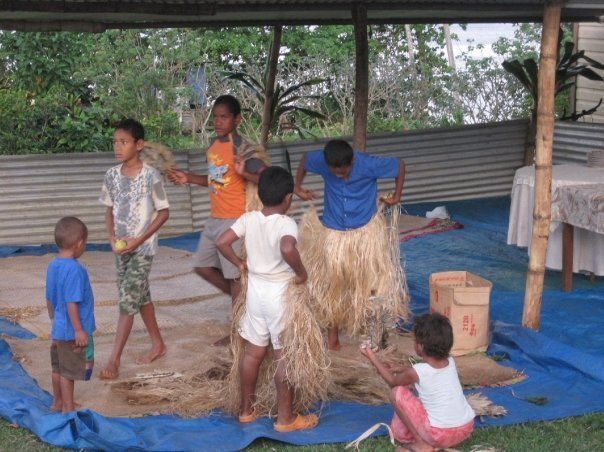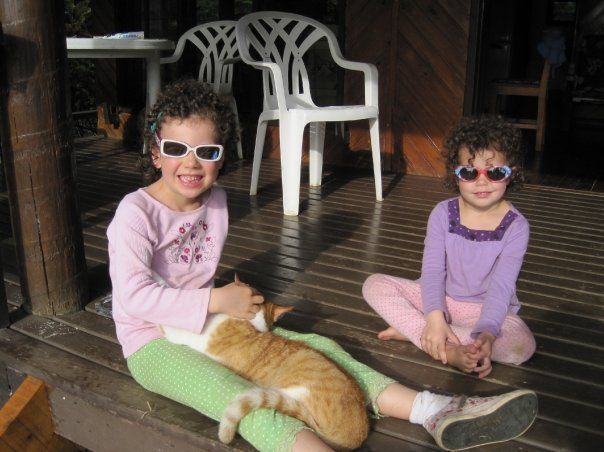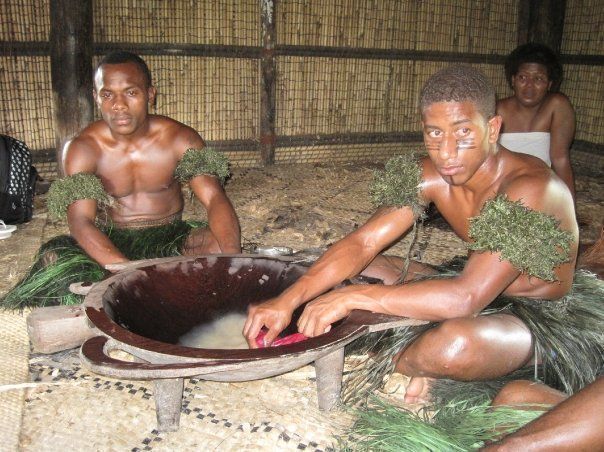 Fiji offers offbeat budget travel opportunites for a family beach vacation that combines a hip backpacker vibe with the comforts of an all-inclusive family resort.
Family Adventures with Toddlers in Fiji
"Mommy, what's a cannibal?"
We were on the Fijian island of Viti Levu at the local arts and culture center. A war-painted, grass-skirted Fijian was speaking about the infamous one-time dietary customs of this corner of the South Pacific and my 6-year-old daughter wasn't quite getting the joke about her tender flesh.
For a moment, I wondered if that Disney cruise might not have proven a better family vacation. Or perhaps a mega-resort with a kids club, our little ones safely sequestered from casual jests about the pleasing taste of young children?
But no, we were in Fiji with our 6- and 3-year-old daughters on a quest not only for family-friendly fun in the sun, but also outdoor adventure and, we hoped, some authentic cultural experiences. And if that meant having to explain cannibalism to a first grader, well then so be it. Anyway, the Fijians reportedly have not munched on a human since the 1800s, so she was probably safe.
Flashpacking on Viti Levu, Fiji
Initially, the Melanesian island country seemed out of the question for our budget-minded family. Most of our internet queries for "family resorts" turned up accommodations in the $500 per night range. However, some additional tooling around online led us to the discovery of a word for a newly defined demographic of travelers – "flashpackers" – and a new genre of budget accommodations that cater to them.
As it turned out, Fiji, with its close proximity to Australia 's globe-trotting youngsters, has been a breeding ground in recent years for these low-key, low-budget resorts, something of a cross between a youth hostel and a boutique hotel.
A close cousin to the grungy, rucksack-toting backpacker of yesteryear, the flashpacker is usually a little older, has more disposable income, and writes a blog instead of scribbling in a traveler's journal. He or she is done with the whole bedbugs and dirty dormitory thing, though still shares the backpacker's penchant for budget travel to exotic destinations, as well as an adventurous spirit and disdain for organized tours.
Hey, that sounded a lot like us. We were flashpackers. Who knew? Would it matter that we had bulging suitcases rather than backpacks and that we would have two mini-flashpackers in tow?
Happily, most of Fiji 's flashpacker resorts are perfectly suited for families. There is no precise definition of a flashpacker resort, and arguably many budget resorts in Fiji might qualify, but some attributes are the hallmark of a true flashpacker hotel: it offers both dorms and private rooms, adventure-focused activities like scuba diving, river rafting, and jet skiing, a casual restaurant and bar, a relatively small size, and reasonable prices.
Families will, of course, want to opt for the private rooms, and in Fiji , more often than not your private room will be a traditional thatched hut on the beach.
---
A Bure on the Beach in Fiji
For the first of our two stops in Fiji, we settled on the Uprising Beach Resort in Pacific Harbour on Viti Levu, where we reserved one of the resort's six spacious buré, each one crafted in traditional Fijian style with palm frond roofs and ceiling beams made from palm trees, wrapped at the joints with rope spun from coconut fibers. It was less than US$100 per night, and it was huge. The outdoor shower was a big hit with the kids. There was no air conditioning, but none was needed, and we fell asleep every night to the sound of the waves.
Who needed a kids club? Babysitting was $5 per hour. The restaurant had an extensive kid's menu and our little ones happily occupied themselves collecting hermit crabs, playing on the beach, taking horse rides with us, and running around with other kids at the resort.
Evenings were spent in the restaurant, swapping stories of that day's adventures – jet skiing to a deserted island, scuba diving the world famous reefs – with other families, as well as 20-something kids from Germany, France and Australia. After a cocktail or two, I almost felt 22 again, fresh out of college and as carefree as when I was bumming around Europe for the summer. A German student became a regular at our dinner table. The quirky American guy had us rolling our eyes, but we appreciated his tips about Taveuni, the other island we were to visit.
When we needed some alone time, the intimate nature of the resort meant solitude was as easy to come by as camaraderie.
Why Fiji is Ideal for Kids
Air Pacific's overnight flight from Los Angeles makes accessing this 330-island nation easier than you might think, assuming the kids will sleep at least some of the 10+ hours in the sky, and assuming you're starting your trip on the West Coast. If flying to Fiji from the Midwest or the East Coast, consider staying a day or two in Los Angeles before taking off over the Pacific.
The prevalence of these family-friendly flashpacker resorts is just one reason Fiji is a perfect destination for families not yet willing to surrender to the notion that a vacation has to involve either life-size cartoon animals or a condo in Hawaii. Yes, a family getaway to a developing country like Fiji can mean carseat-less rides down dirt roads, iffy hot water situations, and a decided lack of chicken nuggets.
But the tradeoffs are worth it if you're seeking an outdoorsy, unplugged adventure.
There were no TVs, video games, or computers in sight. English is widely spoken, as Fiji was a British colony until 1970. Tipping is rarely, if ever, expected. The weather is predictably warm and humid year-round, but not oppressive. And, the Fijian people are among the nicest, most laid-back, child-friendly folk you'll find anywhere.
Indeed, it is hard to reconcile the country's brutal, people-eating past with the warm, easygoing people you meet today. Children and adults smile and wave as you drive past their villages, often shouting bula a ubiquitous word meaning "hello" or "welcome." It literally means "life" and is used in a manner similar to "aloha" in Hawaiian. They'll invite you into their corrugated metal homes to show you the mat they're weaving. They'll joke around as you take pictures of their kids, who love to mug for the camera, and will often seize many an opportunity to make sure you know that the Fijians are Christian, church-going people.
None of the Fijians we encountered were trying to sell us anything or work an angle. They were just cool with that fact that we were visiting.
---
Fiji's Ethnic Tensions
Not to suggest that Fiji is some kind of Garden of Eden, though waterfalls, butterflies, and groaning papaya trees might have you thinking along those lines.
Surely, there is crime in the largest cities of Nadi and Suva. And, the country has had its share of political unrest, caused in significant part by racial tensions between the native Fijians, who make up about 60% of the population, and the Indo-Fijians, descendants of indentured servants brought from India to Fiji during British rule, who comprise the other 40 percent.
There is virtually no intermarriage or cultural mixing between the two ethnic groups. The Indo-Fijians tend to be the mercantile class, owning most of the shops, taxis and other small businesses.
For visitors to Fiji, these distinct groups of people – with their own foods, language, customs, and dress – offer many points of cultural and culinary interest. Fijians stick to their native cuisine – fish, chicken, taro and cassava root, and squash are some of the staples – while the cuisine of the Indo-Fijians, from curries to dal, adds spice to the mix.
Kava is a Cultural Highlight of Fiji
One thing the two ethnic groups do share is an affinity for kava, a mild, dishwater-tasting narcotic beverage, usually drunk from a communal bowl, that virtually every visitor to Fiji will have the chance to try. Don't worry about getting loopy. A bowl or two of kava, all the average tourist will get in a single sitting, will just leave your mouth feeling slightly numb.
Tradition-rich kava ceremonies, with shouts of bula and much hand-clapping, are part of many touristy and cultural events, though the locals don't stand on much formality when they indulge in the root of the piper methysticum plant among themselves. Arguably, a good portion of the population is addicted to the soporific drug, also grown as a cash crop for export to countries like Germany that use it in non-traditional sleep medications.
The kava flows freely during a meke, a village feast with traditional dancing, grass skirts and war paint. During our stay, the village of Wee Wee, on the verdant, rustic island of Taveuni, hosted a meke as a fundraiser for their local school. The idea was that the tourists would love a taste of the real Fiji while the village school could use some new books – a win-win for everyone.
---
A Family Feast & Fundraiser on Taveuni
We were staying at the nearby Matei Pointe, arguably not officially a flashpacker hostel, but an off-the-beaten-track collection of rentals in the same spirit: reasonably priced, ocean-front bures with kitchenettes and plenty of rustic charm. We heard about the night's festivities from fellow travelers and took a bumpy taxi ride down the island's main dirt road to the little village on the banks of a stream.
We initially felt awkward and intrusive, arriving in the center of the village while kids ran around making their grass skirts for that night's show and the adults were going about their regular evening business, bathing their children in outdoor sinks and putting foil-wrapped food into the lovo, a traditional earth oven.
Almost immediately, though, we were greeted by the village chief who took us on a tour of the 70-person village.
"We are all one big family," he said proudly, as he explained how the village had electricity only a few hours a day and subsisted primarily on food grown or raised nearby. We took his "big family" comment to mean everyone got along well, only to learn later that it was to be taken literally. Wee Wee village was single extended family: moms, dads, aunts, cousins, brothers, sisters – and kids everywhere, all jostling to have us take their photo. It all seemed primordial and idyllic.
As the tropical night closed in, the drumming and dancing started, and the food was laid out on a table. A hollowed pumpkin, filled with a flavorful noodle and squash dish was the centerpiece, surrounded by a Thanksgiving-like panoply of traditional Fijian specialties.
Taro leaves marinated in coconut milk and onions, then baked in the lovo, was our favorite. Even our girls were smacking their lips. It was similar to a lightly creamed spinach, but with a smoky undertone and a coco-nutty sweetness.
As we finished our dinner and collapsed happily on our mats, our hosts took their kava bowl to the side of the eating area and played guitar. It was just another Tuesday night for them, but for us it was a highlight of our stay and represented all we loved about Fiji, and all we enjoyed about our flashpacker experience: It was cheap, authentic, enriching and yet still comfortable and easy.
Most importantly, our children got the chance to see how these Fijian children lived happily without televisions, computers, play dates, or cheese sticks. They ran around with their new Fijian friends under a tropical, starlit sky and all seemed right with the world.
Dear Reader: This page may contain affiliate links which may earn a commission if you click through and make a purchase. Our independent journalism is not influenced by any advertiser or commercial initiative unless it is clearly marked as sponsored content. As travel products change, please be sure to reconfirm all details and stay up to date with current events to ensure a safe and successful trip.
---