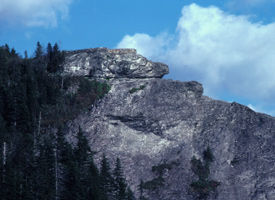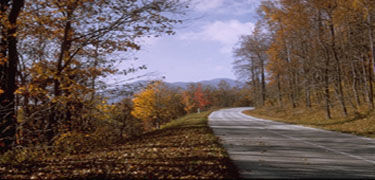 Running from Virginia south and west to the Carolinas, the Blue Ridge Parkway is one of America's most scenic drives.
The Blue Ridge Parkway is more than just 469 miles of obscenely beautiful vistas and picturesque rainbow-colored trees in the fall. Stretching from the Shenandoah National Park in Virginia to the north, running southwest to the Great Smoky Mountains straddling the North Carolina-Tennessee border, "America's Favorite Drive" offers some of the best outdoor activities in the States.
A colossal undertaking authorized in the 1930s as a Depression-era public works project and consuming over a half a century before its completion, Blue Ridge Parkway is an ideal family road trip year-round. Along the nation's first and longest rural parkway, you'll spot the common Goldenrod in the fall, the beautiful Bellflower come spring, and summer's deceivingly innocent-looking, white colored Bloodroot flower.
With such an immense region of overwhelming beauty and endless recreational activities, where does one begin?
Virginia Is For Lovers… and Hikers
Heading south, away from Roanoke, Virginia, start your hiking adventure at the Mountain Industry Trail. Here, you'll find Mabry Mill, a site harkening back to the old days with its early 20th-century buildings, whiskey still and other displays showing rural life in old Appalachia.
Farther south, Round Meadow Creek Loop Trail and High Meadow Trail offer easy-going hikes with a few rather interesting attractions. The former trail is home to the Groundhog Mountain Observation Tower and Puckett Cabin. The latter was home to "Aunt" Orelena Hawks Puckett, a midwife who allegedly gave birth to more than 1,000 babies, while charging anywhere from $1 to $6 for her services. Her career as a midwife didn't begin until she was 50, and she was 102 when she delivered her last child.
High Meadow Trail not only boasts verdant landscapes of rhododendrons, ferns and rock outcrops, but also the Blue Ridge Music Center, established in 1985. Its outdoor amphitheater and indoor interpretive center are great places to relax and tap your foot to some locally produced country bluegrass.
North Carolina: First In Flight & Hiker's Delight
Upon entering North Carolina via the Blue Ridge Parkway, many of the trails – such as Price Lake Loop Trail – offer prime sites for fishing, canoeing and camping.
Located at milepost 331 at Gillespie Gap, the Museum of North Carolina Minerals invites kids to experience hands-on displays about gold, copper, kaolin, and other minerals found nearby.
Once again heading south along the Parkway, be sure to stop by the Graveyard Fields Loop Trail. Perhaps not as grim as it sounds, the area's once lush spruce forest was leveled by tremendous winds, leaving only decaying root stumps, which became dirt mounds with the eerie appearance of graves.
Another similarly sinister destination is the Devil's Courthouse Trail; legend holds that the mountain cave hikers will come across is the location of the devil's courtroom. In Cherokee lore, this same cave is said to be the private dancing chamber and dwelling place of the slant-eyed giant, Judaculla.
The final segment of the Parkway leads to the Cherokee Indian Reservation, situated at the northeastern edge of the Great Smoky Mountains. The reservation's museum, village and outdoor dramas take visitors back in time to experience the 11,000 year-old culture's way of life.
Learn about the Cherokee's fascinating legends and the tragic tale of the Trail of Tears, resulting from Andrew Jackson's Indian Removal Act and the destruction of 200 years of harmonious European-Indian relations. Throughout the village, the kids will spot decorative fiberglass bears, designed by local Cherokee artists.
Friendly Asheville with Kids
Saving the best for last, head directly east to Asheville, a truly offbeat destination nestled in the tree-covered mountains of North Carolina. 
Perfect for those who want to kick off their shoes and jump right into hippie central, walk down any of Asheville's helter-skelter streets and enjoy the sounds of local street performers and unique galleries and shops. Expect to stumble upon a spontaneous drum circle at the plaza in the center of the city and feel free to join in!
For those who aren't tired from all the hiking, the Asheville Urban Trail offers a 2-mile educational walking tour. In the Asheville Township, spend your day at the Folk Art Center to see craft demonstrations.
While festivals are held throughout the year, other permanent attractions abound in Asheville, including the Asheville Art Museum – displaying 20th and 21st century American art and the cultural heritage and contemporary art of Western North Carolina – and Colburn Earth Science Museum, which offers interactive, hands-on exhibits on geology for the future geologist in the family.
Don't miss out on the area's great historic sites such as Biltmore, a 125,000-acre estate featuring 4 acres of floor space, 250 rooms, 34 bedrooms, 43 bathrooms, and 65 fireplaces. Began in 1889, construction was still underway after being opened in 1895. Fun things to do here are carriage and horseback rides, river float trips, and hiking and biking.
To get away from all the peace signs and free hugs, another favorite family attraction is Chimney Rock Park, which features a 500 million-year-old rock nearly 120-feet tall. You can take a 26-story elevator to the summit, then hike the Skyline Trail to the top of Hickory Nut Falls. From here, it's your choice of whether to watch while the falls plunge 404 feet down, or just picnic on one of the wildflower meadows.
For more information, maps and seasonal tips, visit the website of the Blue Ridge Parkway Association.
Dear Reader: This page may contain affiliate links which may earn a commission if you click through and make a purchase. Our independent journalism is not influenced by any advertiser or commercial initiative unless it is clearly marked as sponsored content. As travel products change, please be sure to reconfirm all details and stay up to date with current events to ensure a safe and successful trip.
---