Welcome to Routes 1 and A1A, the twin coastal roads along the Atlantic coast between Jacksonville and Key West that lead you on the greatest Florida beach road trip.
U.S. Route 1 runs along the eastern coast of the United States for more than 2,000 miles between Key West, Florida and Fort Kent, Maine. Designed in the 1920's to cover a route similar to that of the old Atlantic Highway, it connects the major east coast cities in a direct way that the more modern I-95, which parallels it, does not.
A New York to Florida summer road trip (really a low-cost beach getaway) occupied two or three weeks in my youth. Today, time-pressed families typically explore a shorter stretch of US 1. Focus on the wonderful combination of Route 1 and Route A1A that snakes along the Atlantic coast of Florida from Jacksonville to Key West. The southernmost end, perhaps the most fun drive of all, was built as the two-lane Overseas Highway from Miami to Key West in the mid-1930s and was annexed to US 1 soon afterward.
Need a discount rental car for your Florida family vacation?
From the Georgia border south, driving US1 will take your family through Jacksonville, St. Augustine, Palm Coast, Daytona Beach, Titusville, Melbourne, Fort Pierce, West Palm Beach, Fort Lauderdale, Miami and all the way to Key West.
Note the points where US 1 separates from the beach by the Intracoastal Waterway (Florida's marine highway). To the east you'll find Route A1A, also seen as SRA1A (State Road). This smaller coastal road veers off into the charming little (and big) beach towns for which Florida is famous.
A Family Favorite Florida Beach Road Trip, Especially for East Coast Families
This route is also the federally-designated A1A Scenic and Historic Coastal Highway as well as a National Scenic Byway. While it changes names as it courses through towns and along a little bit of undeveloped coastline, the swaying palms, dune grass and sea grapes, gold sand beaches and sparkling waves make it a fun road trip. However, because much of A1A runs along Florida's Barrier Islands, the road is subject to flooding or other storm damage and may be closed in parts, especially if you're traveling during the summer hurricane season.
You can customize the ride by choosing a few of the primary family destinations along the way (or veering west to Orlando), and spending as much or as little time as you'd like at each one. If you've rented a car, you can leave it at Key West and fly home, or else backtrack along the Overseas Highway to Miami, then jump on I-95 for the long trip north. A good resource for lodging along this route is the booking.com app since many family-owned properties — some with kitchens, pools, outdoor play areas and family amenities — use it to reach a broader audience.
Our suggested 8-day Florida Beach Road Trip itinerary follows:
Day 1: Jacksonville
Day 2: Jacksonville to St. Augustine
Day 3: St. Augustine to Daytona Beach
Day 4: Daytona Beach to Cocoa Beach
Day 5: Cocoa Beach to Palm Beach
Day 6: Palm Beach to Fort Lauderdale
Day 7: Fort Lauderdale to Miami Beach
Days 8-10: Miami to Key West
Day 1: Jacksonville
Beginning in Jacksonville on US 1, families who want to stay a few days have more than enough to keep them busy. Nestled in the northeast corner of Florida, where the St. John's River meets the Atlantic Ocean, the city of Jacksonville has two riverwalks packed with restaurants and shops, great museums and several galleries, plenty of outdoor recreation space, and a lively waterfront that can be toured by watertaxi.
Get a discount on a family-friendly hotel in Florida for your next family vacation.
Families with younger children shouldn't miss the Jacksonville Zoological Gardens, where more than 1, 000 animals live in natural habitats. Metropolitan Park, the city's downtown park, offers many free concerts in summer. If you've been driving for awhile and need something even more active, take the family to Adventure Landing for its amusement rides, waterpark, go-kart racing and teddy bear factory. A free trolley circles many of the main attractions. For more information about the area, contact the Visit Jacksonville office.
Day 2: Jacksonville to St. Augustine – 41 miles
From Jacksonville Beach, you can drive US 1 south to St. Augustine, the oldest continuously occupied European settlement in the continental United States. Make time to drive the 72-mile A1A Scenic & Historic Coastal Byway. Follow the two-lane blacktop surrounded by water on a journey more than 500 years old.
By the early 1600's, the village of St. Augustine had its own fort, church, hospital and more than 100 houses and shops. The Fountain of Youth, a natural spring said to be discovered by Ponce de Leon in 1513, is the city's most famous attraction. Park the car at the Fountain of Youth Archeological Park to see exhibits about the indigenous Timucua tribes, a Christian Burial Ground, drink from the fountain and more. Do you feel eternally youthful?
Walk around St. Augustine's small historic district to see Spanish missions. To switch modes of transport, you can also hail a horse-drawn carriage, join a sightseeing train or hop aboard a guided, sightseeing trolley.
Parents may want to stop in St. Augustine's Oldest House (the Gonzalez-Alvarez House) dating back to 1727. The kids will probably enjoy the recreation of the 16th-century St. Augustine Old City, where costumed interpreters tend to restored homes and a country store. Between Thanksgiving and New Years, families can enjoy the annual Night of Lights illumination of the historic city center. To join a ghost tour of the old district or even a haunted boat trip, you'll have to spend the night. For more information about St. Augustine and the region's history, visit Florida's Historic Coast.
Day 3: St. Augustine to Daytona Beach – 59 miles
Just an hour south, and right on A1A, is Daytona Beach, a bustling beach town known for its 1960s Spring Break crowds and the Daytona Speedway. Here, you can forget about navigating US 1 or A1A and continue your road trip right on Daytona's 17-mile stretch of beach. Here's your beach getaway. Allow time to pause and admire the many colorful dune buggies out on the sand. If you don't have your own low-rider convertible Corvette, you can rent one, or a four-seater ATV or dune buggy, from one of the many local vendors; be sure to take a helmet for each rider. Afterwards, rent a chaise and umbrella, or choose a safe place to put down your beach towels and enjoy the warm Atlantic surf.
If you are in Daytona Beach on a Sunday, check out the Drive-In Church. Established in 1957 when the First Christian Church purchased the Neptune Drive-In Theater. They organized the first drive-in church service, and now the Drive-In Church welcomes everyone. You can even wear your beach attire to church because you get to stay in the car and tune in on your radio or listen through the speakers. At the end of the service the reverend will come by to shake your hands, and then you can hop across the street to the beach or keep on driving.
Search Daytona Beach for tourist information.
Day 4: The Space Coast — Extraterrestrial Florida Beach Road Trip from Daytona Beach to Cocoa Beach – 95 miles
Then comes the famous Space Coast, a 95-mile stretch of Florida coast that's home to the Kennedy Space Center and towns of Titusville, Cocoa Beach, Melbourne, and Palm Bay. If you're joining our road trip after a theme park visit, you'll see that Orlando is only 35 miles to the west. This area is an economical base for a few days of fun and sand. Depending on the time of year, choose between watching shuttle and rocket launches, surfing or learning the sport. Plan on bird watching, golf, fresh and saltwater fishing as well as airboat rides.
The main attraction for school-age kids and parents who longed to be astronauts is the Kennedy Space Center at Cape Canaveral. Allow a full day here to catch shuttle buses and tour the private U.S. Astronaut Hall of Fame. (Book ahead to dine with one. ) KSC is home to the Florida branch of Space Camp and training programs. Live the life of an astronaut with the expensive but unique half-day Family Astronaut Training Experience. It's designed for adults and kids ages 8 and older to encourage budding astronauts and rocket scientists. Families can also enjoy the Space Shuttle Atlantis exhibition, which gives visitors a chance to get nose-to-nose with the final shuttle orbiter to fly a NASA mission, Atlantis.
Space Coast Has More Than Outer Space Attractions
Back on earth at the surprisingly interesting Brevard Zoo, the kids can feed giraffes or kayak along the zoo's river.
A star along A1A, Cocoa Beach is a popular and good value town to spend a few days on your family beach getaway. There are a number of interesting restaurants and fun spots, including the famous Ron Jon's Surf Shop — the largest in the world — where kids can admire the latest surfboard styles 24/7/365. From the Cocoa Beach Pier, families can watch local surfers paddle out and glide in, or fish the day away. Have a meal in the Historic Cocoa Village, a preserved Victorian-era town built along the Indian River lagoon that's part of the scenic Intracoastal Waterway. Still keeping the mainland on your right and the narrow beach strip and Atlantic on your left, head south along US 1 to one of America's best known resort areas, toney Palm Beach.
Day 5: Cocoa Beach to Palm Beach – 138 miles
During the 2.5-hour-long drive between Cocoa Beach and Palm Beach, you'll pass a few family-oriented landmarks. At Vero Beach, the gem of Florida's so-called Treasure Coast, look for the classic Cracker houses dating to the mid-19th century. Typically white, cedar-or cypress-plank, peak-roofed cottages, the homes of poor plantation farmers are now considered energy-efficient marvels. Hallmarks of the Florida Crackers include: oyster shell and lime foundations (to provide shade for chickens and dogs who ate the mosquitoes); wide cracks between the floorboards to circulate air; deep porches and often a center walkway to create shade; and several windows to augment the cross breezes. The Indian River Citrus Museum dedicated to the Florida orange-growing business. McKee Botanical Garden features historic sub-tropical plant specimens that enhance the authentic old Florida feel; both are closed Mondays.
About 30 miles south and not much to look at, the town of Port St. Lucie is best known to family travelers as the site of the former Club Med Sandpiper resort. Not far away in Jupiter, the non-touristy Busch Wildlife Sanctuary provides rehabilitative care to over 4,000 sick, injured and orphaned wild animals each year and is the type of hospital that kids will want to tour.
Whether you're an E.F. Hutton heir, descendant of European royalty, or just like to follow Donald Trump, it's worth a stop in Palm Beach, especially during "The Season" when the rich and famous flee cold weather to gather at their yachts and mansions. Visitors will have to make do with a room at the legendary Breakers, Four Seasons or Ritz-Carlton resorts, or one of the many other hotels in all price ranges that cater to families.
West Palm Beach's Fun Activities to Add to your Florida Beach Road Trip
While bustling West Palm Beach, inland on US 1, attracts a younger crowd, this attractive Mediterranean style city on Route 1 has plenty of swimming pools, a long sand beach, and natural attractions that give families a little bit of that south Florida, tropical feel.
Start at the 500-acre John D. MacArthur Beach State Park on Singer Island. Here, a secluded beach offers opportunities for beachcombing, swimming or watching nesting turtles between May and August. Ask for a brochure from the nature center so you can hunt for gumbo-limbo, strangler figs and three types of mangrove trees, as well as butterflies, poisonous plants and huge spiders.
The Cox Science Center and Aquarium also offers outdoor nature trails as well as a planetarium, aquarium, observatory and miniature golf course. If you're staying a few days and traveling with younger children, they'll enjoy time at the Palm Beach Zoo at Dreher Park as well as the more commercial Lion Country Safari, a drive-through "game park" that's most fun during the morning lion feeding sessions. For more information from the Palm Beach Tourist Office, visit their site.
Day 6: Palm Beach to Fort Lauderdale – 47 miles
On the way south to Fort Lauderdale, pause for conch fritters at any of the seafood shacks along the Intracoastal Waterway or make a detour to Hollywood Beach to stretch your legs or bike along the 2½-mile oceanfront Boardwalk. This area is complete with outdoor cafes and a variety of updated condos and old-style motel accommodations. The 3½-mile-long Pompano Beach, with play areas and ongoing family festivities, is always active too. Most families heading into Lauderdale will already have their hotel picked out, as this is one of Florida's most popular family resorts and advance reservations are recommended.
The palm-fringed, gold sand Fort Lauderdale Beach is a long time favorite. Explore the mangrove-lined coastline, endless rivers, canals, lakes and ponds where families can find dolphins, manatees, ospreys and pelicans. It's an ideal beach vacation destination if your family is interested in deep sea fishing or watersports, because facilities are plentiful and well-priced for those who want to water or jet ski, parasail, join a canoe or kayak tour, scuba dive or snorkel — even learn a newer sport such as kite surfing or paddleboarding (stand-up paddling on longboards).
This is also a place to visit The Everglades, a diverse flora and fauna ecosystem that covers 750,000 acres of southern Florida. From Everglades Holiday Park, your family can join a guided airboat skimming across the top of the water through the "River of Grass." After possibly viewing alligators and baby crocodiles, waterfowl and eagles in their natural habitat, you can catch the amazing alligator show back at the park.
Fun and educational displays of wildlife can be found at the commercial Butterfly World/Tradewinds Park and at Flamingo Gardens. Or, you may prefer the nature trails at Hugh Taylor Birch State Recreation Area, or want to try mountain biking in Fort Lauderdale's Markham Park. In this large city, there are constant entertainment options, too, from shopping at a myriad of malls, to outdoor cultural performances, summertime children's camps, and fine art museums, including the Museum of Science and Discovery, a children's museum and children's theatre. If you've got a Michael Phelps in the family, check out the International Swimming Hall of Fame. Get more travel information about Fort Lauderdale at the Visit Fort Lauderdale website.
Day 7: Fort Lauderdale to Miami Beach – 28 miles
The brief drive south from Lauderdale to Miami along US 1 presents a colorful array of old and new Florida sights, with slow-moving traffic, key lime pie shops, Jewish delis, Cuban cafes and always, sunglasses and bathing suit shops. The city of Miami is a great family destination because its special blend of Latin and European influences makes for an exciting multi-cultural landscape, great museums and restaurants, and wonderful shopping.
For most road-trippers, though, this is the time to open the sunroof and cruise east across the MacArthur Causeway, that long, low bridge that connects the mainland to the famous barrier island of Miami Beach. Driving past the pastel-colored Art Deco hotel towers and beach-bums in flipflops on the sidewalks of Collins Avenue (also A1A) is as close as you can get to the beach at this point, but at 1st Street — the south end of the famous South Beach (or SoBe strip) — you can turn east toward the beach and drive north on Ocean Drive. This two-lane road is part of A1A and is the city's most famous half-mile stretch, where everyone will enjoy the people-watching. You may spot a model being photographed on the sands of Lummus Park, a rock star out for a stroll, or an enormous cruise ship leaving the Port of Miami. This busy stretch of gold sand (and the wild roller rink in MacArthur Park) are quite "the scene." During the winter high season or any weekend evening, we recommend that you park on Washington, one street inland, and then walk along Ocean Drive. Or you can park at one of the Deco hotels and make this your family beach getaway.
The must-see is the Art Deco District of South Beach, a whole neighborhood comprised of wild and colorful 1920s and '30s architecture. Start your walking tour of the registered National Historic Landmark district at the Miami Design Preservation League (1200 Ocean Drive; 305/672-2014), where maps, guided tours and souvenirs are available. These are the blocks that come alive at sunset, when the world's beautiful people and those who enjoy watching them take up their seats at every sidewalk cafe and hotel bar. The FIU Wolfsonian Museum nearby houses an extraordinary design collection, from early 20th century to Art Deco and beyond, that older kids will enjoy seeing.
Plan a meal or a shopping spree on the Deco thoroughfare that runs perpendicular to the beach, now the pedestrian-only, seven-block-long Lincoln Road Mall. All ages will enjoy the sidewalk cafes, shops, galleries, street performers and public fountains – again a great people watching spot to be. A worthwhile detour even for those who aren't stopping in Miami is the Venetian Pool in Coral Gables, a spectacular 820,000-gallon pool formed from a rock quarry in 1923. With two waterfalls, coral caves, grottos and stone bridges, the spring-fed Venetian Pool sees nearly 100,000 visitors every year.
From a base in South Beach or the neighboring, family-freindly neighborhoods of Miami, Coral Gables or Coconut Grove, your family will enjoy some of Miami's south Florida classic attractions. Allow time to see Jungle Island, Zoo Miami, Butterfly World, the beautiful Vizcaya Museum and Gardens on Biscayne Bay, and the Miami Seaquarium marine shows. Interact with the cool exhibits at the new Frost Science Museum and Planetarium.
Pause for some croquettas and cafe con leche to prepare kids for a visit to Calle Ocho. The neighborhood is Miami's "Little Havana" where the cuisine and culture of the pre-Castro Cuba still flourishes. More information and details can be found at MiamiAndBeaches.com.
Days 8-10: Miami to Key West – 160 miles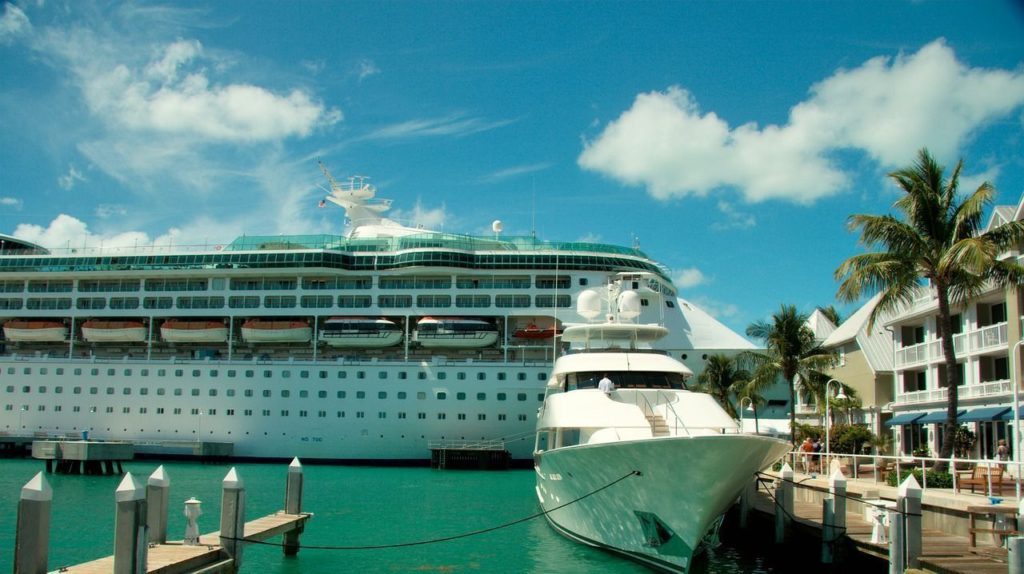 No matter how much or how little time your family spends in SoBe, you won't have completed the US 1-A1A journey until you've ridden it to the southernmost point in the United States: Key West. The Florida Keys extend south of Miami in a string of narrow limestone and mangrove islands bordered to the west by the Gulf of Mexico and to the east by the Atlantic Ocean. You can rush down this National Scenic Byway to Key West in about 3.5 hours or take a week and savor it slowly. Note that most addresses are written as MM; the "mile marker" signs begin near Florida City at around MM 127 and descend to MM 0, site of the Green Parrot Bar ("The 1st and Last Bar on US 1" their sign proclaims) in Key West. Whoever invented this system anticipated that backseat passengers would someday ask, "Are we there yet?" and parents could tell them to see for themselves.
Of course, you don't have to drive all the way to Key West to appreciate the bohemian charm of many of the Keys communities. The first major key you'll reach after Key Biscayne (almost an extension of Miami Beach) is Key Largo, home to John Pennekamp Coral Reef State Park a noted diving spot, the National Marine Sanctuary, Molasses Reef, and the underwater caves of French Reef. Each area is known for its wrecks and the lush coral reef formations and marine habitats that have developed among the ship's ruins.
The signage becomes denser and the beaches become leaner as you reach Islamorada, the self-styled "Sport Fishing Capital of the World". You can't miss the giant brown lobster outside the Treasure Village gift shop or the fountains crashing over the illuminated sign of Theatre of the Sea, a marine amusement park with animal shows and gifts galore, on little Windley Key. Slow down and enjoy some of the glitziest attractions in the Keys, as well as Cheeca Lodge & Spa with ith its elegantly furnished family condos or The Moorings Village and Spa.
A bit south on Duck Key, Hawks Cay Resort is a destination for many Florida families, who like its setting between the bay and the Atlantic, with docks and beaches on both sides. This property is bisected by manmade canals, the main swimming pool has a pirate-themed waterplay area, guests can swim with dolphins, and the family cottages are popular with larger family groups.
Driving south from the very commercial and developed Marathon Key is Grassy Key, where you can see a statue of what looks like Flipper. Indeed, this is where the original pet dolphin film "Flipper" was shot in the 1950s. It is said the bones of the late star are buried under the sculpture. Almost any turnoff along A1A has a story.
The Florida Keys owe their years of prosperity to Henry Flagler, the visionary railroad magnate who decided in 1912 he would extend his Floridian Overseas Railroad to the tip of the country. To the west you can see the original roadbed for the railroad (destroyed long ago by a hurricane) and the famous Seven Mile Bridge (actually 6.9 miles), which has been broken in places to allow taller ships to cross through. You can walk or jog down the northern end from Marathon reaching out to Pigeon Key, an islet to the west of the recently built highway that is a Florida Heritage landmark because of its original conch houses.
See More on Your Florida Beach Road Trip in the Lower Keys
At about 128 miles south of Miami are the Lower Keys, the region best known for scuba diving and snorkeling spots. The MS Looe, which ran aground in 1744, is the centerpiece of the Looe Key National Marine Sanctuary and a magnet for tropical fish.
An unusual stop is at the National Key Deer Refuge about 30 miles north on Big Pine Key, the only official North American home of the tiny Virginia white-tailed deer. You'll also see many vehicles pulled over the shoulder of the narrow road so that kayakers and canoers can unload their boats and explore the dense mangrove hugging the roadway. Most of the Keys' shoreline is broken coral but there is a beautiful sand beach at the 500+ acre Bahia Honda State Park where you can snorkel, kayak, fish, camp, hike and bike.
And, suddenly, modern suburban malls appear and you're approaching the outskirts of Key West, itself a well-preserved enclave of two-story Victorian houses and conch cottages clustered along Duvall Street. Allow at least a day if you've driven this far, to taste key lime pie, show the kids the fun shops, colorful locals, deep sea fishers who spend their days drinking and pirate museums. You'll want to join the street performers and artisans who turn the famous sunset celebration at Mallory Pier into a carnival, just because you've come this far.
Dear Reader: This page may contain affiliate links which may earn a commission if you click through and make a purchase. Our independent journalism is not influenced by any advertiser or commercial initiative unless it is clearly marked as sponsored content. As travel products change, please be sure to reconfirm all details and stay up to date with current events to ensure a safe and successful trip.
---