Pristine lakes, mountain goats, snow-capped mountains, stunning views: Glacier National Park in northern Montana has it all, but may lose its glaciers before long. To see it while you can, plan ahead and book your timed entry for a leisurely road trip in the coming year.
Located in the northwestern corner of Montana, Glacier National Park was the United States' tenth designated National Park, celebrating its centennial anniversary in 2010. Before the influx of expeditions of French, British and Spanish explorers and long before the mining craze of the late 17th century, the mountains, valleys and prairies within Glacier National Park boundaries were once home to the Blackfeet, Salish, and Kootenai Indian tribes.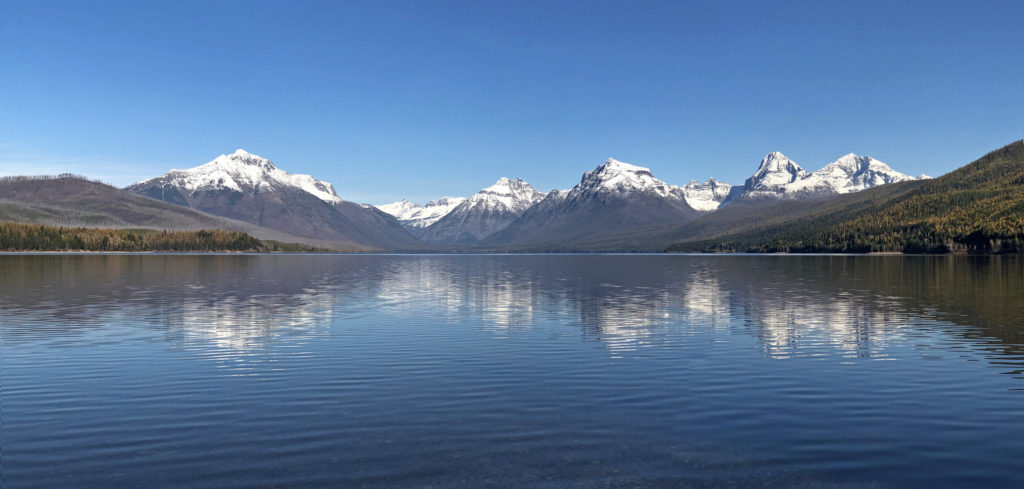 Although you won't find any of these tribes living there today, traces of indigenous Native American cultures, along with many equally fascinating park features still remain in the "Shining Mountains."
Making the Trek to Glacier National Park
While my story focuses on summer travel, in fact, families explore Glacier National Park in all seasons. The only limitation is road closures dictated by the amount of snowfall and available plowing power. In summer, arrive at the park by car, plane, or train — though the park is remote, there are numerous shuttles to and from nearby airports and train stations.
The closest airport is Glacier Park International Airport in Kalispell, Montana, 25 miles west of park headquarters which are in West Glacier, Montana. Kalispell offers service from Salt Lake City, Seattle, Portland, Denver, Las Vegas, Oakland, Atlanta, Chicago and Minneapolis. There are also airports in Great Falls, Montana (200 miles east of West Glacier) and Missoula, Montana (156 miles south of West Glacier). Car rentals are available at airports, and shuttles are available at the Kalispell airport. If you prefer to arrive by train, Amtrak services the towns of East Glacier Park and West Glacier, and shuttles to the park can be arranged by calling 406/892-2525.
Going Through Traffic on Going to the Sun Road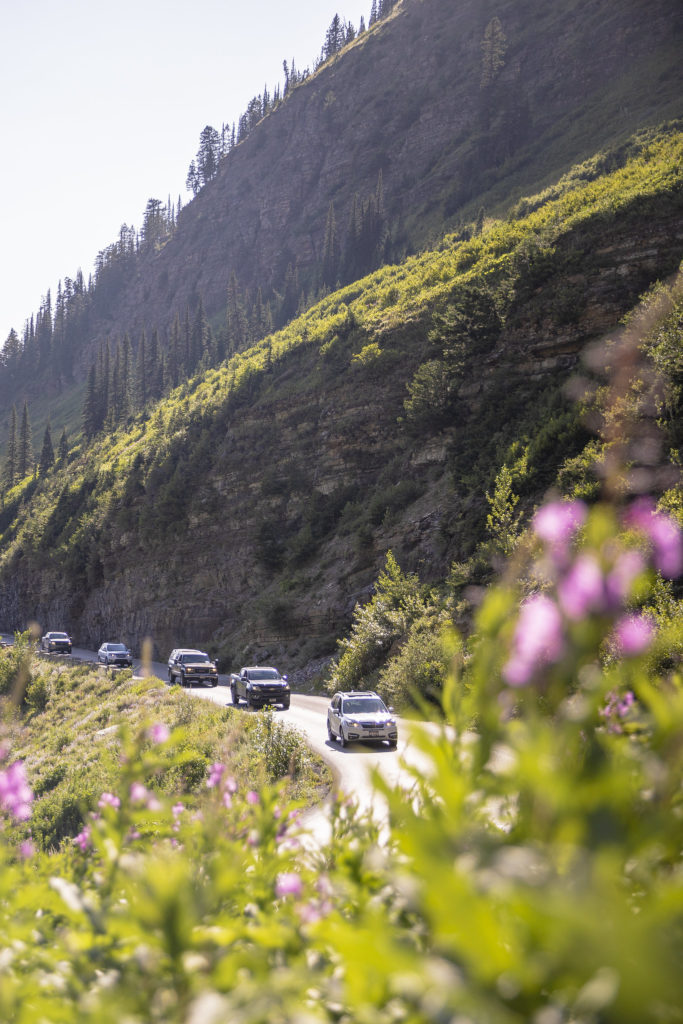 Once you've arrived in the area, before actually setting foot in the park, try to drive Going-to-the-Sun Road. You and your family might want to drive a portion of this busy, 50-mile span which is mostly open to vehicles from May to September (some parts are open year-round) when weather permits. Pause to appreciate this impressive undertaking. Going to the Sun Road took a little over a decade to complete. The winding two-lane road introduces majestic mountainsides and incredible wilderness.
Seeing it in pandemic times is more challenging than usual, because you will have to book a timed entry online before arrival. For those who are wary about driving or lack a vehicle, there are park shuttles (booked in advance with limited capacity) and private guided tours (escorted tour in smaller vehicle.) The NPS park's shuttle service provides two-way service along Going-to-the-Sun Road between the Apgar Visitor Center and St. Mary Visitor Center, running every 15 or 30 minutes depending on location and time of day.
You adrenaline junkies should bike the road in summer. Contact the park service office beforehand to learn of possible road closures and keep in mind that in the tourist high-season, biking hours are restricted.
Hiking in Glacier National Park
Visitors can start their park trip by taking guided or unguided hikes. The guided hikes can range from a day hike to a week-long backpacking trip, and more information can be found at Glacier Guides. Hiking allows visitors to explore the area's diverse landscape, filled with Junipers, Ponderosas, Douglas Firs and other indigenous vegetation. In areas of the park exceeding 6,000 feet in elevation, trees become stunted in size and twisted in a form known as krummholz.
Perhaps more fascinating than these are the exposed Precambrian, Cretaceous and Tertiary rocks, which tell of the park's significant geological history. Massive beds of stromatolites – rock-hard buildups of bacterial mats containing fossil evidence from billions of years ago – can be found on the east side of the park.
Among the most prominent features resulting from the shifting of the earth's crust is Mt. Cleveland, the park's tallest peak, listed at 10,466 feet. The Granite Park Chalet overlooks spectacular Bear Valley and is a good location to spot wildlife, including grizzly bears. At Haystack Bend – just above the Weeping Wall and on Haystack Butte – you might get a chance to see mountain goats and bighorn sheep. Other wildlife you may see in the park includes moose, elk, coyote, and the rare mountain lion.
Understanding the Glaciers of Glacier National Park
The real attraction of the park, of course, is what it is named for: Glaciers. While they are quickly disappearing from the area, glaciers, such as the notably receding Sperry Glacier, have contributed to the scoured landscape of the park. Today, 25 active glaciers over 25 acres each remain in the area, whereas in 1850, they tallied up to 150. The park's numerous lakes – 131 of which are named – are remnants of long glacial valleys dammed at their outlets by end moraines. The water left from glaciers is surprisingly clear and you can often easily see detail of the bottom of lakes beyond 30 feet.
To really get the lowdown on Glacier's ever-changing environment and have fun while doing so, take the kids to the Discovery Cabin in Apgar. Open from the end of June through Labor Day, the cabin provides helpful park rangers and kid-friendly activities such as puppet shows, a mystery touch box, rock sorting and animal habitat identification games. Those unafraid of heights should test their courage at the bridge over Avalanche Gorge, a real kid-pleaser located on the Trails of the Cedars Nature Trail. Other nature trails appropriate for kids include the Hidden Lake, Sun Point, Running Eagle Falls, and Swiftcurrent Nature Trails.
Park visitor centers located in Apgar, Logan Pass and St. Mary's also offer the Glacier Junior Ranger program, in which kids can receive a special badge after completing a list of fun and educational activities.
Other Active Ways to Explore Glacier National Park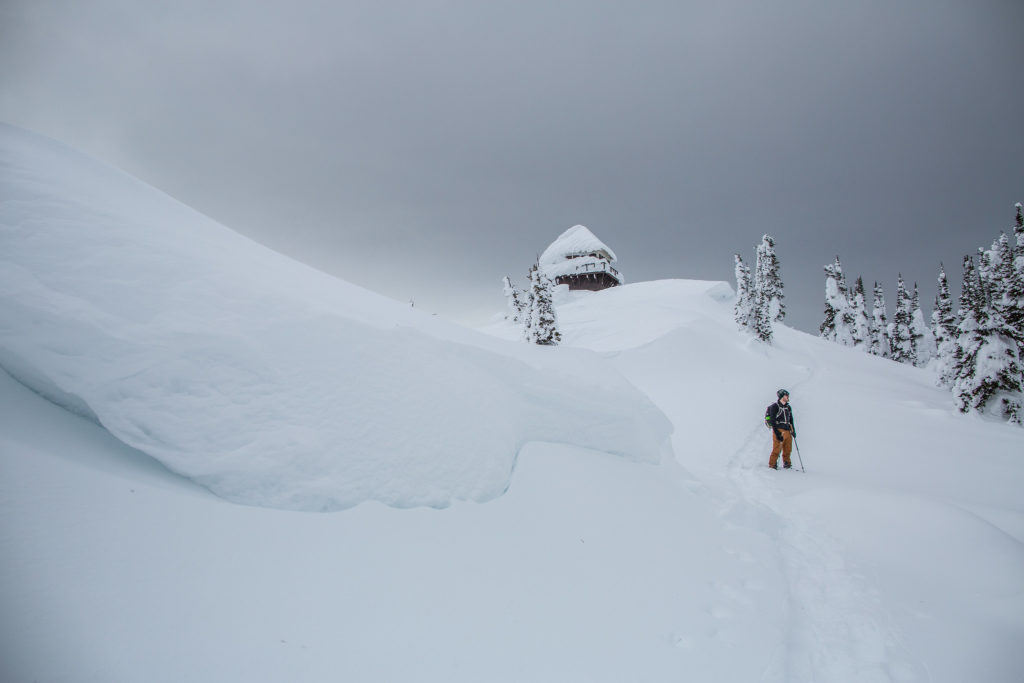 Boating is another popular way of seeing the park, particularly on Bowman and McDonald lakes on the west side, or St. Mary and Two Medicine Lakes on the east side. Rentals are available at several locations, including Agpar, Rising Sun and Many Glacier. Boat tours with commentary are also available through Glacier Park Boat Company on four of the lakes in the park. For more adventurous water activities, try canoeing, kayaking or rafting on the Flathead River. Fishing can be enjoyed at Lake McDonald as well, and does not require a license or permit.
Lake McDonald, the largest lake in the park, has many activities: here, guests can even clip-clop their way around the park trails on horseback, or at a few other locations such as Many Glacier and Apgar. The horseback tours, run by Swan Mountain Outfitters, can range from an hour to a full day in length, and riders of all skill levels are welcome.
In the summer, Glacier Park, Inc. runs bus tours and shuttles between park lodges aboard vintage red buses, and Sun Tours offers interpretive bus tours highlighting Blackfeet culture. The winter months allow for great cross-country skiing or snowshoeing on backcountry trails around such areas as Marias Pass, North Fork and Two Medicine. Snowmobiles are not allowed in the park.
Exploring Outside Glacier National Park
Outside the park in the town of Browning, the Blackfeet Nation Reservation encourages visitors to póóhsapoot! – Come here! – to learn the tribe's history and cultural practice kept alive for many years through times of hardship and strife. The Blackfeet are one of the six tribes out of 564 in the United States who still live on their ancestral lands. There's also a golf course and a casino within the reservation grounds.
If you haven't had your fill of National Parks, just across the border with Canada is Waterton Lakes National Park, which connects to Glacier. Waterton Lakes offers great hiking, scenic boat cruises, and several scenic drives centered around the town of Waterton.
Lodging In & Around Glacier National Park
It's easiest and most convenient to stay within the park, but spots fill up quickly, especially for the months of July and August, so try to make reservations as early as possible. There are a variety of options in the park, from historic hotels to motel type lodging to backcountry chalets.
Right on Lake McDonald is the Lake McDonald Lodge, which has 82 rooms including simple lodge rooms, deluxe hotel rooms, cabins and other lodging styles to meet all budgets. The rooms are rustic yet comfortable and have private bathrooms. On the northeastern side of the park, Many Glacier Hotel is designed after the style of Swiss chalets and its views from the northwestern side of the park remind many of the Swiss Alps. There is live music in the dining room every Monday through Saturday, which you can enjoy while watching the sunset over Swiftcurrent Lake.
For all the lodging options within the park, visit the Glacier National Park lodging website. For those who wish to rough it and camp, sites at Fish Creek Campground, St. Mary Campground, and Apgar Campground are available to reserve in advance.
For more information on where to stay in the park and environs, see Popular Hotels in Glacier National Park.
For the chance to explore unspoiled wilderness in many different ways, Glacier National Park makes for a great vacation. And if you're thinking of going, you may want to visit soon. If current trends continue, some scientists have predicted that in several decades, or even, perhaps by the year 2030, the glaciers in Glacier National Park will have all disappeared as a result of global climate change.
Dear Reader: This page may contain affiliate links which may earn a commission if you click through and make a purchase. Our independent journalism is not influenced by any advertiser or commercial initiative unless it is clearly marked as sponsored content. As travel products change, please be sure to reconfirm all details and stay up to date with current events to ensure a safe and successful trip.
---