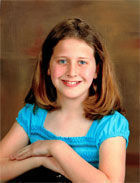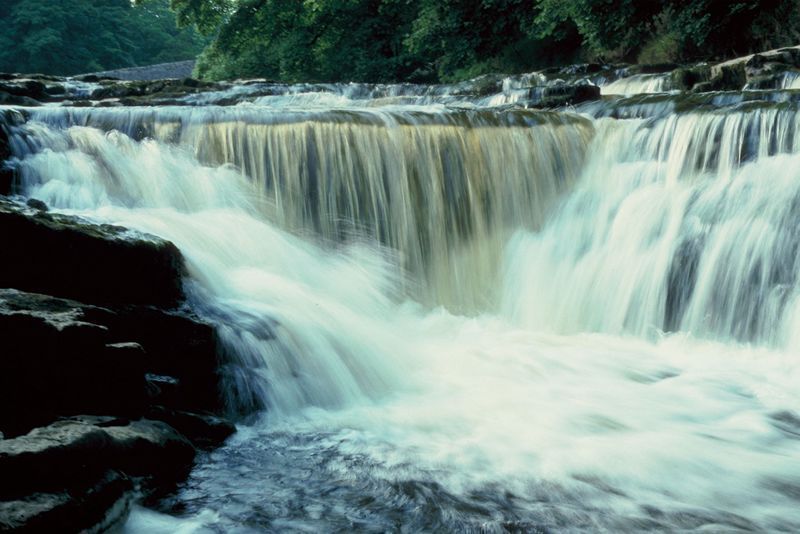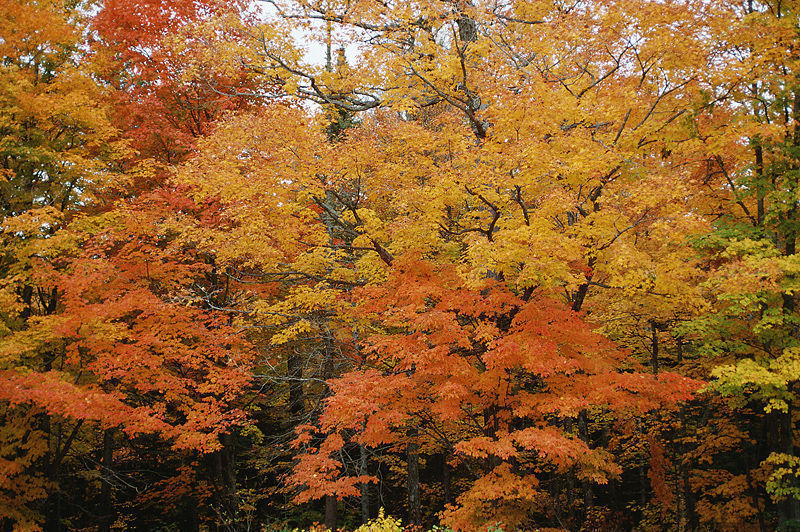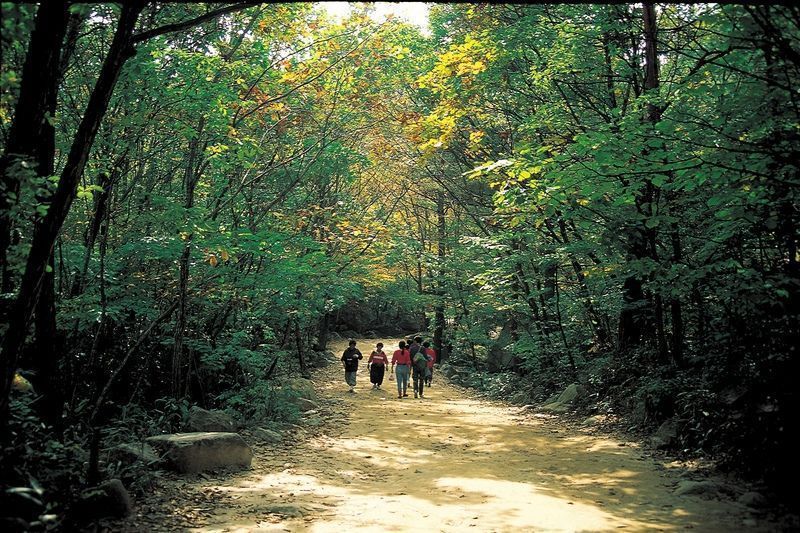 If you're planning a vacation to New Zealand, read on about the Maori people, sheep, geothermal activity, kiwi and hobbits.
Families who want to explore what makes New Zealand unique should head to the North Island, and begin with a brief visit to the city of Auckland.  Most of our five days' visit was spent in and around Rotorua, an area known for dramatic geothermal activity, where we could also learn about the culture of the native Maori people.
The first challenge we encountered was driving from Auckland to Rotorua (a car is essential) because my husband had never before driven "English" style.  I don't drive at all, and it felt really strange sitting in what I consider the driver's seat, as a passenger. We adapted quite quickly, however, and the three-hour drive was a scenic combination of highway and byway.
Due to the volcanic activity in the area of Rotorua, hydrogen sulphide gasses spew into the air, and we were warned to expect a terrible odor. Having been to Volcanoes National Park in Hawai'i, I was familiar with that "rotten egg" smell and was not looking forward to it engulfing us for several days. Luckily, perhaps due to  our fall visit, we came upon only a few pockets where we experienced a fleeting unpleasant whiff.
We had gorgeous, clear, sunny weather in Auckland, but the weather in Rotorua was quite unpredictable. Light drizzle, followed by sunshine, followed by heavy rain necessitated carrying an umbrella or poncho at all times. The rain and humidity cast a misty covering that added to the mysterious atmosphere, especially among the hissing earth, spouting geysers and plopping mud holes of the area's explosive geology.
The Maori: Aotearoa's Native People
Who are the Maori? Where did they come from? Are they related to the Aboriginal people of Australia? What are their stories about Aotearoa, (New Zealand) their home? These questions and more are answered at Te Puia, the New Zealand Maori Arts and Crafts Institute, a museum and visual and performing arts center.
Te Puia is situated in the Whakarewarewa geothermal reserve adjacent to the 100-foot Pohutu Geyser which erupts up to 20 times a day creating bubbling, boiling pools mud pools and hot springs. Visitors can explore the area and then tour the galleries that display the history of New Zealand, while native guides tell stories handed down by their ancestors.
Due to a loss of some of the Maori traditions, Te Puia was established by the government of New Zealand through an act of Parliament and was granted the role of guardians of Maori arts, crafts and culture. There are many opportunites for visitors to experience these through music and dance performances, displays, food, and a re-creation of life in a Maori village. A highlight for me was visiting the carving and weaving schools and watching masters and students create magnificent pieces.
New Zealand = Sheep
Kids of all ages get a charge out of the Agrodome, a popular attraction that celebrates the region's agriculture and livestock. Sheep are a very important commodity in this land where there are 40 million of them, nine times the amount of people. Plan for your family to spend at least a half day here.
You can begin with a one-hour tour of the almost 25-acre farm. Transported in an all-weather, all-terrain vehicle, there are stops throughout to allow you to walk around to have a hands-on experience. You will see all aspects of the workings of the farm and meet sheep, goats, beef cattle, deer, llamas, alpacas, ostriches and emu. A highlight for kids (and many adults) is the chance to pet and hand-feed the animals.
There is also a tour of the organic fruit orchard which is committed to sustainability and uses only natural sprays and fertilizers. The orchard began as a kiwifruit farm, and has added apples and olives to its production. After the tour, there are tastings of fruit in season and honey. Additionally, mom and dad can sample kiwifruit wine, while the kids taste kiwifruit juice.
However, the highlight of the Agrodome is its hour-long sheep show which is slightly hokey but lots of fun. Prior to the show, you can walk around and meet the stars waiting in their pens. They are very approachable and do not seem to mind if you want to pose for pictures with them. Once you are seated, the Master of Ceremonies appears on the stage and introduces each kind of sheep, from the Drysdale, to the Suffolk, to the English Leicester, and even an obligatory black sheep (a Black Romney) representing the 19 breeds in New Zealand. They all come onto the stage and take their spots in a pyramid-shaped structure. There is a sheep-shearing demonstration, sheep dog performance and lots of audience participation. Finally several kids are invited up on the stage and each is handed a baby bottle of milk. They are told to drink it, and just as they hold it up to their lips, an equal number of baby lambs are released from waiting pens heading straight for those bottles. Everyone gets a kick out of the adorable lambs and the giggling children.
After the show you may stroll into the Shearing Shed, a recreated 1950s era facility for more detailed information on shearing and wool handling. Finally visit the Woollen Mill for spinning, weaving and knitting demonstrations with wool from the sheep show stage. Browsing and shopping opportunities are available in a few gift shops on the property. Items include sheep skin items from baby-sized boots to area rugs, knit items created from pure New Zealand wool, and a selection of yarns (from sheep, goats, alpaca, opossum and angora) for crocheting and knitting projects.
If you're seeking something more exciting, you've still come to the right place. Adjacent to the farm is the Agrodome Adventure Park which is a theme park run on adrenalin. Activities like Bungy Jumping and rides with names like Zorb, Schweeb, Swoop, Agrojet and Freefall Extreme offer exciting thrills and chills for older children and parents.
Rotorua Wellness – Taking the Waters
There are many places in the area to experience the "living waters," with facilities that offer the chance to soak in steaming thermal water and mineral pools as well as to take mud baths, and enjoy spa services such as body scrubs, facials and massage.
We opted for the very family-friendly, and very affordable Waikite Valley Thermal Pools, a thermal bathing complex about 25 minutes from Rotorua. Here we could go from a large splash pool with a toddler play area (perfect for families); to a passive bathing pool that overlooks the steamy valley, surrounded by native plantings; to a tranquil garden pool with views of the Otamakokore River (pure heaven); to a pergola pool where you can soak and relax under cover; and to several private spa pools.
All of the natural boiling water comes from the nearby Te Manaroa Spring and is cooled to a range of 35ºC-40ºC (95ºF-104º F) before flowing into the pools which are drained completely on a daily basis, and re-filled with pure spring water, absent of any chemicals.
There are changing rooms and showers, facilities for the handicapped, a small food concession and a café. In addition to the pools, your family can explore the Te Manaroa Spring Eco-Trail where you will observe native plants only found in this area, that leads to the dramatic spring, the leading source of boiling water in New Zealand, as it spews forth. A 20-site campground with powered and non-powered sites is adjacent to the facility.
Kiwi – It's Not Just a Fruit
Kiwi, the national symbol of New Zealand and the nickname for its residents, are flightless, nocturnal birds related to the ostrich, the emu and the extinct moa. They are unique in that their nostrils are located on the ends of their long beaks, and they walk with their beaks touching the floor as they sniff for food, largely earthworms. beetles and berries.
Established in 2004, the Kiwi Encounter is the world's first kiwi incubation and rearing facility. Open to the public for touring and education about this unique bird, it welcomes visitors from throughout the world.
With fewer than 70,000 kiwi left in the wild, these national treasures are facing extinction. While they are good fighters and can ward of aggressive predators, their numbers are decreasing due to problems during incubation. The females lay huge eggs (one at a time) that almost fill their entire cavities. The eggs are filled with a very rich yolk that nourishes the chick after its 80-day incubation. However, many chicks are never hatched as it is the eggs that are often stolen and destroyed by predators.
The work of the facility begins when eggs that have been monitored in the wild by the Department of Conservation rangers are brought in, approximately half-way through the gestation period (at about 40 to 60 days). Upon arrival they are candled, or checked, to see if they are viable and then placed into an incubator.
Once hatched, the chicks stay for up to two days in the incubator to dry off and learn to stand. When ready for the next step, they are transferred to a brooder where they are nourished and monitored for weight gain. Once they attain the required weight, they are transferred to an outdoor pen which emulates their natural habitat, and when they finally reach the weight of 1kg, they are released back into the wild.
Besides caring for the hatchlings, the Kiwi Encounter's husbandry staff participates in research and leads the country in scientific data collection on these rare birds. Guided tours of the facility, including the incubator and brooding areas are fun and informative. The last stop is a barely lit room, a re-creation of a kiwi habitat, where you can see kiwi moving about or (more likely) sleeping.
Wai-O-Tapu: A Geothermal Wonderland
Considered by many to be the best of New Zealand's geothermal sites, Wai-0-Tapu is 20 minutes from Rotorua. Mother Nature is very impressive at this natural sightseeing attraction that dazzles visitors with a variety of sites, shapes and colors in an active volcanic area.
Start at the Visitor Center to get the lay of the land and use the clean facilities before you set out on the paved path. There are three tours to choose from (30-, 45- and 75-minutes long) and you will see sights that will knock your socks off.
If you start early, you will have the opportunity to see the explosion of the Lady Knox Geyser at 10:15 every day, when she is induced to erupt to heights of over 30 to over 65 feet by the addition of soap flakes into the opening of the vent.
The paths are well-marked and take you over steaming ground, past plopping mud pools called Devil's Ink Pots, craters, geysers and mineral pools of yellow, purple and green. There are some excellent viewing areas over the whole region. My favorite part was walking over the Champagne Pool, actually a lake of bubbling water (reminding someone of champagne) on a narrow wooden boardwalk. A bit eerie, and wonderful.
Be sure to have lots of space on your memory card for pictures at Wai-O-Tapu.
Hobbits in New Zealand
I know that many families who are fans of the "Lord of the Rings" books and films will want to make this a part of their visit.
There are several tours devoted to the subject, but the one I heard most about is Hobbiton, where you can visit the set from the movie and see the Hobbiton village and 17 of the 37 hobbit holes that remain on this farmland.
As most of the land has been restored to its natural state and function, you can also see sheep shearing and sheep dog demonstrations, and pet and feed the baby lambs. Sounds like the best of all possible worlds.
Details, Details
We stayed at the Hotel Isis Rotorua (US$40/N) adjacent to the more upscale Hotel Novotel Rotorua Lakeside, both under the same management and a short walk to Lake Rotorua. Our room at the Isis was small but adequate for the two of us. The rate included breakfast which was perfectly sufficient, and the staff was lovely and helpful. The dining room/restaurant right off the lobby was a communal gathering space where you could relax over a glass of wine before dinner, or dessert and coffee afterwards. There is an on-site laundry and wireless internet is available.
A short walk away, the Isis' sister Hotel Novotel Rotorua Lakeside (US$82/N) offers to its guests additional facilities including an indoor spa and fitness center with a geothermal pool, a Maori cultural center and water activities on the lake.  
Nearby the hotels, Tutanekai Street is "Restaurant Row," with several Indian, Thai and Italian eateries along with casual cafes to choose from.  Do not miss the opportunity to eat the local green-lipped mussel (they put even Prince Edward Island mussels to shame), prepared in many styles (our favorite was grilled).
Dear Reader: This page may contain affiliate links which may earn a commission if you click through and make a purchase. Our independent journalism is not influenced by any advertiser or commercial initiative unless it is clearly marked as sponsored content. As travel products change, please be sure to reconfirm all details and stay up to date with current events to ensure a safe and successful trip.
---