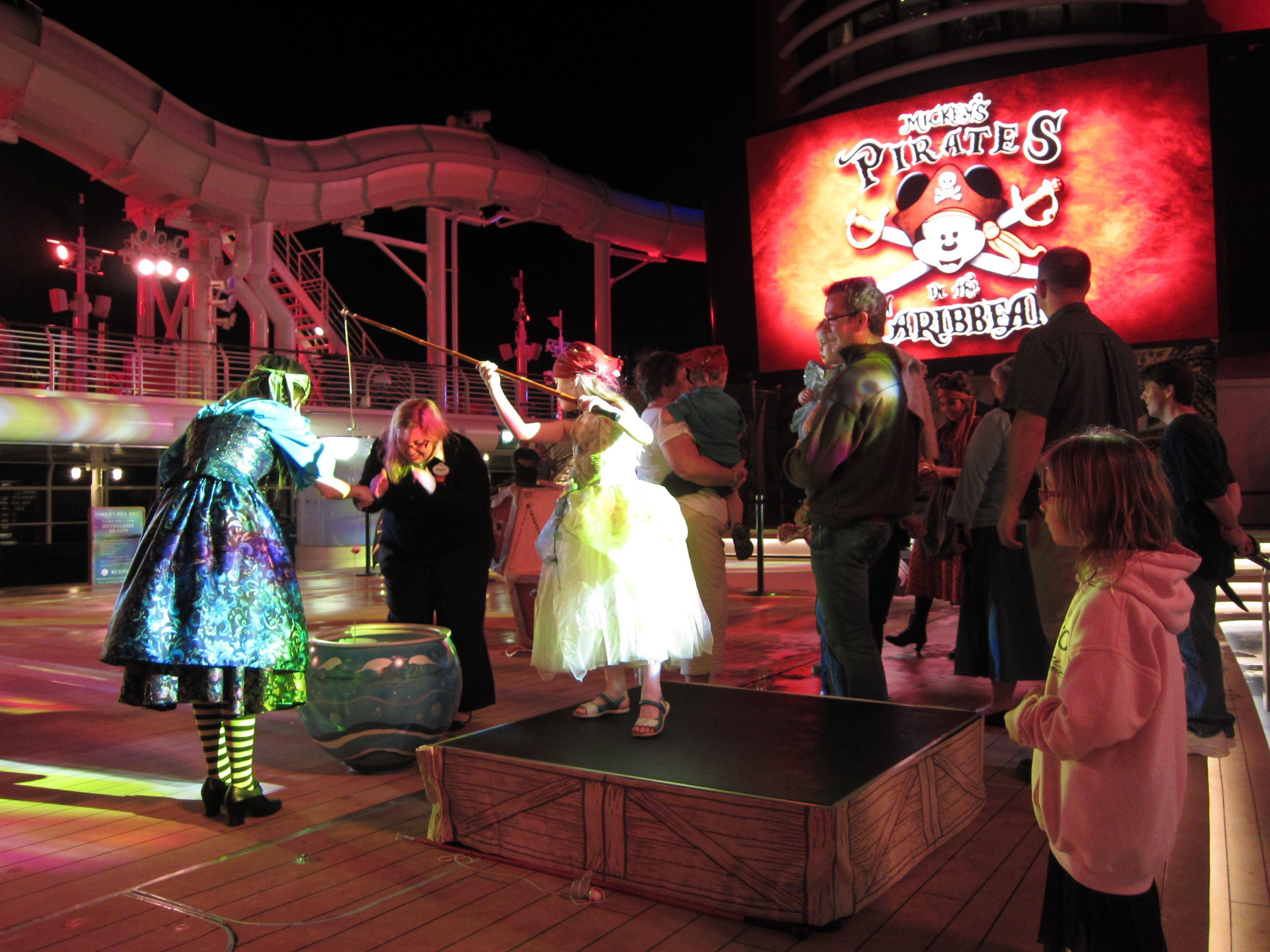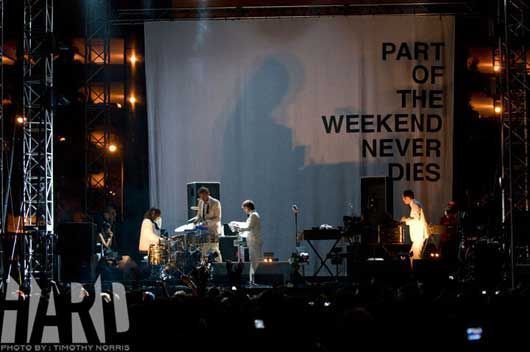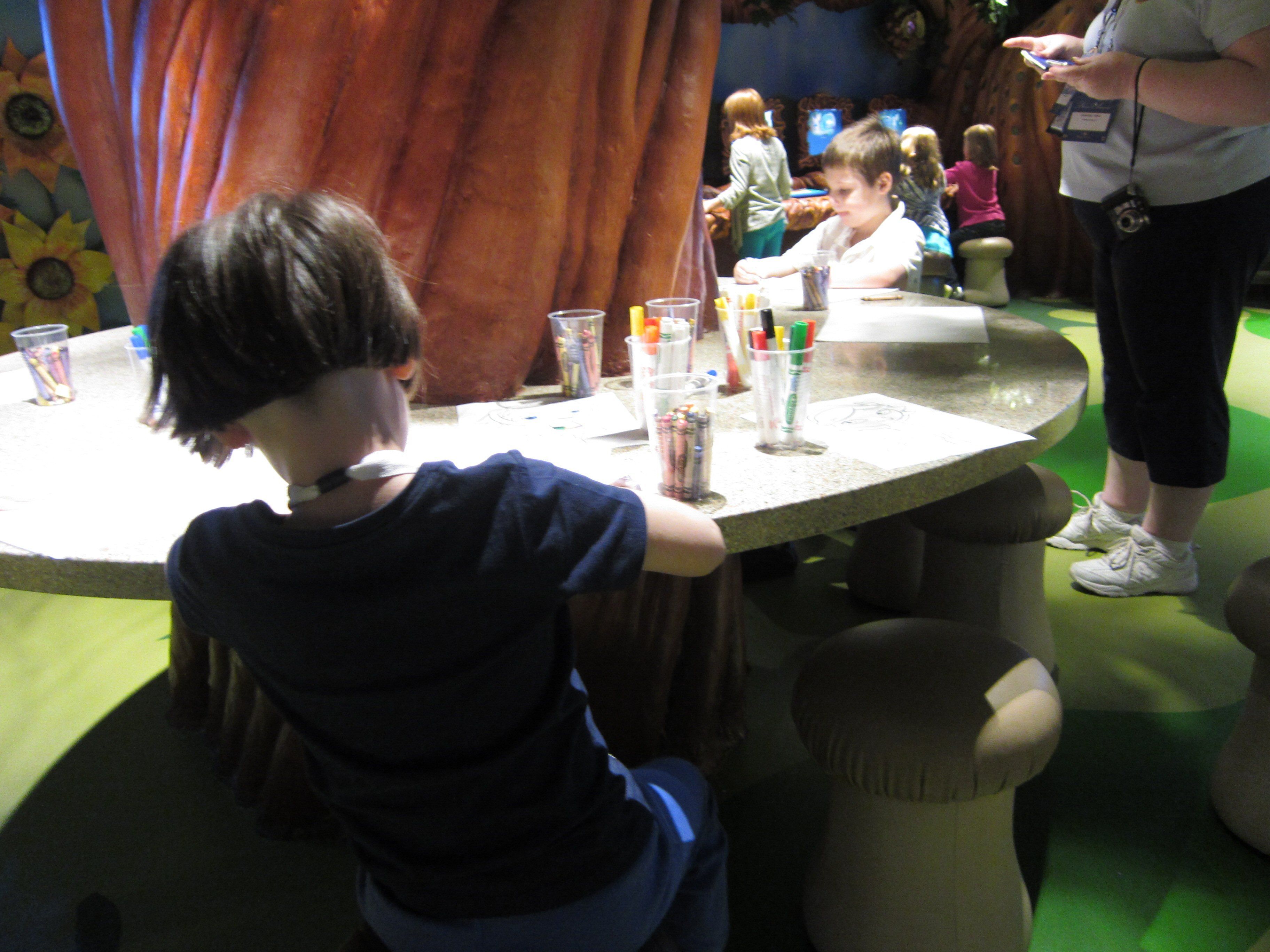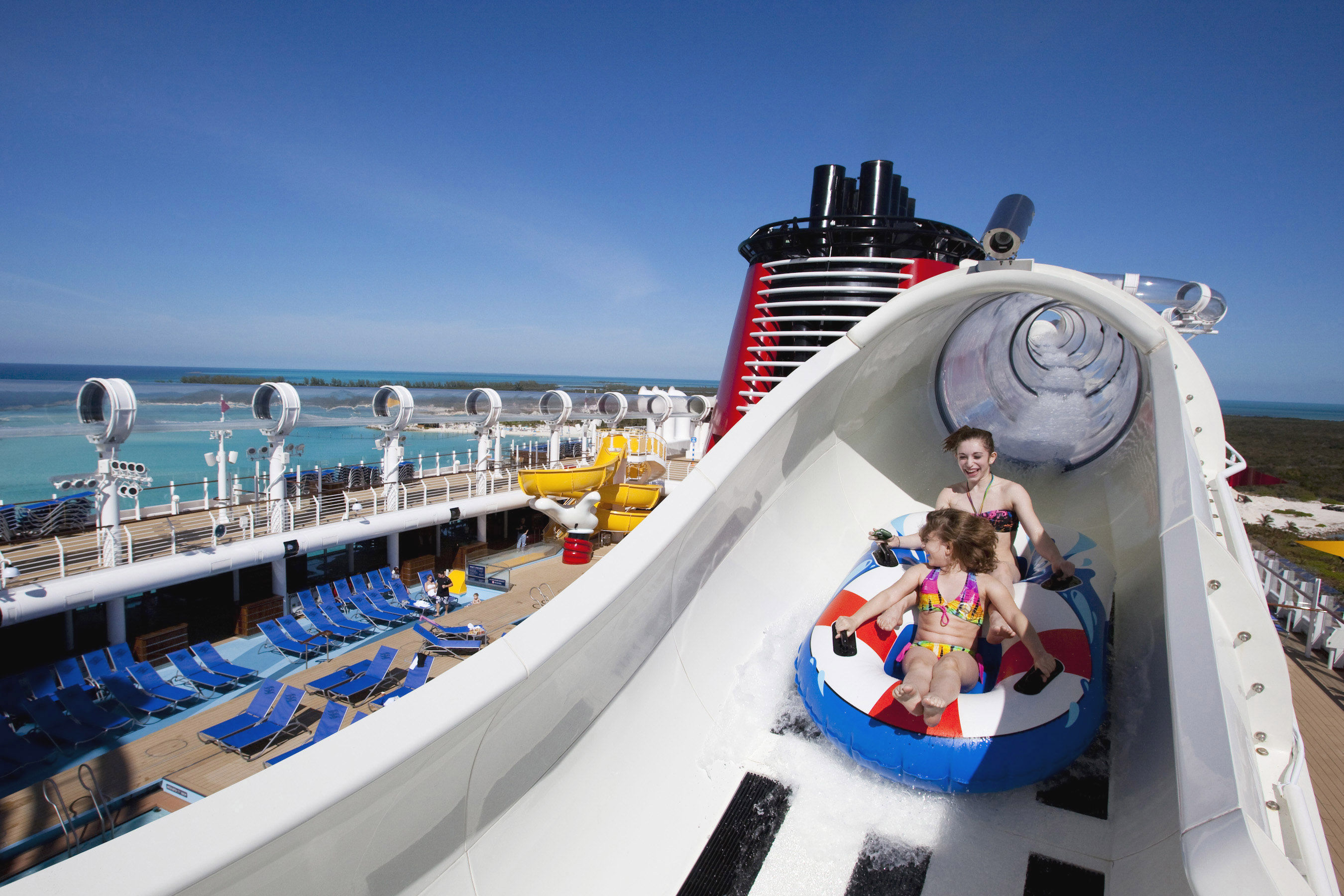 In this digitally paced world, 10 years is a long time to wait for a next generation product, but that's just what Disney Cruise Lines did. Following on the success of the Disney Magic and Disney Wonder, the Disney Dream was christened by godmother Jennifer Hudson on January 19, 2011 in Port Canaveral, Florida. Disney invited hundreds of newspaper reporters, travel writers, bloggers, cruise critics, radio personalities and TVcasters from around the world to tell her story.
The Disney Dream's story begins with "once upon a time" and is likely to end with "happily ever after" because, on this ship, god is in the details. Disney Dream is lavishly appointed, yet sleek and elegant in a streamlined Art Deco style befitting Cole Porter or even Walt Disney himself (an avid cruiser). At 1,115 feet feet in length and 130,000 gross tons, she's fast, quiet and handles like a dream. Public spaces are riddled with relatively subtle branding: iconic Mickey silhouettes engraved on the brass railings, Nemo in tiles on a cafe wall, Ratatouille's dining room reproduced in the premium restaurant.
The meticulous detailing went into rolling out several cruise industry "firsts" as well.
Turning Experience into Dreams at Sea
In the middle of the Disney Dream's two-night inaugural cruise to Castaway Cay in the Abacos, Bahamas, several Disney Cruise Line executives talked about what they had learned from a decade of serving guests on other DCL ships. A decade of customer feedback, the changing market, and rampant creativity combined to pose several new challenges for the Disney Imagineering Research and Development Team.
First things first. Notes Tom Skaggs, Chairman Walt Disney Parks & Resorts, "It's important to realize that if you talk about Disney parks and resorts, we're actually in the guest experience business… and that's key to everything we do."
The panel noted that in real life, experiences all clash and bump up against each other, while in Disney Parks, everything that happens builds on the previous experience, creating a sense of order. The Disney Dream team started with a postcard view of a grand ocean liner, then takes guests into a grand entryway and the thousands of details that distinguish this ship from all others.
Raise the Bar on Family Activities
While cruise industry competition was offering everything from shuffleboard to wave surfing, putting golf to waterslides, rock climbing and more, the DCL staff decided to create Aquaduck, the coolest water-fueled roller coaster imaginable.
Explained Joe Lanzisero, Senior VP for Creative at Walt Disney Imagineering, "We had to raise Aquaduck physically as deck space is so precious on a ship," then added, "Usually at Imagineering, we come up with the story first but here we had technical issues to deal with." The ship's engineering crew was hesitant to place so much weight and water — 10,000 gallons per minute — cantilevered out over the least stable upper deck. However, positioning it within and around the smokestack meant it would not mar the Disney Dream's beautiful silhouette when seen from port. After months of engineering and design input from teams thoughout the Disney Company, the rollicking water coaster's first test rider was a sack of potatoes. As Walt would have said, "It's always fun to do the impossible."
Other innovations aimed at active families dominate the enormous kids clubs. This ship's Oceaneers Club for ages 3-10 has electric hand washing machines at the entry, interactive dance floors a la "Dance, Dance, Revolution," costume and gaming areas. The tweens' The Edge and The Vibe for ages 13-17 incorporate exciting lighting, computer stations, video karaoke, video walls for gaming, cozy cocoon chairs with iPod docking stations, DJ booths, illuminated dance floors, and even a private sundeck. Ages 13-17 also have their own treatment rooms at the Chill Spa, where facials, mani-pedis, scrubs and massages await.
It's a Small World nursery has 16 cribs for ages 3 months to 3 years and loaner strollers, but as on other Disney ships, there is still no private babysitting service available. However, Disney Dream offers worried parents the Wave phone system with a free cellphone for each cabin guest to text or call ship passengers or services at no cost.
Entertainment is high energy and non-stop; even monsoon rains don't stop the pirates and princesses dance party. There are 3D movies playing on the pool deck's screen, and nightly, big-production musical reviews featuring classic Disney 'toons, princesses, genies, and that wonderful music. The Broadway-caliber Walt Disney Theatre is equipped to fly Peter Pan, elevate Fairy Godmother from the basement, do multimedia and surround sound, and show current Disney feature films. The Disney Dream new show "Disney's Believe" uses animatronics, pyrotechnics, multimedia screens and a wry humor to turn a mad scientists into a believer in fairies.
Family Cabins Aren't Bigger but They're Better
Another area ripe for innovation was the passenger cabin. The team had learned from previous ships to raise the beds and put storage underneath, refine the toiletries, and include separate bath and toilet rooms. While some ships have built inside cabins facing a lively atrium, Karl Holz, President, Disney Cruise Line, explained that his creative team wanted to glamorize portholes. They drew on the talents of Disney's Research and Development Group, which had developed a virtual reality porthole for use in the themeparks. The Disney Dream has eight high-definition webcams positioned around the ship's hull to capture different perspectives for a live video feed to each cabin. Then they asked the animation team to enhance that "reality" with characters.
These compact interior cabins are comfortable enough to sleep four (the upper bunk pulls down from a starry ceiling), and most connect so larger families can stay together. Having Goofy peer into your room, Captain Hook meet your gaze, or discovering a troupe of dancing hippos on the waves outside is one of those magical experiences that Disney does so well.
Not only are the porthole surprises random and infrequent, but every guest's view is uniquely theirs, making for a very intimate experience. Holz described the process of selecting characters from the company's treasury of "trigger moments" such as songs or scenes that recall a larger emotional experience. The R&D and design teams then confronted challenges like matching the color of the sea that hippos dance on to the ever-changing hue of the live ocean — problems encountered only by those who insist on total immersion in the magic.
---
Enchanted Art Meets Guests on their own Terms
Bruce Vaughn, chief creative executive for Walt Disney Imagineering, talked about how Disney Dream was infused with technology, and how that made it possible for her to enchant guests on a very personal level. One custom experience guests can have is to play "Scavenger?" an interactive game in which players register their detective credentials, then look for clues in the ship's remarkable art collection (some of it original) of framed animation cells, sketches and historic Disney photos.
Waving barcoded cards in front of many pieces reveals they are Enchanted Art — images that come alive when they sense someone watching. To create them, the Imagineering R&D team took classic Disney images and computing power, harnessed it with artists who could emulate the original Disney characters, and allowed them to imagine new stories to populate picture frames. Vaughn notes that facial recognition technology embedded in the images will one day be activated, so that each Enchanted Artwork will recognize its visitor and never show the same story twice.
Even more remarkable is that light sensors modulate the brightness of images to reflect the external lighting on each deck, and some of the art is hung side by side and interacts with its neighbor. Always using innovation to capture hearts and minds, the designers made sure to hang Enchanted Art throughout District, the sophisticated adults-only lounge area on Deck 4. In fact, the cozy Skyline Bar takes this technology in another direction by projecting a video feed of a dramatic city skyline on the walls of an otherwise viewless room. Guests drink while overlooking Rio de Janeiro and listening to tango, then are subtly moved to Chicago to hear the blues.
An Imagined Guest Experience for All Ages
Focusing beyond their core market of parents with young children, the Disney Dream was designed for guests of all ages. Multi-generational families can fan out into the deck chairs, the kids clubs or the spa, then come together for meals and group activities. The ship's fantasy dining rooms work particularly well, because they are so engaging. Little ones forced to remain seated in the Royal Palace can focus on a chandelier with dangling silver slippers; those in Enchanted Garden can watch flowers blossom while they wait. At Animator's Palate, all ages are entranced by the "aquariums" in each wall that showcase Nemo's friends as well as the turtle dude Crush, who will pause by a table to interact with diners.
Like the Seven Dwarves, Disney Cruise Line may sound like their work is never done. However, they've done so much so well already, that the company is launching a sister ship, Disney Fantasy, on March 31, 2012.
Cruising Details
The Disney Dream from Disney Cruise Line has 1,250 staterooms with enough room to accommodate about 4,000 passengers. Although more than 80% of the outside cabins have spacious balconies, the 150 inside staterooms are now sought after by experienced cruisers because of their unique portholes.
For more information about three-, four- and five-night Bahamian itineraries from Port Canaveral, Florida, please contact a travel agent or visit the Disney Dream site.
Dear Reader: This page may contain affiliate links which may earn a commission if you click through and make a purchase. Our independent journalism is not influenced by any advertiser or commercial initiative unless it is clearly marked as sponsored content. As travel products change, please be sure to reconfirm all details and stay up to date with current events to ensure a safe and successful trip.
---