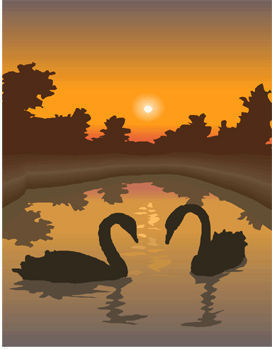 At twenty-one years of age, I wouldn't consider myself a world traveler. I've never left the United States and family vacations have primarily been along the east coast. Many trips have even been "repeats," where we visited the same place twice because we enjoyed it so much the first time.
My family and I just recently returned from Williamsburg, Virginia, a historic little town, known for the part it played in the Civil War, with many sites, attractions, restaurants, and geese. We first visited Williamsburg more than 10 years ago, when we were traveling with my aunt and uncle on their timeshare. We stayed at The Powhatan Plantation Resort, which sprawls across acres of rolling, verdant fields, and has multiple ponds (hence all of the geese).
When trying to think of a place to stay this summer, my mother recalled the fun we kids& had in the hotel's hot tubs, and the way we all enjoyed the amusement parks
Busch Gardens
and Water Country USA. She remembered how we ran up the three flights of steps in our very own townhouse as we picked the beds we wanted and she certainly remembered how happy (and tired) we were on the long drive home. Needless to say, she booked it.
So now, after my two sisters and I experienced our angst-filled, rebellious teenage years we returned, with much different ideas in mind, of what kind of vacation we would have. Katie, the oldest of us three kids, brought her boyfriend along and was looking for a distraction every second we were there. Elizabeth was simply looking to lie by the pool and even out her tan, while I, the youngest, was looking to relax.
I can honestly say everybody got what they wanted, but advise that you plan ahead. When we arrived in Virginia, the little thermometer on Dad's car read 103°F, which was not what we expected for early June. Therefore my sisters decided the water park was a must for the earlier part of the week, as the weather channel promised cooler temperatures for the latter.
The room we stayed in at The Powhatan boasted four beds and two pull-out couches. The staff was very accommodating as well. Upon walking into our room, we felt like we were in a sauna. Apparently our room's air conditioner wasn't working properly. With one call to the front desk, someone was sent to try to repair it, and when temperatures didn't get any cooler our room was changed. After a refreshingly cool night, the fun began.
Katie, Liz and Paul (Katie's boyfriend) went to
Water Country
and I decided to stay behind and go grocery shopping with the 'rents. A voracious reader, this was the best choice for me. After grocery shopping we went to a local bookstore. Snagging a few fun novels I read until the others came home, while mom and dad watched TV. They had a great time at the water park and particularly liked the wave pool and "Hubba Hubba Highway" for keeping them cool throughout the day. Their only complaints dealt with the price of lockers to store your stuff and the heat of the ground. At one point Katie had to strip down, removing the shorts covering her bathing suit, so that she and Liz could stand on them to protect their feet from the blistering heat.
The rest of the week was spent poolside, shopping or at Busch Gardens. Geographically, The Powhatan was within a fifteen minute drive of all of these attractions. We spent an afternoon scouring the Prime outlet mall for the best buys and then returned to our air conditioned room. Katie always wanted to try out the room's hot tub, but decided against it when other things came up. Liz and I played tennis one night, though neither of us have played before and wanted to try racquet ball. Unfortunately there wasn't enough time in the week to give it a try. Being a college athlete, another of the resort's amenities, the gym, greatly appealed to me. With three ellipticals, two treadmills and a weight machine, I was able to get in my daily work out and burn off some of the calories packed on by some of the delicious Southern cuisine.
We spent one day and one night at Busch Gardens, riding each of the park's five roller coasters. We got to experience their newest coaster "Griffon," which leaves stomachs hanging 205 feet up as the coaster plummets at a 90 degree angle. Sightseers might enjoy the coasters for the brief bird's eye view they offer of the park and surrounding area, before stomachs turn as they hurtle toward the ground. We also witnessed one of their newest shows, "Kinetix," which featured music and acrobatic performances. Other shows such as the "Emerald Beat," an Irish step-dancing display were equally as entertaining. A word to the wise: pack lightly. For most of the roller coasters, the park's main attractions, you need to store your bags in a locker. It's only a dollar each time, nothing like the ten dollars of Water Country, but it may add up after a while. o, try to stow things early and only carry the essentials.
My family has never been one to look toward the historic aspects of a vacationing spot. (Dad says he was forced to pose for pictures on too many cannons as a youngster to thoroughly enjoy the historic any more.) We did drive through
Colonial Williamsburg
though, the "air conditioned tour," as Mom called it. There was definitely a lot there for many to enjoy, but it was a bit hot for our liking. Maybe in the fall, it would be nice to explore the area and then visit some of the quaint shops the town has to offer or wander the historic campus of William and Mary College.
As our week came to a close I realized that the appeal of Williamsburg had changed for me. When I was little all I wanted to do was to run from one amusement park to another and buy as many souvenirs as possible. This time around it was all about the experience. I got to relax and enjoy my time the way I wanted to. I got to read and experience the atmosphere as well as get my heart racing by riding multiple roller coasters. I didn't bring anything home with me as a souvenir from this vacation except a few photos. This time I didn't need anything. This time it was all about the memories and enjoying my time with my family.
---
This story was accurate when it was published. Please be sure to confirm all rates and details directly with the companies in question, and stay up to date with current events to ensure a safe and successful trip.