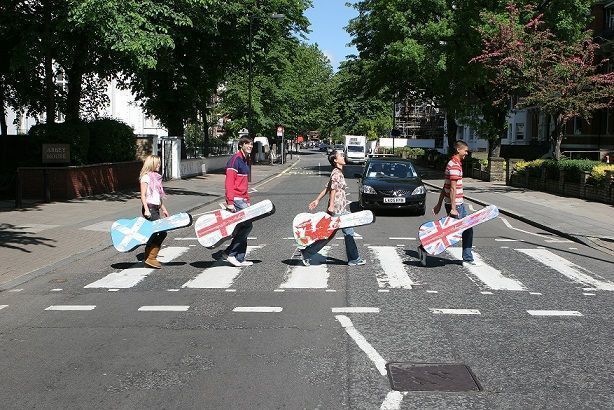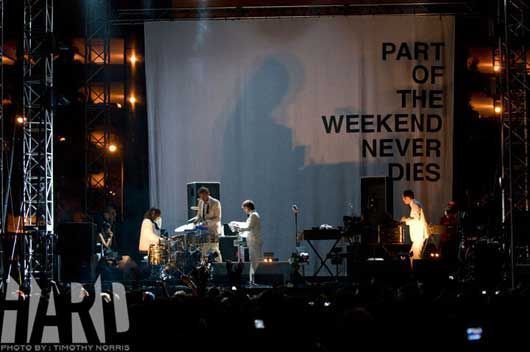 About two months ago my friend, Paul, told me about the line up for HARD Haunted Mansion.  I was still in Ireland and had already missed out on seeing Soulwax when they were at Ibiza Rocks.  I thought it was a sign, but my road trippers did not want to add Ibiza, Spain to our itinerary. This time no one was going to stop me from getting my rave on at this annual Los Angeles party!
I wish I could say that I'm such a loyal fan that I could name any song within the first five seconds, but really it's Paul who can identify them that quickly.   If it wasn't for him I wouldn't even know who they are.  Despite being a less than obsessed fan, the line up included artists who made up my favorite playlist to listen to when I'm in the gym, awkwardly swaying to the beats while on the elliptical machine.
Along with Soulwax, I was excited for those Belgium brothers other project, 2 Many Djs.  I couldn't wait to check out Simian Mobile Disco and Justice.   And although my friend had told me about Boys Noize and Deadmau5 it wasn't until they blew me away at HARD that I quickly added them to my glorious "work out mix."
My friends and I got there early and were still stuck in a line that seemed more like a huge cattle pen with loads of strange characters, afterall it was still Halloween.  Obviously the place was overwhelmed by fairy wings and those tiny girls in their size X-X-small costumes that look more like something bought at Hustler.  I could see a few girls ducking from the camera crews, just in case poor grandma saw them and forced them straight into the confessional booth.
I wish I would have seen a little less Ghostbusters, Jokers, and Mario Brothers, but I guess if they ever got separated in the crowd, I imagine it would easy to just latch onto a new set of matching buddies.  There were also a lot of people who shopped in the "Who would actually wear this" section at American Apparel.  I'm glad all those odd, shiny leotards actually get some use, even if it is only once a year. There were also a couple of inventive costumes, like the "Cloud 9" girl I met in the line for the bathroom. How she managed to use the toilet in her huge cotton blob of a dress, I have no idea.  I also appreciated the girl who was up on the stage for 2 Many Djs dressed up as Elmo and dancing in such a way that would get her kicked off "Sesame Street."
While 2 Many Djs were coming to a close, my friends and I made our way to the stage where Simian Mobile Disco would be and tried to get a spot not too close to the sweaty dancers and far enough that I could see the stage over the crowd.  After about 20 minutes, we found out VIA text message  that Daft Punk was playing inside. WOAH. We found our way into the auditorium in time to hear "All around the World" and see one guy in the iconic robot helmet that Daft Punk always sport at their shows.  It wasn't until later when the mask came off that everyone, or everyone except me, realized it was DJ AM.  Although I was happy with the set, I am still in denial about the truth.   He had everyone fooled, at least for a little while.
The best part of the night happened as I was leaving Justice to go check out Boys Noize.  I made me way through the mass of dancing people like I was in a game of Frogger.  Then all of a sudden I look up and I was staring into Jared Leto's gorgeous blue eyes.  He had a scarf draped over his head and across his nose so that only his eyes were showing.  I reverted to a teenage girl and told him, "You are Jared Leto." Still in starstruck mode, I stared at him as he confirmed his identity.  I told him I was a huge fan, he thanked me, then we parted ways.  I looked back to see him try to adjust his scarf to hide more of his face, but honestly, there's no way he could hide those eyes!
At the point when it seemed like my legs were crying on the inside I decided to make one last round, check out all the stages before leaving.  Watching the crowd for Deadmau5 (pronounced Dead Mouse) made me stay just awhile longer.  I didn't make it to the end, but I did get to catch the battle of two djs clad in giant mouse heads, until Deadmau5's victory,  this time sporting a very spooky black mouse head.  For anyone who doesn't know, his mouse head comes in various bright colors and looks like a huge paper mache Micky Mouse head, if Micky Mouse started to work at Hot Topic.
After about seven hours of standing/dancing I still wasn't ready to leave, but my feet definately were. There was a flyer being passed around for the HARD after party that lasted until 9:30 in the morning, but if my legs had anything to do with it, I would be long gone, tucked into bed by that time.  I guess I can't hang with the rest of LA's dance fanatics. It's been four days since that night and no matter how many different stretches I do, my calves are still sore from all the dancing.  But, these cramps are totally worth it. 
Dear Reader: This page may contain affiliate links which may earn a commission if you click through and make a purchase. Our independent journalism is not influenced by any advertiser or commercial initiative unless it is clearly marked as sponsored content. As travel products change, please be sure to reconfirm all details and stay up to date with current events to ensure a safe and successful trip.
---