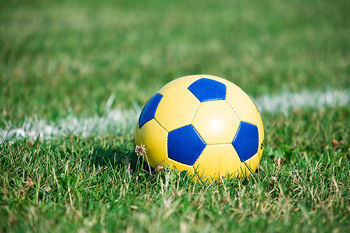 I have played soccer for my summer team for six years now. Last year when we were U-16 we decided to take a trip to Minnesota to see the USA women's team play Sweeden.
Our coach, Mr. Galvin, decided it would take less gas to drive an RV to Minnesota. It was all right considering only 9 of the 14 girls would be going. We weren't very cramped in the RV or anything, but little did we know one of our teammates was already going to blow the RV up before we even left the parking lot of Southwest High School.
Megan, the jokester on the team, not realizing it turned on the gas stove and left the gas running for about a half an hour before anyone realized the smell of gas was coming from the stove. Now I don't know, but I think that she was trying to blow the RV to bits. So we turned off the stove and everything was fine.
Megan was sitting quiet playing video games and the rest of us were just talking and doing whatever. Then of course Megan gets hungry and is standing up with the refrigerator door open for about ten minutes. We were in town now and Mr. Galvin decided to be funny and slam on the breaks! So as Megan goes flying across the RV she breaks of the refrigerator door handle and takes it with her. You must think the trip would get a little better after that, but it got a lot worse before it got better. So now after Megan and Kelly are done eating and drinking everything we brought along with us, of course they would need to use the bathroom.
Kelly goes first everything is fine. Then Megan goes. When she is done we hear the toilet flush.
So okay things are all right. Then we hear screaming, you would have thought she was dieing. She opened the door to the bathroom water comes rushing out and if you went into the bathroom you could see water shooting all over the place out of the toilet.
Hilarious, histarical, I am at loss for better words. It would never happen to anyone else. Three big mishaps all within the five hour drive to Minnesota.
When we got to Minnesota everyone just wanted to stay as far away from Megan as possible. Although maybe all of her bad luck gave the USA Women's team some good luck. They ended up on top of Sweeden three to two after a very hard fought game.
Then we were on our way home. Thank goodness Megan went to sleep right away because the entire way home there was no mishaps and just peace and quiet! Just a few words of wisdom, don't ever take someone like Megan on a long RV trip; especially if you will be in close quarters with them for an extended amount of time.
 
Dear Reader: This page may contain affiliate links which may earn a commission if you click through and make a purchase. Our independent journalism is not influenced by any advertiser or commercial initiative unless it is clearly marked as sponsored content. As travel products change, please be sure to reconfirm all details and stay up to date with current events to ensure a safe and successful trip.
---