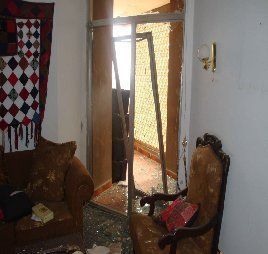 Hello…as some of you know, the bombings of October 25th in Baghdad were a close call for us.
The 2nd, larger bomb went off across the street from the hotel where I live and our office is located.
The first bomb was close enough to be extremely loud and cause me to get up from my desk and move towards the hallway, which is when the 2nd bomb went off.
The force of the explosion knocked several of us off our feet, and blew out all of the windows on the floor, knocked the sliding doors off their hinges, and caused ceiling panels to collapse. Fortunately, no one was hurt at all.
But it was very frightening.
As a result of the bombing, we are no longer going to be working/living in that hotel, and have temporarily moved into another one used by various media organizations, while we search for new accommodations. We hope to stay where we are, which is a safe compound, and I have friends from various media living here.
After the bombings I moved into the IZ, and then a week later left on much needed R&R.
Photo is of my office after the bombing.
Back In Baghdad
And now back in Baghdad, weather is fall, not hot anymore, thank god. I was invited to 3 different Thanksgiving dinners, could only manage to party hop to two, both in the International Zone various NGO buddies. The third was at the Washington Post, who live across the street from our current hotel… but couldn't be in the IZ security and outside at the same time.
Had a few quiet days with the Eid al-Adha (sacrifice) holiday, giving me some time to catch up a bit. We're hoping to have the office decision soon so that we can move and unpack and get re-settled.
It also looks like I managed to raise an additional grant for IREX for a media law reform program, and another small grant from UNESCO to update the code of conduct for journalists during elections. The election law drama continues, there are signs that it could get resolved fairly soon. Meanwhile political parties continue to re-group, new alliances forming, no one really can call the election.
President Maliki is fighting for his political life. The recent bombings I think achieved their aim, to de-stabilize the current administration. The recent veto of the new election law did not take seasoned observers by surprise, as there had been a similar veto prior to passage of the provincial election law. I think there was too much pressure from the US and UN. The Iraqis are getting there, it is their process after all. We are hoping elections will happen in late February or March, they were scheduled for January 16th, but it's now too late to get ballots and everything else prepared, as they are still debating the election law.
Still Volatile
That being said, there continue to be rumblings regarding an expected upsurge in pre-election violence, but October bombings aside, this has not yet proved to be true. These rumblings have been going on for a while, yet the bombings did not unleash the kind of response they had two years ago. There may be a stronger investment in stability than in violence. But the alliances are shifting all the time, it is still volatile.
There was a recent assassination attempt of a popular TV host of a political talk show, someone involved in our press freedom programs, and a grantee doing election programming. I was on the phone the evening it happened for hours with the US Embassy and my staff at his bedside, US Embassy was great and got a doctor from one of the bases to the hospital to operate. So far he's doing OK, amazingly. So journalists continue to suffer harassment, threats, beating and worse…and yet they persist.
Things are also changing a lot in the IZ. They are preparing to open up a lot of it, so there are even more huge T-walls going up everywhere, making it even harder to find your way around, driving thru canyons of soaring barriers. Entry in and out of IZ is getting difficult too, our car gets searched a lot now. A number of my friends are leaving…it is time to move on.
Dear Reader: This page may contain affiliate links which may earn a commission if you click through and make a purchase. Our independent journalism is not influenced by any advertiser or commercial initiative unless it is clearly marked as sponsored content. As travel products change, please be sure to reconfirm all details and stay up to date with current events to ensure a safe and successful trip.
---