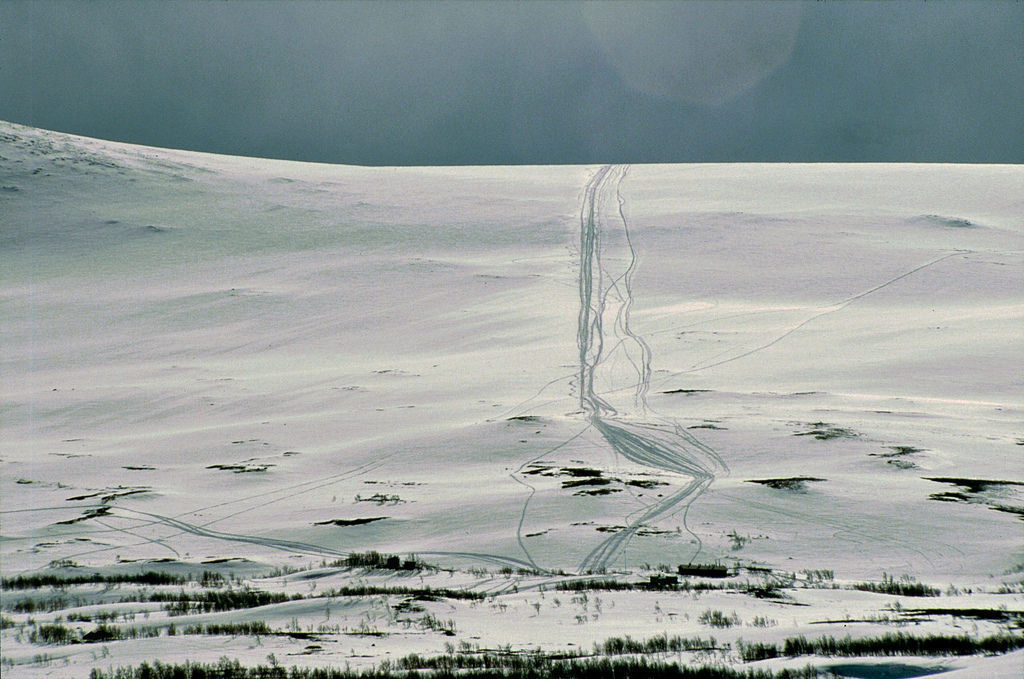 During March of 2009, I visited my friend Martin in Sweden. Martin was a foreign exchange student that stayed at my house for one year while I was in high school. We are both avid hikers and love to snowboard. We took a 14 hour train ride from Stockholm to Hemavan, which is near the Arctic Circle.
After a few days of riding at the resort, we loaded up our backpacks with a few days worth of gear and started snowshoeing into the Swedish backcountry. We decided to set up our base camp roughly 8 miles from civilization. The site was between two huge mountain ranges. The mountains are not as high, elevation wise, as the Rocky Mountains, but they are equally as breathtaking. We set up our teepee tent, dug a latrine, and then decided to make some dinner on the portable kitchen. (I don't know if I have ever had as much soup as I did on this trip) Mmmm, blueberry soup. If you have never tried this soup, you are missing out. Or maybe it was the fact that I was starving from the incredible hike we just endured. With our sleeping bags calling our names, we decided to head to bed. During the night, the temperature was dipping into the negative 30s. Luckily for me, I am part polar bear.
The next morning was filled with sunshine and more blueberry soup. We loaded our packs up, put on our avalanche beacons, and started hiking to the peaks around our tent. On our hike up, I noticed some brilliant blue ice hugging the side of a rock face. I was informed that the ice was extremely pure, considering it was coming from the glaciers in the area. We had to watch for crevices and thin spots in the ice. We had a little snack on top of the peak before riding down through the 18 inches of snow. We got to the bottom after a few cliff jumps and several hoots and hollers. Then it was time to do it again on another ridge. After hiking for several hours and getting 2 runs in amounting to only 5 minutes of riding time, we decided to call it a day. Another bowl of soup and a peanut butter sandwich. Then we decided to be smart and put some boiling water in our Nalgene bottles. I slept cuddled up to that bottle tighter than a little kid cuddling up to their favorite stuffed animal. I slept surprisingly well.
Another day of hiking for an extended period, and then being rewarded with a few minutes of amazing powder on the ride down. We decided to call it an early day considering we were going on a full out hike in the morning. We were going to hike one of the highest mountains in the region, and then ride down crazy fast on our snowboards. Just as quickly as our bags were packed, we were fast asleep, cuddling our plastic receptacles filled with boiling goodness.
The morning comes quick, and we start our ascent up the 3100 vertical feet that lies ahead. We are working our way up the first peak when we have to rest because we are sweating profusely. The wind is ripping across us at around 45 mph. We have to start moving again to keep from getting pneumonia. As we get ready to continue, we notice the storm clouds starting to move in. After already passing the point of no return, we decide to continue and make a quick appearance at our goal.
The last push to the summit was about one quarter mile. When wearing a 40 pound pack and snowshoes, the incline felt almost straight up. The wind was blowing about 60 mph now and it was snowing pretty hard, but we continued to push forward.
We reached the top in roughly 45 minutes. I felt a wave of euphoria come over me as I looked out to the horizon. It seemed as if we were rewarded for conquering the mountain. The snow had stopped, the wind had calmed, and the burning in my legs had all but faded. Martin pointed out the jagged peaks to the west were Norway. They were magnificent looking, but also very far away. We were on top of world. We took a few pictures and decided to get down before we got snowed in up there. We strapped into our boards and were preparing for the most intense ride of our lives.
Just as we dropped a little below the peak, the snow and wind started again. We were flying down this mountain fully geared up and extremely tired. We had to steer clear of the left side because of the enormous glacier barely covered in snow. We rode as fast and as far as our boards would let us, and then fell over laughing. Was it delirium? Was it dehydration? Probably both. I felt as if I was an actor, escaping imminent death. Like jumping through a window as a building exploded around me.
We got back to the tent as if perfectly timed. Right as we got the kitchen fired up, the storm hit. The wind was ripping about 60 mph and tossing the top of our tent around like a ragdoll. Complete whiteout conditions outside. The only thing we could do to warm up was to step outside in full gear and build a wind block around our teepee. I must have gone out around 7 times to warm up. The main thing to keep in mind is never lose sight of your tent in a blizzard. If that happens, you become disoriented and can easily die of frostbite or hypothermia trying to find it.
The next morning we woke up to a 6 foot tall snow drift around our tent. It looked like a natural igloo had formed. If we hadn't built the snow wall around our teepee to keep the drift out, we probably would have lost our tent. We had already started preparing for that occurrence by packing all the gear we didn't need that night. So if the teepee did fall victim to the storm, we would have taken our gear a few hundred feet and then started building a snow cave to sleep in. After we packed up the tent and had all of our gear ready for the hike out, we filled in the depression where our teepee was standing. We didn't want to leave any indication that it was a campsite. Plus, we didn't want anyone else to take the easy road and set up camp right where we were at.
All in all, this trip was one of the most trying experiences in my life. I had tons of fun and I would recommend it to anyone who is crazy enough to try it. Of course, you should have the proper knowledge of camping in the elements and be in fit shape. I learned that you need to be prepared for any situation that you may come across. The weather man said it would be clear skies all week, turns out it wasn't, but we were prepared. I also learned that no matter how bad things may get, you must always be hopeful. There is a bright side to everything. I would do it again in a heartbeat.
Photo courtesy of bendus via Flickr Creative Commons License
Dear Reader: This page may contain affiliate links which may earn a commission if you click through and make a purchase. Our independent journalism is not influenced by any advertiser or commercial initiative unless it is clearly marked as sponsored content. As travel products change, please be sure to reconfirm all details and stay up to date with current events to ensure a safe and successful trip.
---