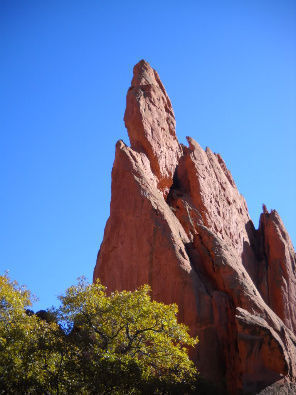 In February of 2009, I had decided that I wanted to make a trip to visit my brother in Denver, Colorado.  He lives fourteen hours away from me, so it was going to be a while before I could save up enough money to go, so I decided to plan my trip for mid-October.  That gave me plenty of time to plan what I was going to do while in Denver and when I came back home.  I had a friend going with me because it's safer to travel halfway across the country in a group rather than by oneself.  I saved up about two thousand dollars by the time we were going to leave.  So, all the packing was done and most of the planning was done, all that was left was to get in the car and drive.
We left right after work at about ten o'clock at night.  I ended up getting really sick so he did most of the driving while I slept, hoping that I could recover by the time we got to the mile high city.  The trip there was rough, we had packed many energy drinks and stopped for coffee as often as we could.  When we finally got to Denver, we couldn't focus on the beautiful mountains in the distance because we needed to find our hotel.  I had booked seven nights at the Crystal Inn in Aurora, Colorado, through expedia.  The hotel was great, it's close to the airport but not close enough that all you hear are jet engines.  It was far enough away from the main area of Denver that we didn't hear lots of cars all night, but close enough that we could drive for ten minutes and be in the heart of Denver.  The hotel had a great indoor pool and hot tub and a nice pond with benches in the back, so we could definitely relax for the first night.  The room also came with a little living area with a couch that pulled out into a bed and a table to put our lap top on.
The next day, I had planned two main things for us.  There's a little park in Denver closer to the mountains called the Red Rocks.  It's great, it has this natural ampitheater made out of this huge red rock.  People had built seats in there as well so that during the summer months, there would be lots of concerts held there.  I wanted to go there first because I had been to Denver before and Jarad, my friend accompanying me, had never been outside of Indiana.  The Red Rocks had the best view of Denver and it was great to be so close to the city and yet be completely surrounded by nature.  The Denver inhabitants also love going to the Red Rocks because the seating makes for a great work out by climbing up and down the hundreds, maybe thousands of seats.  Then, that night, I had bought tickets to a show.  Wicked was touring and was going to be in Denver the week that we were there, so I had purchased tickets for that online.  The area we went to to see the show was amazing.  It was a night show and the streets in the art center of Denver had lights like Christmas lights arching over one of the streets.  It was beautiful.  They also had some people with bikes and little carriages attached to the bikes ready to take us back to our car. 
About an hour away from our hotel, there's another great national park called the Garden of the Gods.  It's amazing, these rock formations are just jutting out of the ground in the middle of a valley.  Some of the rocks are red, just like they were at the other park, but another formation there was just white.  You could see rock climbers trying to get to the top of these huge formations.  The paths here were paved and you were cautioned not to get off of the paths because there are a lot of snakes in this area of the country.  There was no hiking for us, mainly because being so high up in elevation, the air is a lot different and just walking up a hill could be a great workout.  For two kids from Indiana who only ever saw cornfields and barns, Colorado seems like a world away.  We had never seen rocks like that, and it was great to experience the natural side of Colorado along with the urban side.
One day, I was still sick and not really ready to go out to the main city again, so we decided to explore in Aurora, where our hotel was.  We searched online for some cool music stores since the only music store we have within fifty miles of our homes is FYE.  I found a few online in Aurora and we printed out the mapquest and headed out.  Right away, we found this record store called Twist and Shout and we were blown away.  It had everything!  It had cds and vinyl.  It had every type of music with the unknown bands as well.  In the store, there was also an area for local musicians to put their cd's.  I listen to classical music a lot and I was surprised to see the selection there.  They had Galway, Bassoon Brothers, collections from Shostakovich.  It was amazing.  We went down the street some more to find a great cupcake shop and a really cool clothing store.  It was just a great day of shopping.
On our last day in Denver, we went to the famous mile long mall.  It's this outdoor mall close to the art district in Denver.  No cars are allowed on the street there, just a bus that can shuttle you to one side of the mall or the other.  The bus is free, but we didn't use it.  We were focused on getting our parents some souvenirs and this was the best place to do it.  This mall was mostly full of food places and shops that sold Denver merchandise.  In the center of the streets, there were chess tables and if you stood in the center and looked toward one end of the mall, you could see the snow capped mountains in the distance.  It was magical.
Denver was great, but I do have to put out a warning.  I have asthma and I didn't expect my asthma to be as bad as it was when we went on vacation.  I blame the fact that I was also sick at the time, but the atmosphere is completely different in Denver from what I'm used to.  The air is thinner and with all of the climbing and hiking we did at different parks, my inhaler was attached to my hip the entire time.  My brother, who lives in Denver and is the whole reason for the vacation, told me it took him about a month to get used to the air.  I still suggest going there because it's beautiful and was one of the best vacations I have had in a long time.
Dear Reader: This page may contain affiliate links which may earn a commission if you click through and make a purchase. Our independent journalism is not influenced by any advertiser or commercial initiative unless it is clearly marked as sponsored content. As travel products change, please be sure to reconfirm all details and stay up to date with current events to ensure a safe and successful trip.
---