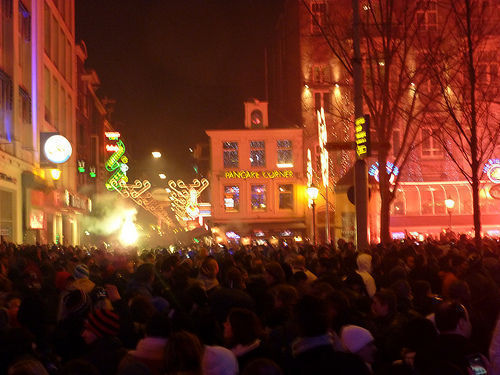 Happy New Year to everyone and thank you for continuing to read my journals. Unfortunately, Kara and I had to conclude our trip and have both returned home.  She is back in Chicago and I am back in Bratislava.  It will likely be five months before we see each other again.  However, we had an unbelievable time together and are both giving thanks for the opportunity to travel and see the things we did over the past two weeks.
With six days to spend in Amsterdam we approached this city with a less structured attitude than the cities before it.  When you only have two or three days, you make sure to have some special activity – like a museum or dinner – every day.  In Amsterdam, we took our time and enjoyed each other.
Although our first hostel –
The Orange Tulip
– was terrible, we spent most of our time out in the city exploring.  We found two really great coffee-shops where we went in the mornings for coffee, tee, or delicious all-natural smoothies.  We highly recommend the
Blues Brothers
and
Stones Cafe
coffee-shops if you are looking for a good one when you get to Amsterdam.  They are a great place to relax and hangout.
In terms of Museums, we made it to the two principal ones in Amsterdam – no, not the Sex Museum – the
Van Gogh
and the
Anne Frankhuis
.  You can view each of these pages in English if you so choose, I am not sure how many dutch-men are following my travel journal.
We were incredibly impressed by the collection at the Van Gogh museum.  Art enthusiasts and amateurs alike will appreciate the depth and multitude of his work, and the way the museum is set-up.  It presents his life's work in chronological order, explaining the major events and stylistic phases associated with each period.
The Anne Frankhuis is a short visit (about one hour) and it is definitely worth while to step foot in such a historical place.  Although quite sad, the exhibit reminded us of how fortunate we were to be so free.  For both museums I recommend visiting the websites and reserving tickets online in advance to avoid the long queues that collect every day outside these two famous places.
In terms of cuisine, we stopped in any cafe that looked like it had a good atmosphere inside.  We found one cafe in the
Jordaan District
which we really liked, yet the name escapes me.  I recommend making your way to the Jordaan District, it is a quieter and less touristy area where you are sure to find a pleasant cafe or low-key pub.  Back near our hostel in the Red Light District
St. Christopher's at the Winston
we found the Metropolitan Deli, which boasted a menu of homemade everything from sandwiches to milkshakes to baked goods.  Likewise, the deli right next to it also offered homemade ice-cream, milkshakes and assorted chocolates as well.  We highly enjoyed and recommend both.  Besides these delis and Dutch-style French fries (mayonnaise-smothered) our highlight was most definitely the
Supperclub
.
Located down a quiet side street just off the
Dam Square
, we had difficulty finding it at first.  We asked around, and the locals pointed us towards a rather discreet golden door with nothing but a buzzer and a tiny sign reading, "Supperclub".  We were buzzed in and greeted by Howie, the friendly co-manager.  He said, "oh, the early-birds, welcome" and showed us to our table.  At the Supperclub, though, your table is a small one that lays with you atop your bed.  Yes, at the Supperclub, you are served a five course meal in bed while a DJ mixes down mellow tunes to a particolored and ever-changing neon atmosphere.  For the first two courses, a women with a blindfold and a lampshade  was walking around the room, strategically yet seemingly randomly choosing creative places to pose for five minutes or so before moving on to the next pedestal.  It gave the club this mellow, modern, and artistic feel that Kara and I both enjoyed.  It complimented the gourmet five-course meal superbly.  The hospitality, the food, the wine, the music, and the show were all reasons that we would recommend the Supperclub to anyone.  Thanks again Howie.
**If you visit the website, you will notice that the Supperclub is located in a number of cities other than Amsterdam, so make sure you visit if you are in one of these cities.
New Year's Eve was – as advertised – crowded, crazy, and loud.  As we looked out our window onto Damrak street at mid-afternoon, we saw a sea of people with loud cracks and occasional flashes interspersed as people set-off fireworks in the street.  Although most locals will assure you that it is not that dangerous, I can assure you that few people paid much attention to where they threw their techno-tronics.  You must keep your eye out for any burning fuses nearby, but if you keep your head up it really isn't a problem.  In fact, it was really very fun and added to the incredibly festive atmosphere on New Year's Eve.
After having a few celebratory drinks at a local club, we made our way out to the square outside about twenty minutes before midnight.  I say "A" square because there are many in the city of Amsterdam, and you will find all of them packed with people near midnight on New Year's Eve.  People spill out into the streets to witness the incredible display of fireworks that were set off in a continuous show that started a while ago, are getting even louder, and aren't going to quit for a while – get it? We toasted, we kissed, we danced, and we marveled.  It was hard to believe we were actually there.
Spending New Year's in Amsterdam is something neither of us will ever forget.  It was sad to part, but we will be together again.  I hope all of you enjoyed the pictures and journals from our various stops along the way as much as we enjoyed staying in these cities.  Europe has so much to offer, and Kara and I only got a brief but rather significant taste.  After two weeks of travelling I must admit that I am tired, and it will be nice to be in the same place for a while – even if it isn't home.  Yet, I am sure I won't be able to fight off the urge to explore and look forward to sharing my experiences with all of you in the coming months.
Photography: 
Dear Reader: This page may contain affiliate links which may earn a commission if you click through and make a purchase. Our independent journalism is not influenced by any advertiser or commercial initiative unless it is clearly marked as sponsored content. As travel products change, please be sure to reconfirm all details and stay up to date with current events to ensure a safe and successful trip.
---