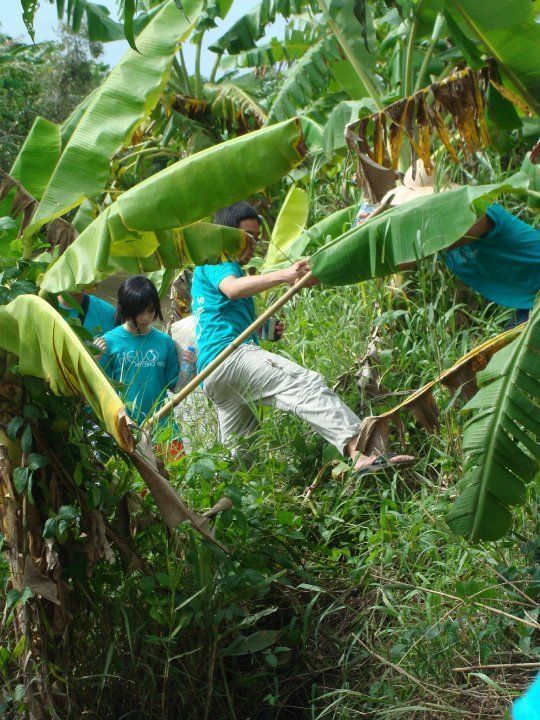 Vietnam is known for it's delicacy of dog and cat meat. Did I eat any? No; I was raised in America where these creatures serve as cute, loveable housepets. That's a bummer. Isn't eating exotic dishes the highlight of my travel?
No! I traveled to my parent's home country for two reasons. One: I'd like to experience what life was like for my parents and relatives before they migrated to America as "boat people." Two: Vietnam is a third world country that my youth-group and I decided to help develop.
(Here's the crew!)
Before: a typical American person          After: a completely "Vietnamized" American girl
So what exactly did I do on this trip? As you can see, the first few days I spent in Vietnam was in beautiful Vinh Ha Long bay and Saigon. I was either out in a boat, or out eating in street-restaurants.
THEN we finally got to the good stuff. . . the actual highlight of the trip. We're on a mission! A MISSION TRIP!
The troop, armed with water bottles and rice hats, arrives on land to combat against poverty!
Okay. . . so this girl's got a huge ice block. Amazing. I'm kidding. What's amazing is what she did with it. Her family lives in a grass shack right along a muddy, dank river that villagers (and hogs, ducks, and dogs) bathe, pee, poop, dump wastes, wash, and travel via motor boats in. She just dunk that ice block into that river, which she'll later crush with a hammer and serve us with a glass of tea.
That's where my youthgroup comes in. We fund raised money back in America for these babies:
(We just developed a small section of a third-world country village significantly! That's A LOT. Fresh, clean water means less ailments. Paddle boats prevent river pollution. They're also biodegradable!)
We make people happy. See those bags? We bought TONS of clothes for these villagers, like these folks.
We also fundraised for. . . the following babies- and children!
This is "Bay." He is a rowdy orphan with HIV/AIDs, like many others in his orphanage. He popped his balloon sword within five minutes of play-fighting.
These kids are mentally-retarded and are also orphans. The girl in green spent hours with me. She's toothless and cannot speak. But with all ten fingers displayed, I learned that she was ten years old.
This child is in another orphanage. He's one of the many children affected by Agent Orange (something that actually hasn't gone away since the Vietnam War!) He's one of the only few who hasn't an enlarged head, who can actually interact with others. But unfortunately, he's strapped down in that crib for most of his remaining years to come.
Of course, it's not all fun and games. We have to organize packages in order to supply those cute kids with ordinary, American necessities like toothbrushes and toothpaste.
No! We're really not in America! I had to remind myself everyday that I was really half way across the world.
In America, bridges aren't made of branches or twigs. That's right; he broke the "handle bar. "
We mastered the art of making animal balloons for, literally, hundreds of children in schools, leper villages, church, and orphanages throughout the entire trip. They don't need PSP's or a Wii gaming system to get excited about; balloons are fascinating!
We also came to see different types of babies- the ones that were aborted. Vietnam has a high abortion rate, because of it's poverty ridden.
Located near a coffee plantation, a Catholic priest bought land to create a graveyard reserved for fetuses that have been killed. My Catholic youth group came to visit and pray for the next five to be buried.
After a long, bumpy ride on the back of a dump-truck in the rain, we arrived at the last orphanage:
There's a glimpse of hope for pregnant mothers who can't afford to raise their children at places like these.
Thank goodness his mother chose another option.
Again, we are not in America. In Vietnam, this is how your kitchen sink would look like. That is, if you can afford one.
Some people live in shacks made of metal scraps, old planks, and sometimes even grass/straw like the following.
That's right. Our youthgroup decides to build them better homes! We also raised money back in America so that they can live in sturdy, concrete buildings.
We couldn't give them extreme makeovers like the ones on the American TV show, unfortunately. Still, there's been a lot of improvement:
And then we got back to making MORE balloons for kids, passing out scholarships and checks to schools, churches, orphanages, and Catholic convents!
(I'm that short girl to your far right.)
You're probably tired of seeing balloons and kids now, aren't you? Well, following the Vietnam trip's time line.. we grew weary of it all too. . . and so we spent a few days doing our own thing. Our youthgroup knows how to relax too, you know! And we enjoy the little stuff going on too!
The other way to wash clothes.
Beetles and spiders the size of your palm exist in large numbers. It's uncomfortable sharing the same toilet or toothbrush container with a five-inch spider. Really! But it's fascinating!
Sleeping in mosquito nets. They don't prevent spider bites though. SIGH.
The roadtrips were fun too. That's my brother and his Viet Cong hat. It's ironic, because we're descendents of Southern Vietnamese soldiers. See, we also spent a lot of time learning about our culture!
There's nothing like Vietnam's warm, tropical beaches. (We sort of felt out of place, because all the other beachers had long sleeves on. Oh, well!)
But even so, the only thing that reminds me of the Viet Nam trip is the missionary work.
Thanks for taking a trip to Vietnam, along side me, through my blog!
P.S.    That dog was not for dinner.
Dear Reader: This page may contain affiliate links which may earn a commission if you click through and make a purchase. Our independent journalism is not influenced by any advertiser or commercial initiative unless it is clearly marked as sponsored content. As travel products change, please be sure to reconfirm all details and stay up to date with current events to ensure a safe and successful trip.
---