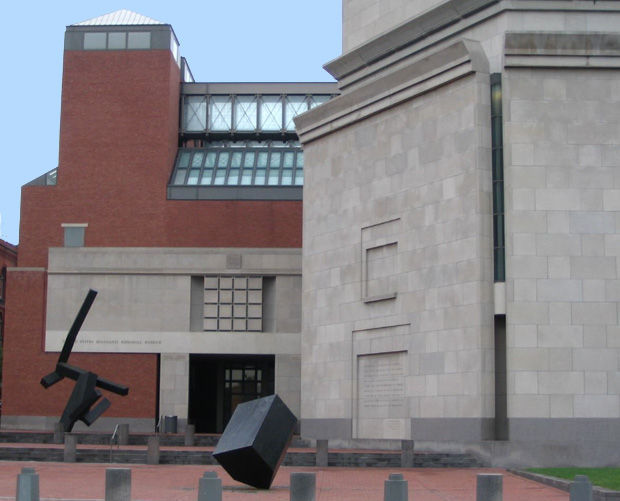 While I waited outside, I stood in a single file line so that it remains organized, and so they can hand out your "visa". The visa was about the size of a 3×5 index card with a black cover. You were told not to open it until after you are done at the museum; however, many did.  From the outside, the building looks deceptively small with bland colored walls and red bricks. A giant metal contraption was near the entrance which was created by a Jewish artist Joel Shapiro entitled "Loss and Regeneration."  There are quotes engraved on the outer walls, one a short poem written by a young boy. As I enter, I go through extensive searching, as our group did everywhere in Washington. The walls were painted a dark color with lights focusing on each exhibit. There were life size photos and millions of words explaining what happened; it was too much to take in. There never was a blank wall. We had only two hours to view the whole building, when really, you could spend the whole day there and not see everything. As I walked through the building, I felt disoriented, never knowing exactly where I was in reference to where I started. I knew I kept moving between floors and sections of the building but was distracted by the sights I saw.
            The one sight that completely caught my attention was the breaking point of my visit; it made me stop dead in my tracks. I walked into a medium sized room and looked on the floor to the left, and then to the right. On either side of the rails I saw shoes, thousands of shoes. All black, musty, torn, dirty, and abandoned. I could smell that they were old. They smelt as though they just sat, untouched after a long travel. It was like the shoe that you wore all winter and put away for the summer, then later pulling it out for the next season. The smell of must set in my nose, and stayed with me. All the shoes were those of Jewish people who went to one of the Concentration Camps. That was only some of the shoes, from one of the camps. There were so many of them. Women's, men's, children's, and babies.
            This exhibit made everything around me disappear. All the people passing through, all the sounds, and even the guy I was attached to for the whole trip. My mind was rushing trying to take in all of the people that once filled these shoes. The way they were tattered, the way they smelled, the way they sat there. I mentally imagined the train packed with people, the atmosphere being tense and worrisome. I imagined people being shoved out of the train once they reached their destination, seeing the little amount of hope they had crushed by the Nazi's they faced once they were out in the air. It was a mixture of Anne Frank's story and all that I had seen in the museum and text books. I couldn't comprehend why anyone in the world would hold such anger and hate just to one group, or even have the power to kill as many as Hitler did. The cruelties they used, ripping families apart, sending the women and young children to gas chambers because they were "useless." A human life is never useless.  As my thoughts rushed through my head I slowly came back to reality and everything going on around me came back piece by piece. First the sounds. You could hear quiet sobs, gasps as others entered, groups talking about how "lame" this was, and the shuffling of shoes walking through the room. The room was getting empty and as I looked to my left, I noticed my friend was staring at it with me, lost in all there was before our eyes, further proving this exhibit was powerful.
             For the next three exhibits, we said nothing more than "wow, can you believe it?" "No I really can't."  The museum went on and on, never ending. At one point we checked our clocks, it was now 3:40, and our schedule was set to depart at 3:00. We rushed to catch up with the rest of the group and to our surprise we weren't the last ones to return to the main lobby. As we left the museum, we were all in a somber mood. No more were we a group of boisterous teens, we were humbled, taking in all that we saw.
            From that moment on, my perspective on life has been changed. The Holocaust was an extreme case of follow the leader, with blind folds on. Yes, they knew they were killing, but in their minds it registered as being moral and what they "deserved." They needed to re-evaluate what they believed in and what they felt was happening. You never know what life is going to dish out until it is in your face, forcing you to take desperate measures. Being in the museum and seeing the artifacts is different than reading a McGraw-Hill textbook. It's having a physical and emotional connection with history.  Museums are a way of showing life like examples of history. Text books create images in your mind where museums show you the images. Sometimes, being able to see the bigger picture helps you understand the gravity of the event.
            Everyone wears shoes, making this display a connective point to human experience. Shoes are taken for granted, you walk out the door, throw on shoes, and don't think twice about it.  It puts a new definition to "walking in someone else's' shoes." Every pair of shoes was filled with a soul. It crossed my mind, if everyone in the room were to remove their shoes; it would not be anywhere as many in the display. Everyone having a different story, a different experience, all gone just because of their religion. The fact that there was baby shoes in the mix show how ruthless the Nazi's where. Since that day, I have not put on a pair of shoes without being reminded of my experience. I was truly moved by the museum and one day plan on traveling there again.
Dear Reader: This page may contain affiliate links which may earn a commission if you click through and make a purchase. Our independent journalism is not influenced by any advertiser or commercial initiative unless it is clearly marked as sponsored content. As travel products change, please be sure to reconfirm all details and stay up to date with current events to ensure a safe and successful trip.
---