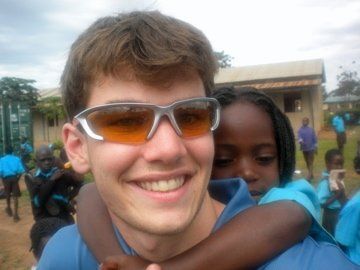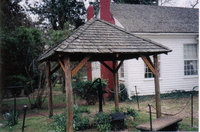 Twenty-six hours of travelling.  I went from the familiar airport in Cincinnati to the massive international intersection that is the Detroit airport to the equally large Amsterdam airport to the small, dark airport in Nairobi and finally touching down on Ugandan soil, greeted by a large sign proclaiming Winston Churchill's words regarding the country: Welcome to the Pearl of Africa.  He could not have been more right.
My fellow travelers and I were greeted at the airport, very late at night, by a familiar and beloved face.  That face belongs to a man by the name of Okema Denis, a large Ugandan that hails from Gulu, a city in the north, but now lives in the capital city, Kampala, working as a conflict resolutionist for a non-governmental organization.  His face is well known to us because the previous year he made the trip to Cincinnati to visit our own multi-school, student run, organization that supports kids at UNIFAT primary school in Gulu, which Okema Denis attended when he was young.  As happy as we were to finally be in Uganda, it was late, we had travelled for twenty-six hours, crossed several time zones, and all eleven of us (seven high school students, three teachers and one college student) really wanted to sleep in a bed.  So as soon as we entered our room, stuffed with five beds, we inspected our mosquito nets, repaired holes with little rubber bands, crawled under them and slept hard until early the next morning.
Up to this point we had not really seen the city or the country, but what better way to see the country than to drive eight hours north, from Kampala to Gulu?  As we left Kampala all of us were struck by two things: first, the poverty and dirtiness of the city.  Garbage lined the streets, roofs and buildings were made from rusted tin, and most of the people walked miles with goods that they were either bringing home or taking to market.  The second thing we noticed was how dangerous it is to drive in Uganda.  There are few cars, but there are a lot of motorcycles (referred to as buta-butas) used as taxis and bicycles, and nobody really pays attention to any real rules of the road.  We witnessed several small accidents, and at one point we saw a dead body from an accident.  Driving in Uganda is not easy or safe, especially when most roads are made from dirt.
None of this seems to make Uganda a very desirable place to be, but to really understand you have to see the country and be with its people.  We drove by the beautiful Lake Victoria, we drove over rushing rivers with baboons on the side of the road, we saw tall pines growing that are used as scaffolding and telephone polls, we saw ant and termite hills six feet tall.  This was all on the way to Gulu.
Once we got to Gulu we settled in to our new home for the next two weeks, the Hotel Roma.  Our rooms consisted of a bathroom with a toilet, a sink, and a shower (by shower I mean there was a showerhead on the wall and a drain in the floor), and small room big enough for two single beds about five feet apart, and mosquito nets over the beds.  All the rooms were accessible by an open-air walkway.  Our rooms were small and bare, electricity was unreliable, as was the water, but every morning there was breakfast available that consisted of toast with jam, bananas and tea…it was wonderful, and I would gladly spend more than just a couple of weeks at the Hotel Roma.
The next day we rose around six o'clock to go to visit Murchison Falls National Park.  Our vans needed gas before the trip so we went to a "24 hour" gas station.  It was closed.  Yes, we were most definitely on Uganda-time, where things run a little bit slower and time is a generality, not an exact science.  So we watched the sun rise over the trees, and waited for the gas pumps to open.  On our way to the park we saw kids in uniforms walking to school, when we knew there wasn't another building for miles, and we saw hundreds of thatched roof mud huts huddled closely together in government forced Internally Displaced Persons Camps.  These were the reasons that we had gotten involved, and why we were there, but, that day, we were headed to the Murchison Falls and a safari on the Nile River. 
We saw elephants, giraffes, water buffalo, hippos, crocodiles, monkeys, wild boars, and pelicans.  We experienced the massiveness of the Nile River, and we saw the awesome power of Murchison Falls.  All of this beauty was awe-inspiring, and an oasis of natural wonder in a country ravaged by civil war.  All of this was fantastic, but it would be nothing compared to being at UNIFAT Primary School with the children we helped, visiting the homes of some of those children as well, and experiencing the extreme attitudes of welcoming and kindness from the Acholi people (the Acholi is the tribe of people that resides in the north of Uganda around Gulu).
We spent our days at UNIFAT school interviewing kids that we sponsored to go to school, sitting in on classes, helping out with lunch (which, everybody thought was funny when the men helped) and doing other things around the school that needed to be done.  That was what we were there to do, and we did it to the best of our ability, but the highlight of every day was at ten o'clock, when the children had break time.  We would run around kicking a soccer ball with the children, or teach them to play Sharks and Minnows, or just walk around playing with the youngest kids, who were five or six.
Throughout the trip we received gifts of thanks from families for what we were doing for their children.  These gifts were usually food, which we knew was a big sacrifice for these families who struggled to feed their families every day.  We received mangos, jackfruit, and we were even given a live chicken.  We didn't really know what to do with it, so we took it to Green Valley, a restaurant that we frequented and asked them if they would prepare it for us.  They were happy to oblige us.  The biggest gift we received was on the last day we were at the school.  Apparently they children of all ages and grades had been practicing for this day for a while because we were presented with performances from each different grade to thank us for coming.  This ranged from everything from small rhymes and songs recited to us by the youngest to traditional dances in traditional garb from the eldest.  During the final dance, I had the honor of being invited to dance with the performers.  I was given a headdress and ushered into the circle of dancers.  I know for sure that I made a fool of myself, but I provided the children with some entertainment and was deeply honored by the invitation.
We spent one day in Kampala at the same hotel that we stayed in the first night we were in Uganda, and Okema Denis joined us, once more.  It was wonderful to see him again, but the general air of the group was rather low because we knew that all too soon we would be boarding a plane that would take us away from a place that was no longer a place of the destitute, but a place of the kindest, most gracious people we had ever met.  We were going to be leaving a place where if somebody says "You are welcome," you reply "thank you," because, isn't that how it should work?  If someone welcomes you into their home, into their lives, shouldn't you thank them, not the other way around like we do in the United States?  We were leaving a place where everybody takes their time and appreciates their surroundings, even if they aren't the best.  They appreciate the banana tree in their yard; they appreciate having a well from which to draw water; they appreciate the people around them, and I would trade most of the luxuries that I have, such as consistent electricity, a personal computer and consistent bathing to be with those people.
I hope that one day I may find myself back in Uganda, back in Gulu, watching the sun rise and listening to the children of UNIFAT sing the UNIFAT school song before starting a day of learning.
Dear Reader: This page may contain affiliate links which may earn a commission if you click through and make a purchase. Our independent journalism is not influenced by any advertiser or commercial initiative unless it is clearly marked as sponsored content. As travel products change, please be sure to reconfirm all details and stay up to date with current events to ensure a safe and successful trip.
---