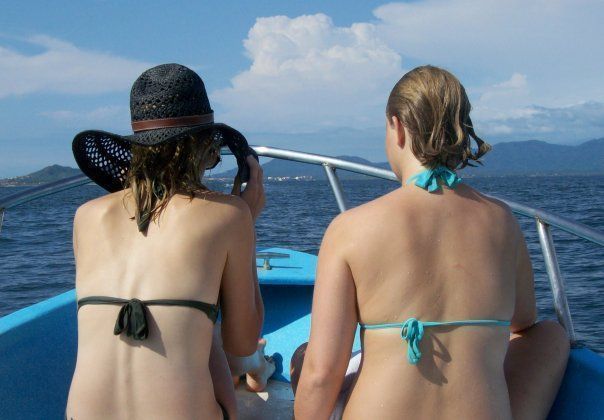 The mystique of travel and the discovery of new and exciting places have the ability to give one feelings that are indescribable. When reflecting on journeys past, one often experiences nostalgic pangs and the fulfillment of life journeys gone by. The beholder of these feelings is the only person who can truly know the value of his or her own exploits.
Every mode of travel has its place, but possibly the best is a combination of all: traveling smart but splurging when necessary, having a rough sketch of a plan, but flying by the seat of one's pants if need by.
The trip I took last summer was probably the most gratifying one I have been on; it can be described as near perfection. A weeklong stay in Punta de Mita in the state of Nayarit, Mexico was a great step in my life journey. It offered new perspectives and helped to mold my ever-changing worldview. About 40 minutes north of Puerto Vallarta, Punta de Mita is located on the Pacific coast.
When one thinks of beach destinations in Mexico, the popular image is probably of boatloads of college students over-baking in the sun by day and dancing drunkenly by night. Punta de Mita, and my trip especially, is the antithesis of that image. I did not accompany a group of peers, but instead, my sister-in-law's family, my "second family," as we call each other.
Father, Steve, is a lifelong surfer, and lover of Mexico, its culture, people, and language. He has imparted these loves to wife Sharon, and his two youngest children Claire and Caroline. My sister Hannah was also along for the trip.
From the moment we were bombarded by over-zealous cab drivers at the Puerto Vallarta airport, I sensed that this family was expert at navigating. It was evident that I would be delighted by this trip.
I, as well as the family I was traveling with, take a different approach to travel. I prefer to be a traveler rather than a tourist. Part of the reason you go somewhere is to get away from your normal modes. The biggest thrill and the best way to learn something, is to acclimate yourself to the ways of the place you are visiting. When in Rome, do as the Romans do.
I soon found myself racking my brain for my high school Spanish. With the constant companionship of my "second sister" Claire, I could get around, converse a little, and get the things I needed in Punta de Mita.
We made frequent trips to one of the many "tiendas" in town. The little concrete buildings with their mostly friendly shopkeepers carry the essentials one needs, but not much else.
My second family, who make their second home in Punta de MIta, also make a great effort to keep friendships with the locals, who I found fascinating, almost like characters out of a movie. One has to trek the dirt streets of Punta de Mita to get to Ralph's. Ralph sells some of the best homemade pizza one will ever eat, straight out of his own open-air kitchen.
Tio is a deeply religious silver vendor. He doesn't roam like the other vendors, but holds court under the palapas at El Dorado, a restaurant on the beach, and will gladly sit and talk to you for hours about his family, his life, and his church.
Perhaps the most animated of all is Oso. The man in nicknamed Oso Negro because of his long black hair, and seems to live and breathe the ocean. At every beach we went to, whether the main restaurant-lined beach area or a secluded surf spot, Oso and his pearly white grin seemed to pop in for a visit. For a living, he gives surf lessons. Seeing Oso on the water, his interaction with people, and the ocean made one really appreciate the power, beauty, and mystery of the ocean.
 When traveling, I always challenge myself to learn something new. On this trip, learned to surf. According to my second family's rule, learning to surf goes right along with learning to ride a bike. The idea was a bit intimidating at first, but Steve, a lifelong surfer, was a very qualified teacher. It took me a couple of failed and completely grace-free attempts, but after catching my first wave, I was completely captivated.
Another great aspect of travel is the food. As a self-proclaimed "foodie," I always, without a question, challenge myself to eat well while on a trip. After vigorous day activities, the group was always ready for a good meal at night. A few times we ate great, fresh food for prices even Scrooge would approve of. Ralph cooked us exquisite pizza with crisp, garden-fresh pineapple, mushrooms, tomatoes, and zucchini.
The infamous "taco stand" is the embodiment of simplicity, but also the epitome of epicurean delight. Two women stood in the outside kitchen preparing small corn tortillas filled with scan portions of beans, beef, and onion, topped with homemade salsa and bit of lemon juice. It might not sound like much of a feast, but appropriately savored, the tacos from the unassuming lady in Mexico were worthy of a king's praise.
My favorite memory, though, combined many aspects of what I believe a great trip should consist of. Our "tuna feast" was a night that will forever shine in my memory. This feast was no "Chicken of the Sea" tuna. We had been given several pounds of freshly caught tuna, and took it to Margarita's, a restaurant on the beach, to have it cooked, but little did we know what we were in for.
For a while, our clan sat on the beach, barefoot with toes wriggling in the sand, as guests to a fierce but beautiful lightning show. Then, when a downpour became imminent, we were moved to a table under cover, but still in the open air.
 Junior, our host and headman at Margarita's, first presented us with tuna ceviche and sashimi to die for. Next, laid out before us, were three different types of cooked tuna. We were then treated to flan, brownies, and kahlua.
The food was just one highlight of the evening, though. As we sat, the entire party reveled in each other's company. We were absorbed by conversation, happy in the presence of family.
 American hip-hop was playing on the stereo, which went quite well with the sweet and salty combination of our mango margaritas. The whole family sang and danced along with the music; we were highly entertained by both Sharon and Junior's dance moves to none other than Flo Rida.
We relished the delight of the night so much that the restaurant was empty by the time we had finished and Junior had joined our table to take part in the merrymaking. I think in those two hours, every person present was completely captivated by the beauty of life.
 Our experience at Margarita's embodied what it means to travel. We were witnesses to exquisite displays of nature. Great delight was found delight was found in our company, from stimulating conversation to dance moves that would be taboo at most meals. Relationships with locals were also solidified, as we joked and conversed with Junior and the restaurant staff. It was truly an experience when indulgence was justified, and gratification was in excess.
Great travels give one great memories. And great memories provide one with immeasurable wealth of spirit. Leaving our retreat was hard, but one of the realities of travel is that it doesn't last forever. I'll soon have more opportunities, though, and I hope to make them as memorable and meaningful as the trip to Punta de Mita.
Dear Reader: This page may contain affiliate links which may earn a commission if you click through and make a purchase. Our independent journalism is not influenced by any advertiser or commercial initiative unless it is clearly marked as sponsored content. As travel products change, please be sure to reconfirm all details and stay up to date with current events to ensure a safe and successful trip.
---