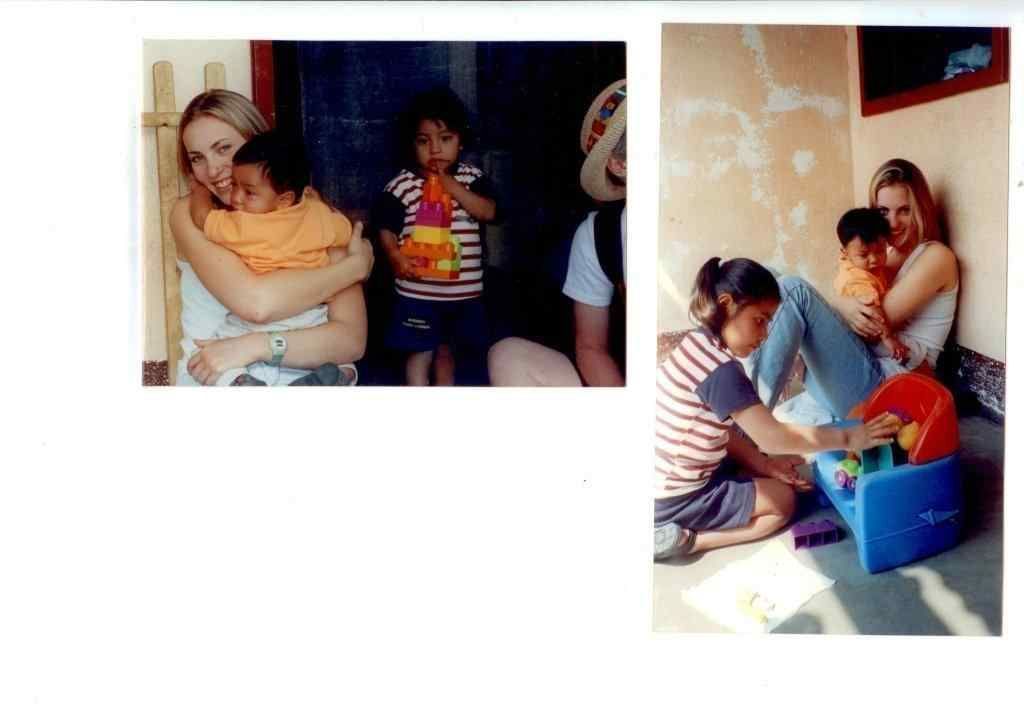 As I continue my pursuit toward a doctoral degree in Clinical Psychology, I often find myself tempted to try and pinpoint the source of my desire to help others in times of psychological crisis. While there is surely more than one defining moment that influenced my professional trajectory, one that most often comes to mind is an encounter I had while volunteering at a rural health clinic in Antigua, Guatemala.
FINALIST 2010 YOUNG TRAVEL WRITERS SCHOLARSHIP
It was 2000 and I was in my junior year of high school. I had already found my love of foreign language, though was yet to discover my passion for aiding others. My mother, a registered nurse, had begun traveling with La Fé en Práctica ("Faith in Practice"), a church-affiliated organization of doctors and other health care professionals who offered their services each year to the Central American country. In addition to medical professionals, the organization selected one "youth interpreter" to join them on their annual trip in an effort to both assist in care-giving efforts, as well as garner invaluable life and learning experiences abroad. Thanks to a combination of my Advanced Placement Spanish classes, experience having studied abroad in Malaga, Spain, and a 4.1 GPA, I applied and was fortunate enough to be selected that year as La Fé en Práctica's youth interpreter.
Much of our services were conducted within the main hospital in the town of Antigua. However, every few days the group ventured into more rural parts of the countryside to set up clinics in schools; churches; anywhere there was room. Children, the elderly, even individuals with physical disabilities traveled up to twelve hours by foot or by bus just to get in line at the makeshift clinic in the hope that they would be seen. For all the good we knew we were doing, the long line of desperate faces of those we did not have time to see before dusk was disheartening.
The dismal feeling of adding just a drop to an overwhelmingly large bucket was counteracted, however, by the knowledge that we were providing all we could. Unexpectedly, just as strong of an antidote to the desperation was the unparalleled learning experience that was provided to me. I had no way of knowing the exhilaration I would receive in traveling to a seemingly different world, speaking their language, eating their food, witnessing and experiencing their rich culture, and helping them combat disease and starvation. Nor could I have anticipated the gift that one young couple and their infant child, desperate for help, would give me that would last forever.
One day while at an improvised clinic set up in an elementary school in the countryside, all seemed business as usual: the extraction of a deadened tooth causing painful swelling and sinus pressure; treatment of the cramping and discomfort caused by dysentery; extension of prenatal education to expectant mothers. I was growing more and more confident in my ability to communicate with the local population, and thrilled to be applying classroom knowledge to real life situations. I remember that moment, however, when a teenaged couple came rushing in, the father carrying a tiny, swaddled infant in his arms, the mother crying tears of desperation. "Nuestra bebe esta muriendo," was all she whispered through puffy, bloodshot eyes and a torrent of tears.
It suddenly felt as though all my hard efforts at mastering a foreign language had dissipated in an infinitesimal fraction of a second. It was as if my mind went blank and I was abruptly unable to trust my own capabilities and what I knew I had just heard. In front of me was a dying child, and I was well aware that the moment I conveyed as much to the doctors that our calm clinic would rapidly transform into a hectic urgent care. The weight of my responsibility at that moment was not lost on me. But I felt sure of it: I had heard this woman correctly. I turned to the doctor for whom I was translating and transmitted the information: "They say their infant is dying." Within moments, doctors attending to other patients had dropped their tasks at hand and were swiftly performing improvised triage on this petite frame. The young parents were in tears, having had their dying newborn all but ripped from their arms in a feverish attempt to save her life. I can imagine how helpless and out of control they must have felt in that moment, watching their small child fight to survive.
Funds did not permit La Fé en Práctica to call for transportation to the nearest hospital, consisting of a three-hour drive through rugged and mountainous terrain. There were, unfortunately, plenty of people in need of long-term clinical attention seen in the makeshift clinics who could have benefited from inpatient treatment, but that was not part of a realistic financial protocol. For this baby, however, protocol went out the window. One of the doctors called for an ambulance and a taxi; the parents were to ride behind the ambulance the three hours to Hospital Hermano Pedro. The volunteers with La Fé en Práctica would pay for the bill out of our own pockets.
And we did. We did send that family off to Hospital Hermano Pedro. We paid for the young parents' transportation and ambulancia emergencia. And we prayed for that child. Ultimately, however, we never did find out what happened to her. To this day, I do not know if that baby made it through her desperate struggle to prevail. I can only hope, and imagine, that she did. If so, that young girl would now be about 10 years old: maybe attending the 5th grade somewhere in that small village in Guatemala; maybe with younger brothers and sisters to look after and play with; maybe starting to dream about what she wants to be when she grows up. For my own strength, I find that I must envision her this way, rather than having succumbed to the insufferable challenge she was up against that day. I also have to imagine that my knowledge base and focus that day helped to save her life: I have to believe that my hard work paid off in the form of helping to save a life.
Upon returning from that trip, my family decided to "adopt" a young child from her village. It was a tribute to this little girl, whatever may have happened to her. For the past 10 years, we have received hand-written letters from Miguel about learning long division in school, the new pair of shoes our funds bought him, and how his father is teaching him to slaughter the chickens we gave them to put into rice for dinner. Now in the 5th grade himself, many of his peers are being encouraged to not continue on with school because there is a need for them to contribute to the family income. With our annual contributions to Miguel and his family, it is my hope that he continues his studies and, unlike many of his peers, is given the opportunity to fall in love with learning. For me, Miguel is evidence of that little girl growing and thriving. With each letter we receive from him, I envision and pray for a future for both children.
It was because I have been so fortunate to have a good education that I was able to help that family that day ten years ago. I have never forgotten to count my blessings for that. An experience like this one forever reminds me of the power of learning and of the irreplaceable strength of a solid education. That young family is, in part, the reason why I continue my studies in graduate school. In addition to foreign language, I had devoted my studies to learning about the relationships between people, like a parent and her dying child; the methods of the mind in catastrophic situations like the death of a loved one; and methods of resiliency that help us cope when we suffer tragic losses. These experiences help create who we are and what we chose to do with our lives: I have chosen to utilize it in making me a more apt listener, a stronger communicator, a better clinician. And I am confident that the next time I am faced with a frantic parent desperate to save their child's life in one form or another –getting her off drugs, keeping her in school – I will be even more able to help that family, thanks to a tiny baby girl, ten years ago, in a tiny village in the remote mountains of Guatemala.
Dear Reader: This page may contain affiliate links which may earn a commission if you click through and make a purchase. Our independent journalism is not influenced by any advertiser or commercial initiative unless it is clearly marked as sponsored content. As travel products change, please be sure to reconfirm all details and stay up to date with current events to ensure a safe and successful trip.
---