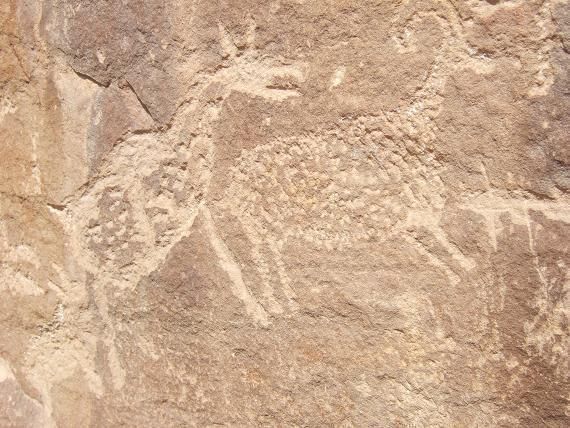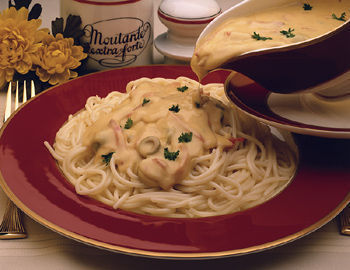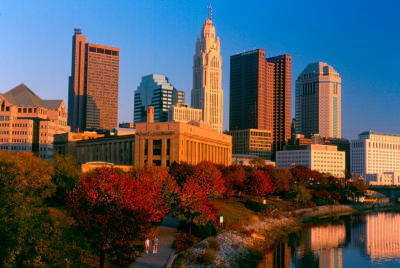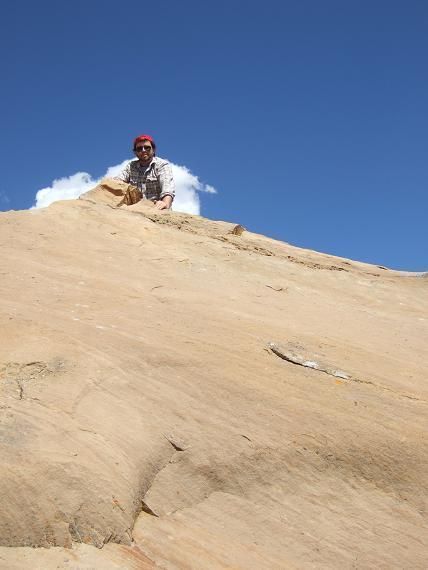 The first thing you learn when you get to Utah is it takes twice as long to get anywhere you need to go. I don't mean this in a big city way, with the people and traffic. It takes twice as long to get to places in Utah because Utah is HUGE.
Garrett, my aunt Barb and I got the car in order with guide books, water bottles, snacks and cd's, for a Saturday road trip to Nine Mile Canyon.
Leaving the valley behind we entered the high desert that makes up much of Northern Utah. It's the kind of stuff you see in westerns; sage brush, tumbleweeds and rattlesnakes. The wheels hum and I doze while looking at a book of the petroglyphs we are headed to see. I wake to the car turning onto 9Mile Rd. "We're here" Barb says to reassure us. 'It always takes twice as long.' I think to myself as we head towards the canyon.
"So how does this work?" Garrett asks from the back.
"Well, John, that book you've been looking at has all of the sites marked out. We just have to follow the mile markers." Barb explains.
"I've got a better way than that" I say as I pull out my smart phone; which is still getting service in the desert. "I'll use the GPS on my phone to track where we are. It looks like the first site isn't for… 12 miles. Barb — I thought this was Nine Mile Canyon?"
"The canyon is actually a little more than 40 miles long guys; I'm not really sure why they call it Nine Mile Canyon." Barb says with a shrug.
The first sites we stop at are uneventful. "It's easy to tell the difference between the real stuff and the nonsense." Barb says over my shoulder, again seemingly reading my thoughts. The Fremont, the Native American people responsible for the majority of the petroglyphs in this canyon, had taken a liking to the darker sandstone located higher up on the canyon walls. Walking back into the smaller canyons, we got better at picking out pictures of human figures, horses and other, sometimes mystical figures.
We stopped for a quick lunch at an abandoned homestead with a garish Nine Mile Canyon sign. Barb insisted that we pose for pictures. After grudgingly obliging and a little more exploration, we head back to the car. The book and my GPS tell us the next site is around the next bend.
As we pull up to the site I see it's dominated by a huge boulder. The boulder is about twenty feet high and twenty meters across. Garrett and I inspect the boulder and discuss its climb-ability.
"You guys should climb it!" Barb yells as she walks from the car, camera in hand. "It would be a great picture."
"This rock is pretty chossy." I say peeling off a flake of sandstone.
"Come on, you said you wanted to climb rocks." Barb chided while snapping photos.
Neither of us were prepared to climb. Garrett was wearing steel toed work boots, and I was wearing run of the mill hiking boots with no stickiness at all.
"Yeah! This slabby side seems good." Garrett shouted as I followed him around the side of the boulder. He was right, it seemed climbable.
I went first. Pulling at the holds to make sure they were solid, balancing on the toes of my boots against the small edges in the sandstone. I made it to the top and looked over the edge to see Barb snapping away. Garrett muscled his way up next to me.
Down climbing is always harder than going up. Every climber knows it. When I started down I was confident that I chosen a good line. If I had to jump, there was a nice sandy landing waiting for me. Suddenly the hold in my right hand snapped. Most of my weight was on my right hand which pitched me left, away from the sandy landing towards a pile of pointy rocks. I tried to get my feet under me and BAM! My world turned white with pain and I knew that something was seriously wrong with my left foot. Garrett and Barb ran towards me. I held my foot as waves of pain washed over me.
"Oh my God, John, are you ok? I'm so sorry!" Barb seemed to be chanting. Garrett, in rescue mode, asked "John, what's wrong? Which foot? Is it broken?" I furiously nodded yes to all questions because I couldn't speak. My teeth gritted so tightly I feared they might shatter.
"We've got to get you to the car." Garrett said. "Come on."
While trying to get me on my feet, my foot jostled, making me cry out in pain.
"Come on John, you can get there." Garrett assured me as he and Barb took me on their shoulders, helping me hobble to the car; 75 yards across a mix of sand, rocks and sage.
After about four minutes Garrett said, "F*** this. John, get on my back." As I climbed onto my friend's back I thought to myself, here is a true friend. His reliability was why I brought him on trips like this.
We got to the car. I was in the back seat lying down with my head against the cool tinted glass, Barb continued apologizing while starting the car. I fought through the waves of pain while trying to stay coherent, which wasn't easy. I noticed that she was driving deeper into the canyon. After about ten minutes I couldn't take it anymore.
"Why are we driving this way Barb?" It's the wrong way!" I said through gritted teeth.
"There's a gas company outpost somewhere up here. I know there is. Just hold on" she replied.
After a few more twists and turns up the extremely bumpy road Barb found the outpost. We pulled up to where five or six rugged looking men were walking towards the car to see what happened. Barb got out, gesturing wildly. The door near my foot opened and one of the men said to me. "So you bashed up your foot huh?'
"Yeah." I moaned, "it hurts bad."
"Well let's see what we're working with." The gas man said as he unlaced and removed my boot and sock. "Looks like the heel's broken" He said "We get it all the time up here. Climbers, tourists, which one are you?" he asked with a sad smile.
"Does it matter?" I spat back a little too harshly.
"Well no, I suppose it doesn't", said the man scratching his head. "We'll get you wrapped up anyhow."
By this time a first aid kit and cold compresses appeared and the gas man wrapped my foot and ankle with a practiced hand.
"It's a good thing you stopped here lady." Another man said to Barb. "It's a lot further to Dushane then to Price. You better head back to Price. We can have an ambulance come up and get him, or a life flight if you like."
At this suggestion, I became coherent for long enough to shake off the idea. 'How embarrassing,' I thought to myself, a life flight for a broken heel.
"Just head to Price," I said. We left the outpost and headed back down the canyon, which because of the pain, felt like Thousand Mile Canyon. Twenty minutes into the drive Barb gave out and pulled over for Garrett to take the wheel. Soon we were doing 100 miles an hour and drifting through turns like the finest Italian rally drivers. At least that's how Garrett explained it later. As we passed the entrance I thought to myself 'Am I a tourist? Am I really meant to be here?' Those thoughts quickly disappeared as every bump and jolt of the car brought fresh agony to my foot.
Finally we arrived at the hospital in Price. The gas men called ahead because they were ready for us. I was lifted onto a gurney and wheeled into the fluorescent sterility of the ER. A team of nurses worked on fitting me with IV's and taking my vitals. It must have been a slow night. I can say one thing for the employees there — they are not stingy with their morphine. Soon the foot didn't seem a big deal at all.
I was stabilized and given a prescription for pain meds. As we left another kid was brought into the ER. He was another rock climber with a shattered heel.
"We get a lot of these." The ER doctor said to me. "You should feel special. Yours is the first of the season."
The night came to an end. I got one last shot of morphine for the road and we headed back into the night towards SLC. The morphine helped to make the time and distance a non-issue. What a Saturday this had turned out to be, I thought to myself.
Dear Reader: This page may contain affiliate links which may earn a commission if you click through and make a purchase. Our independent journalism is not influenced by any advertiser or commercial initiative unless it is clearly marked as sponsored content. As travel products change, please be sure to reconfirm all details and stay up to date with current events to ensure a safe and successful trip.
---