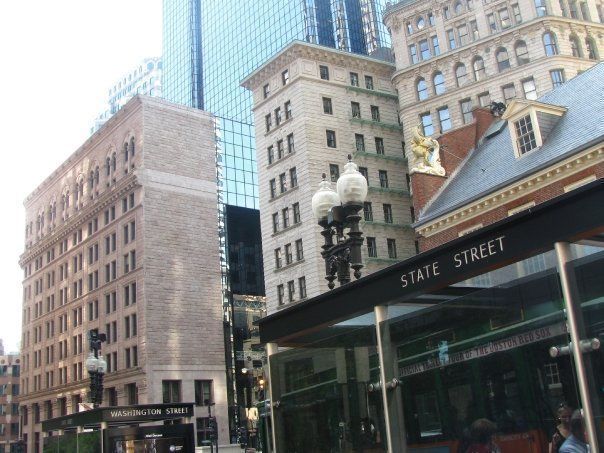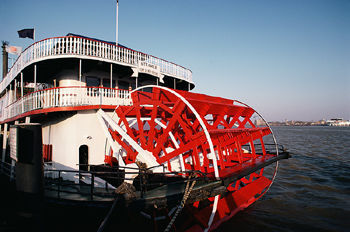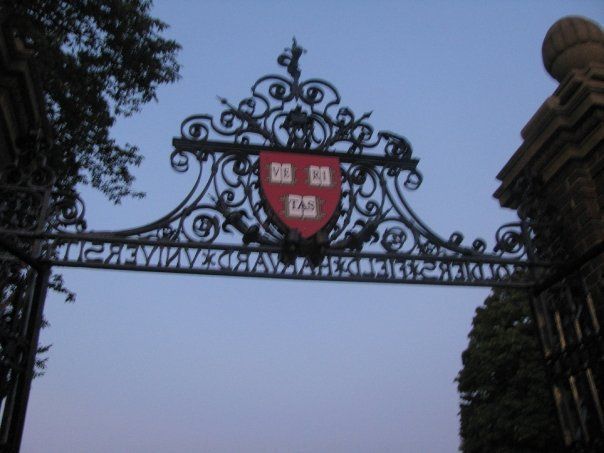 On the night of August 5th, 2009, my friend Patil and I, Starbucks at hand, were waiting to board the train. Magic was brewing.
I should get off the track to mentions practical advice: we chose Amtrak as our means of transportation to Boston and were pleased. Since Boston is 6 hours away, we took the night train, and that also proved to be a wise decision. Patil and I were lucky because the train was not full, so we managed to snag two seats facing each other, and actually lie down and get some much needed shut eye. Reservations for Amtrak trains can be easily made on their website http://www.amtrak.com/. Patil was able to get a discount, since her parents are Triple A members. They also have Student Passes and other fun stuff. Since I am obviously hinting at our college-student poverty here, I should also mention that throughout the entire trip we employed this trick: we packed some of our favorite teas with us (nothing like tea to comfort one away from home!), and would stop by at Starbucks stores and ask them for a cup of hot water. The staff is so nice that we were never denied. Don't get me wrong, I am a loyal Starbucks customer, just not…umm, during that particular summer.
            So the train ride was problem-free, and there is definitely something magical about riding at night into the unknown. The train made a 45 minute stop in New York City; I got out and walked around, amazed at how the city was wide awake at 1 in the morning.
            We made it to Boston's South Station around 7:30 AM and were ready for some magic. Since our Bed and Breakfast check-in was not until 3PM, we left our heavy bags at the station, paying a small fee. Outside, we discovered we were in the Financial District – which was buzzing even so early in the morning. Walking past people rushing to work, we made our way to the historic part of town. We stumbled upon the old graveyard and walked to the Old North Church from there, after which we arrived in the Little Italy neighborhood, which I loved! It was so cozy, and genuinely Italian. I regretted that we wouldn't be present in the city for the big parade which we saw being advertised. Following, we were so gravitated towards water that we made our way to the port (or one of them, Boston seemed to have many). The amazing thing about Boston is that we discovered a lot of it on foot that day. Despite its relatively small size, the city never stopped being interesting, intriguing and just plain beautiful. 
Naturally, we were pretty exhausted after all of this walking. Patil and I quickly found a metro station and took the route to our Bed and Breakfast. I should mention that all of the walking described above would not have been possible had we not have a great map of Boston, as well as a Metro map for this last part. Both were obtained from the South Station concierge area. Thus, we did not really arrive too prepared, but the tourist maps, along with an easy-to-understand metro system really made it easy on us.
            We stopped at the Oasis Guest House, which we booked online prior to our arrival. It is located on 22 Edgerly Road, and I have no complains about it, and in general would advice to book Bed and Breakfasts as opposed to other cheap alternatives, such as motels. B&Bs are safer, much more intimate and cozy, plus they do provide a filling breakfast!
            After unpacking and showers, our day was far from over. At the suggestion of the owner of the B&B, we took a bus to Cambridge, which turned out quite charming. Of course we were interested in seeing Harvard, the most famed institution in the country. Unfortunately, we spent about an hour in vain trying to find exactly where Harvard began (we stumbled upon a lot of its various academic and non-academic buildings, but couldn't find the main quad, or courtyard). Finally, we let our pride go and asked for directions. When we arrived at our desired destination, it was very dark and we did not end up enjoying Harvard as it ought to be enjoyed. This taught us an important travel lesson: do not hesitate to ask if you find yourself dazed and confused!
            Now we are not superwomen (though that would be neat), and there are only 24 hours in a day, so eventually we made our way back and called it a day. After all, we had Cape Cod to look forward to!
Next morning, after a good breakfast (go B&Bs!), we arrived at the port from where our ferry was supposed to depart (for this, we researched online beforehand, but bought the tickets on the spot). The ferry to Cape Cod was a bit expensive (around $35, and we later found out that others used Groupon.com to get a half off, agh!), but the ride was pleasant and comfortable and took only about 1.5 hours. We arrived at Provincetown: I felt the magic from the moment we set foot on the soil of that charming little town! After a bit of walking around (one of the first shops you see is a clothing store that houses a sex shop on the second floor, um, creative?), we came up with a plan of renting bicycles to ride to the closest beach (asked locals for help with directions).
            I will skip over the details of the ride, let's just say that I inspired a car to stop and ask if I was ok and how familiar I was with riding bicycles. These are not great memories, but the beach definitely is! It was one of the most serene beaches I have been to, definitely very local. There, we enjoyed the true definition of relax for about two hours. During the ride back, I photographed some quintessential Cape Cod scenery: marshes and wetlands.
            Back in Provincetown, a terrific surprise awaited us – a "Peace and Love" themed parade was about to begin. The entire town, including the darling beach-side houses, dressed up for the occasion. Patil and I thought that was enjoyable, but little did we know what fun awaited us during the parade itself. I am posting pictures for you to fully appreciate it. The town was outrageously liberal, true, but that really did not bother us, because there was such an atmosphere of neighborly love and cooperation all around. Everybody seemed to know each other and greetings, hugs and kisses were in abundance.  Coming from Washington, D.C., which is such a driven city that's always in a hurry, it was refreshing to see people just stop rushing for a few hours and thoroughly enjoy life. We really had a splendid time in this awesome town!
            In conclusion, Boston is extraordinary – a small city with a big heart. I am definitely returning to MA, not only for the glory that is Boston, but to see the rest of Cape Cod as well, one of the most beautiful places I have been to.
            So, young traveler, pack up (do not forget some tea), choose a destination, and let the magic begin!
Dear Reader: This page may contain affiliate links which may earn a commission if you click through and make a purchase. Our independent journalism is not influenced by any advertiser or commercial initiative unless it is clearly marked as sponsored content. As travel products change, please be sure to reconfirm all details and stay up to date with current events to ensure a safe and successful trip.
---