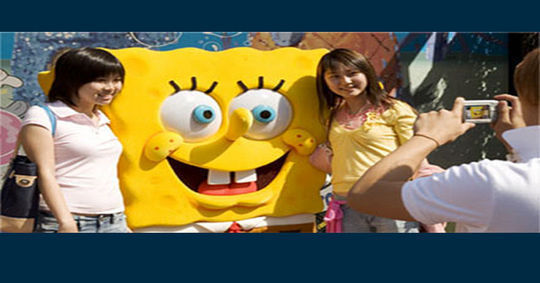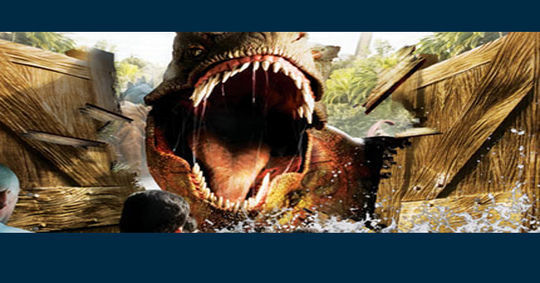 Universal Studios Hollywood, billed as the "Entertainment Capital of L.A.," is a movie and television-based theme park located adjacent to the real working film studios of Universal Pictures, which allows it to include a Studio Tour as a bonus.
A day here is a memorable family experience even if you're already a celebrity, providing a taste of the Hollywood movie scene that has shaped Los Angeles and fascinated the world. Families who have enjoyed the Universal Orlando Resort on the other side of the country shouldn't worry either; this is a very different and equally thrilling adventure you won't forget.
Taking the Universal Studios Hollywood Studio Tour
The Studio Tour is a tram ride through movie history on the Universal backlot with its soundstages, original movie sets, thematic facades and recreated streets. You'll drive in high-tech trams through some remarkable movie situations, with Jimmy Fallon as your virtual Studio Tour Guide, supplemented with narration from an in-the-flesh guide. That said, keep your eyes open behind those 3D goggles, because it's very hard to hear the guide — or focus on the in-tram TV monitors playing clips — when everyone around you is shrieking like crazy.
Along the route are familiar standbys, like the debris-strewn "War of the Worlds" set of a small town devastated by a cleverly choreographed 747 jetliner crash, or the Bates Motel from "Psycho." Next door is a set from "Jurassic Park: The Lost World" (where you may even see a dinosaur). There are four acres of New York City backlot, with 13 streets you can walk around if no one else is shooting there.
Your tram will careen into a tunnel to join a spectacular chase scene from "Fast and Furious: Supercharged", survive a flash flood, and calmly pass by some of the famous cars seen in the movies, the courthouse square from "Back to the Future", and even Wisteria Lane from "Desperate Housewives". You'll barely escape a major earthquake that causes an 18-wheeler to sink beneath ground and crush on oncoming subway train.
Drive into Amityville so your family can meet you-know-what from "Jaws," said to be nicknamed "Flaws" by the crew because the animatronic shark malfunctioned so often.
The Studio Tour also features the King Kong 360 3-D attraction created by famous "Lord of the Rings" and "Hobbit" director, Peter Jackson, who drives visitors into the middle of a multi-media pitched battle between a dinosaur and King Kong seen in 3-D, with 360º views of Skull Island. It's very crazy, super creative, and lots of fun so we did not include it in the video.
In any case, that's the first 60 minutes of your day. Stop for a snack, clear your head; you've got some serious fun ahead of you. Then head up the hill for the main attraction — the theme park.
Touring Universal Studios & Riding the Movies
There's so much to ride, so little time, so set a steady pace with some food breaks. There are age-related strategies to consider, as some attractions might appeal more to younger kids. There are also three live shows that will greatly contribute to your knowledge of how movies are made, so check the daily schedule and leave time for them as well.
Explore Despicable Me Minion Mayhem with Gru, his daughters and the mischievous Minions on a 3-D motion control ride that will leave you spinning. Dodge super villans and join the dance party at the end for an adorable, interactive adventure.
JurassicPark—The Ride is a boat ride through the lush prehistoric world of Jurassic Park, with hidden thrills and chills and a big finish. Although it's an exciting, slightly scary, wet, fabulous ride, it's perhaps not for very young children.
Shrek 4-D features amazing "OgreVision" animation and sensory immersion in a comic saga. Then you have The Simpsons Ride in the expanded and hysterical Springfield, where Lard Donuts provides snacks. Join that wacky family on a wild and hilarious movie adventure. The Revenge of the Mummy—The Ride is the first roller-coaster in the park and provides a scary, multi-sensory ride through the dark side, billed as "the world's first psychological thrill ride".
You could then ramp it down a bit with Universal's Animal Actors, where very real furry creatures show how it's done in the movies on four legs. Here's your chance to sit down and relax while your youngest ones go crazy. Some of the critters have had real starring roles in films such as "Evan Almighty", "Night at the Museum," "Ace Ventura Pet Detective" and "Dr. Doolittle" and could teach your budding thespians a thing or two.
For kids who want to learn the magic behind movie and practical special effects, the Special Effects Show is very informative. You might also be selected to participate.
Do not miss Waterworld, where special effects and stunts experts put on a major, thrill-packed show, full of spray and surprises. For another seated movie ride packed with digital effects and a giant 3-D screen, be immersed in Transformers The Ride 3D. You won't run out of fun.
Harry Potter is Here
Having been to the Wizarding World of Harry Potter in Orlando a few times, all we can say is "Wow!" Now, visitors to the Universal can explore the mysteries of the interactive Hogwarts castle, ride a roller coaster Flight of the Hippogriff, window shop in Hogsmeade and sample butterbeer. With waits of three hours not unheard of in Orlando, you'll want to invest in a Front of Line Pass for this attraction alone.
Trip Planning Tips for Universal Studios
You can begin your day with either the Studio Tour or the theme park, but I think it's best to start with the Studio Tour while you're fresh, then move on to the theme park and its power-packed rides and shows.
If your time is limited, consider paying for the real celebrity treatment — a VIP Tour or First In Line Pass. The VIP Tours (from $329 per person) give you all the star privileges, including a private lounge, first in line access, reserved seats for shows, and your own guide for a group of up to 18. The Front of Line Pass costs around $179-254 per person depending on the season and includes park admission, plus front of the line entry to all rides and shows, and special behind-the-scenes access at WaterWorld, T2: 3D, and Universal's Animal Actors. Note that Universal is experimenting with pricing admission tickets by demand, so check their website for the best offers prior to arrival.
In between the rides and shows, shoot selfies with Marilyn Monroe and other celebrities. Classic photo opportunities abound with the roaming lovable characters including Shrek & Princess Fiona, Donkey, Sponge Bob, Curious George, and The Simpsons. New characters from current Universal Pictures are always appearing too.
At the end of the day head further up the hill on foot (10-minutes) or grab a shuttle bus (5 minutes) to Universal Studios Citywalk, a stylish promenade featuring entertainment-themed restaurants, clubs, specialty shops and movie theaters. There's a Gospel Brunch at B.B. King's, concerts at the Gibson Ampitheater, and good food all around.
For more information on planning your day and the current ticket specials, visit Universal Studios Hollywood or call their staff at 800/UNIVERSAL (800/864-8377).
If you're in the region for a few days, pick up a top value CityPass for Southern California, which includes 3-Day Disneyland Resort Park Hopper Bonus Ticket, one-day admission to LEGOLAND California, and one-day admission to SeaWorld San Diego (see other picks in the San Diego Family Attractions Guide) for one price, reflecting a 34% savings off buying individual tickets admission.
For ideas on where to stay in Los Angeles, check out any of our reviews of Los Angeles Family-Friendly Hotels or consider the nearby Sheraton Universal Hollywood Hotel.
photos courtesy of Universal Studios Hollywood
---
This story was accurate when it was published. Please be sure to confirm all rates and details directly with the companies in question, and stay up to date with current events to ensure a safe and successful trip.