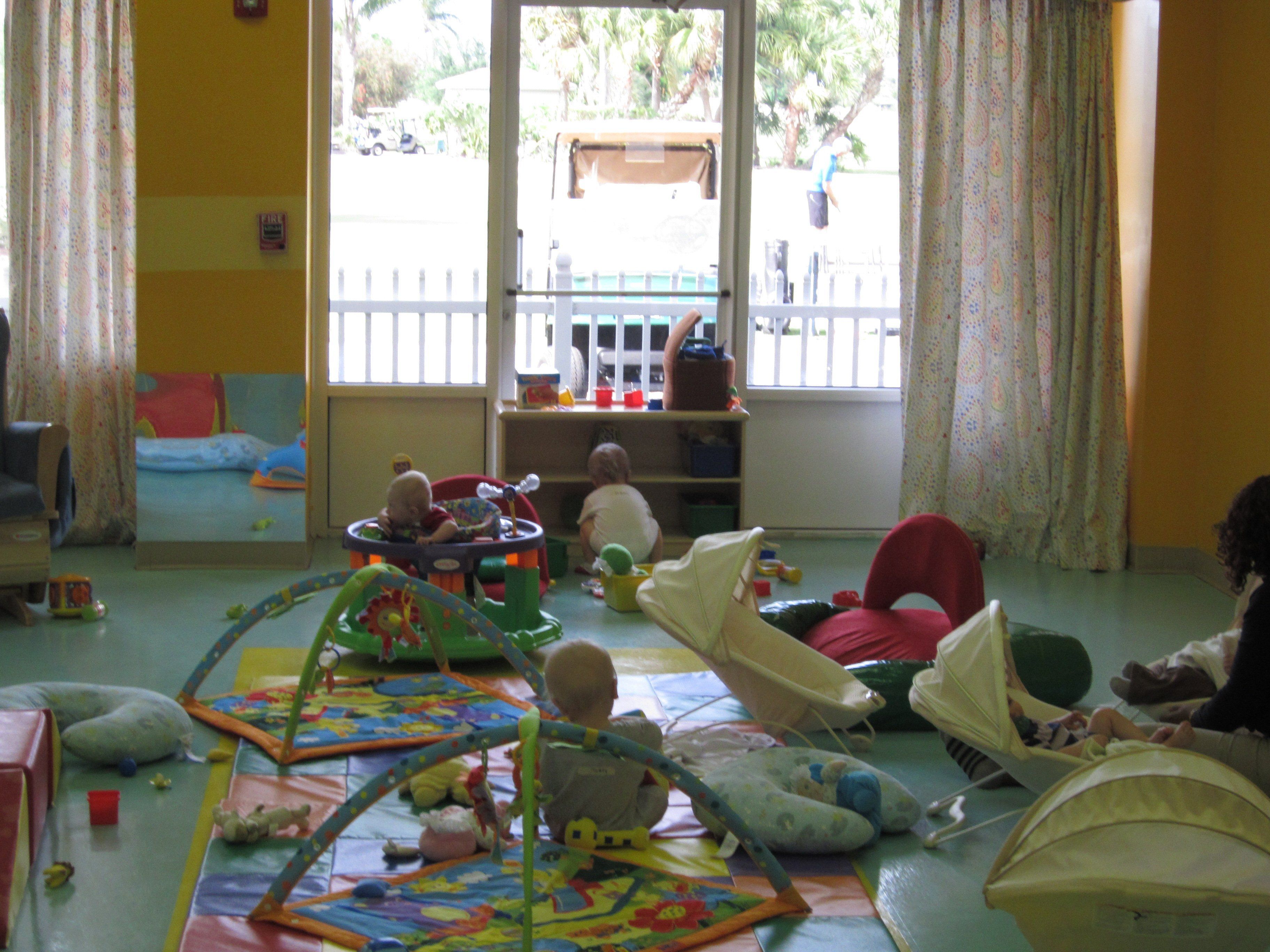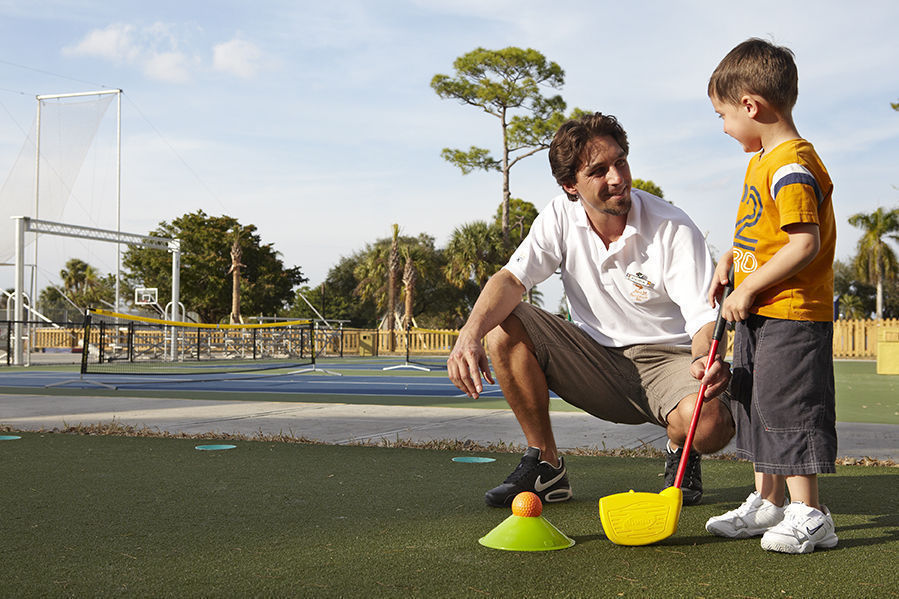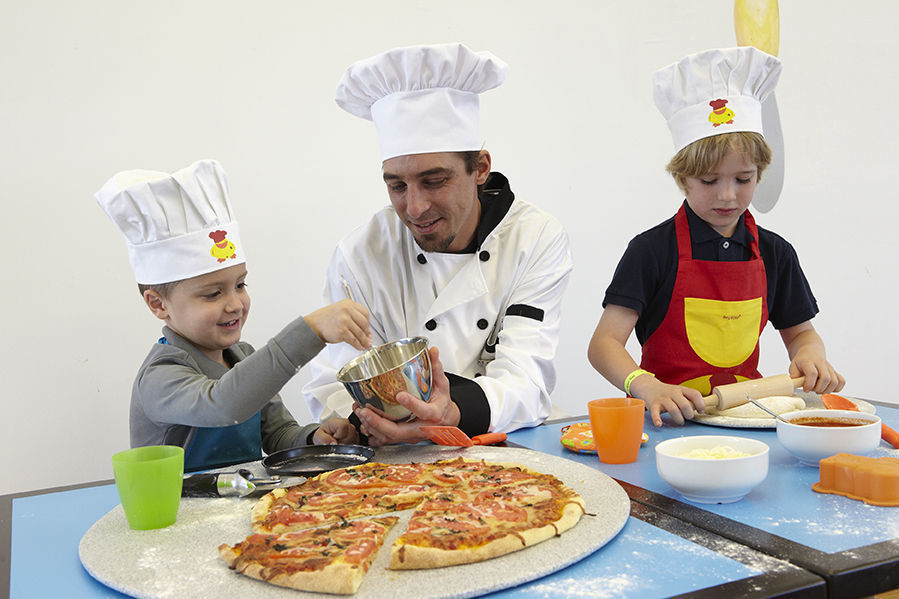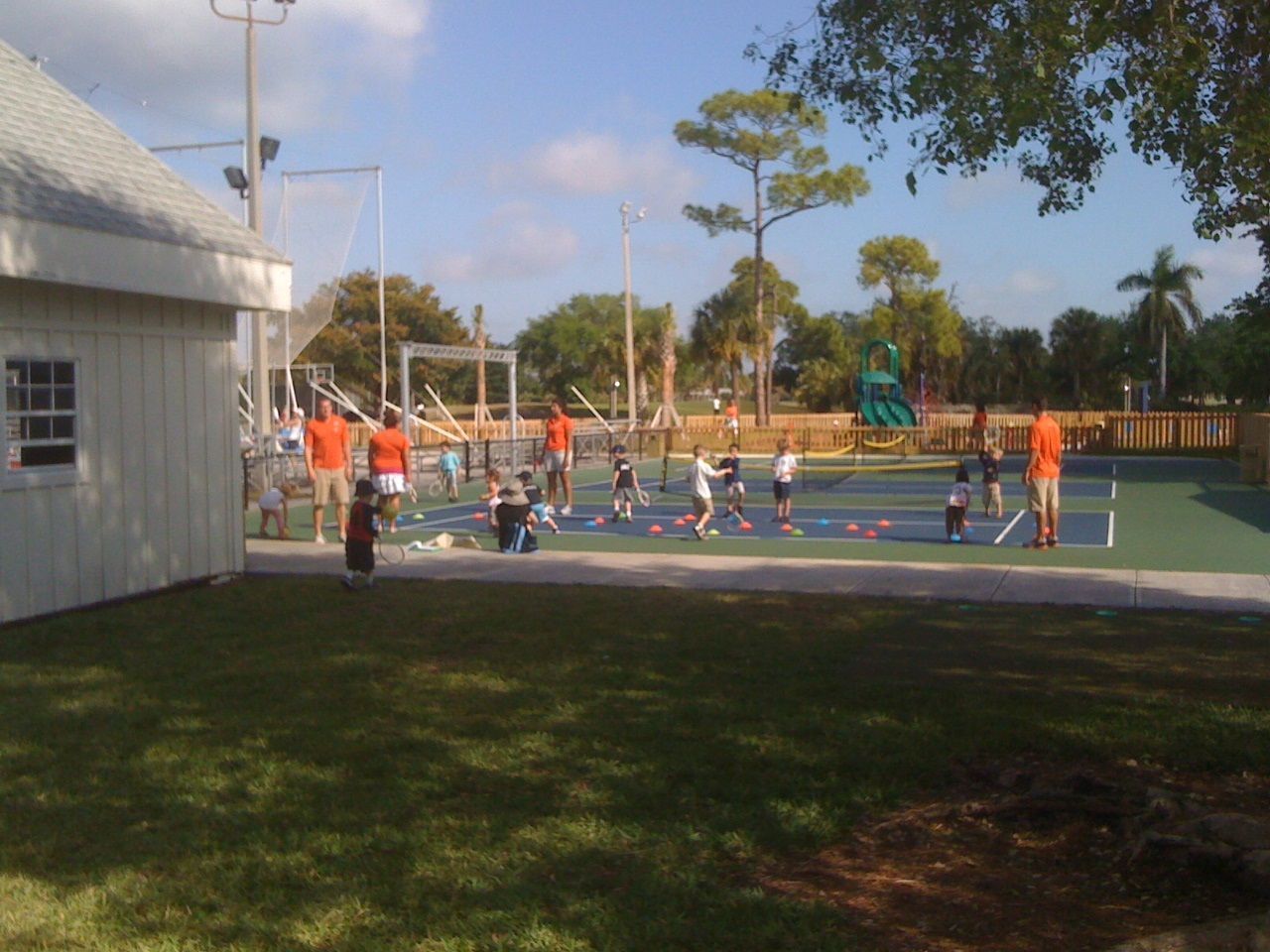 At Club Med Sandpiper Bay, Americans no longer need a passport to enjoy an exotic, all-inclusive family beach vacation packed with children's activities. Club Med's legendary tropical village ambiance — minus the beads — has been remade in central Florida at the very sporty Sandpiper Bay.
The resort is thriving after a $27-million investment a few years back that improved its layout and decor, expanded recreation facilities, and created family suites. As the company's first Premier Sports resort, Sandpiper Bay became quickly known for its full-time Club Med Golf and Club Med Tennis Academy for young professionals. That success led to a new Sports@ClubMed philosophy called "active wellness" that combines a holistic approach to healthy recreation, personalized training, fine dining and spa breaks being tested in Florida.
Club Med Sports for Stars & Guests of All Ages
Sandpiper Bay sports — open to all ages and abilities — include fitness, running, triathalon and volleyball in addition to golf and tennis. Even flop n' drop guests looking for an all-inclusive beach getaway can take advantage of a full day's lineup of expertly taught yoga, Boot Camp, water aerobics, Pilates, gym workouts and Zumba dance classes to develop overall fitness. Club Med's signature circus classes and watersports complement other activities. The comprehensive spa treatments come from the on-site Spa by l'Occitane.
And with Club Med's innovative Petit Sports program, specially sized equipment for tennis, golf, hockey or basketball enable the family's fitness education to begin at age 3.
The St. Lucie River is the Center of Attention
The 216-acre peninsula on a beautiful bay of Florida's St. Lucie River provides both a "beach" and a country club vacation. A gold sand cove is the focal point of watersports activities and balcony views. Guests training for triathlons swim where toddlers are building sand castles. Day excursions (for a fee) explore the wild Florida marshland habitat. Pontoon boats whir their way upstream through mangrove to see wildlife and birds. Speed boats head downstream past dolphin pods to Jensen Beach, Hutchinson Island and scores of coastal mansions. Excursions tour the Intracoastal Waterway, pause at sandbars to picnic and play games, and take guests to swim in the Atlantic.
There's no reason for water lovers to leave. Club Med Sandpiper Bay has a main activity pool, a full lap pool where sports classes are held, a small kiddie pool used by the kids' club, and a fun Splash Park, with water features and slides open to all guests. Lifeguards are on duty only during kids clubs' sessions, so guests under 6 are required to wear life jackets.
Wellness Begins with Healthy Dining
Sandpiper Bay has three restaurants. The Marketplace buffet has some outdoor seating and the interior is cleverly divided into several smaller rooms for the thigh-high children's buffet, adults only, reunion groups, or cooking demonstrations. The Baby Corner has high chairs, special foods from the buffet to serve baby, and a blender and microwave for those who prepare it.
At each meal, The Marketplace presents French cuisine and an international specialty, salad bars and a variety of appetizers, so guests can segue from Indonesian spring rolls to boeuf bourgignon and Club Med's famous chocolate bread. The smaller a la carte Le Soleil has an eclectic menu of wraps, salads and the day's catch, served inside or out on a large outdoor deck overlooking the bay. The Riverside Grill serves BBQ and a popular Sunday brunch on a big deck overlooking the river.
Club Med's food is much better than your average all-inclusive resort, even at a buffet. Omelettes at breakfast, burgers at lunch, and pasta at dinner are freshly prepared by friendly chefs who engage with guests. The staff will also prepare allergy-free, gluten-free and even Kosher meals if requested in advance.
Club Med Nursery & Children's Programs are the Best
Club Med has long had one of the best childcare programs in the industry, with a nursery and kids camps that nurture all children, including those with special needs. The quality is due to the professional staff, imaginative facilities, range of activities, and emphasis on wellness and an active lifestyle. According to one manager, the resort's goal is to enroll 60% of guests under 18 in kids' programs, and on busy weeks the Kidz Village may host up to 400 children. To underscore its commitment to fighting childhood obesity, Club Med has a dedicated Baby Gym stocked with soft-sided play equipment and G.O.s (a gracious organizer or staff counselor) who train parents how to use it. Nylon crawl tubes, blocks, and climbing areas are designed to promote gross motor skills among Club Med's tiniest guests. Unlike most Club Meds, Sandpiper Bay also has a fuzzy blue mascot walking around who comes from an educational partnership with the PBS TV series "Raggs." This provides a theme for the nightly Raggs Pyjama Club program which accepts infants through age 10 for dinner and a movie.
Childcare by G.O.s trained in infant CPR and First Aid begins at age 4 months and continues to the age of 17, with age-appropriate programming daily except Wednesday (closed for cleaning.) Even if baby is not enrolled in the Baby Club (for a fee), a "Baby Welcome" amenity provides guests with toys, an infant tub, changing mat, highchair and baby food. The supervised Baby Club caters to ages 4-months through 23-months with guests divided into groups of walkers and non-walkers. Attentive care is provided by G.O.s specially trained by Club Med with infant CPR and First Aid certifications, who each care for up to three babies. The large nursery is stocked with cribs and mats, and all the play areas and the Baby Gym (used twice a day by toddlers) are spotlessly maintained. Parents need only bring diapers and food for their babies, as well as to book space in the club in advance.
Ages 2-3 enroll in Petit Club Med for a fee, and have a wide variety of spaces illuminated by pink flamingoes as well as activities to choose from, including play time in the adjacent waterpark zone. Kids ages 4-10 enrolled in the Mini Club Med have a full-day program of activities, sports, arts n' crafts, circus school and more included in the rates. A fun new area for parents and kids to share is the Art Studio, a dedicated cottage with a large Romero Britto mural that makes paints, easels and other art supplies available to all guests. A local babysitting agency provides private, in-room care.
Club Med Academies Lure Teens
The reenergized commitment to sports and wellness is multifaceted. Former guest rooms serve as dorms for international teen athletes who study tennis under celebrity coaches Gabe Jaramillo (formerly of the Nick Bollettieri Junior Tennis Academy) and Scott Del Mastro. Young golfers age 4 and up use the Club Med golf course and 15 nearby courses under the tutelage of Don Law. Programs run from one week to a full semester, a commitment which may inspire your own kids.
The resort's sports training has made it a mecca for teens, who have their own large, hip and comfortable Passworld with a Club Med G.O. who hangs out. Exhibition games and mingling with aspiring champions ages 10-18 and their elite coaches (who also work with guests on improving skills), are designed to motivate. Hour-long guest clinics and equipment are included in the all-inclusive rates; however, to achieve their personal best (and guarantee court and tee times), some family members will want to enroll in the premium, multi-day coaching programs.
High potential youth aboe age 16 also attend a Fitness Academy and a Beach Volleyball Academy, led by expert coaches.
Club Med for Reunions & Multigenerational Families
Sandpiper Bay's adult spaces really do feel worlds away from the activity at the bustling Kidz Village. A striking, adults-only infinity pool is on the southern tip of the peninsula, overlooking the lively boat scene on the river. In addition to a large, quiet pool and hot tub, this area has double-bed cabanas with curtains, sun chaises and lawn seating.
The minimalist Spice Bar is designed to cluster sports fans in front of big screen TVs on one side of the 360-degree bar, and allow plenty of dance floor space and lounge beds on the other.
The resort's proximity to bastions of grandparenthood makes it very popular for reunions, but it was the diversity of activities that led three generations of my family, who had vacationed together at Club Med Punta Cana, to join me at Sandpiper for a media event. Never in a millions years did I think I'd find myself doing flutter kicks in a water aerobics class with my teen son, bachelor brother, and 80-something mother. I did, and it's a memory none of us will ever forget.
Trip Planning Details for Club Med Sandpiper
Club Med Sandpiper Bay (772/398-5100) at 4500 SE Pine Valley Street, Port St Lucie, FL 34952, is a 75-minute drive from the West Palm Beach Airport and 2 hours from Fort Lauderdale, Florida. Multi-generational families will want to spread out into a variety of family room types, which can be booked through a travel agent or online. They're condo style in decor, and the smallest has a king bed and daybed, ideal for those with a young child as there's plenty of space but little privacy. Families with three and four children usually book two adjoining rooms.
The large Club Family Rooms have a king bed and a curtained alcove with two bunk beds, a TV and table. They are suited to families with children ages 2-10, because they easily sleep four, provide some privacy for parents who want to stay up later than kids' bedtime, and can accommodate a crib in the alcove space.
The most deluxe option is the stylish two-bedroom Club Family Deluxe room. It has a separate bedroom with two twins separated from the master bedroom by a long corridor, a second bathroom with toilet only, and a kitchenette with microwave and mini-fridge. The spacious king bedroom with a large daybed opens out onto its own balcony. Rates are per person, by age, not by room occupancy and the all-inclusive pricing means that all meals, beverages (premium wines sold at meals), activities, children's programs and entertainment are included in one rate. The Florida-state-licensed Baby Club and Petit Club charge separate fees and should be booked ahead.
Perhaps most appealing about Club Med's new Premier Sports concept is that it's genuine; every effort has been made to bring in top calibre instructors and provide the fuel, nourishment and energy that vacationers need to get involved in a new sport or activity.
Families used to return from a Club Med all-inclusive vacation saying, "Oh, I tried archery" and "Timmy ate his first paté." Now, they can boast that "Amy perfected her double back flip on the trapeze" and "Tom and I are going to take salsa lessons at home because our Zumba class was so much fun." And that's what family memories are made of.
Dear Reader: This page may contain affiliate links which may earn a commission if you click through and make a purchase. Our independent journalism is not influenced by any advertiser or commercial initiative unless it is clearly marked as sponsored content. As travel products change, please be sure to reconfirm all details and stay up to date with current events to ensure a safe and successful trip.
---