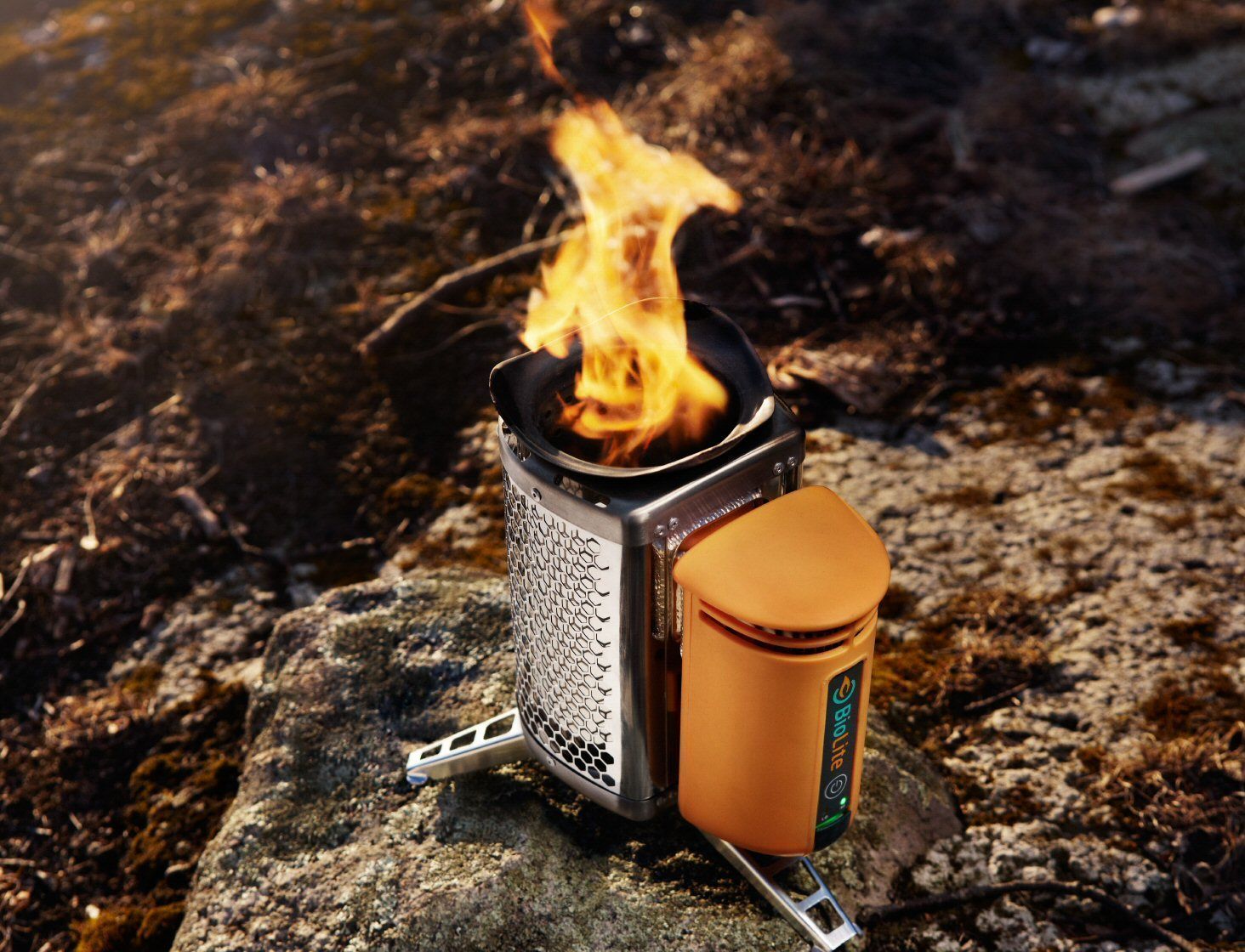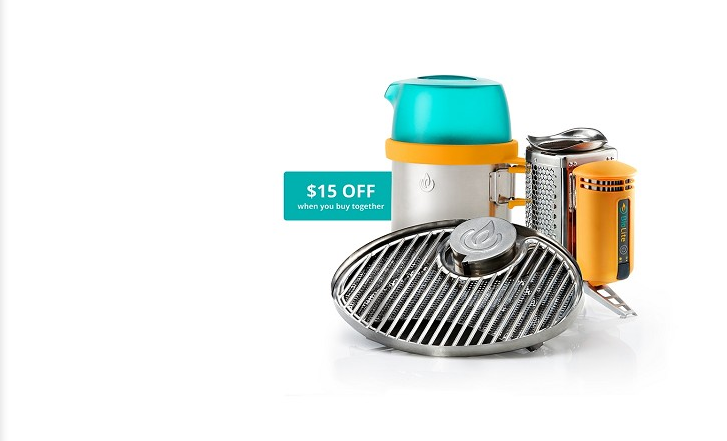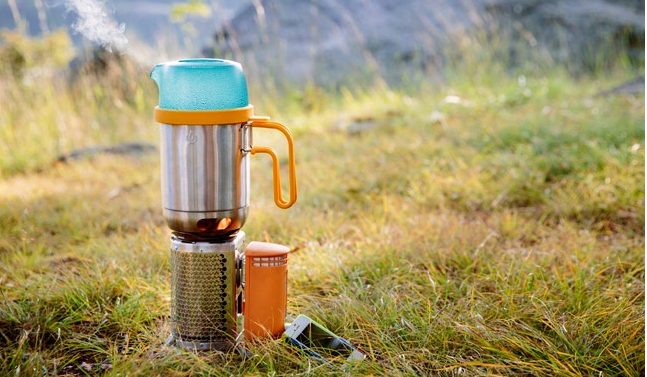 I once wrote, "When the next Superstorm threatens your home or your roadtrip, there's no better piece of travel gear to have on hand than the BioLite CampStove," but I am updating that to read BioLite CampStove System Bundle. The name "bundle" refers to a well designed, functional and super fun system of components that includes a camp stove, plus a grill and kettle.
Kitchenette on the Go for Hungry Campers
The advanced energy generation of this nifty portable camping cooker (see more from my fall 2012 review below) has gone beyond transforming the family camping experience to making it better than ever. And these new components are just as light, stylish and easy to carry as the original.
The BioLite KettlePot (retail $49.95) is actually a two-fer: a kettle for boiling water and a pot to cook in. Its slim stainless steel cylinder holds enough for four portions and serves as an outer cover for the camp stove when carried together. The BioLite Portable Grill (retail $59.95), seemingly ready to fly on its shiny spider legs, folds into a 9.5" x 3.5" package that tucks in together with the other components.
Families can now make hot chocolate, grill marshmallows and power their iPod speakers at the same time, using the BioLite System bundle.
As in the BioLite CampStove, the design of the add-ons (all sold separately) is attractive and clever, the engineering and manufacturing are rock solid, and the components are durable yet very lightweight. The company's creative team has innovated with a wind blocker on the kettle to make water boil faster; covered the grill surface in a plastic cutting board; and engineered the grill flame to produce three levels of heat on the same surface. Amazing. Will a solar-powered microwave for Pizza Pockets be next?
From our fall 2012 review of the BioLite CampStove
We saw a demonstration of the BioLite CampStove camping product in a Brooklyn yard, where John Levy, one of the company's founders, grabbed a few column inches of the Sunday New York Times, some underbrush, Park Slope debris and stuffed it into this Swedish moderne cannister. After lighting the paper with a match, he turned on a tiny fan. The forced air whipped the small flame into a fury in about 15 seconds, while the cannister spun silently. Blue flames, no smoke.
In a few minutes, a green light went on indicating that there was enough power being generated by this innovative stove to charge Levy's iPhone, not to mention boil a quart of water almost instantly.
The incredible fuel efficiency (they claim that BioLite produces 95% less smoke than a wood fire) makes this camp stove a thermoelectric generator that captures wasted heat and converts it into electricity. That there's enough to power a USB port where your teens can charge their electronics makes it a win-win for the challenged camping chef, the environment and the next generation of happy campers.
"Our kids have used it in the backyard to make s'mores, and we know many people have used it in place of a large campfire, a conflagration that requires enormous amounts of wasted biomass… that is, wood," notes Levy. "And unlike a gas stove," he adds, "it's a lot friendlier and more social."
We don't camp often enough to keep up with the latest gadgets. But the BioLite CampStove is not a gadget, it's a game changer: no more propane bottles, no more funky stove and rickety grating, no more trying to boil coffee water before the car is loaded. Instead, this stylish, silver and orange device uses ingenuity to make a handful of twigs burn like jet fuel. Best yet, the compact and safe cylinder allows campers to use it at campgrounds where open fires are prohibited. (Or refugees from a storm to use it in their homes, safely.)
And imagine the transformative effect of a smoke-free environment on the millions of moms who cook over open fires while babies sleep in their arms. In fact, the BioLite website chronicles the group's efforts to get this remarkably smart invention, in the larger format BioLite HomeStove, into the hands of those who need it most.
Recycle the Propane and Get On Board with Clean Energy
Ready to give up your portable genny, basement heater, or cooktop for clean energy and contemporary "camping"?
You don't have to believe this review from a daylight camper testing it out in Brooklyn. Long distance bike-riding friends from Venice, California (who have camped far and wide from the Alps to Coachella) add, "We have long been an admirer of the Biolite stove! What a terrific idea! Love it for the developed world of campers, and love it for the possibilities for the undeveloped world!"
Together the camp stove, kettle/pot and grill sell for $224.85, a bargain for an investment in a lifetime of cook-outs. Convenience, safety, feel-goodness about the environment: priceless.
Check out the entire system and see how you can help the company spread their energy-efficient and health-positive gear to the developing world at Biolitestove.com.
Photos courtesy BioLitestove.com
Dear Reader: This page may contain affiliate links which may earn a commission if you click through and make a purchase. Our independent journalism is not influenced by any advertiser or commercial initiative unless it is clearly marked as sponsored content. As travel products change, please be sure to reconfirm all details and stay up to date with current events to ensure a safe and successful trip.
---