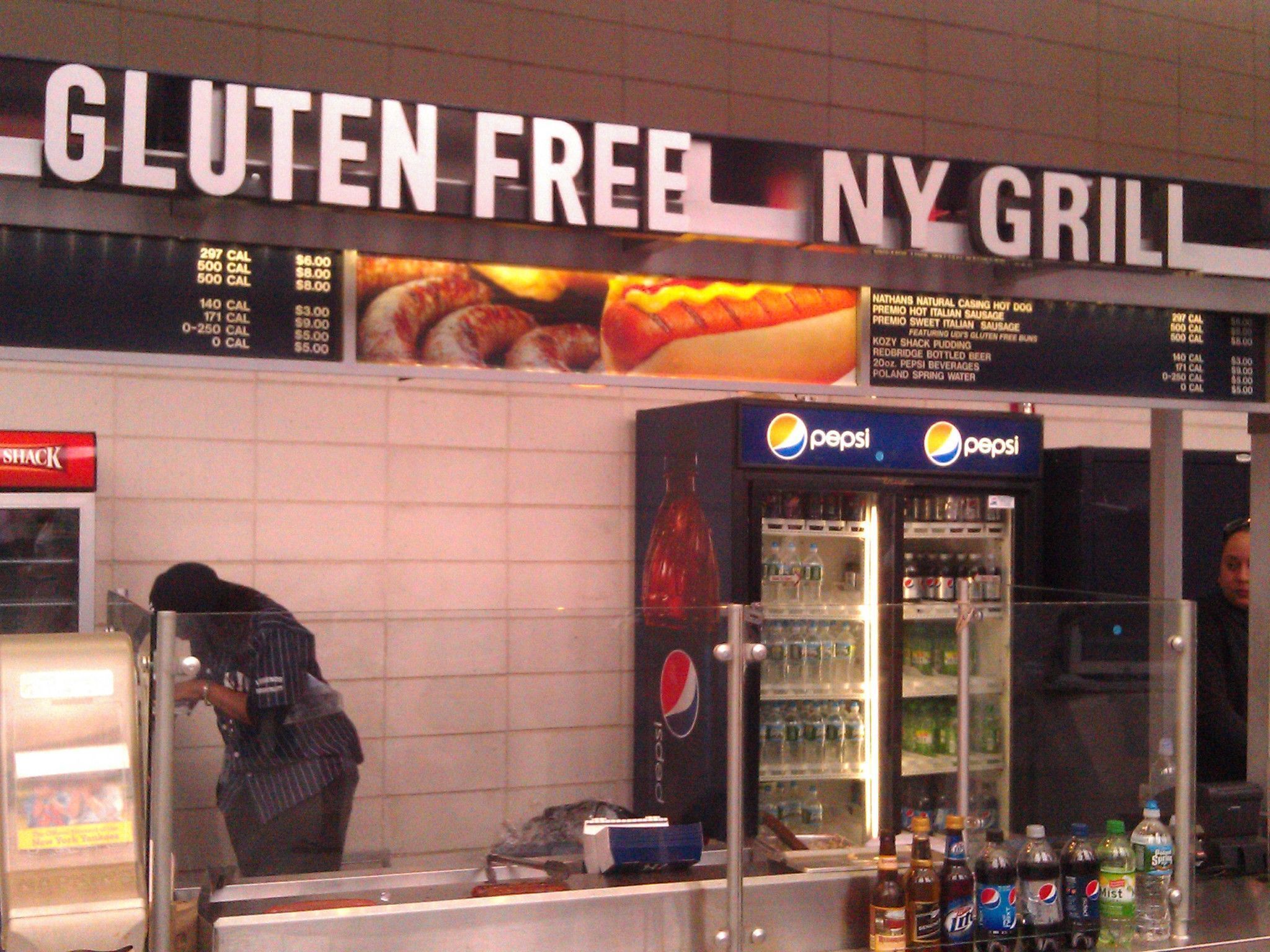 Today, theme park restaurants are offering gluten-free, vegetarian, and food allergy sensitive menu choices for those with special diets, as well as anyone watching their weight. In 2014, the Centers for Disease Control estimated that 34.9% of American adults and 17% of American children were obese. Since more than 8 million Americans visit a theme park annually, it's great to know the standard "junk food" fare we ate as kids isn't the only thing being served at meal time.
If you are going to several of the more forward-thinking theme parks, you can stay on your diet and find many options for family members with food restrictions. Here are some of our favorite "healthy" themepark restaurants, as well as guidelines for finding the best food choices for your family.
You Can Eat Well & Diet at Theme Parks
Moms traveling with a family member with special dietary needs know you must be your own advocate and be reasonable in your expectations. If you have a vegetarian, gluten-averse kid with a milk allergy on a low-fat diet, you may not find food to fit those particular needs. But if you're helping family members battle obesity, there are now healthy, nutritious options at even the fastest of fast food eateries. It's not always easy to find them, and salads may cost more than chicken nuggets, but remember — you're investing in a lifetime of good health. If you're into pre-planning, search the web to read the menus at many of the big themepark restaurants.
Regardless of preparation, keep in mind that packing nutritious snacks is a good idea for everyone, regardless of age or weight. When allergies and intolerances aren't considerations, Dan Negroni, CEO and President of Fresh Healthy Vending, has some recommendations. Negroni suggests yogurt, granola bars, fresh fruit, smoothies and baked chips to keep your hungry kids healthy. Many of these snack foods are now available at the major theme parks.
Coping with Food Allergies at Major Theme Parks
In Florida and California, both Universal and Disney allow visitors with food allergies or intolerances to bring their own food; just tell the person doing bag check when you enter.

This is more great news, because while you can find gluten-free food, you may not find the exact food your gluten-averse child wants. Plan to pack nutritious and suitable meals. Bring along a sandwich on gluten-free bread, for example, or a bagel with sun butter if your child has a peanut allergy.
Health and nutrition specialist at Consumer Search, Carey Rossi shares these tips on avoiding junk food pitfalls with FTF: "To insure your family has enough energy to last through the day, make sure your meals contains protein (e.g. chicken breast, hot dog, hamburger, deli meat, yogurt), carbohydrates (bread, veggies, fruit) and some fat (fat in meat and dairy, mayo). This will help prevent you from snacking on things like cotton candy because everyone is hungry, and the cart is right in front of you."
Disneyworld and Disney Parks Accommodates Dietary Needs
June 2012 marked the Disney initiative to fight childhood obesity by surpassing the traditional federal government nutrition standards. First Lady Michelle Obama has supported their menu standards for reduced intake of calories, saturated fat, sodium and sugar and an increased intake and availability of fruits and vegetables. At the same time, the "Mickey Check" has been introduced as a concerted effort to guide kids — with as little nudging as possible — to make healthful choices. Mickey's insignia appears next to nutritious items and answers the question: "What would Mickey eat?"
Disney theme parks' sit-down restaurants (table-service in Disney parlance) accommodate special dining needs if they fall into the category the park calls "Common Food Allergies." These are defined as: gluten or wheat; shellfish; soy; lactose or dairy; peanuts; tree nuts; fish; eggs; and corn.
Families will also see no sugar added, low fat, low sodium or vegetarian options at most restaurants, and requests for these types of meals require no advance notice. Disney recommends alerting the restaurant to food allergies and intolerances when making a reservation. You can also speak to a chef or a manager at the restaurant to request special foods or ask about ingredients.
I find Disney to be much more accommodating at its higher-priced, table service restaurants. This is not because they are trying to squeeze more money out of those with special needs, but the fast pace of the quick-serve restaurants means that special requests are not always honored, though the staff will certainly try.
My Choices for Healthy, Allergy-Free Dining at Disneyworld
At Pizzafari in Animal Kingdom, pizzas, including a tasty vegetable pizza, come with Caesar salad. But ironically, if you just want Caesar salad, it comes with chicken. Although we ordered an extra salad without chicken, it came with chicken, and there was a 15-minute wait to get one without. Despite the inconvenience, the staff tried to be helpful.

Disney makes an effort to appeal to a broad base of customers by blending healthier options with classic kids' fare. For example, the kid's menu at Restaurantosaurus offers a healthy grilled chicken sandwich, and a black bean burger with a choice of apple slices or french fries.
Mickey Check meals are available at many dining locations and include a peanut butter and jelly sandwich, and a turkey wrap. These options include grapes, carrot sticks, and a choice of a small low-fat milk, or a bottle of water.
Universal Studios & Islands of Adventure Promote Healthy Eating
At Universal theme parks, such as Orlando's Universal Studios and Islands of Adventure, carts selling fresh fruit offer a refreshing treat. We had slices of watermelon and whole oranges (this is Florida, after all), which were a welcome alternative to the fried dough and sweet snacks I remember from my childhood.
If you are spending the day visiting both parks, go to City Walk, Universal's commercial zone, for lunch. You will find several quick service places, including Moe's Southwest Grill, where you can have a healthy vegetarian (or not) lunch.
You can order a burrito with over 1,000 calories, but if you choose the very filling junior size, and don't add sour cream or bacon, you can get a burrito for half of the calories of its larger counterpart. Usually at southwestern style chain restaurants, the vegetarian option is a default, no meat. But at Moe's Southwest Grill, one of the "meat" options is tofu, and it was delicious.
You can have the server add as many of their 20 extras as you want, from rice (no brown rice, unfortunately) to guacamole to grilled mushrooms. Cheese and sour cream are high calorie additions, but you get a lot of flavor from jalapenos, pico de gallo and grilled onions, with very few additional calories. You can even get it all on a whole grain tortilla.
If you need a gluten-free and tasty Southwestern meal, get the same ingredients in a rice bowl with no tortilla.
This is still fast food, high in sodium, but it is one of the better choices at Universal. At all outlets, note that food is cooked with trans-fat-free oil, and all kid's meals come with fruit.
Prepare Online to Eat Healthy at Hershey Park
Hershey Park in Hersey, Pennsylvania, simplifies feeding the family with special dietary needs via an online guide and meal ticket plans. Their site has a list of the park's 50 restaurants and food carts with complete menus, and each listing notes ingredients and potential allergens for all items.
Also offered online are meal tickets or dietary meal tickets for $13.75, which entitle their holders to up to 25% in savings, an entree with a side and a 32 oz. Hersheypark souvenir cup. Twenty of the park's food locations participate in the regular meal ticket, while 10 of the park's food locations cater to those needing gluten-free, nut-free, dairy-free and vegetarian options.
Note that, aside from a single sealed bottle of water, guests may not enter with outside food. Designated picnicking areas are found near the restrooms in the parking lot of Hersheypark Stadium, on the patio of Hersheypark Arena, and in Tram Circle. The picnic tables allow table-top grills, and lockers are available in the west parking lot for cooler storage.
My Picks for Healthier Eating Stops in Hersheypark
Here are some of our favorite healthy dining options at Hersheypark. In the Pioneer Frontier zone, and set to a backdrop of country music and dancing, Country Grill offers garden salads, grilled chicken sandwiches, and grilled chicken salads. The menu at the Mixed Grille provides light salad dressings and a vegetarian gyro. Additionally there is a Subway sandwich shop with its usual array of options, and Tumbleweed Taco has meatless options as well as a rice bowl.
At Founder's Way, the Craftbarn Kitchen comes to the aid of vegetarians with their blackbean burger option. Check out Hershey Park Place for a variety of healthy choices (including vegetarian options) such as the black bean burger, fruits, nuts, and berries salad, grilled chicken, house salad, roasted vegetable wrap, and roasted vegetable flatbread pizza.
Families with Kosher dining needs can head to the Kosher Mart for Kosher-friendly food. It has a wide variety kosher-friendly healthy and vegetarian options.
You may want to allow time while in Kissing Tower Hill for a real meal at Gourmet Grill, which has vegetarian options with a Mexican flare.
BYOF: Bring Food to Six Flags if you have Special Needs
There's a blanket ban on outside food and drinks at the California, Georgia, Illinois, Maryland, Massachusetts, Missouri, New Jersey, New York and Texas locations of the fun Six Flags amusement parks.
They make exceptions, however, for family members with special dietary needs or food allergies. Plan ahead to feed all your brood a healthy theme park meal. Upon arrival at the park, bring outside food containers to either park security or guest relations where they will mark and date the food as proof of approval for park entry.
Various locations do have healthy food options, such as salads, fresh fruit, smoothies, and garden burgers.
My Picks for a State-by-State Six Flags Food Stop
In New Jersey at Six Flags Great Adventure, Hurricane Harbor, or Wild Safari, nutritious food choices range from giant turkey legs to sushi. Best of the West, Oasis Café (Kosher Friendly), Six Flags Greens (healthy and gluten-free options) and Granny's Country Kitchen are good choices. Families with peanut allergies need not worry when indulging in any fried treats because peanut oil is not used at any of their restaurants or snack stands.
The Six Flags parks in upstate New York include Great Escape & Splashwater Kingdom, and the Great Escape Lodge & Indoor Waterpark. At these parks, each family member is allowed to carry in one sealed bottle. The selection at Timbertown Cafe and Marketplace includes Grab and Go salads, hummus and pita chips, fruit salad, trail mix and apple wedges. The Shaved Ice Carts also offer a cold alternative to dairy.

The Texas Over and Hurricane Harbor has picnic tables located just outside of the park for home-brought food.
SeaWorld is Getting on Board with Health Trends
Throughout their three nationwide marinelife locations — Orlando, San Antonio and San Diego, the SeaWorld theme parks advertise few of their healthier dining options. The Busch Gardens parks in Tampa and Williamsburg, Virginia fare better.
All of the parks offer allergen-friendly prepackaged items for special dietary needs, and their websites specify what is sold. Allergen information cards are also available at guest services and main meal locations. These cards provide tips for a safe trip, information on suggested meal locations. Food outlets provide a Chef Card where you can explain your dietary needs and the chef will prepare something suitable.
If your family doesn't have such specific dietary restrictions, it's easy to find more healthful dining options at SeaWorld Orlando. Try a veggie wrap at Mango Joe's, grilled salmon from Shark's Underwater Grill or low-fat vegetable chili from Spice Mill, or many other options at Terrace Garden Buffet.
At Busch Gardens Tampa, the Crown Colony restaurant has trained chefs and full service dining that includes safe options for all dietary needs.
The San Antonio park touts Sea Star Market and Cafe as a healthy alternative to standard theme park fare. Among other items, the menu offers a nine-grain turkey spinach sandwich and fresh fruit.
Remember! Accommodating Special Dietary Needs Takes Vigilance
Jillian Ryan, Associate Editor at Consumer Search reminds themepark goers: "The most essential thing for a family looking to eat healthy at a theme park: plan a menu ahead of time. Since most information is available online, with a little research, you can easily determine if the park has a health-conscious option for you." Healthy Dining Finder is one of the sites we find very useful for finding healthy meals that meet the Kids Live Well dietary guidelines or are suitable for vegans and other special diets. And to prove that interest in healthy eating is growing, even a restaurant reservation site like the handy OpenTable.com can be sorted to display restaurants with gluten-free options.
Of course, getting everyone in the party to eat right — just because it's available — may not be so easy. Ryan adds, "The bottom line is that when you're traveling to the theme parks with kids, there are more opportunities to eat unhealthy and potentially fattening meals than to find nutritious fare that caters to the health conscious and / or those with dietary needs." With older kids, you may want to get the comprehensive Let's Eat Out! Your Passport to Living Gluten And Allergy Free
guidebook, a great primer on what "gluten-free" really means, the needs of travelers with special diets, and which ethnic cuisines use very little gluten in cooking anyway.
If your kids are not old enough to police their own diets, Ryan reminds us, "Parents will have to be on duty, and if you can't afford or prefer not to dine at one of the more service-oriented restaurants, bringing your own food is the best option."
Julie Callahan contributed additional reporting to this article.
---
This story was accurate when it was published. Please be sure to confirm all rates and details directly with the companies in question, and stay up to date with current events to ensure a safe and successful trip.