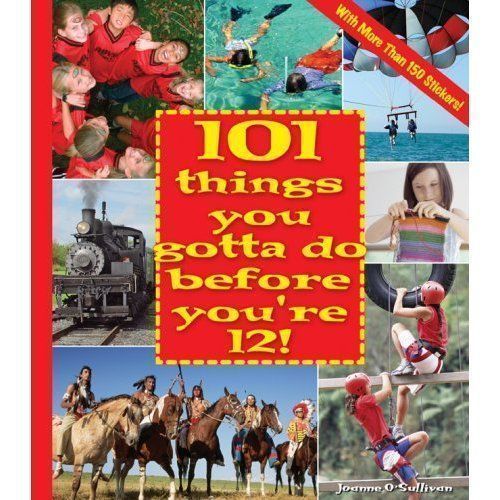 Written in a direct, how-to style that will be easy for your kids (even the precocious 9-year-olds) to figure out, the 101 Things You Gotta Do Before You're 12! guide is a fun and engaging read, well suited to kids on staycation or those on long road trips.

There's a sealed pocket on the inside cover to keep those essential souvenirs of kids' accomplishments, and pages of "Just Gotta" stickers to afix to the activities that are most important to the reader.
The full-page color pictures are enticing, and a raised hand icon indicates where directions and tips are located in the text.

What we like most about this kids-focused guide is that each activity is treated in depth using educational facts and tips on how to accomplish it.

For example, if you're going to watch the sunrise, it's described as it would look from a beach, why the French call it "l'heure bleu" and what you might see if watching from elsewhere. Kids interested in Activity #80, "Celebrating April Fool's Day," will learn that it originated in the 16th century with many ideas for fun pranks to pull on friends.

101 Things You Gotta Do Before You're 12! (Lark Books), written by Joanne O'Sullivan, is appropriate for ages 8+ or for younger kids with a reader on hand. Retail price: $9.95. Overall, we think it's a good, 4* investment in a fun guidebook that will provide many hours of boredom-relieving activities for everyone in the family — whether at home or on vacation.
And if your kids like it as much as we did, consider picking up its sister book 101 Places You Gotta See Before You're 12! for the next family adventure.
---
This story was accurate when it was published. Please be sure to confirm all rates and details directly with the companies in question, and stay up to date with current events to ensure a safe and successful trip.