Cheyenne, Wyoming describes itself as the place to "come live the legend" and during the annual Cheyenne Frontier Days — one of the world's largest rodeos — those legendary days of the Wild West really do come to life. At any time of year, though, families can appreciate Cheyenne's colorful 19th-century history by visiting the railroads, cattle baron mansions and Victorian architecture that dot the one-story town.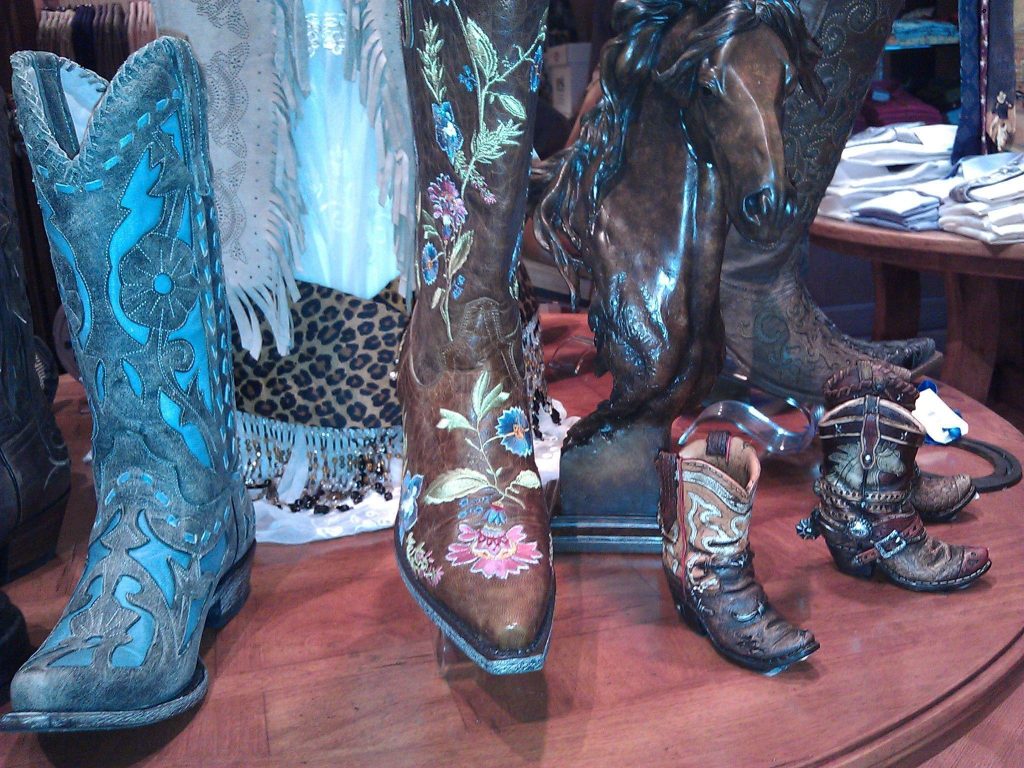 The limestone Cheyenne Depot and Museum is a National Historic Landmark along the Union Pacific Railroad line, dominate the main plaza — the town's social core where Friday night concerts, the Tuesday Green Market and other community events are celebrated. The railroad buffs in the family will love the Union Pacific memorabilia, photos of famous engines (the Big Boy steam engine is preserved in a local park) and the model trains set up on the second floor of the Depot Museum.
Save time for shopping at the Wrangler store with its iconic bucking bronco sign, or any of the many clothing and home furnishings shops – yes, we found pink Ladies hunting rifles for sale in a local pawn shop.
Once you've done that, you can board the free horse-drawn Carriage Ride tour departing from the Depot daily in summer. Check out the 8-foot-tall Big Boots positioned around downtown, each one painted with a vignette of the town's history. Now a city of 60,000 but a small town at heart, to a visitor it seems like everyone in Cheyenne must know everyone else… and their business.
How to Relive Cheyenne's History
Like many state capitals, Cheyenne was subjected to an era of "progress" in which many of its historic buildings were demolished to make way for chain stores and parking lots. The best option to appreciate the past is the Cheyenne Street Railway Trolley which circles the main points of interest on a 90-minute tour given daily from May to September. The guides do a great job of bringing Cheyenne of the 1880s back to life with his tall tales and stories of church hauntings.
You can hop off at the pretty Capitol Building and tour around on your own. We asked to peek into the Governor's Office to see his Western art collection and were obliged with a real Southern style "Why, you are welcome!"
Family is a Cheyenne Priority that Visitors Enjoy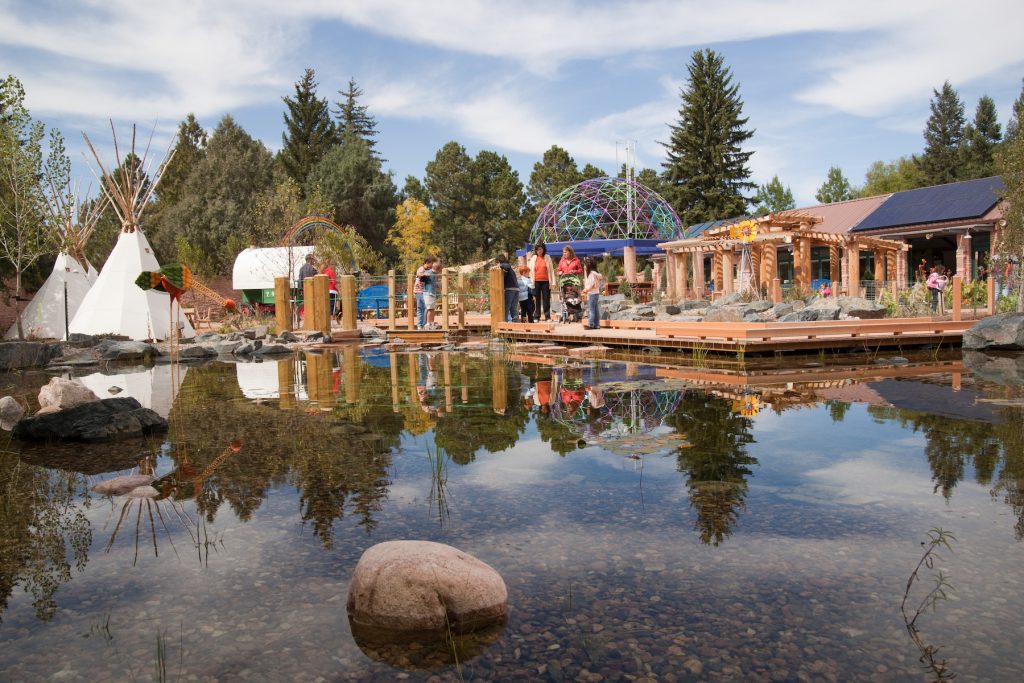 Cheyenne was ranked #5 among the "Best Cities to Raise a Family in America" by Parenting magazine. As the capital of a state flush with oil funds, the city can afford to make family a priority. The schools are tops in their region and there's an extensive bike path, the Greenway. Most civic attractions are free so you can be comfortable dropping in while the kids are engaged, and dropping out when they're ready for lunch.
The Wyoming State Museum has a hands-on history playroom where kids can try on costumes and play with traditional ranch and farm tools.
Allow a few hours at the unusual Cheyenne Botanic Garden. Within its hundreds of acres, there's a large Greenhouse Conservatory and the famous, inspirational Peace Garden whose pavers quote the world's greatest thinkers — sure to inspire some interesting conversation. Nearby, the Paul Smith Children's Village is an unusual environment-themed playland where families can learn about sustainable agriculture, skip around ponds and study the local flora. The numerous interactive landscapes include a natural wetlands, gravity powered water works, farmers windmill, solar pumps, a secret garden, arts n'crafts, historic sheep wagon, tipi village, puppet theater and more. Admission to both the Cheyenne Botanic Gardens and Paul Smith Children's Village is free.
The Nelson Museum of Art is for fans of all Native American cultures. Make sure you dial into the free cellphone audio tour and put it on speakerphone so that the whole family enjoys the rambling tales surrounding each artifact. According to Darren Rudolf, CEO of the Visit Cheyenne tourism office, "Cheyenne, which means aliens or people of foreign language, is how the Sioux Indians referred to the Southeast Wyoming Indian tribe" in this area. Native Americans are still part of Cheyenne daily life.
Cheyenne Frontier Days is the Most Cowboy of all
The most Western thing happening in Cheyenne is its annual Cheyenne Frontier Days, a 10-day summer festival celebrating its 117th year in 2013. Begun as a way to lure Colorado tourists onto the Denver-Cheyenne railroad line, the CFD today attracts 400,000 people to its daily rodeos and evening concerts. The purpose-built fairgrounds enclose the world's largest ourdoor rodeo arena, an Indian Village, children's play area, myriad of shops and a large, old-fashioned midway.
The truth about CFD is that it's the most crowded and most expensive time of the year to visit Cheyenne, but it's absolutely worthwhile if you can make it. Read more about day in the saddle, so to speak, at Cheyenne Frontier Days.
The Cowboy Life Around and About Laramie County
Cowboys are known to roam wide open spaces, and the region around Cheyenne is no exception. If your family is doing a classic road trip between Mt. Rushmore (Rapid City, South Dakota) or Rocky Mountain National Park (Denver, Colorado) and Yellowstone, allow a few days to sample some of Cheyenne's cowboy pleasures.
Cheyenne's Terry Bison Ranch is a buffalo raising operation which supplements its serious business with lots of daily fun. A small steam railroad circles the 3,000 buffalo roaming 30,000 acres, taking guests out to the fields where they can toss buffalo pellets out to animals, who just may eat out of your hand. We love their ticket booth sign that says: "half kids go free." Little critters have a small playground and area for pony rides. The Terry Bison also arranges for grown-up trail rides guided by their cowboy staff, and rents split log cabins for overnight stays. This video gives you a taste of it.
If you just want to enjoy a bison burger, their Senator Restaurant staff grills a variety of them topped with cheese, chili, jalapenos and so much more. Appetizers include Rocky Mountain Oysters, which are deep fried bull's testicles (you won't have to explain this to the kids), fried cheese sticks and spicy jalapeno rings. Fresh frozen buffalo steaks are sold in their gift shop.
On the way to Laramie you'll come upon Veedauwoo Recreation Area. This land was sacred to the Indians because of its unusual rock formations and enormous boulders that seem balanced precipitously. Part of the 2 million-acre Medicine Bow-Routt National Forest, the photogenic park off I-80 is used by wide-crack rock climbers, teen groups and campers in summer and makes a fun day outing.
Family-Welcoming Western-Style Cheyenne Hotels
Cheyenne is more modern than historic, yet its position as the capital of Wyoming — a state whose symbol is a bucking bronco — means that even contemporary chain hotels have a Western flair and a warm welcome for visitors.
The Staybridge Suites
is near downtown and welcomes families and their pets to relax in studio, one-bedroom or two-bedroom suites with kitchens. Fortunately for moms who don't want to cook, they also have a complimentary hot breakfast. There's a heated indoor pool, too.
The Plains Hotel is one of the town's best known because of its location on Cheyenne Depot Square. Once the belle of the Western social scene, its Wigwam Bar has become a wellness spa, but families will enjoy a step inside to see the lobby. In addition to a ca. 1911 frescoed ceiling retelling the glory days of Wyoming history, the hotel has many portraits of a Shoshone warrior who enjoyed frequenting the place. Free tours are given by request, and you'll learn that the rambling lobby has only one tiny cage elevator because the management wanted to dissuade cowboys from bringing their horses up to their rooms. The restaurant, Capitol Grille, also serves up a walleye or a good country fried steak (your choice of fried or "fancy fried" which is twice breaded and fried) followed by Bear Balls, a big scoop of vanilla ice cream rolled in Oreo crumbles that will melt the cowboy phobia of even the most diehard city slicker.
A stay at the Nagle Warren Mansion B&B is one of the quickest ways to dive into the town's history. This ca. 1886 stone and wood beauty has 13 one-of-a-kind double rooms decorated all the way up to their tooled leather ceiling with brocade, Wild West art and mahoghany furniture inspired by the legacy of its cattle baron owner. Families with young'uns can tuck them into the parlor of the junior suites, in the corners or in adjoining rooms. Inn owner Jim Osterfoss adds, "We try to please everyone; got ear plugs for guests from the ranch, a white noise machine for guests from the city, and a bootjack in each room 'cause it's Wyoming." A delicious breakfast cooked by the hosts, the shaded garden, and access to a quiet hot tub in a pretty gazebo round out the Western pleasures.
We Love the Nightlife, We Love to Two Step
When the stars come out in these black velvet skies the soul of Cheyenne awakens. The roadside Bunkhouse is a good stop for an early family dinner, as it gets pretty wild at night when the cowboys get off work and take their little ladies dancing. The large menu of bison burgers, variety of steaks, and local favorites is good and the atmosphere can't be beat.
If you're traveling with an older crowd, head downtown to The Crown, one of Cheyenne's better known cowboy bars. The food isn't much to speak of, but Crown Royal whiskey is the drink of choice. While a band plays country tunes for scores of willing dancers inside, a rock group outdoors tries to drown out the giddy screams coming from the mechanical bull.
For your last night, and some supper and entertainment in a corny and relaxed "down home" environment, try the Bit-O-Wyo on the ranch of the same name about a half hour from Cheyenne. The family-run business is led by a Professor of Applied Mathematics from Iowa who returns to Wyoming each summer with his band of eight singers and musicians to put on a heart-felt country show. On arrival, guests are free to visit the horses in their stables (they do trail rides daily), or roam the pretty valley where week-long sleepaway camps are held each summer. Chef Kevin grills up to a hundred Flatiron Steaks served on a metal tray with baked beans, baked potato and a biscuit while a warm up fiddle band plays. Then, the tabletops are rolled up to become chair backs and the family's show of country tunes and silly cowboy songs begins.
As a few members of the audience are called up to participate… another Cheyenne evening of cowboy nostalgia comes to a close.
Dear Reader: This page may contain affiliate links which may earn a commission if you click through and make a purchase. Our independent journalism is not influenced by any advertiser or commercial initiative unless it is clearly marked as sponsored content. As travel products change, please be sure to reconfirm all details and stay up to date with current events to ensure a safe and successful trip.
---