It takes the high-pitched energy of hundreds of little boys and dozens of brick by brick how-did-they-make-that? Lego sculptures to create the wild ambiance at the Legoland Hotel in Carlsbad, California. Full of wonder and delight, shrieking preschoolers and exhausted but proud parents, it is a must-do destination for families of Lego fans.
New for Summer 2020
For summer 2020, when the coronovirus pandemic has kept the Legoland California theme park shuttered, we are delighted that this fun themed hotel — with its own Lego wonders and swimming pool — is now open to families. Note that safety precautions such as face coverings, enhanced hygiene and social distancing apply to help stop the spread of COVID-19 and keep your family safe.
And with rooms from $169 per night through Sept. 3, 2020, there's no reason not to enjoy a getaway-from-it-all vacation.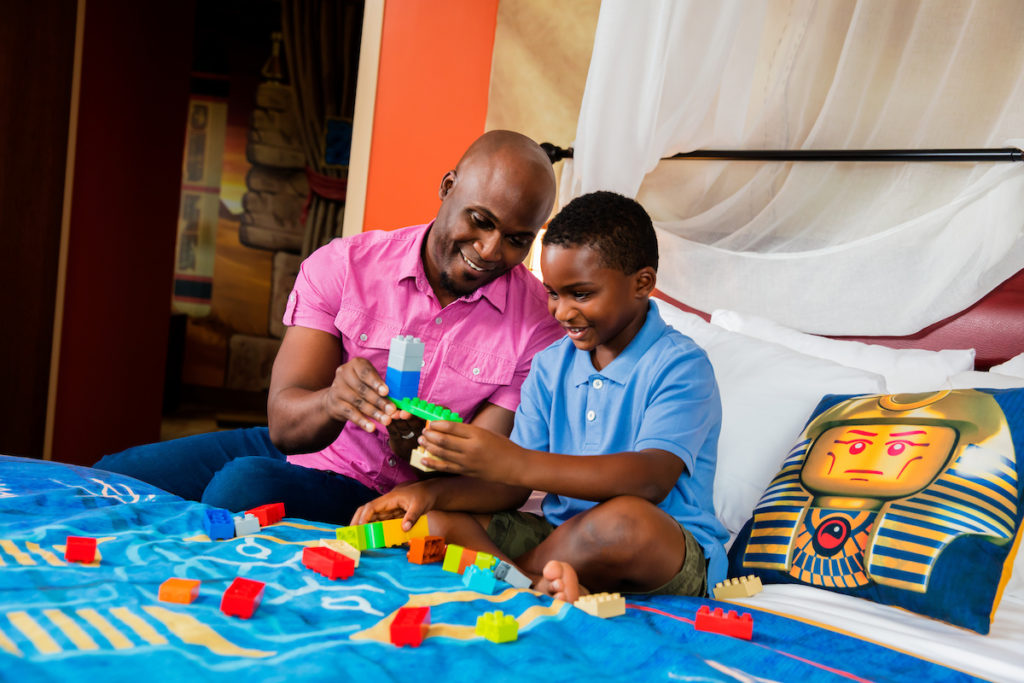 The California Legoland Hotel has 250 rooms — some adjoining — that range in size from "standard" ones sleeping five to themed suites and one- and two-bedroom suites that can sleep up to eight. What's different here is the promise that guests can interact with their environment brick by colorful brick.
Standard Rooms are Lego Themed to the Rafters
Our standard room on the "Adventure" themed third floor (see our video below) was delightfully decorated a la "Revenge of the Mummy" for those who recall Brendan Fraser's popular tomb-raiding movies. If that theme doesn't ring your bell: knights, magicians and dragons adorn the Kingdom-themed first floor and pirates, ships and dubloons decorate the second floor Pirate rooms.
In standard Adventure rooms, the living areas have a pullout sofabed, hieroglyphic-covered headboard behind the queen bed (some have double queens instead of the sofabed), an overhead Lego parrot who was silent at our visit, a desk and Lego beetles clinging to the walls.
We did not have a "themed" room which apparently comes at a higher rate; but we did have a coffeemaker, Lego brick ice bucket, a Lego scorpion or Lego safari hat to hang bath towels on, a full bathtub, a "locked" treasure chest endtable with a few packets of mini Lego figures, and a very cozy Egyptian-tomb-wall-papered alcove with kids' bunk beds, a lower trundle bed, and a second flatscreen TV tucked into a sarcophagus. (Note:  The bedding in the alcove is most comfortable for those under 64″ but, yes, I did sleep in one.)
Family Suites and Lego Themed Rooms
Because the hotel was completely sold out at our weekend stay, we never saw a family suite or a themed room, though we certainly did not feel deprived in our "Mummy-fied" room sleeping five comfortably. According to a spokesperson, premium themed rooms have at least eight Lego models and additional décor such as themed wall paper. The hotel has 51 premium themed rooms which also sleep up to five.
Big family alert: There are 24 suites with three TVs and adjoining rooms which can accommodate up to seven with a 1 King-sized bed, 1 bunk bed plus a trundle bed, and a pull-out couch.
Legoland Hotel Dining Options
The lobby and buffet restaurant open onto a large enclosed, outdoor deck guarded by Lego people, a place that provides some noise relief in warm weather.
The playful Bricks Buffet restaurant seating about 200 had an extensive choice of hot and cold dishes, not as healthy as we would have liked, but with a few salad and grilled fish choices if you looked hard enough. Young kids can help themselves from a separate buffet their height; of course there's plenty of dessert and a Lego-manned softserve icecream station.  Salad dressing and other necessities are tucked into the hands of Lego chefs and Lego-themed paper tablecloths keep kids busy coloring in the squares.
Shh! A Lego Bar
We ate in the quieter Skyline Cafe across the hall, where there was comfortable plush seating as well as a wine list, and enjoyed our fish tacos and Caesar salad.
At breakfast and cocktail hour, the Lobby Bar overlooking the Lego play area allows parents to enjoy a capuccino and muffin, or a drink, while keeping an eye on their little ones. I suppose Lego swords and Lego machine guns couldn't do much harm, but most moms weren't taking chances.  Parents who would enjoy trying Paon, or another of Carlsbad's many good restaurants in the evening, can arrange through the concierge for a babysitter from a local service.
More Fun Stuff in the Legoland Hotel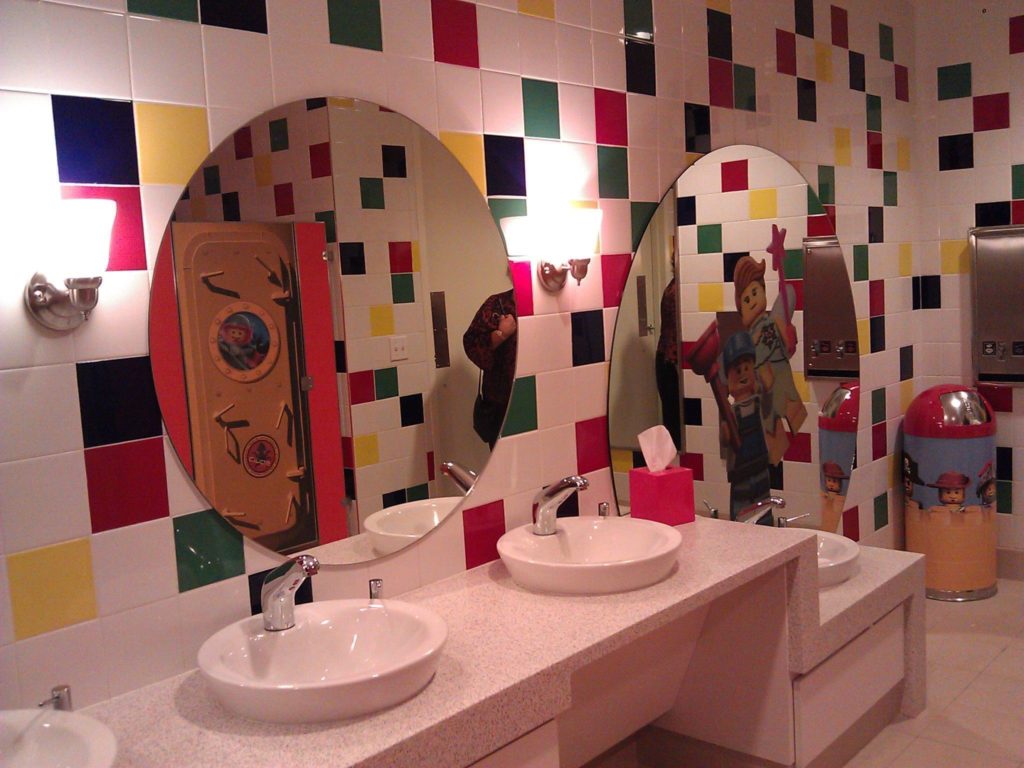 The Legoland Hotel's two-level lobby provides a lot of opportunity for fun, even for those who never enter the themepark. The facade of the reception desk is adorned with fantastic Lego tableaux behind glass windows, and Lego vases of Lego flowers. In the evening, costumed staff visit the "fountain" filled with bricks and, Pied-Piper style, lure the children on a lobby adventure… perhaps to one of the regularly scheduled model-making competitions. Families who prefer to play in a less active way can borrow board games and books.
On the upper level of the lobby (the hotel is fully accessible for the mobility-impaired) is a pirate-themed play area. The large ship climbing stucture has a quiet table in the galley where kids can build models plus several levels to climb on. Similar to the restaurant walls, enclosures are perforated so small children can climb through at will. Comfortable seating, a large screen TV and the outside deck are all adjacent.
On the other side of the hotel, off the Skyline Cafe, is an outdoor pool deck with a heated, two-part pool. One part is a very shallow, zero-entry option for toddlers and the other is a wading pool for littles ones. Families are welcome to use the pool after check-out but there's only a bathroom for changing.
Our Favorite Thing in the Hotel
Last but not at all least are the elevators in this three-story hotel. Doors are skinned with Lego characters, but the surprise is inside.
Spoiler Alert:  The Lego-themed box is lit by disco balls and as the lights flash, hidden speakers blare the BeeGee's "Staying Alive" or Abba's "Dancing Queen."  No matter how often we rode the elevators, everyone of every age began dancing as soon as the music started.
Legoland California Expands Attractions
Of course, Legoland California across the street is the main course for most families. There is a driving zone where toddlers can practice their skills, adorable boat rides, lots of animatronic brick figurines, floral displays, an area for fans of "The LEGO Movie" and fantastical Lego creations that change to suit the times.  If you want to relax in some air-conditioning, the "Lego Legends of Chima" 4-D movie experience is shown throughout the day at Lego Showplace Theater inside the Imagination Zone.
The newest park area is themed to the very successful evergreen outer space franchise — Lego Star Wars Miniland Death Star. The attraction offers guests the chance to view iconic scenes made of Lego bricks that were filmed inside the Galactic Empire's space station. Lego models of Stormtroopers, a Rebel X-wing fighter pilot, and an Imperial Starship pilot are on display.  The park's new Heartlake City area highlights the new toy line, Lego Friends, aimed at girls.
Legoland's SeaLife Aquarium & Waterpark
The park complex has expanded to include a separate admission SeaLife Aquarium and a Legoland Water Park, so it's possible to keep everyone busy for two or three days. The small Sealife Aquarium is a collection of native fish and tropical fish in tanks decorated with some Lego figures. There are a few touch tanks, a movie theatre showing the LEGO Atlantis animated film — definitely worth taking a 20-minute break for — and a cafe and gift shop upstairs.
The Legoland Waterpark is centered around a 45-foot-tall tower designed to immerse children (figuratively and literally) in the Lego world. There more than 20 Lego models including giant Lego friends who splash or spray water, two sandy beach wading areas and of course some shops and snacks.
Note:  Due to the coastal fog that sweeps through Carlsbad heavily in May and June, and the cooler winter temperatures, investing in a waterpark ticket in advance of your arrival may not be a good choice.
We Rate the Grandparents Appeal of Legoland
Legoland and the Legoland Hotel combine for a unique experience that many young children will never forget. The creativity, devotion and enthusiasm our son showed for all things Lego from the age of 3 to about 10 was infectious, so his parents and grandparents spent many hours assisting him and cleaning up bricks.
In similar devotion, the hotel was filled with blissful boys (only about 15% of the kids at our visit were girls) and parents, including many foreign guests, who were delighted to build alongside their loved ones.
However, I would warn elder grandparents to stay away, at least during high season, school holidays and weekends. The perils for seniors were numerous. 
Beware:
No bellmen or valet parkers
Excessive shrieking, hotel noise level
Constant running of little feet in public spaces
Lack of motorized transportation in Legoland themepark
These drawbacks would make a Legoland weekend less relaxing with beloved grandchildren than one would hope. So we would recommend instead that seniors stay at the La Costa Resort, Spa and Golf Club about 20 minutes away, and let children take the grandchildren to the park.
Trip Planning Details for your Legoland Weekend Getaway
The Legoland California Resort is located at 1 Legoland Dr, Carlsbad, CA 92008. For a few days' visit once the theme parks reopens, the best family value is a Legoland Park Hopper ticket. It's a steal for a multi-day stay because it gives you five consecutive days of entry to all three parks for the price of one. You can also find other discounts, such as 20% off with a seven-day advance purchase, on their site.
The Legoland Hotel at Legoland California Resort is at 5885 The Crossings Drive, Carlsbad, California 92008. You must book your stay in advance at either the Legoland California website or through their agents at 877/534-6526. For a moderately priced hotel, Legoland Hotel California has lots of thoughtful touches. All bedding consists of crisp linens and white duvets, so it's easy to find lost Legos if you need to. WiFi is free and works. In addition to a few complimentary toys and a big tub of Legos, the rooms have toiletries, free bottled water and Honest juice packs for the kids. Hotel room windows open to let in the southern California breeze, but are restricted to be child-safe.  The room doors have adult and child-height peepholes so you — or the tots — can see room service coming.
Dining at the hotel is limited. When it's open, the buffet is adequate for most guests who only stay one night. Families staying longer will want to explore the many charms of Carlsbad, the neighboring community.
Dear Reader: This page may contain affiliate links which may earn a commission if you click through and make a purchase. Our independent journalism is not influenced by any advertiser or commercial initiative unless it is clearly marked as sponsored content. As travel products change, please be sure to reconfirm all details and stay up to date with current events to ensure a safe and successful trip.
---