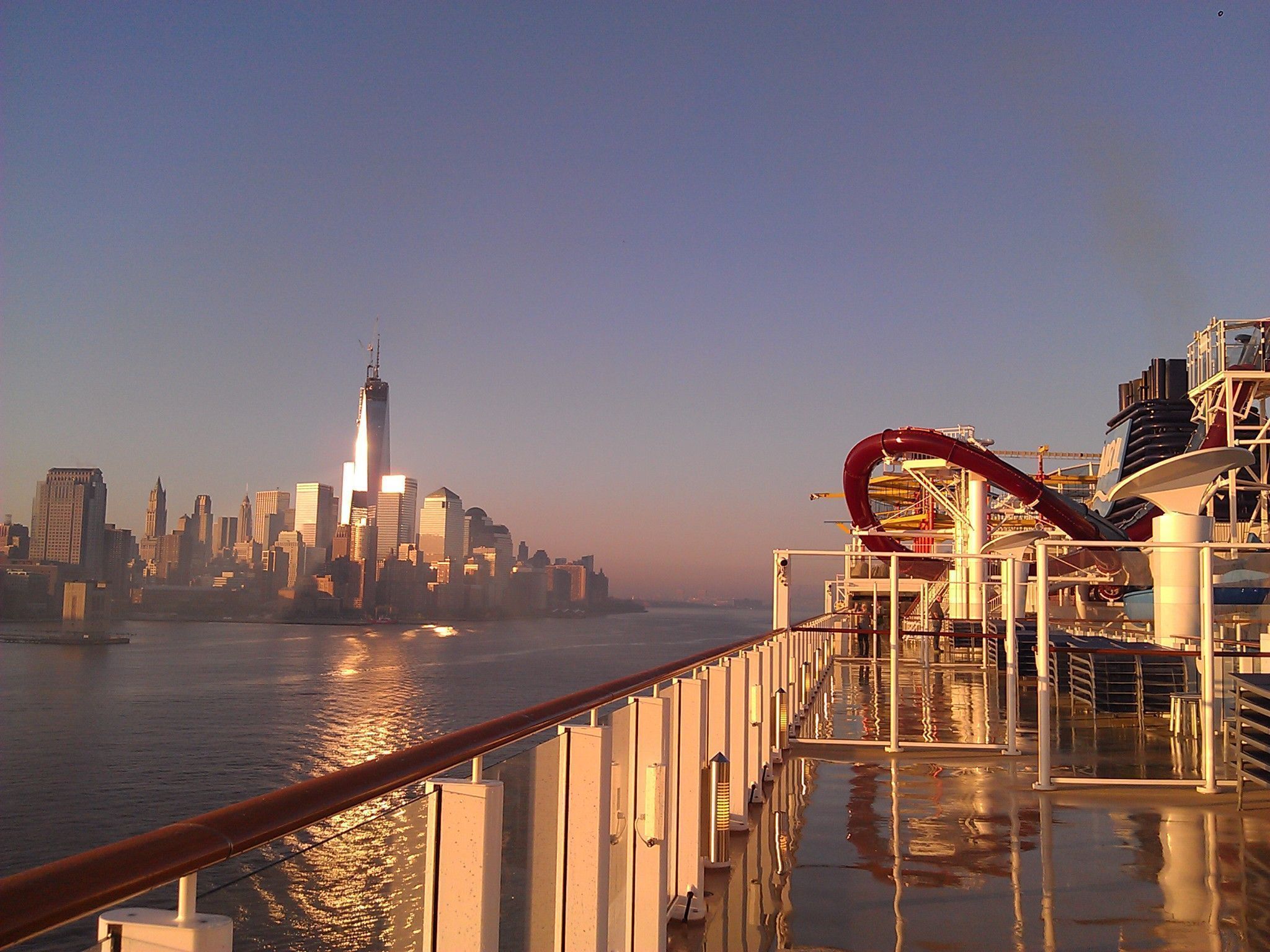 Bold, brash, a ship that never sleeps… that's our instant impression of Norwegian Breakaway, as our 2014 media and travel agent group boards the vessel for her maiden voyage. With only a few nights at sea to evaluate her charms, I am taken by her almost slavish devotion to New York City. There's a Statue of Liberty and skyline painted on her hull by artist Peter Max, and a sports bar that features memorabilia from the Yankees and Mets. Life aboard ship has the non-stop energy of the Big Apple, where every business competes with a visual, audible or sensory hook for your attention.
The restaurants, shops, recreation deck, spa — all are imbued with entertainment, either a pulsating sound track or some catchy dance moves, a waterfall or a melody you can't quite shake.
The perfect cruise for people who don't like to relax? Maybe. Norwegian Cruise Line assumes you're onboard for fun and, no matter how you take yours, the Breakaway delivers.
Empire State of Mind in Food & Beverage
I'm not a cruise expert, but two days on any ship is enough to "nosh" as my Brooklyn grandmother would have said. In our sampler of the ship's many facilities, we had an Italian dinner at La Cucina, one of several restaurants with an outdoor cafe along The Waterfront, a fun people-watching promenade that is perhaps Norwegian Breakaway's biggest innovation. For a fee of $15 per person (ages 4-12 pay half price on specialty items or can eat free from ship's standard kids menu), families can book an a la carte meal here any night of their cruise, but booking ahead is key.
Making a big splash was Ocean Blue by Geoffrey Zakarian, one of the Iron Chef's three seafood restaurants aboard the Norwegian Breakaway, an instant hit. If you can't get a table, do as New Yorkers do, and book a seat at lunchtime or go to the SRO (standing room only for you non-New Yorkers!) Raw Bar and sample his award-winning cuisine there. Shanghai Noodles, sure to be a hit with families, was serving stylish couples at an Asian fusion noodle bar that could have been in Soho. Both specialty restaurants have reasonable a la carte pricing, and perks like pizza delivery cost only $5 per pie.
With so many food outlets it's hard to imagine that you'll get to every one, but that's the type of challenge that many week-long sailors covet. We found ourselves in need of a quick lunch, for example, and stepped into O'Sheehan's Pub for a free tuna melt and a soda. In the middle of Deck 7, O'Sheehans — with a sports bar/pub atmosphere reminiscent of the places around Madison Square Garden — is the casual heart of the ship, the place you might find the ship's cast having breakfast after rehearsal, or husbands reading the New York Times on an iPad. Mixing up meals like this with the ship's buffet and more formal restaurants makes for a relaxing day.
Not believing you can do or be anything on the Breakaway? Just take a look at our video:
Entertainment Wants to Be a Part of It: New York, New York
Appealing to multigenerational groups who have become a key market, Norwegian Breakaway provides high quality, diversified entertainment all day and night, for any age and interest.
We loved the Waldorf-Astoria inspired Manhattan Room, an elegant dinnner theatre at no extra charge. While continental fare is impeccably served, guests can enjoy a floorshow or take to the boards themselves. On nights the terrific Burn the Floor dance show is there, head to the mezzanine on Deck 8 Aft for the best views, since there are many restricted view tables.
Think you can dance with these stars? You may need coaching from The Rockettes. As New York-sent Godmothers of the Norwegian Breakaway, two members of their chorus line sail the first week of every month to mingle, pose for photos, stretch their very long legs, and teach five to six fitness classes in the gym. I took the Rockettes Warm Up one morning with the staff fitness instructor and it was way more fun than spinning (though they have that, too).

From Broadway to Breakaway: Full Length Theatre at Sea
For entertainment of a more raucous nature, head to "Rock of Ages," the full scale Broadway musical — or is that roadshow — of the same name. The Tony-nominated Rock of Ages follows the story of one rock club's fortunes while everyone in the cast breaks out into the biggest metal hits of the 1980s from artists such as Styx, Journey, Bon Jovi, Pat Benatar, Twisted Sister, Steve Perry, Poison and Europe. It's funny and crude, best suited to teens and any cruisers who admit to having Led Zeppelin CDs or Harley gear in storage.
Another entertaining dinner experience that's worthwhile for all ages (the fee is $39 per ticket) is Cirque Dreams & Dinner: Jungle Fantasy, the touring Broadway show first seen on Norwegian Epic. No wonder it's been such a success they repeated it here. Cirque Dreams is a don't miss dinner theatre-style circus where even the youngest sailors will enjoy wonderful acrobats, dancers, mime artists, jugglers and singers. They may have taken a chapter from the Cirque du Soleil playbook, but they have produced a lavishly entertaining story with costumes and sets to match each vignette. Dining mid-ship, with such talent under a fabric Spiegel Tent, is magical.
Active Kids Fun Aboard the Norwegian Breakaway
Families with young children will be thrilled by Aquapark, whose Whip and Freefall, the two fastest waterslides at sea, can accommodate up to 1,000 children per hour. Larger than life Nickelodeon characters fill the enormous waterplay zone. A zipline on the upper deck gives daring family members something to fight over. It's all free, including a chance to walk The Plank, an aerial challenge extending eight feet over the side of the ship.
Older kids and adults will love the free-to-use three-level sports complex that includes the largest ropes course at sea, a nine-hole miniature golf course that may remind grandparents of Orchard Beach, a basketball court, rock climbing wall and more recreational toys.
Norwegian Breakaway has Baby, Kids & Teen Clubs
The Norwegian Breakaway has extensive youth and teen programs included in the basic price, with space on several decks for Splash Academy and the Entourage Teen program. Starting with the babies on board, adults can bring ages 6 to 35 months to the Guppies play room, where staff provide supplies for arts n'crafts, puppet shows, music, reading and other parent- or grandparent-supervised activities during two 45-minute play times daily. We love the supply of Wee Can Too edible paints and chalks given to these artists as part of the "Cruise and Create" programming.
The 3 to 5-year-olds or Turtles, 6 to 9-year-old Seals, and 10 to 12-year-old Dolphins each have dedicated spaces: bright and colorful, packed with crafts, books, computers and nap space. Enthusiastic counselors lead them in sports, ship-wide scavenger hunts, board games, video games, movies and Nick style sliming depending on age and location. Hours vary on sea days and port days, but these clubs typically close during the noon to 2pm and 5pm-7pm meal times. There's freestyle flexibility here too, and kids 10-12 can sign themselves out of the club after two hours of participation if they want to roam the ship. The Late Night Fun Zone is open nightly for ages 3 to 12, from 10:30pm to 1:30am whose adults want to party, and it costs only $24 per child, $20 per sibling. On port days, kids who stay on board can remain in the club's care there is a fee for meals.
As other cruise lines have learned, teens prefer to have their own space. Here they're accommodated at Entourage, an adult-free club high up at the back of Deck 16. Almost-peer counselors set up activities such as drama classes, basketball tournaments, video game challenges, pool parties, hip hop dances and DJ lessons. Entertaining ages 13-17 together isn't easy, but there's so much to do on the Norwegian Breakaway, and a myriad of treatments at the Mandara Spa, that you can bet they won't be bored.
And that brings us to the fascinating spa area of the ship, another place where all ages and interests can be accommodated. If you're like me and would rather be at a spa for a week than on a cruise, read on..
Feeling & Looking Better (For Real) on Norwegian Breakaway
The large Mandara Spa occupies prime real estate at the heart of the Spa Suites level of premium rooms (some even have their own jacuzzi). In addition to the perimeter of rooms, there is a large wellness center surrounded by state-of-the-art weight rooms, gyms, dance and spinning studios.
Passengers can book ahead for a massage or pedicure of course, or just get a pass for the wide range of water treatments and the salt room. Low-cost daily fitness classes range from Pilates to the intense Body Sculpt Bootcamp.
No reason for parents to feel guilty. Spa treatments for kids include Ice Cream Social manicures and pedicures where cone-shaped bath products make the service more fun to try with friends. Men, too, have their own sports massage programs plus a Father/ Son Chill Out session for families who like to work out together.
One of the most intriguing aspects is the Medi-Spa, a physician supervised offshoot of Manadara Spa. At Medi-Spa, guests who are onboard for a week's vacation can decide to try apupuncture for their Chron's disease, do Botox to freshen up frown lines or have their teeth whitened… as a couple or alone. Guests who want to freshen up for a night out at Ocean Blue can sample dermalifiting with Resylane. Those interested in medical and cosmetic self-improvement, or simply avid cruisers in need of a freestyle make-over, can do it on Breakaway.
What's Really New & Different on Norwegian Breakaway
The cruise industry is so competitive that on every new vessel, some features and guest amenities have to be truly "new." Norwegian Cruise Line CEO Kevin Sheehan, no stranger to innovation or clever ways to earn revenue, has packed the Norwegian Breakaway with lots of Ah-haaa moments. And even though Norwegian's basic, freestyle cruise vacation experience will thrill most families, many will find a few of these new added attractions worth paying a premium for. Among them:

Several of the restaurants charge premiums, but a night out at any of them will quench that buffet boredom on weeklong sailings. And these prices don't compare to what these meals would cost on land. (Specialty dining fees are discounted for children).
Touchscreen kiosks in cabins and public areas empower guests to book the night's entertainment: either a wonderful, fee-based dinner show like Cirque Dreams, a complimentary seat in the jazz bar or a chilled stool at the Ice Bar, among many, many other options.
The Irish pub has a small bowling alley where restless passengers can strike pins 24/7.
Spice H2O is an extensive adults-only area that has hot tubs, chaises and bars by day, and a lounge and dance party ambiance at night; all next to the pay-to-play Vibe Beach Club.
Photos taken by the ubiquitous paparazzi are coded to keycards, so any cabin mate can stop by the gallery iPads to review (and purchase) momentoes of their recent adventures.
Even in the casino, where passengers expect to spend money, slot machines are set up to work off cabin keycards, so you never run out of funds.
Not a foodie? Hate theatre? Loser at gambling? The ship's two-story atrium has a huge LED screen at its core, featuring live sports, fee-based entertainment and sessions of Nintendo Wii U.
The company's tag line is 'Cruise Like a Norwegian' but really, do they have it so good in Norway? "We want to do what we want when we want, when we're on vacation," Sheehan explained during the ship's maiden voyage. His vision is to expand Norwegian Cruise Line's "freestyle" concept: Give passengers a rich cruise experience, for one fee, that can be upgraded with a variety of choices, at a range of times, to maximize flexibility. On Norwegian Breakaway, it works.
Trip Planning Details for a Norwegian Breakaway Cruise Vacation
The largest ship to homeport year-round in New York City, Norwegian Breakaway is counting on a bevy of mid-Atlantic region residents to fill her cabins on sailings to Bermuda, Bahamas and the Caribbean — many of them week-long cruises. If the thrills we experienced sailing under the Verazanno Narrows Bridge and by the Statue of Liberty are any indication, she will be booked all the time.
Capable of carrying 4,000, there are many family cabins, innovative studios and ocean view staterooms, as well as balcony and mini-suites. In the video, you can see the clever use of space in cabins sleeping three or four, on a daybed plus a drop-down bunk if needed. Norwegian Breakaway has done even better on the many family suites, actually two adjacent cabins with an interior door and shared balcony that allow families to book a room with a king bed (and also daybed and bunk sleepers) plus a cabin with two twin beds, so they have two full bathrooms and extra closet space to spread out.
But of course if you cruise like a Norwegian, the choice should be yours, and the Breakaway makes anything possible.
For more information and to book a family cruise, contact your travel agent or visit Norwegian Cruise Line.
Dear Reader: This page may contain affiliate links which may earn a commission if you click through and make a purchase. Our independent journalism is not influenced by any advertiser or commercial initiative unless it is clearly marked as sponsored content. As travel products change, please be sure to reconfirm all details and stay up to date with current events to ensure a safe and successful trip.
---