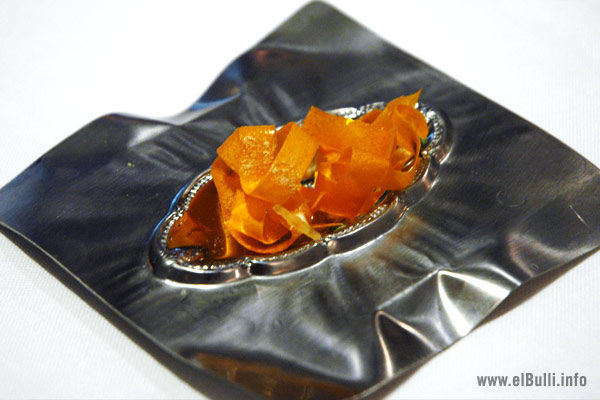 Whether you're a passing foodie or a lover of fine gastronomy, you've probably heard of elBulli, the small eatery in central Spain that became the world's most famous restaurant when it closed its doors – at the height of its success – in 2011. Its former head chef of 25 years, Ferran Adrià, is the featured subject of  the Museum of Science, Boston's new show, Innovation in the Art of Food: Chef Ferran Adrià.  
Sponsored by the elBulli Foundation and the government of Catalunya, the fascinating and complex show runs through May 26, 2014.  Innovation in the Art of Food: Chef Ferran Adrià explores the chef's ideas, innovations, the science at work in their test kitchens, and the unusual tastes, textures, and untraditional high-tech appliances of elBulli
What is elBulli and how come I never ate there?
A huge traveler magnet, elBulli was located on the shores of la Costa Brava in the village of Roses, about 90 miles from Barcelona.  Its experimental cuisine — often served on teaspoons, as foam, or in an array of sauces or beads of flavor — and its legendary chef Ferran Adrià, lent the place a mystique that has grown ever since.
Despite having 2 million reservation requests per year for the 50 seats available nightly, and after 25 years of leading elBulli to several Michelin stars, chef Adrià preferred to open a foundation and test kitchen where chefs from around the world interested in experimental cuisine can gather, create and taste. Today, the elBulli Foundation is a creative think-tank and food laboratory for gastronomic experimentation. 
This Museum Show is Not a Cooking Class for the Hungry
We did not know what to expect from the show, but imagined a museum gallery filled with tasting stations a la Whole Foods.  Wrong.  Adrià is a high level thinker who has codified his discoveries in cuisine into a 23-point manifesto (see elBulli Sintesis) that has to be read, reread and digested.  But the show amply illustrates how his work, begun in the 60's, has revolutionized food as we know it, and perhaps created the intense interest in dining that is transforming tourism around the world. After this show, I, for one, am ready to credit him with the foodie revolution.
For example, the concept of Tasting Menus — taken for granted today — dates back to the 1990's, when Adrià explained the reasoning behind it in his "Synthesis."
"The menu de dégustation is the finest expression of avant-garde cooking. The structure is alive and subject to changes. Concepts such as snacks, tapas, pre-desserts, morphs, etc., are coming into their own."
What you See is All You Get at a Virtual elBulli
Most fun for visitors is the virtual table where you can sit (on a real chair) and pull yourself up to (real) table, then marvel as a (virtual) meal is served… dish by astonishing dish. Using video projections that disappear if you try to 'taste' them, museum-goers can appreciate a bit of what dining on a 37-course meal at elBulli was like. Nearby there is a light box representing all 1,846 dishes Chef Adrià created.
To appreciate more of that meal, and a must-surf site for foodies and the hungry, go to the delightful ElBulli.info (the Carrot Chips with a lemon verbena, ginger and licorice essence pictured above is from there) and relive in words and images the meal enjoyed by these diners in 2005.
On display at the Museum of Science are Adrià's books, unique dishware, and even clay models of his culinary brainstorms that, like plastic sushi samples outside Japanese restaurants, help make sense of the reams of text and intellectual ruminations. 
Why is this elBulli Show in Boston and not Paris or Madrid?
The reluctant success of elBulli was actually the subject of a Harvard Business School Case Study in 2009 and after that relationship began, Adrià was invited as a guest lecturer to the undergraduate Harvard College, where he runs "Science + Cooking: From Haute Cuisine to Soft Matter," a science lecture class with invited luminaries from the world of molecular cuisine.  So it is fitting that this show has been established in Adrià's intellectual home away from home. 
The Museum of Science Boston is a large and wondrous place, with a dinosaur gallery that will thrill little ones. If you're a family out with young foodies, you may better enjoy a stop at the museum's other featured temporary food exhibit, Our Global Kitchen: Food, Nature, Culture, where visitors of all ages can explore food, creativity, and cultures from around the world. Developed at the American Museum of Natural History, this show is a fun look at what "farm to table" really means. If you have curious kids, find out the schedule of their twice daily Kitchen Questions sessions led by a museum specialist, where visitors get to ask whatever their taste buds fancy.  You can also explore the secrets of food and where it comes from with the hands-on activity of the day.
The Innovation in the Art of Food: Chef Ferran Adrià exhibit is included with regular Museum of Science Exhibit Hall admission: $23 for adults, $21 for seniors (60+), and $20 for children (3-11). For more information, call 617/723-2500 or (TTY) 617/589-0417.
Dear Reader: This page may contain affiliate links which may earn a commission if you click through and make a purchase. Our independent journalism is not influenced by any advertiser or commercial initiative unless it is clearly marked as sponsored content. As travel products change, please be sure to reconfirm all details and stay up to date with current events to ensure a safe and successful trip.
---