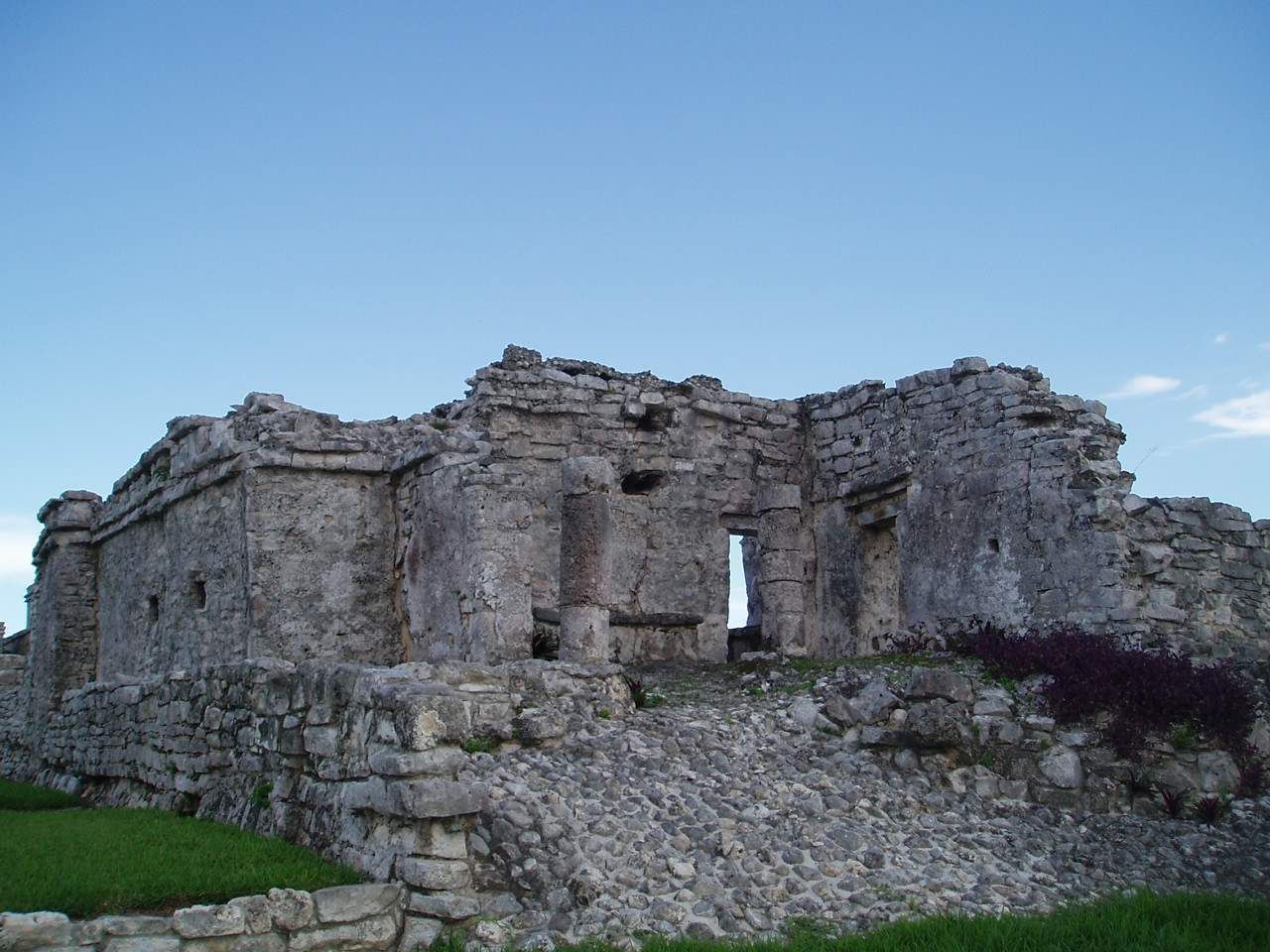 Situated on Mexico's Caribbean coast, Playa del Carmen is a waterfront refuge that attracts domestic and international tourists to its thriving main street and apres-beach scene. The area is also home to reasonably priced accommodations, Mayan ruins, theme parks and cenotes (underground rivers), just an hour from the Cancun International Airport. As a couple on a babymoon getaway — in need of relaxation, romance and adventure– we chose it over Cancun, a better option for expansive white beaches and upscale hotels.
For centuries, Playa del Carmen was a stop on the Mayan pilgrimage to Cozumel. Once called "Xaman-Ha," or waters of the North, this area served as a major trading route and religious center. The Yucatan Peninsula was conquered by the Spaniards as part of Mexican territory in 1902. By the '60s, the nearby areas including Cancun underwent a thorough facelift to become a thriving tourist destination complete with megahotels and ferry service to Cozumel.
Today, boutiques, souvenir stands, world-class shopping and beach access make Playa, as it's known, a popular choice for travelers of all ages who prefer small town life to the all-inclusives.
Beaching it in Playa
Playa del Carmen is my kind of beach… the kind that is small enough to take a leisurely stroll without getting too far from the main bustle of town, but big enough so that everyone can spread out.
We stumbled upon what soon became our favorite spot at the Zenzi Beach Club, which draws a young adult crowd and couples. They serve sandwiches, salads and appetizers like nachos, but also kid-friendly burgers so parents can enjoy a cold tropical cocktail before taking a dip in the ocean. The Zenzi Cafe has beachfront lounge chairs, making it a relatively frugal choice to spend a few hours swimming. Otherwise you'll need to stake out a spot on the beach itself with your towel, or pay up for a chair from one of the beachside vendors.
We took a dip in the warm ocean, came and went from our spot at Zenzi, and lounged without being interrupted by the staff. Just purchase a snack or drink every once in awhile to keep the waiters happy. (It's not much of a heartbreak with their tasty snacks and ice cold drinks.) Around 5 p.m. the live entertainment starts, so pick a place to settle in, but not too close, or you'll be straining to hear your travel companions.
Free Nightly Entertainment along la Quinta Avenida
In the evening, wander down 5th Avenue (5a Avenida) to the beach to sit by the famous Portal Maya Sculpture and look for dancers, musicians and Mayan performers under the moonlight. You'll find some water lovers are still swimming or just taking a twilight plunge in the background.
We opted to have a drink in the Cabana Bar adjacent to the place and were lucky enough to see traditional dance including fire eating. It was completely mesmerizing, but did scare some of the younger kids. Older teens, and adults of all ages, will think it's pretty amazing. There's also a fun boat-themed playground to keep the kids busy while you catch the show.
Where to Stay in Playa
We were surprised at the wide range of lodging options in Playa del Carmen, from over-the-top elite to small beach bungalows and everything in between. Many travelers opt to stay in the surrounding Riviera Maya area for all-inclusive meal options, then shuttle into town for a day of fun.
We were on a much-anticipated babymoon that coincided with our 10th anniversary, and had left our 3-year-old daughter behind at her grandparents in Atlanta. A quick two-hour flight got us to Cancun and then it was only 45 minutes by leisurely shuttle to our accommodations. We wanted to spend some time at the beach, but not have it be the sole focus of our vacation, so arranged to stay at Casa Tucan located less than a 5-minute walk from all the action on 5th Avenue. Its modest facade opens up to a quaint little tropical-lined pathway and hammocks swaying in front of the groundfloor rooms.
Depending on the season, Casa Tucan offers studios with two beds, air-conditioning, small kitchen and bathroom for just US$100/night. Double rooms have a similar set-up minus the kitchen, while standard and cabana rooms are smaller with ceiling fans and no air. A swimming pool is on the premises, with a restaurant serving breakfast through late evening snacks. We learned to ask for a quiet room on the lower level with a hammock outside to avoid the late night music radiating from Playa del Carmen's thriving "downtown." Music can go on quite late, so if you're not nightowls — or are traveling with kids who need their sleep — heed the advice to inquire about something restful.
For something closer to the beach, the Royal Playa del Carmen boasts suites with garden or ocean views, private balcony, Jacuzzi, and spa on site. For families who want something more modest, stay just off the beaten path and away from the beach at one of the many quaint guesthouses.
Exploring the 5a Avenida Strip
Take a stroll along the bustling 5th Avenue or similarly popular 10th Avenue and window shop, pick up a souvenir or beach pails, and stop for lunch at an outdoor restaurant. A chain of popular Senor Frogs can be found up and down the strip, along with more authentic taco stand options and upscale spots like the seafood specialists at Oh La La. To cool off, grab an iced coffee treat from Ah Cacao Café and sit in Plaza Las Americas with an open front letting in the ocean breeze. Live entertainment is common, complete with Mayan impersonators.
Our eating preference while traveling is more relaxed and more spontaneous than at home. For our first meal, we made our way onto the beach for lunch, which draws a mix of international and local tourists.
After a day, we just popped in and out of small shops and restaurants for a quick snack or cold drink before settling in for dinner somewhere with a view. And if you're on a budget or want something more authentic, walk a few blocks off the strip; it shouldn't be difficult to find a cozy little taco stand with plenty of carne and pollo options for a few bucks.
An Eco-Adventure and Cultural Immersion at Xcaret
Head to Xcaret Park and plan to spend the whole day for an overview of Mexico's rich history and culture with plenty of live demonstrations and action-packed shows. Start in the Main Plaza, grab a map and speak to the staff about planning your day (especially with young kids who will find the walking tiring). Xcaret is expansive and houses everything from manatees and scuba diving excursions to galleries and chocolate demonstrations.
For families, head to the Adventure Kids program to learn more about nature through up close and personal encounters with nurse sharks and small stingrays floating through a natural lagoon. The environment is safe and controlled and teaches kids more about biology and nature conservation.
Whether you're on a couples trip or with the kids, try the Blue River, Maya River or Manatee River complete with complimentary scuba fins and life vests. These three lazy rivers are designed for a relaxing adventure where you can take your time floating through a natural network of underground tunnels, and explore the rock formations and marine fossils. Go at your own pace or get out of the water early at one of the designated stops. My husband wasn't too crazy about a few bats hanging from underneath the ceiling of a cave, but I found it dazzling. You'll also float past reproductions of Mayan artifacts and statues. It's a truly relaxing and inspiring experience that will leave you feeling refreshed.
What impressed me about Xcaret was how much care they take to represent the diverse culture of Mexico and the country's many traditions. Get to know more about the beauty of Mexican horsemanship at an old-fashioned equestrian show. The horses dance across the arena and even run backwards; skilled horsemen and women dance and flip from the saddles, while you nibble on charros and adelitas from La Cocina. Order up some traditional coffee like Café de olla made from dark brown sugar, Mexican cinnamon and dark Mexican coffee prepared in a special clay cup.
If I could only recommend one thing for adults (and kids would probably love it, too), it's the mind-blowing Voladores de Papantla considered a Cultural Heritage of Humanity by UNESCO. Hailing from Mesoamerica, the voladores or flyers climb a tall pole with one flyer sitting on the edge of the platform. He plays a haunting melody on a flute and drum as homage to the sun, four winds and cardinal points. The flyers eventually launch themselves from the platform tied by long ropes and blithely float in a lazy circle to the ground. It was hyptnotizing and unlike anything I had seen before.
See the Voladores de Papantla in action.
The park's pride and joy is the Mexico Espectacular Dinner, so save time to close out your evening appropriately. Order up snacks, hamburgers, sandwiches and more before settling into an arena setting. It is a top-notch, world-class performance opening with a spirited game of Mayan fireball. The game is best described as bouncing hard balls off each player's hips while they try to sink it through a hoop. It looks like a combination of volleyball and basketball. Eventually the Mayan actors start playing a version of the game resembling fire ball hockey much to the delight of the crowd.
Next time you are in Playa del Carmen, Xplor Park by Xcaret is definetely a must: An adventure park where you will ride the highest zip lines, drive amphibious vehicles, rafts and explore natural underground rivers! Includes buffet meal. Get your 15% discount booking online.
The dinner show goes on to feature various cultures and customs of Mexico from traditional dance to a history of the country's modernization. Visitors truly get a sense of the country's rich diversity. It tied our entire experience at Xcaret together and gave me more context for an overview of this special country. Our new Mexican friends sitting next to us told us the dancing and singing were their favorite part of the show and are an emotional reminder of pride for their country.
Daytrips to explore Riviera Maya
Mayan culture is still alive and well with six million Maya people living across Mexico, Belize and Guatemala integrating their sacred beliefs and customs with the modern world. In Mexico alone, there are 68 different indigenous languages with 364 variations. Locals will tell you the Mayas speak numerous languages and seem to have little difficulty picking up new ones as needed.
Ancient temples and ruins can be found throughout Mexico, some open as a tourist destination, and others tucked away in jungles with altars still in place. In the area of the Yucatan Peninsula alone, there are nearly 20 ruins dating from about 3,000 years ago. The most visited ruins are at Chichen Itza, Coba and Tulum.
Make the 45-minute drive from Playa del Carmen to the coastal ruins of Tulum for an easy, and spectacular, afternoon trip. A central tourist cluster of shops and cafes surround the entrance. Visitors can either walk the roughly 15-minutes up to the main entryway or arrange for a tour guide and open-air shuttle. Once you wind inside through a brief, but narrow, tunnel, guests are greeted by a landscape of Mayan pyramids dotting the Caribbean Sea.
Make sure make time for a walk down to the beach to relax in the sun and take a dip in the sea before making the return trip to Playa del Carmen.
Secrets of the Mayans
Travelers who want to shed some light on the history of the Mayans should arrange for a guide to wander through the sites. Learn more about how the Mayans built the pyramids to withstand the elements, and how they were among the first to develop their own indoor plumbing. Our guide was of Mayan descent and spoke English, Spanish, a local Mayan dialect and Basque along with his wife's native tongue of Hopi. Given I speak what I would call "toddler Spanish" (where I can make my basic thoughts and needs known without much luck at properly conjugating verbs or using any complex words), I was impressed.
Our guide explained the Mayan people are descendants of the Mongols, and you can tell their authenticity from a purple birthmark on the lower back. I'm told this is a common mark of Asian cultures as well and that, in fact, people think many of the Mayan dialects resemble Asian languages. He went on to talk about the Mayans' many inventions from indoor plumbing to a calendar and the concept of zero. It was a rare treat to get to speak to an older local who clearly took pride in his heritage.
Spending a few days in Mexico and exploring Tulum really drove home who the Mayan people were in a way that I've never experienced. I can't wait to bring my kids back one day when they're learning about Mexico and its heritage to show them why I fell in love with the country.
When to Go to Playa del Carmen
Summers can swell to 90º plus temperatures, so choose your season of travel wisely. Depending on your preference, April through May could be the best time to go — when the temperate climate is still warm enough for an afternoon dip. Day temperatures in spring fluctuate from 70º to 80º, dropping down to the 60ºs in the evening.
Despite going in late March, we still found the peak of the afternoon extremely hot, though a swim or stop for an helado, or ice cream, kept us cool. Be advised hurricane season kicks up from June to September, so check your travel insurance in advance to see if they'll cover weather issues. Not all guest houses have air-conditioning, so inquire in advance or expect to enjoy a cool evening breeze.
Coming Back to Playa del Carmen
What's so impressive about the area of Playa del Carmen is the ability to mix modern-day tourism, traditional Mexican culture, breathtaking natural wonders and history all in one condensed place. I would recommend it for couples and families with older kids, though I think younger children would certainly be fascinated by the beach, ruins and wide variety of nearby activities like boating, snorkeling and parks.
Although Playa del Carmen is a small, quaint little town, the rich diversity it offers keeps visitors coming back to learn something new all over again.
Dear Reader: This page may contain affiliate links which may earn a commission if you click through and make a purchase. Our independent journalism is not influenced by any advertiser or commercial initiative unless it is clearly marked as sponsored content. As travel products change, please be sure to reconfirm all details and stay up to date with current events to ensure a safe and successful trip.
---