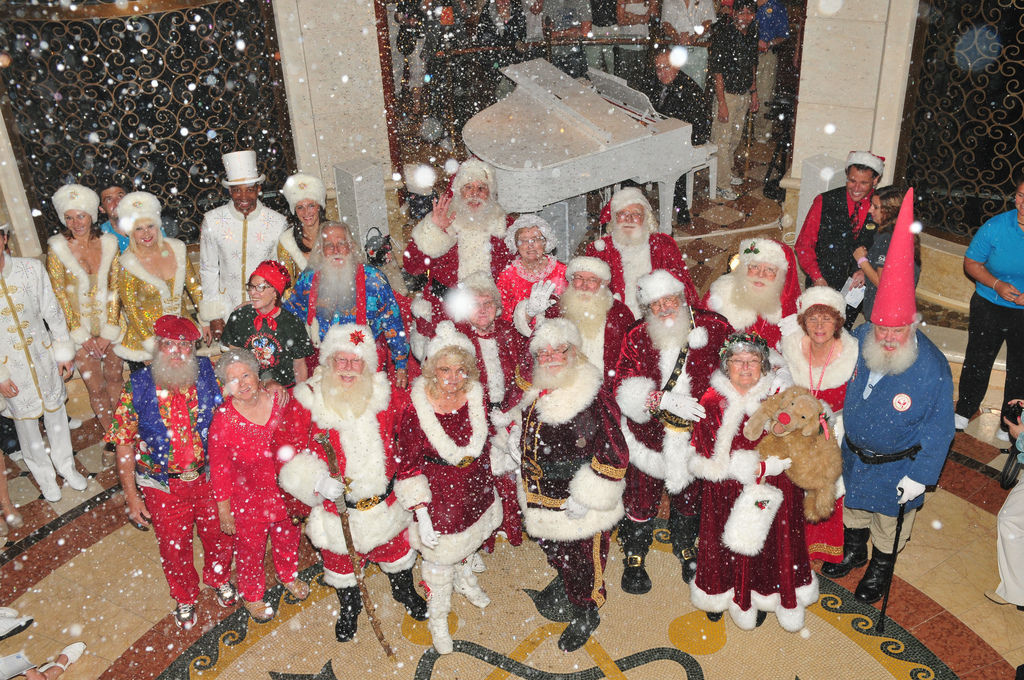 Thinking of spending the holidays (any holiday) on a family cruise vacation; here's my report on the stress-free pluses and minor minuses of cruising over an Easter school break.
As much as I love to travel, I have always preferred to spend the holidays at home. Baking, decorating, cozying up to the fire with loved ones are hard to beat. But this year when an invitation arrived to spend a week cruising the Western Caribbean on the Emerald Princess over Easter, the family jumped at the chance.
Of course, the fact that we were just coming off the infamous Snowmageddon winter of 2015 may have had something to do with why we so quickly abandoned our beloved routine. When I heard the ship would be celebrating the holiday, I packed bathing suits and left the hearth, guilt free.
Cruise Lines Whip Up Holiday Magic
During our Easter sailing, the atrium was colorfully decorated with giant bunnies and Easter eggs, and kids club staff set up tables where families enjoyed face painting, bean toss games, and other crafts. Small fry were also engaged in dancing and singing, and parents were encouraged to join in the fun.
You may not consider Halloween a big holiday to escape from, but it's become so popular with repeat cruisers that at Carnival, there's even a bulletin board where guests can compare costumes and party plans months in advance of sailing.
Thanksgiving is a big hit for multigenerational sailings. At Disney Cruise Line, each ship sails with a special turkey feast planned, onboard characters dressed in seasonal costumes, and even a crew trained in making themed towel animals for each cabin.
At Christmas, all the cruise lines go all out. At Princess, a decorated tree dominates the ship's central piazza – even the ship's mast gets a little holiday décor – and Christmas dinner with all the trimmings is served in the dining rooms. Carolers are on hand to sing traditional tunes, kids can get involved in a holiday play and Santa has been known to drop by bearing gifts.
During Hanukkah, menorahs and themed flower arrangements decorate the ship, and Kosher meals are available in Princess dining rooms and on request. New Year's sailings include a New Year's Eve party onboard with party hats, a champagne toast for the adults and, of course, plenty of music and dancing.
With families living so apart and having so little vacation time, the cruise lines recognize the new appetite for fully-catered ways to come together, without all the work that usually goes into entertaining loved ones.
The Ship as Holiday Central
For the record, this Grand-class ship, a sister to the Crown Princess and the Ruby Princess, clocks in at about 950 feet long and carries up to 3,573 passengers in 1,539 cabins, tended to by 1,200 crew. Similar to a full service, all-inclusive resort on land, there's enough variety and choice to appeal to all the relatives.
Fans of this class of ship will recognize certain features – a piazza-style atrium, which became a center for holiday fun as the week wore on; multiple pools; Movies Under the Stars; the Lotus Spa; and an assortment of restaurants; nightclubs and bars – not to mention a robust kids' club (ages 3-12) overseen by youth staff who are serious about fun.
An Easy Process for all Ages
Our cruise sailed out of Houston, where we boarded busses from the George Bush Intercontinental Airport for the 40- to 50-minute drive to the cruise terminal. A separate bus transports luggage to the terminal, although we were allowed to bring our carry-on suitcases on our passenger bus. In all, the transfer process was smooth and we arrived at the cruise terminal without any hitches.
Tip: Hate waiting for the cruise line bus? You can opt for pricier taxi transportation, but unless you're sharing the ride with other paying passengers, the Princess shuttle bus is a much better deal. Expect the taxi fare to be in the $100 range.
On arrival at the cruise terminal, the crowd control was about average as we moved through security. This is the place to meet everyone who's flying in from different regions. We waited in line to check in, then waited again for our group number to be called. This is standard for most cruises, unless you have booked a suite or are a preferred customer.
Cruise Staterooms meet every Family's Needs
My advice to anyone considering a family cruise is to spring for a balcony if at all possible, and there are plenty of choices on the Emerald Princess. Options include 675 balcony cabins, 26 suites with private balconies, 178 mini-suites with private balconies and two-balconied family suites.
Some relatives have no budget for a balcony? No worries. The ship also offers 222 ocean view cabins and 436 inside cabins, which work for families who spend most of their time in public spaces anyway. A solution we have tried in the past is to put the kids –- check the minimum age requirements for this -– in an inside stateroom, and book a balcony cabin for the parents, since they are the ones who are likely to care about the view.
Our cabin featured a balcony big enough to comfortably hold a bistro table and chairs, built-in desk/vanity, minibar, flat-screen TV, generous-sized closet and small but efficient bathroom with a shower.
The Emerald Princess is also pretty ship, making it more festive. It's not new; the vessel was inaugurated in 2007, but it was refurbished in 2012 and the interior features sunny, bright colors with a refreshing absence of glitz that may endear it to family members who would never consider a cruise. It also features four pools, from the trademark Movies Under the Stars swimming pool to the serene spa pool, where I swam almost by myself every morning, thanks to my habit of being an early riser.
Dining is all about Service & Choice
From our stateroom attendant to the restaurant staff, the crew members were efficient, helpful and friendly. Of special note, the wait staff at the three specialty restaurants were especially well trained, so much so that the dining experience was similar to being in a high-end restaurant on shore. It was certainly not something I could have pulled off for a holiday meal at home.
One of the features we enjoyed the most is the choice of Anytime Dining in the main dining rooms, which means that you can show up at either the Michelangelo or Da Vinci Dining rooms between designated times and be shown to a table. You may have to wait a few minutes in line, but those willing to share with other passengers are likely to be seated sooner.
Diners can also choose Traditional Dining –- the time-honored option where you choose early or late seating and are assigned a table. Either way, cruises make it easy to connect with everyone at meal time, when everyone is ready to share that day's unique vacation experience.
The Emerald Princess offers specialty dining for an additional charge for a more upscale experience, and we hit all three restaurants during our weeklong cruise. At the Crown Grill, we chose a first-rate surf and turf (I'm from New England, so I'm picky about the quality of my lobster) and a chef's tasting dessert with several mini chocolate creations that I'm still thinking about.
Another hit was Sabatini's, an Italian specialty restaurant with an exuberant maître d', terrific calamari, lobster orzotto and, of course, pasta in a Tuscan-inspired setting.
The third for-pay option is the Crab Shack, a pop-up seafood restaurant ideal for families with kids as long as they like fish. Diners are outfitted with oversized lobster bibs, paper tablecloths and crayons for impromptu art between courses. Much of the fish was a little too deep fried for my taste, but the crab legs were fresh and fun, if a bit challenging, to eat.
Kids Club keeps Kids Busy so Adults can Play
Given that our cruise coincided with Easter vacation, we knew the ship would be packed with children, and it was. The good news is that kids are so well entertained that they don't seem underfoot. We had plenty of adult time to enjoy together.
There are three age groups in the children's club: The Pelicans for kids aged 3 to 7, Shockwaves for ages 8 to 12 and Remix for teens 13 to 17. Activities range from Jungle Gym play and arts and crafts for the younger set and Zumba and T-shirt graffiti for the middle schoolers to hip-hop, late-night karaoke and Nintendo Wii tournaments for teens.
Recreation Areas & Me-Time Retreats
In addition to the pools, the ship boasts seven whirlpool spas, a sports deck, an Internet café, library, art gallery, Gatsby's Casino and an assortment of fun shops. Adults also liked the Sanctuary, a quiet zone at the spa, where we retreated for an occasional Zen morning in private lounge chairs away from the hubbub of shipboard life.
The Lotus Spa offered an assortment of pampering treatments, including my first-rate aroma stone massage and, because I booked the Manager's Special on embarkation day, I got an extra 15 minutes for the price of an hour-long treatment. The spa also offers complimentary seminars, acupuncture, teeth whitening and salon services, as well as a fitness center offering everything from boot camp to personal training.
Passengers can also relax in the Lotus VIP Thermal Suite, which features aroma steam rooms, sauna suites, rainforest showers and heated benches.
Holiday Ports Of Call
Our cruise sailed roundtrip from Houston and called on Cozumel, Mexico; Belize; and Roatan, Honduras, with a relaxing three days at sea. As some cultures celebrate holidays quietly with family, you won't always find seasonal festivities ashore, and that was the case over Easter, a religious occasion in these ports. However, the concierge alerts passengers to special festivities in port via the daily schedule distributed to all cabins.
The Emerald Princess is currently crossing the Atlantic to do summer sailings in the Mediterranean, alternating seven-day Mediterranean and Adriatic and Mediterranean and Aegean sailings (Rome-Barcelona, Barcelona-Athens, Athens-Istanbul, and Istanbul-Rome.
Many passengers combine some of these sailings for a two-week cruise.
It departs Europe in the fall to begin a combination of seven-day Eastern or Western Caribbean sailings, as well as some shorter, four- and five-day Eastern and Western Getaway sailings and some Southern Caribbean and Eastern Caribbean eight- and 10-day sailings.
Onboard Entertainment keeps Everyone Happy
We love the poolside Movies Under the Stars at night, where freshly popped popcorn and cozy blankets are handed out, but there is also plenty of live entertainment onboard. Choose from live bands in the Piazza, music and dance Showtime events and magic acts in the Princess Theater and DJ evenings in the Skywalkers Nightclub, just to name a few. Some ships present full-length Broadway style musicals, and composer lyricist Stephen Schwartz (of "Wicked" fame) performs a new cabaret aboard some Princess ships.
Many evening shows are also kid-friendly, making this a budget-wise way to introduce young family members to live entertainment and provide a "night on the town" for holiday celebrations.
Rates, Value and Priceless
Rates vary widely by sailing and destination, but the average price for our Princess cruise was about $699 per person; book them online at Princess Cruises, by phone at 800/774-6237 with their reservations team, or with a cruise specialist. Compared to the expense — and days of labor — involved in preparing many meal-centric family holidays, cruising can be quite a value.
Not to mention great fun, and memorable.
Dear Reader: This page may contain affiliate links which may earn a commission if you click through and make a purchase. Our independent journalism is not influenced by any advertiser or commercial initiative unless it is clearly marked as sponsored content. As travel products change, please be sure to reconfirm all details and stay up to date with current events to ensure a safe and successful trip.
---