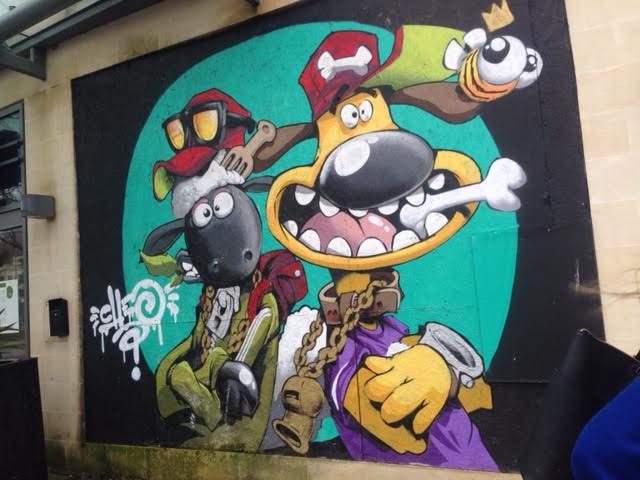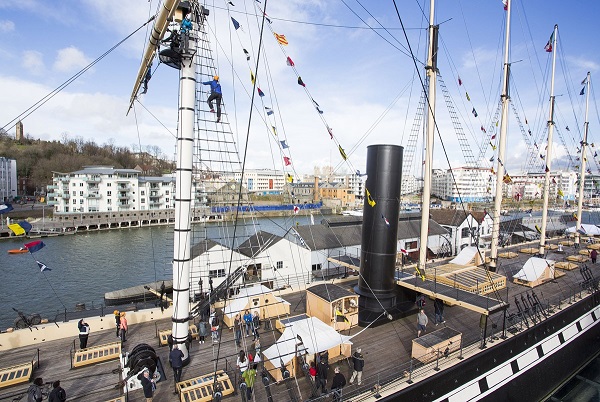 The city of Bristol is located in the South West region of England, two hours from London. An historic city with maritime roots, it has been reshaped into a cool mecca of contemporary culture with arts, music, theater, and film performances.
Bristol's history as a trading port dates to the 11th century and, by the 14th century, trade with Spain, Portugal and Iceland were established. Ships were also leaving Bristol to found colonies in the New World.
In 1809, Bristol was transformed by the opening of its "Floating Harbour" to overcome the challenge of the second highest tidal range in the world. Over the next two centuries this harbor grew as a busy commercial port and has been adapted into an amazing destination for leisure with museums, galleries, cafes and restaurants, as well as for businesses and residences. Bristol has reinvented itself into a dynamic, creative and progressive city built on its seafaring past.
Having only one afternoon to spend in Bristol, I was able to experience an example of both its present and past identities.
Bristol's Graffiti Art Scene
So, who is Banksy? No one knows for certain; some say Banksy is a male, some say a female; there is even a rumor that Banksy is a group of seven artists. Why is it such a secret? Banksy is a Bristol-born street artist and, as creating graffiti is a crime, Banksy is quite elusive and is sure to keep under the radar.
The work is political in nature and Banksy creates by spraying over intricate stenciled images. Often accompanied by slogans, there is social commentary, and the works often depict rats, other animals, children, and members of the royal family. While Banksy began creating graffiti in the 1990s with other underground street artists, Banksy's works can now be found around the world, on streets, walls and bridges. Banksy also directed "Exit Through the Gift Shop," which debuted at the Sundance Film Festival in 2010 and was nominated for an Academy Award for best documentary in 2011.
Some wonder why there are so many rats in Banksy's work and lots of reasons have been given. They could be an homage to French street artist Blek le Rat, a mentor of Banksy's, who is known at the Father of Stencil Graffiti. It could be because Banksy identifies with rats as they are noctural, cagey, and stealty, and are hard to get rid of. Banksy has said, "If you feel dirty, insignificant or unloved, then rats are a good role model. They exist without permission and have no respect for the hierarchy of society." Perhaps, it's just as simple as the fact that the word "rat" is an anagram for the word "art."
Guided Tours of Street Art
Supported by the Bristol street art community, WhereTheWall offers the 2-hour Bristol Street Art Tour. Our guide, himself a street artist, was very knowledgeable about Banksy and others in the movement. While not the birthplace of street art, Banksy's association with Bristol makes it a focus of the art form. We strolled through a section of the city stopping to observe paintings from small to huge, and even some sculptures, on walls and building sides and to learn about different techniques and styles of various artists. Street art is ever-changing and new works pop up all the time, so surprises are in store.
While stencil art sessions are only available to large groups (40 people), you can purchase a small take home project in the tour office's shop. A selection of six rat stencils on 4" canvases is available. They can be painted with a brush or spray can, and even used to decorate T-shirts and other items.
If you will be in Bristol this July 23-25, plan to attend Upfest 2016. Free of charge, it is the largest street art and graffiti festival in Europe hosting 300 artists who create on 30 surfaces. In addition to watching the artists create, there are art workshops for adults and children, lots of fun kid's art activities, music performances and art sales.
Brunel Creates a Steamship Masterpiece
The engineering marvel of designer Isambard Kingdom Brunel, the ss Great Britain was built in 1843 with the newest technologies of the day. As the first ocean-going steamship with an iron hull — and the largest in the world — it was revolutionary both in its inner workings and in its introduction of the notion of international passenger travel. Brunel's genius and innovation led to the birth of "cruising" as we know it today.
The ss Great Britain had a long life at sea, serving first as an ocean liner, then an emigrant clipper transporting passengers to Australia, and a windjammer transporting cargo. After many trips around the world, she was damaged in a storm, drydocked in the Falkland Islands, and eventually put to rest in 1937. In 1969 the rust-covered former showpiece was rescued under the aegis of Naval Architect Ewan Corlett. She was patched up and brought back across the Atlantic, traveling 8,000 miles in two months. The ss Great Britain arrived back in Bristol on July 19, 1970 to a grand celebration, exactly 127 years to the day of her maiden voyage.
Touring the City's Maritime Heritage
Bristol's most popular attraction, the massive ship has been restored and is open to the public for tours. Located at the Great Western Dockyard which is recreated in Victorian style, it is accessible by ferry from points around the harbor. There are four levels to explore, including one under a glass floor where you can see the ship as she was found, with her original hull covered with holes and rust. On the top Weather Deck, which is open air, you can see the ship's wheel and, for an additional fee, you can "Go Aloft" by climbing the rigging (you will be on a harness) over 85 feet above the deck for a great view and a rush of adrenaline. On the Promenade Deck and Saloon Deck you can visit the viewing bridge and the huge engine room and get the feeling of what it was like to travel on the ship by visiting the kitchen, food storage areas (look for the "rats" in the cupboards), several dining rooms (or saloons), the surgery (hospital), and passenger accommodations from the cramped steerage areas to the luxury of first class (still pretty tiny).
An audio guide based on passengers' diaries is included in the fee to tour the ship, so you can choose your preferred language, and a steerage, first class passenger, or maritime archaeologist as your guide. There is even a guide for kids and families involving the search for the ship's resident kitty (likely a mouser or a "ratter"). Additionally, there are many on-board events, character meet-ups, a dress-up photography booth, crew talks, and storytelling.
The Brunel Institute is worth a stop. Here you will find thousands of documents, plans, drawings by Brunel, scale models, passengers' diaries and more.
Bristol is Old and Bristol is New
My time was short in Bristol, but on my next visit I would like to visit M Shed, the place to explore Bristol's industrial and social history through images, personal stories and family-friendly activities. Beyond programs inside the building, visitors can see enormous outdoor exhibits of cranes, trains and boats of all kinds.
Other points of interest are Bristol Old Vic, the oldest continuous theatre in the UK, and it will celebrate its 250th anniversary in 2016. Additionally, it is the 70th anniversary of its theatre school which trained esteemed actors Jeremy Irons and Daniel Day Lewis.
Speaking of actors, do you know who Archibald Leach is? Born in Bristol, he changed his name to Cary Grant and became one of Hollywood's most debonair leading men. July is "Cary Grant Comes Home for the Weekend" month with screenings, talks, tours and more, this year on the 16th and 17th.
In the mid-1970's Bristol Harbourside was reborn with the opening of the Arnolfini Gallery, featuring contemporary art, dance, theatre, film, music and visual arts. In 1982, to increase exhibition capacity, several former harbourside warehouses were renovated to house Watershed, the UK's first dedicated media center which contains three cinemas and event space.
If you enjoyed the BBC production of "Wolf Hall," based on the award-winning novels by Hilary Mantel you may recognize the Bristol Cathedral nave which stood in for Westminster Abbey in the scene of the coronation of Anne Boleyn. Other parts of the cathedral were filmed for the series as well.
Another cool thing – since opening in 1972, the stop-motion clay animation folks atAardman Studios, creators of Wallace and Gromit, Chicken Run, and Shawn the Sheep have been headquartered in Bristol.
Family Fun in Bristol
Beyond the historical and cultural attractions, younger kids are sure to love the At-Bristol Science Center with over 300 hands-on exhibits and a planetarium. Directly next door is the Bristol Aquarium presenting sea creatures in naturally-themed habitats. Bristol Zoo Gardens is located in the nearby Clifton neighborhood.
Visit Underfall Yard, a working boat yard at the western end of the Harbourside. As a city rich in maritime culture, Bristol offers lots of chances to get around afloat. Ride a packet boat, ferry, river steamer, glass enclosed sightseeing boat, canal boat or cruiser and enjoy the city from the water that surrounds it.
Dear Reader: This page may contain affiliate links which may earn a commission if you click through and make a purchase. Our independent journalism is not influenced by any advertiser or commercial initiative unless it is clearly marked as sponsored content. As travel products change, please be sure to reconfirm all details and stay up to date with current events to ensure a safe and successful trip.
---