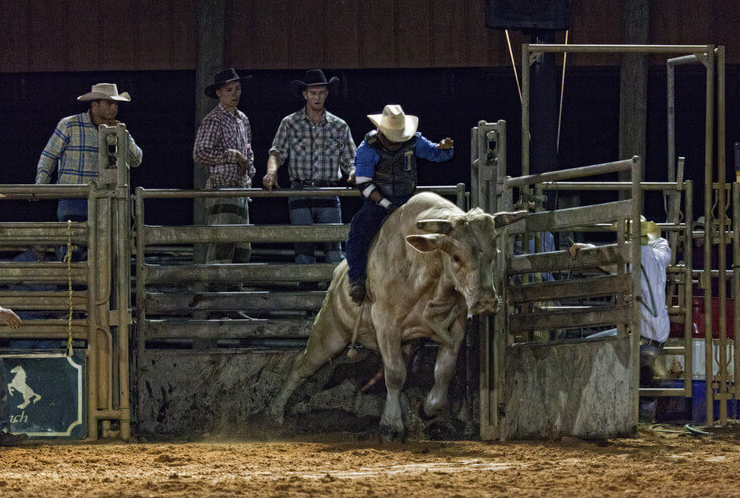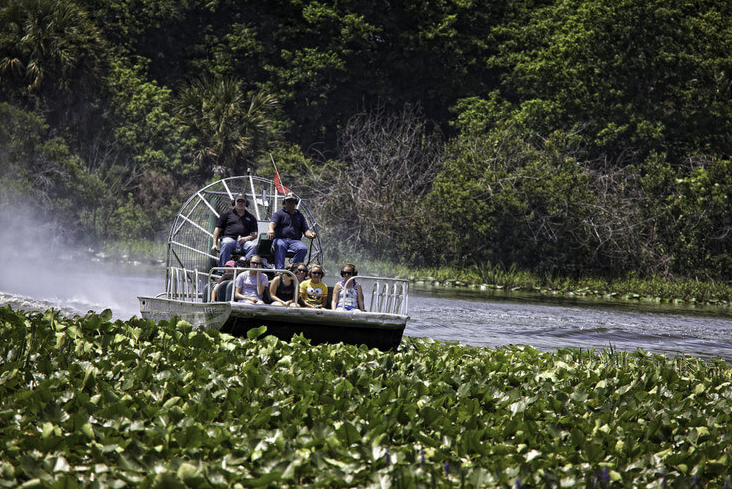 Westgate River Ranch Rodeo will change everything you thought you knew about Florida and its amusement park haven around Orlando and Winter Haven. The upscale ranch beckons family travelers looking for a more upscale experience than the usual camping and cabin grounds with livestock grazing nearby.
Take a Break from Florida's Theme Parks
We rolled into Westgate River Ranch Rodeo after a few fun (but hectic) days at the nearby LEGOLAND Florida Resort less than 45-minutes away. After nonstop fun on the rides, swimming through the waterpark and running around the grounds at LEGOLAND's Beach Retreat, we were ready for a slower pace and the chance to soak up some nature. We didn't have to look far. The first thing we spotted were grazing bison looking for an afternoon snack. A long-time visitor and middle schooler on his bike told us they weren't buffalo, as we originally thought, and also explained Penelope the horse loved apples and being scratched behind her ears. We complied, and soon were buying fresh apples from the General Store every day for the esteemed horse.
The cattle look right at home wandering beyond the Westgate River Ranch Rodeo's lodging, which ranges from upscale lodge housing, cabins with full amenities and more rustic campgrounds to pitch tents and areas to park RVs. But what makes the area unique are the upscale, luxury glamping options complete with air conditioning and heat, access to private bathrooms and platform floors. Guests can choose between glamping "tents" and colorful luxe teepees. The latter book-up quickly and are a draw to the ranch for visitors looking for a totally unique experience. My daughter was a little forlorn we didn't stay in a teepee ourselves, but she resigned herself to the comfortable cottage within a stone's throw from a pond stocked with fish and even a resident alligator that was small and kept to himself.
Dining options are limited, but completely sufficient and satisfying, at Westgate Resort. We were pleased to find Starbucks, sandwiches, pizzas, sundries and cowboy inspired gifts at an adorable General Store staffed by friendly and helpful people who made suggestions on what to order. The Smokehouse Grill serves up burgers, salads, sandwiches and barbecue for the type of dining you would expect from a ranch. Meanwhile, the River Ranch Saloon features a full bar, dinner options and foot-stompin' entertainment like line dancing on Friday and Saturday nights.
Outdoor Adventure Meets Upscale Living
The stretch of road encompassing the Ranch is long enough for a good, long walk; and also the perfect length to zip around on rented golfcarts. It felt like the best of both worlds as our toddler squealed in excitement every time he caught a glimpse of resident longhorn, cow and horses. There was also a petting farm where kids waited for their turn to pet bunnies and chase after well-fed goats. The bunnies scattered when they saw us coming, hiding in makeshift tunnels and crates until our son moved onto the next unsuspecting farm animal. Pony rides are also available for a nominal fee (free for members of Westgate) and the cowgirl on staff led Red the donkey and a more placid horse around in a circle for about 10 spins. Though Red was a total crankpot, my daughter didn't seem to notice and deemed him a "total sweetie."
For more adventurous families, an Adventure Course with a bungee jumper, zipline and climbing wall kept older kids and parents hard at work and entertained. Meanwhile, swamp buggy rides take visitors on a tour around area swampland where you may spot a small alligator or two. Nine holes of golf, minigolf, tennis, skeet range, horseback riding, archery course and even a kid-sized mechanical bull are on hand to balance outdoor activities with your inner cowboy or cowgirl.
We spent most of our afternoons exploring the property, spending time with our new friends at the petting zoo, and at an outdoor playground near the cabins and grazing bison. In the late afternoon we rounded up the kids for the dinner hayride with new friends we made at the playground. A country western singer serenaded us with the latest hits and his own originals while the group watched for longhorn and cattle. Our daughter was too busy plotting what to feed Penelope next, and our son was busy stacking hay on the bench. The ride ended with a buffet style dinner of ribs, barbeque chicken, baked beans and cowboy fare.
This Truly Was Our First Rodeo
The main attraction of Westgate River Ranch Resort & Rodeo is the rodeo itself. My 5½-year-old daughter and I made a date to go together and loaded up on popcorn and lemonade from the concession stand before grabbing a seat. Kids who got there early and signed up to participate got to chase a seemingly terrified cow at top speed for a chance to grab one of its ribbons and win a prize. Mud flew and kids roamed the arena in a pack.
We anxiously waited for the cowboys to get started, and watched in awe as they catapulted onto a bull's back out of a pin and held on for dear life for a chance at the grand prize. Some stayed on for mere seconds, others for over a minute. Bulls and cowboys were matched at random, and I felt bad for the guy who got the bull nicknamed "Superman" that torpedoed out of the pin with fierce determination. In between bull riding, cowgirls competed in barrel racing and a talented 6-year-old nearly took the lead. Trick riders (including kids!) rode through the arena during down time, including a little boy standing on two different horses at the same time. I'm pretty sure all of the parents in the arena nearly fainted at the sight.
We made our way back to our adorable cottage ideally situated for a family with small kids, and our daughter showed us all the tricks she learned in the show with pillows posing as bulls and horses. She made sure to explain to her Dad that the cowboys had real bulls and horses – so we were all on the same page.
We were a little deflated to leave the ranch the next morning and make the long drive back to Atlanta, but stopped to feed Penelope one last apple. Word around the ranch was that she was expecting a little horse of her own, and my daughter hoped we could come back and visit her new family.
I told her we would be sure to bring extra apples next time.
Dear Reader: This page may contain affiliate links which may earn a commission if you click through and make a purchase. Our independent journalism is not influenced by any advertiser or commercial initiative unless it is clearly marked as sponsored content. As travel products change, please be sure to reconfirm all details and stay up to date with current events to ensure a safe and successful trip.
---