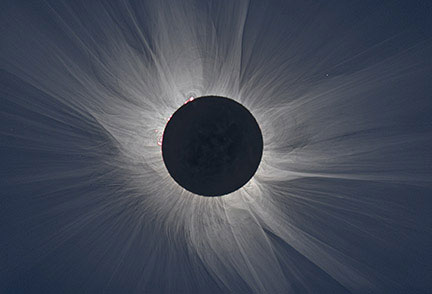 With today's total solar eclipse crossing America, interest in the universe is sky high. Since everyone in the United States can observe a partial to total eclipse of the Sun for the first time since 1918, we suggest you watch our Eclipse Watching Tips piece posted on the FTF Blog.
And tomorrow? Groups like the International Dark-Sky Association, which fights light pollution to conserve the natural nighttime environment, are a great resource for places to practice star-gazing with binoculars. These 10 special places allow families to set their sights higher, get practical tips (experts say to dress warmly) and be ready for the dark to descend.
Sunspot Astronomy and Visitor Center, New Mexico
The sun is the largest of the stars we see, making the solar high-resolution imaging and spectroscopy done at the National Solar Observatory vital research. Visitors can walk through the telescope loop and learn more at the Sunspot Astronomy and Visitor Center, an educational collaboration with the Apache Point Observatory and the USDA Forest Service. Educational exhibits and star maps are on view weekends in winter, with longer hours April to November. Travelers with basic astronomy skills can head west to Cosmic Campground in Silver City and park your RV near the Arizona border, or move into a home at Astronomy Village in New Mexico's IDA-designated dark sky zone, for more serious stargazing.
Big Bend National Park, Texas
Because Big Bend has the least light pollution among national parks in the lower 48 states — visitors can see up to 2,000 stars in the Milky Way; 10 times more than in a nearby city – they protect their sky with LED and shielded lighting. Keep in mind that stargazing is dependent on weather and, often, on expensive government facilities that are unsure of funding. Last summer, Big Bend presented weekly telescope and laser programs that explored how ancestors read the stars at Rio Grande Village. Since the 2017 schedules are tentative, come prepared with your own star charts (printouts from Space.com, CloudyNights.com and Skymaps.com are good) or apps such as Google's Sky Map, binoculars, a folding chair and, maybe, a thermos of hot chocolate, to ensure a good time.
Cedar Breaks National Monument, Utah
In March 2017, Cedar Breaks became the 16th park to be designated an International Dark Sky Park for its protection of natural darkness and many public programs. Saturday nights from Memorial Day to Labor Day, the park's rangers lead free stargazing programs known as "star parties" at Point Supreme Overlook. At 10,350 feet in altitude, it's the highest such program in the national park system, and on a clear night you may see the Moon's craters and mountain ranges; as well as the rings of Saturn, Jupiter's Galilean moons, star clusters, galaxies, nebulae, and more. In inclement weather, they move indoors for an astronomy presentation. Winter night sky events are planned at Cedar Breaks and at the Navajo Lodge nearby in Brian Head.
Dinosaur National Monument, Colorado and Utah
Scientists believe animals use environmental cues and instinct to navigate, perhaps what led dinosaurs to this part of the Colorado-Utah border by the Yampa and Green Rivers. Today, visitors hike or go rafting from the Canyon Visitors Center in Dinosaur, Colorado. Another must is the Quarry Visitor Center, Jensen, Utah, with its famous wall of dinosaur fossils and Stargazing with Telescopes program. Rangers and amateur astronomers lead 20-60 minute sessions devoted to the planets, nebulae, star clusters and other deep sky objects; the distinctive Milky Way is a big draw for children 5 and older. Sky tours take place at 4,800 feet in altitude, at the Split Mountain Campground Wednesday and Saturday nights from July to September, with full moon walks and a special solar eclipse viewing planned.
Greater Palm Springs, California
Greater Palm Springs has a desert environment ideal for golf, tennis and stargazing. In the heat of summer, you'll see Jupiter, Saturn and Mars. In August, Venus; winter and spring, see the Orion Nebula, Sirius and the Andromeda Galaxy. At nearly 5,000 feet, Joshua Tree National Park is popular for sky viewing year round, and holds the annual Night Sky Festival in fall. The Sky's the Limit Observatory and Nature Center in 29 Palms has frequent events and adult astronomy camps April through June to teach the basics. The Rancho Mirage Observatory opens this fall, with an outdoor viewing deck and research-quality telescope within a 22½-foot rotating dome. Until then, check into the elegant Ritz-Carlton Rancho Mirage, where guests can use an 11" computerized telescope that magnifies the stars from 120 to 140 times bigger than the eye can see.
Haleakala Observatory, Maui
The Haleakala Observatory complex towers above Maui's famous beaches and the tropical inversion layer, studying stars and manmade objects such as satellites and laser technology. Although observatories are closed, Haleakala National Park rangers guide day tours and private companies do sunset ones so travelers can catch some stars. Hyatt Regency Maui Resort & Spa puts on two Tour of the Stars nightly for families and, much later, a romantic third Tour for adults. The Hyatt's surprisingly sophisticated rooftop observatory includes reflectors, 20 and 30 X 80 binoculars, and the 14" Edge telescope, which guests use after practicing with both the naked eye and astronomy binoculars. Director of astronomy, Eddie Mahoney, is renowned for his ability to 'talk story' about each star, constellation and planet while recounting Hawai'ian wayfaring lore.
Mauna Kea Observatories, Island of Hawai'i
Mauna Kea is the world's tallest mountain (33,000 feet) as measured from the sea floor. With Hawaii's arid climate and a strictly enforced island-wide low light ordinance, its 12 observatories are among the world's leading centers for deep space exploration. The University of Hawaii Visitors Center has free, worthwhile evening telescope demonstrations but most travelers prefer to summit at sunrise or sunset. With Hawaii Forest & Trail tours, a knowledgeable guide brings the horizon closer, explains research in submillimeter, infrared and optical observations; and sets up a telescope to share the heavenly view. Note that each May, AstroDay is celebrated in Hilo to provide an opportunity for visitors to see the types of discoveries being made on Mauna Kea.
Sedona, Arizona
Another internationally recognized Dark Sky community is Sedona, Arizona, whose reputation as a spiritual center for Native Americans has made its unusual red rock formations a tourist draw. Experience a transformative Hopi vision quest ritual, or spend the night outside on the summit of an energy vortex to connect with the universe. On evening sky tours with Sedona Stargazing, a professional astronomer points out Mars, Jupiter, Saturn – and their rings and moons — to anyone age 6 and older who is comfortable with state-of-the-art telescopes. May to July is the season for the clearest star gazing.
Path of Totality, Wyoming
Fans of Yellowstone and Grand Teton already appreciate Wyoming's remote, pristine conservation areas. Even better, it's one of the few states where the eclipse can be seen at its darkest across the entire state. Since August 21 is the busiest time to visit, go now and practice starcraft with the masters. Devil's Tower frequently runs free night sky viewing programs. At the Four Seasons Resort and Residences Jackson Hole, evening star tours led by a naturalist teach families how to use a 12" Schmidt-Cassegrain telescopes to pierce the sky. Casper will be home to Astrocon August 16-19 and the center of the weeklong Wyoming Eclipse Festival. In preparation, the Casper Planetarium is running three informative starshows weekly for ages 6 and older. The first Saturday each month, visitors age 8 and older are led through a live, hour-long live night sky tour by staff.
Lapland, Finland
Distance travelers have the best chance of catching the Northern Lights between 66°– 69° degrees north, a band known as the Auroral Zone. They're typically seen a few nights per week from September to March, and the Finnish Meteorological Institute provides daily alerts on magnetic disturbance levels – the higher the better. There are no guarantees even if you wait several days, so plan a trip to someplace like Lapland where there are many other activities. By day, Lapland is known as the hometown of Santa Claus with a Santa themepark. In Rovaniemi, several outfitters lead after dark snowmobile or reindeer sled star tours. Kemi, where travelers can overnight in an ice hotel and take an icebreaker tour of the Baltic Sea, is another option. Specialty companies such as AuroraZone.com operate in other less developed towns.
Staycations Among the Stars
For all its old school virtues, we never expected the U.S. Postal Service to deliver the eclipse into our homes. However, that's just what they've done by bringing us a delightful "teachable moment" for just 49 cents. On June 20, they are releasing a first-of-its kind thermochromic Total Solar Eclipse Forever stamp that uses the heat of your finger to change the image of a total solar eclipse into an image of the Moon (see pictures, courtesy USPS, above). The reverse of the sheet of 10 stamps (available here for pre-order) has a map showing the August 21st path of totality across the United States, with approximate local times for viewing the total eclipse. The stamps go on sale June 20, the date of the Summer Solstice. Please let the kids know that the photos were taken by retired NASA Astrophysicist Fred Espenak, aka Mr. Eclipse, who is thriving in Portal, Arizona. They are an amazing example of the beauties that a powerful astronomical telescope can reveal.
Looks like the stars are aligned so your summer vacation plans can include one of these great observatories.
Dear Reader: This page may contain affiliate links which may earn a commission if you click through and make a purchase. Our independent journalism is not influenced by any advertiser or commercial initiative unless it is clearly marked as sponsored content. As travel products change, please be sure to reconfirm all details and stay up to date with current events to ensure a safe and successful trip.
---