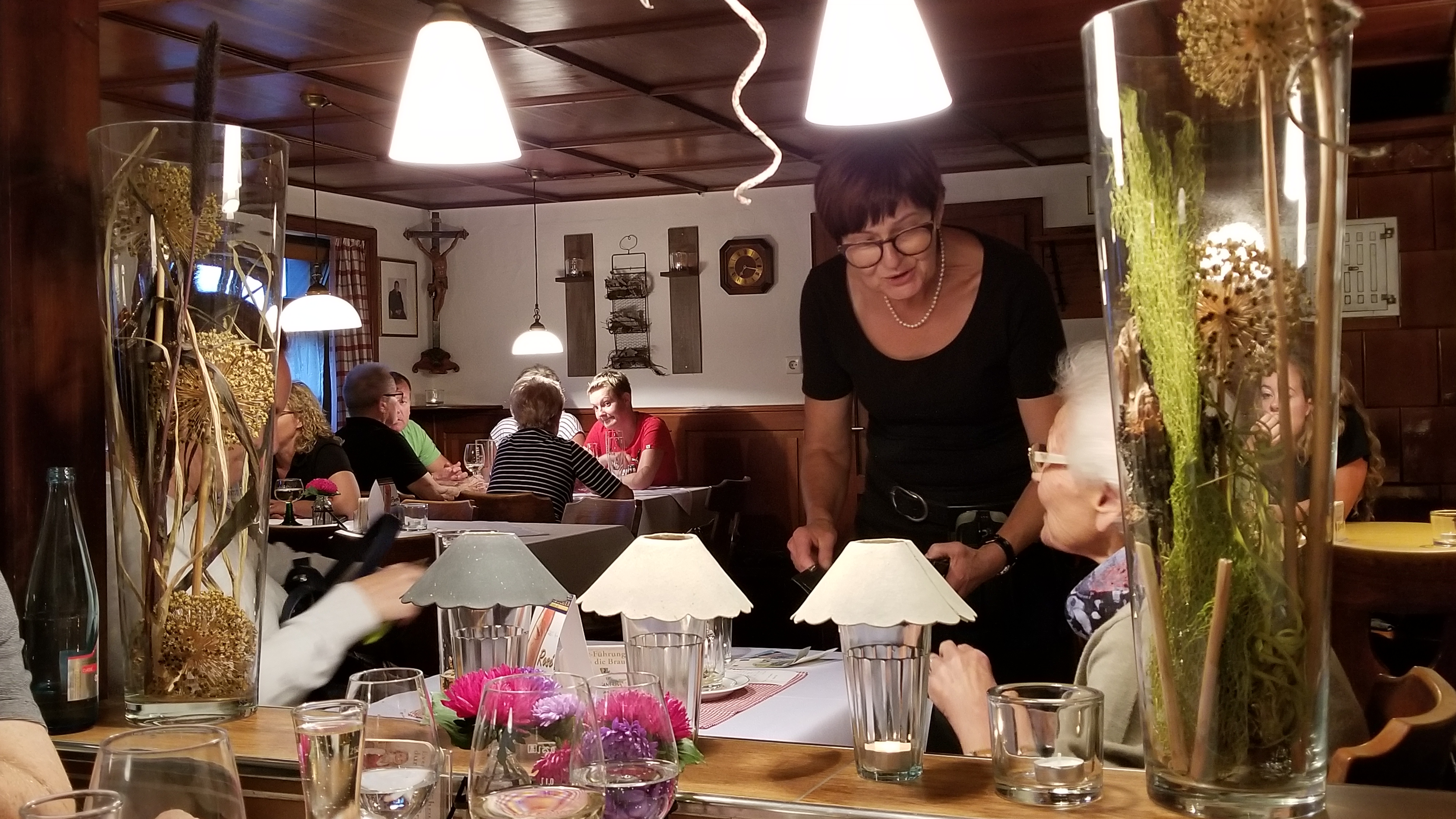 For families with toddlers and school-age children –- or snowsports novices of any age — Germany's Black Forest is a magical place to fall in love with alpine sports and the outdoors. Having toured the mountains of southern Bavaria in summer, we are dreaming of returning in winter, when the region's towering evergreens have a dusting of snow. We will re-sample the region's cultural icons: cuckoo clocks, Black Forest cake, and Black Forest Ham, and have an excuse to wear the Bollenhut, the local hat adorned with 14 wool pompoms — in red or black depending on your marital status!
Thanks to our Schwarzwald experience planned by Black Forest Tourism, we're all set with a plan for the very best things to do in winter.
Feldberg, Black Forest Winter Capital
The Black Forest is better known for other seasons, when fresh mountain air, spring water and wellness spas bring relief to travelers from Stuttgart, Basel, Strasbourg and several Austrian cities. Many are attracted to Mount Feldberg because, at 4,900 feet (1,493 meters), it is the highest mountain in the state of Baden-Wurttemberg, much cooler, and one of the few with lifts to provide forest views. Ride the Feldbergbahn chairlift to the summit and, on a clear day from the Feldberg observation tower, you can see the Alps.
Feldberg is a very novice-friendly ski resort, with just a few lifts and a rope tow. And, you may get to sit with an adorable life-size stuffed pig that rides gondolas to pose in visitor selfies.
Hotel Feldberger Hof is non stop Fun
Off slope activity is centered around Hotel Feldberger Hof, a very popular family resort with an indoor recreation center. The hotel features supervised, well stocked kids clubs known as Happy's Kinderwelt, with tireless counsellors. As an award-winning familotel they have staff led programs for ages 6 months to 1 year, 1-2 years, 3-6 years and 7-11 years every day, as well as the best gear for all ages in rooms, restaurants, and on the ski slopes.
Restaurants decorated like carousels or country inns, a chocolate bar, and many lounges are part of the resort's all-inclusive price concept. In winter, families crowd the recreation areas, small bowling alley, and several playrooms stocked with games they can play together. There's an indoor pool with water play features, where swimming lessons are given weekdays. There's even an on-site medical clinic.
Accommodations ranging from large, fully furnished, ski in/ski out apartments sleeping 8 to compact double rooms in a lodge are clustered around the mountain's base. Their winter pricing for a family of two adults and two kids starts at 400€ for a 5-day package that includes a skipass and lift tickets, snowtubing, all meals and free entry to many local attractions.
Play and Get Fit at the Fundorena
At the Feldberger Hof's Fundorena recreation center, rain or shine, families can ride ponies, ice skate on a synthetic rink, or learn the trampoline, high ropes course and climbing gym. The ski resort base has rolling meadows with 120 kms of cross country ski trails plus snowshoeing, and a Haus der Natur nature center, where you can warm up while learning about indigenous animals and their habitat.
A Day of Sightseeing in the Hoch Schwarzwald
You'll want to see more, of course. Two-lane roads on the mountainsides of Hoch Schwarzwald, the Black Forest Highlands, lead to a few very old cities such as St. Margen (celebrating its 900th anniversary) and St. Peter — connected by the Black Forest Panorama Road.
The clock museum in the St. Margen monastery just off the Rathausplatz, or town hall square, celebrates the skilled woodcarvers and local artisans of the Black Forest. History buffs will be fascinated by the variety of export clocks these artisans developed, making porcelain shields for the French, ornately carved cuckoo clocks with hunting scenes for the US market, and painted animal portraits for the Chinese. Kids will love the constant chiming and chirping of displays. Thanks to the deep knowledge of tour guide Mrs. Lydia Schwär (+ 49 (0)7669-939078) we had a very up close look at the Black Forest clock industry since its inception in 1660.
If you expect another small village, the enormous church of St. Peter, which dominates the town of the same name, will surprise you.
The region is best known for the lake town of Titisee, whose emerald green alpine lake is encased in towering pines like the finest wedding ring. Within the town are several hotels and souvenir shops, a lakefront promenade called Seestrasse, boat rentals, a 25-minute sightseeing cruise, and plenty of parking for the Asian bus tours attracted to this quintessentially German mountain town.
Whiteness of St. Blasius
Even more impressive than St. Peter is the Dom St. Blasius in St. Blasien, a town whose leading monk was so friendly with the pope that the Vatican supported the building of a cathedral to rival the Pantheon for this small congregation. The former monks' quarters are now used by the elite boarding school, Kolleg St. Blasien. The  180-foot-tall (62-meter) dome and huge girth (36-meter) of the main chamber impress; but the wow factor is that it's all white. Known as the White Cathedral, it's supported by marble coated columns and filled with white wood pews. Across the street we had a delicious St. Blasien pizza at the Klosterhof Hotel – not a white pizza, but made with Black Forest ham and local mushrooms and tomatoes.
Escorted Hiking in the Black Forest
Within the Black Forest Highlands, there are more than 600 miles of sign-posted hiking trails, providing wonderful views over the dark pine forest and sparkling mountain lakes year round. In the Zweitaelerland region, hikers have two off-slope musts: #1 is go "Goat to go" hiking and #2, visit the Elztalmuseum in Waldkirch.
The Ziege to Go (Goat to Go) hikes are run by Andrea and her daughter Leonie. These goat lovers take guests on a delightful hour-long walk up and down the hills of the Kurz property, where the family's six pet goats lead the way and people follow. It's fun for all ages, rain, snow or shine, by appointment only. If you've worked up an appetite, the nearby hamlet of Freiamt is home to Gasthaus zum Gscheid, a very cozy, local Black Forest restaurant where a chef's plate of pork schnitzel, fresh salad, roast potatoes and fresh farmer's cheese is the specialty.
Culture, Heritage and Tradition on Rainy Days
Waldkirch is a picture-perfect Bavarian mountain town with many shops, restaurants and traditional organ factories. Elztalmuseum celebrates these imaginative, melodic wind-up and mechanical fairground organs invented by local woodworker Ignasz Bruder. Don't miss the large music boxes and drehliers, which played perforated sheets of music with amazing tones – the twice weekly guided tours are a must, especially if you can meet our guide Katja Russhardt, a local music lover, who shared an unforgettable hour of anecdotes about the organ makers in her town, their history, her favorite mechanical instruments and tunes. Delightful.
Live Like a Local in the Black Forest
Not into all-inclusive resorts? The Hoch Schwarzwald tourist office has built 18 Kuckucknester Design Apartments around the region, which make great home bases for families who like to explore. In a market full of small, family-run pensions, there are about 1,000 private apartments and these, priced from 89€ per night for two, are among the best. They showcase the region in a sustainable way, with craftsmen-made wood dining tables, woven straw cushions, Duravit bathroom fixtures, down comforters and a fridge stocked with locally sourced Black Forest breakfast items.
Guests who stay two or more nights receive a Red Inclusive Card (Hochschwarzwaldcard) that makes more than 100 attractions free of charge, including the cable car at the Feldberg ski resort, several museums, and 3 hour's use of an all-electric BMWi3 car share. (The electric car sharing program is also available, for a modest fee, to non-card holders if you enquire at the tourist office.) The Red Card is a huge value and helps prolong your stay by days.
Red Card Lets You Swim and Sip
This discount program is great if you are traveling with younger children or grandparents, because you can drop into so many places and leave if anyone is tired, cranky or disinterested, without worrying about what you paid. Teens, of course, will love the choice of activity when they tire of skiing.
Our first pick for winter is Badeparadies Schwarzwald, the huge, glass-domed indoor waterpark that would have cost a minimum of 16€ each to try without the card. The Palm Oasis pool and swimup bar; the Galaxy zone with 22 waterslides and active water play; and an all-nude wellness spa with saunas and water therapy treatments; provide something for everyone.
The Red Card works for a guided tour at the Brewery Rothaus, famous among beer lovers for its traditional brewing style using Black Forest spring water and locally sourced grains. The monks of St. Blasien began brewing Rothaus in 1791 and, although no one claims to know their original recipe, the current brewery has been making the distinctive Tannenzapfle bottled beer for 60 years. Check out the latest energy efficient equipment used to recycle waste and gray water, new bottling techniques and Rothaus' investment in sustainable production. Since 16 is the drinking age in Germany for beer and wine, a brewery visit offers many teachable moments with teens.
The Real Black Forest Culture
Why does dessert always come last?
Café-Pension Endehof in the tiny village of Elzach-Oberprechtal is run by Jans Joachim Burger, his wife and their two soccer-playing sons. When we toured the 300-year-old Culture Olmuhl, a  historic oil press and grain mill in the town of Simonswald. several locals exclaimed "Go, Hans is such a wonderful baker!" Overnight guests can watch him make his famous traditional Black Forest cake, and anyone can drop into their restaurant, which serves Black Forest cake daily and prix fixe surprise dinners each week in winter.
In a food coma? Bed and breakfast rates start at 34€ for a double room, with reduced kids rates.
Dear Reader: This page may contain affiliate links which may earn a commission if you click through and make a purchase. Our independent journalism is not influenced by any advertiser or commercial initiative unless it is clearly marked as sponsored content. As travel products change, please be sure to reconfirm all details and stay up to date with current events to ensure a safe and successful trip.
---