From 200 feet up, the scrubby arid plains of the Navajo Nation surrounding Gallup look soft and inviting, welcoming visitors to pause along Route 66 for a closer inspection.
This northwest corner of New Mexico is a melting pot of Navajo, Zuni, Spanish and Anglo cultures -— a very affordable place where the landscape, local traditions and welcoming people guarantee memories your family will not soon forget.
While Gallup may not be every family's idea of a vacation destination, it's the real deal.
Sky High Over Gallup
We were hot air ballooning with Bill Lee of Tru-Lee New Mexico, who shared the Balloonist's Prayer with each of the first-timers once we landed safely.
"The winds have welcomed you with softness.

The Sun has blessed you with its warm hands.

You have flown so high and so well,

That God has joined you in your laughter,

And set you gently back again

Into the loving arms of Mother Earth."
Each fall, Gallup visitors may be able to hitch a free ride in a hot air balloon manned by local pilots at the Red Rock Balloon Rally. The annual rally is usually the last weekend in November and more than 100 balloons come into town with their owners, who love to reunite high above Gallup's time-worn red cliffs, deep canyons and ornate hoodoos.
Make Ballooning a Family Affair

Every balloon takes a village to fly: a team helps unpack the trailer and basket, roll out the protective tarp, unfurl the fabric balloon across a field, "put their weight on" while the pilot fills it with heated propane, then right the basket to welcome passengers.
Families with kids who are a head taller than the basket rim (typically a 40" height will clear) are welcomed to help crew the balloons, and crews are often invited for rides as a thank you. Hanging out to mount the balloons and take them down is the best hands-on STEM lesson you could ask for.
Outside Among the Red Rocks of Gallup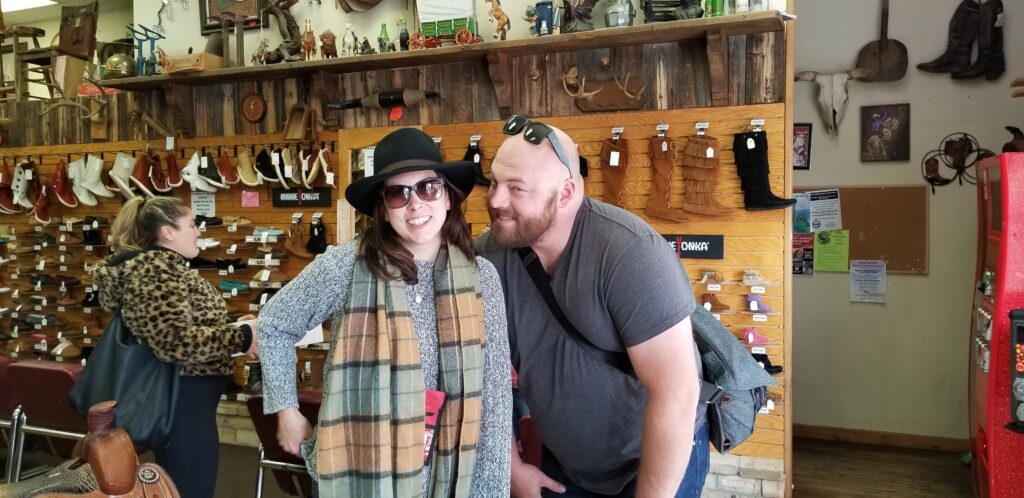 You'll likely fly from the balloon grounds at Red Rock State Park. In addition to scenic trails and a rodeo ring, this Gallup hub has a small, old-fashioned local museum of native cultures, geology, a bit of history and folklore – free entry – that's worth a stop. Hikers should allow about 2 ½ to 3 hours to conquer Pyramid Trail, which rises about 1,000 feet over smooth rocks, sand and hand-cut stone steps up to Pyramid Rock. In summer, you'll want to avoid the midday heat and bring plenty of water. The panoramic views are grand in the style of old Hollywood Westerns.
Gallup and the Navajo Nation
Today, Gallup's culture is a mix of Native American (largely Navajo), Spanish and Anglo traditions. The population of about 20,000 is divided evenly amongst the three groups, though casual visitors will assume Native Americans rule the arts scene.
Spend a Saturday lunch at the Gallup Flea Market, where Native Americans man booths selling Pendleton style blankets, turquoise and silver jewelry, tools, fresh tamales, Indian breads and much more.
Cruising the Mother Road, Route 66
Did you grow up on eight-lane interstates packed with truck rests and WiFi? In New Mexico, the original two-lane Route 66 runs from Albuquerque through the state capital of Santa Fe, then straight out west to Gallup and Arizona. Although many miles have been absorbed into the parallel I-40, the original Route 66 pops up in Gallup with a few vintage roadside attractions.
Start your day at the Route 66 Diner, where retro soda pop machines, a juke box, old movie posters and other memorabilia add color to the red and white leather counter stools, breakfast burritos and pancake towers.
El Rancho is Yesteryear, Route 66 for Real
You can't miss the ca. 1930s El Rancho Motel and Hotel, where a flickering neon "M" and "H" alternate and a slogan reads, "The charm of yesteryear and the convenience of tomorrow." It's now owned by the Gil Ortega family, local Navajo jewelers who operate several New Mexico hotels.
The El Rancho celebrates the region's starring role in the Hollywood Westerns of the 40s and 50s, and its lobby full of Indian rugs, huge amethyst geodes and head shots make it a must-see attraction.
Have lunch at their good restaurant, ask to see one of the 96 rooms, or come back for supper and maybe you'll catch live music at the bar. The vintage charm is unmistakable.
Perry Null's and More Trading Posts
Gallup is the world's largest market for Native American jewelry. Perry Null Trading, for example, inhabits an Indian trading post that's been at the corner of 2nd Street since 1913, and the shop's mounted deer heads, bear skins and rodeo advertisements will turn heads.
While Navajo and Zuni artisans no longer have to trade their arts for everyday necessities, thousands of Native Americans hand-craft jewelry for a living. Mr. Null himself will tell you that more than 99% of his merchandise has authentic stones and you'll find simple turquoise and silver earrings that range from $10 to several thousand dollars.
Not far away, the City Electric Shoe Company features Minnetonka Moccasins and their own line of handmade Native American shoes, as well as other footwear, belts, purses, hats and more.
Where to Bunk Overnight in the Real Gallup
The El Rancho staff says John Wayne, Ronald Reagan and other stars slept in the hotel while the film crew was relegated to the Bunkhouse out back. Spacious rooms (note that every layout is unique) now rent for $80 a night and up, although we can't predict what the planned 2019 renovation will bring.
For the four-day TMS Family Travel Conference, media professionals stayed at the budget Days Inn Gallup Red Rock. The motel has Gallup's largest indoor pool, a hot tub, worn suites with Jacuzzi tubs and a living area, plus a coin-op laundry and complimentary continental breakfast.
The Hilton Garden Inn is the most upscale option for families because it's modern, with connecting rooms, a gym, small pool and an on-site restaurant. And of course the official Gallup Real True tourism office can help you plan your stay.
Must Eats: Red or Green Chile or maybe Christmas?
Spanish and Native cultures blend in a deliciously comforting mix of corn, beans, rice, tortillas, pork, beef or chicken, typically drenched in cheese and either green or red chiles. New Mexican cuisine is easy to like, and it's cheap:  a combo lunch plate almost anywhere sells for under $10 and can feed two to three.
Even Pizza 9 along Main Street has a yummy cheese pizza with green chile that will tickle your tongue.
Head to Grandpa's Grill for a guacamole burger and Anthony's for an evening of fine steak and New Mexican favorites. At the Gallup Coffee Company, order a latte and take home a pound of their "Have Gun, Will Travel" beans, freshly roasted and named after the motto of the U.S.S. Gallup warship.
What's Real, What's True?
These are only a few of our fond memories.
Everywhere we went, the locals welcomed us into their strong and inclusive community. Likely you'll leave as we did, feeling that the people of Gallup are eager to share what they have and what they love about their home.
And that's real.
Dear Reader: This page may contain affiliate links which may earn a commission if you click through and make a purchase. Our independent journalism is not influenced by any advertiser or commercial initiative unless it is clearly marked as sponsored content. As travel products change, please be sure to reconfirm all details and stay up to date with current events to ensure a safe and successful trip.
---