Curtains up… Presenting a Grandparents' Guide to Ashland, Oregon with Kids / when Shakespeare isn't enuf.
What do grandparents, Ashland and Shakespeare have in common? It's Ashland's famous Oregon Shakespeare Festival — a rite of passage for thousands of grandchildren because so many retirees live in or visit the area.
The Bard himself may be enough to occupy some during the March to November theater season. But if he's not enuf for the kids, read on to learn how Ashland keeps the next generation busy.
What is the Oregon Shakespeare Festival?
The OSF is big business. It employs more than 300 skilled theater workers at three professional caliber theaters. For this small southern Oregon town, it's been the biggest tourist attraction since 1935 and now attracts more than 400,000 visitors annually.
OSF is one of America's largest professional non-profit theaters. But it is: "not just Shakespeare and not a festival," argues Doe Mayer, longtime theater goer, and professor of film studies at USC in Los Angeles.
Don't compare OSF to the average Renaissance Faire popular in many regions. Although the OSF is famous for its costume collection of 30,000+ garments, in fact, no one walks around town wearing period costumes. (However, the costumes designed and created for every performance are rented worldwide.)
Instead, the OSF mounts eight annual productions of new, old and global works; Shakespeare and other classics; musicals and contemporary theater. The current season (2022) includes two on-stage Shakespeare plays (The Tempest and King John) as well as The Cymbeline Project, an episodic digital production of the Shakespeare play. All of it is affordable.
Why Go to the Oregon Shakespeare Festival?
Visit Ashland if only to see Tony Award-winning productions, many on their way to or from Broadway, at bargain prices. Pandemic-era reduced price tickets are the new norm, OSF spokesperson Blake Zidell says. "They're part of a concerted effort on OSF's part to make their work more accessible," he adds.
Live theater might not be the biggest draw for your children. We get it. Yet other attractions and outdoor activities make scenic Ashland, Oregon with kids a fun vacation. After five days of play seeing, sightseeing, window shopping and dining, we are grandparent experts on fun things to do before or after the curtain call.
Quality Makes Theater going in Ashland, Oregon With Kids Special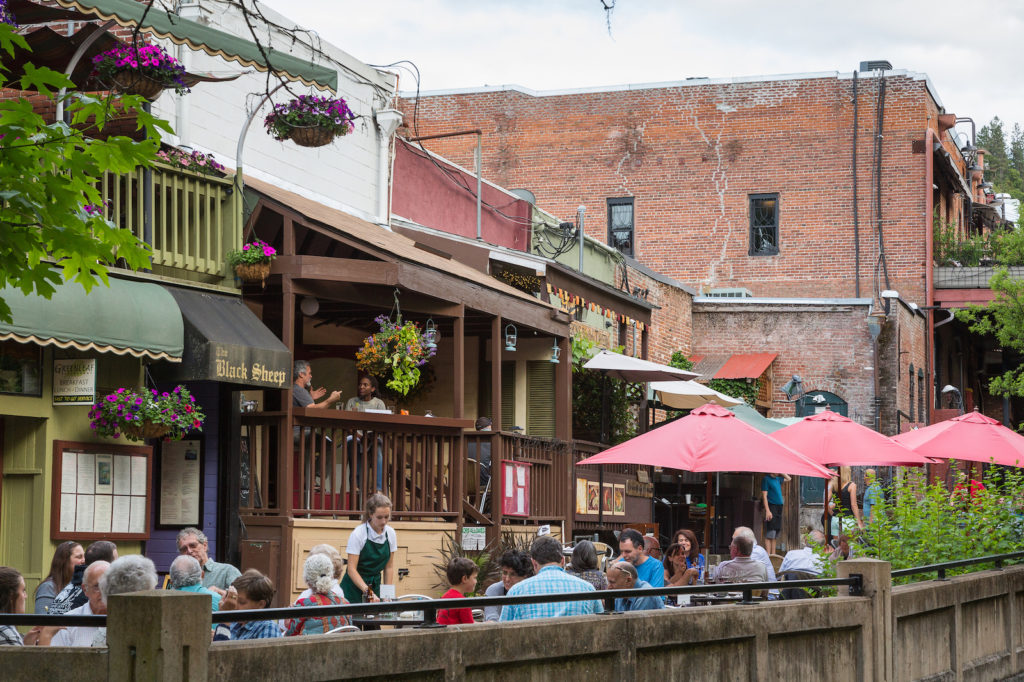 Theater lovers adore the Oregon Shakespeare Festival repertoire because of its quality. Cast members from Actors Equity and other companies around the country come to Ashland to live and perform. There are matinees and evening shows most days except Monday, when the three theaters are dark. Beyond the theater, the town's dining, walkable downtown with shops and the region's natural beauty attract tourists.
Theater buffs of any age will appreciate OSF's free and low-cost extra activities. Actors script or lead each Preface, a half-hour, in-depth look at a current show's cast, director, plot line and performance history. The daily Preface, just $10, is typically presented by a cast or crew member and is very helpful in providing context and background when you see the show itself.
Alert: Most of the theater being presented will not keep young children from squirming in their seats. However, tweens and teens who have a chance to experience a Preface will better engage with the live performance.
Ideal Training for Budding Broadway Stars in the House
What do grandparents take grandchildren to see? As might be expected, at our visit, the show with the greatest number of young theater goers was "The Tempest," the only Shakespeare play being performed that week.
With school age kids, be sure to catch some OSF musical productions. We saw "Once On This Island, A Musical," a revival of a 1990 show with book and lyrics by Lynn Ahrens and music by Stephen Flaherty. The reinterpreted OSF production, with a focus on the painful history of Caribbean colonization, a more diverse cast, plus the culture of Haiti, was entertaining and much more relatable.
By the way, the campus of Southern Oregon University spreads out over Ashland. The campus is visible on both sides of the main street, Siskiyou Blvd, and welcomes thousands of theater majors.
What better place to get a practical education? When touring Ashland, Oregon with kids, find out if they are interested in an in-person college tour.
The Curtain Never Goes Down in Ashland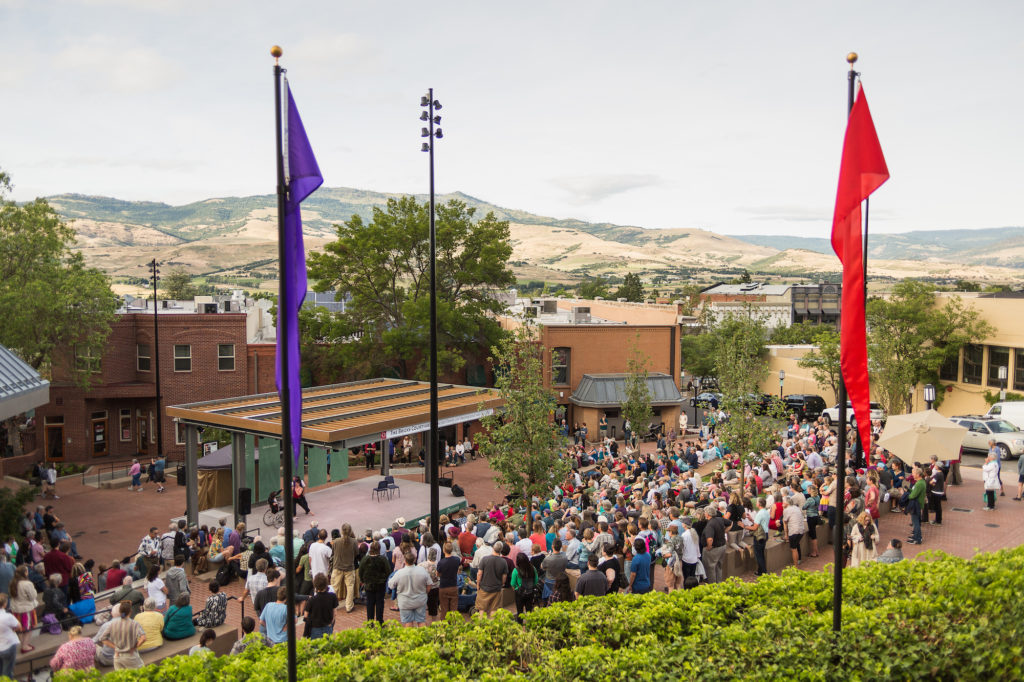 OSF's passionate cast members and other artists also do free Green Shows. Don't miss the music concerts, dance performances and more given in the large plaza area outside the amphitheater. Bring kids to these family-friendly events Wednesday to Saturday, between June and late September, at 6:45pm. Pack a picnic supper and a blanket in case the grass is wet. Expect to stay precisely 30 minutes. (Everything is precise in Ashland since a timely curtain up is expected.)
For more free entertainment, catch the Ashland City Band at Butler Bandshell in Lithia Park on Thursday nights. For a weekend of music, book the shows at several Ashland venues during the Ashland World Music Festival every Memorial Day weekend.
Popular local events include the First Fridays Art Walk, when galleries open their doors late to visitors on the first Friday of each month. Stop by Ashland Art Works, one complex with four galleries together representing 14 artists working in all media. Don't miss the Lithia Artisans Market, a crafts market held outdoors in Lithia Park every Saturday and Sunday, weather permitting, during the OSF season.
Mark Your Ashland, Oregon with Kids Calendar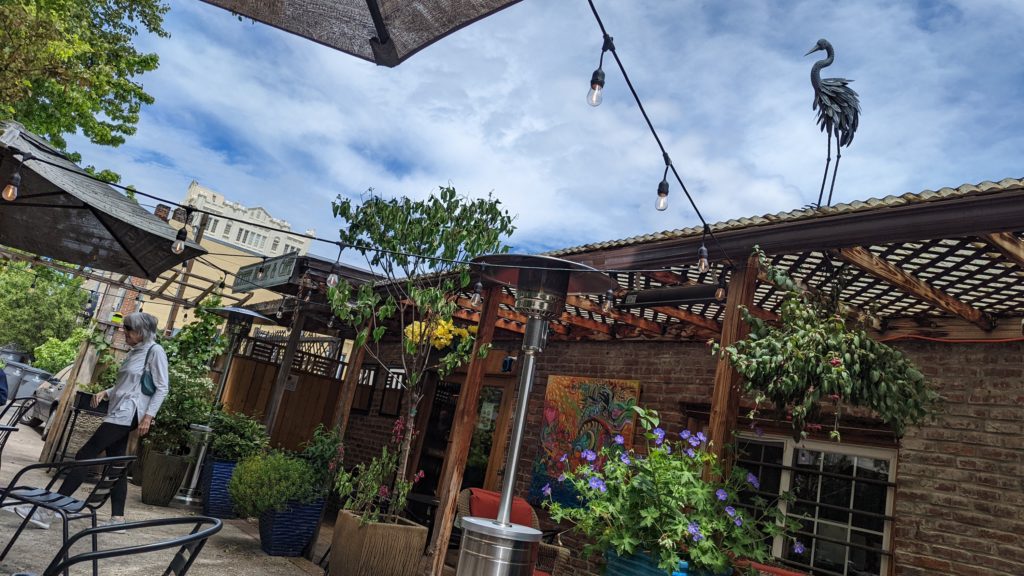 At any time of year, Ashland will appeal to those grandchildren considering a career in theater because every young waiter, ice cream scooper and shoe salesman in town is there to study, rehearse and hone their stagecraft.
Summer is the high season. Visit then and you'll discover peak hotel rates, very high summer temperatures and the real possibility of wildfires. It's also when Zoey's Café and Artisan Ice Cream is at its busiest.
That's why repeat visitors return for the Oregon Shakespeare Festival in late spring (May and June), or in fall (October to November). Note that earlier in the season, hotel rates are lower but not all shows have opened. During autumn, since the last batch of OSF plays have been reviewed, it's easier to select those of interest to children.
Outdoor Adventures for Enjoying Ashland, Oregon with Kids
In the summer season, take advantage of the availability of outdoor recreation. The 20-mile Bear Creek Greenway beginning in Ashland is full of strollers and bicyclists. There's canoeing, white-water rafting and jetboating on the nearby Rogue River and other waterways.
Hiking and mountain biking trails close to town have been cleared. Zip lines are open.
The highlight, of course, is Crater Lake National Park, 88 scenic miles north of Ashland. One of the snowiest inhabited places in the country, the Rim Village (site of the famous Crater Lake Lodge hotel) gets more than 50 feet annually. It was sleeting at our June visit. Pinnacles Road and parts of the East Rim Drive are often closed to traffic into July due to fog, ice and snow.
Yet this stunningly blue glacial lake gets less snow – and more rain – each year due to a warming climate. The lake, the caldera formed by the collapse of Mount Mazama 7,700 years ago, is the deepest lake in the U.S. and averages 102 feet in depth. When visible, the incredible blue color is unforgettable.
Annual Festivals and Events Welcome Kids to Ashland
As in most towns which rely on tourism, there's always a seasonal festival or event. In spring, April brings the Ashland Independent Film Festival, when more than 100 fiction, documentary and short films are shown.
Budding dramaturgs may be interested in the Ashland New Plays Festival which runs each fall (Oct. 18-23, 2022). Come for the four new plays and meet directors, attend workshops, discuss staging and connect with others passionate about live theater.
Autumn is also a fun time to explore the many vineyards and wineries along the nearby Applegate Wine Trail with your college students.
Medford, 13 miles northwest of Ashland, has the nearest airport. Check out Travel Southern Oregon's post about the many Medford area family adventures, ranging from kid-welcoming craft breweries to Great West League baseball games.
Maybe your children plan to visit when OSF is dark. Since Ashland is kid-friendly, there are grandchild-appropriate family activities at Halloween, in November and throughout the winter holidays. Keep in mind, from mid-December to April, the small Mt. Ashland Ski Area has four lifts and 23 runs open for active visitors.
Details for Doing Shakespeare in Ashland, Oregon with Kids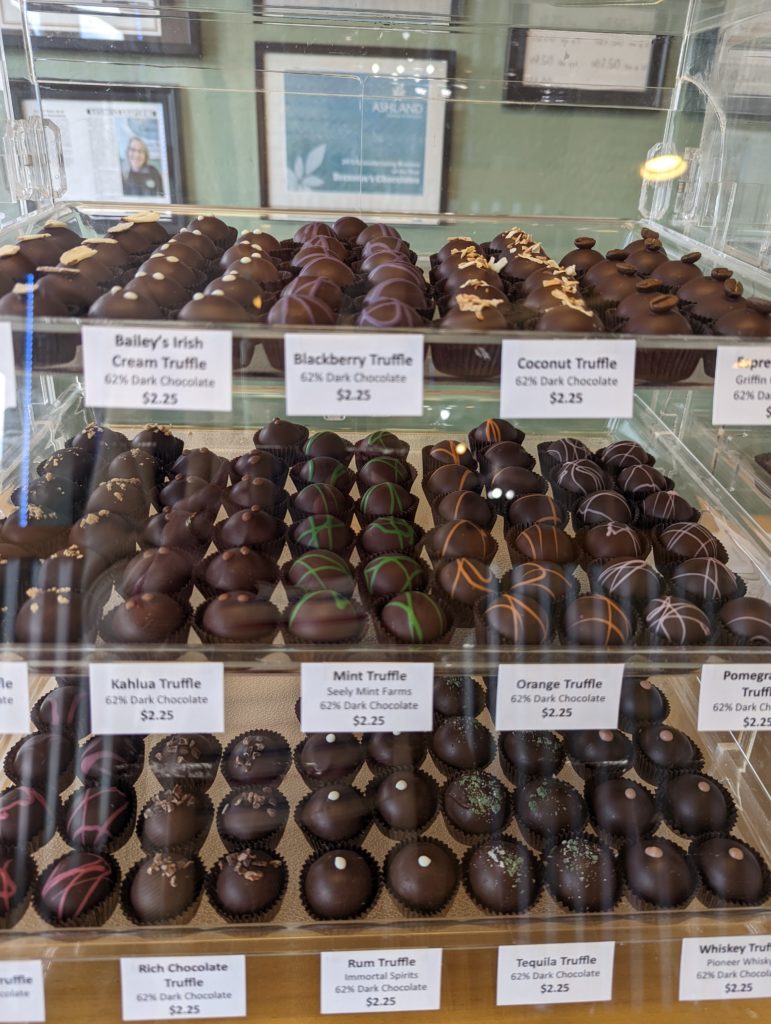 Choose from several lodging options at all price points and book in advance.
We were treated to a cozy and elegant experience at the Country Willows Inn. The lovely back garden, heated pool and delicious gourmet breakfasts made the stay exceptional. If you don't have space to host all the grandchildren, check its guest minimum age before considering.
The ca. 1925 Ashland Springs Hotel is a local landmark with 70 guestrooms and the terrific Lark's Home Kitchen restaurant. The small, 21-room Winchester Inn is just a block from the OSF theater complex. Lake of the Woods Resort outside town has camping.
Dining is diverse. In town, stop into one of the many small waterfront places overlooking Ashland Creek, which flows from Mount Ashland in the Siskiyou Mountains south of the city to meet Bear Creek, a tributary of the Rogue River, on the east side of town.
Each season, dining rooms, outdoor cafes and bistros may change names and change menus yet long-time favorite Vegan restaurants like Pangea Wraps remain. Growler Guys & Stoneridge Coffee is the place for an espresso or draft beer by a fire pit. Hearsay, Peerless Restaurant and Bar and Chateaubriand 36 are all places where you can dress up and take the kids out to a celebratory meal.
Family members of all ages will gravitate to the artisanal Branson's Chocolates. Their lovingly decorated chocolates come in many local flavors with berries and other all-natural ingredients.
And you hip grandparents will know enough to ask for their vegan, dairy-free and gluten-free treats.
Dear Reader: This page may contain affiliate links which may earn a commission if you click through and make a purchase. Our independent journalism is not influenced by any advertiser or commercial initiative unless it is clearly marked as sponsored content. As travel products change, please be sure to reconfirm all details and stay up to date with current events to ensure a safe and successful trip.
---