Get familiar with Shirin-yoku, the Japanese concept of forest bathing, to understand the appeal of a walk in the woods in Ohio's Hocking Hills State Park. Immaculate pathways allow visitors of any age and physical ability to soak in the natural wonders sculpted by glaciers and water.
Discover undulating sandstone cliffs, carpets of moist fern and wiry hemlock trees clinging upside down to the slopes to keep from tumbling into the ravine below. Forest bathing along shady paths, surrounded by steady breezes and rustling leaves, promotes a feeling of serenity at this 2,356-acre preserve not easily found during the pandemic era.
The Long History of Hocking Hills
The display of geologic wonders is so overwhelming that even young children are entranced.
Originally, the Ice Age transported soil and plants from Canada to make the low growth and forest around gorges, valleys and riverbeds so unusual. After the glaciers, frequent floods carved into the sandstone like a warm scooper through a tub of frozen ice cream.
As the softest stone between layers of limestone and schist, the sandstone was hollowed into soft, smooth recesses and craggy caves.
Streambank erosion then left piles of gold sand at the base of some of the cave-like recesses; it's all easily seen close up and touchable from the trails.
The Early Inhabitants of Hocking Hills Mysterious Terrain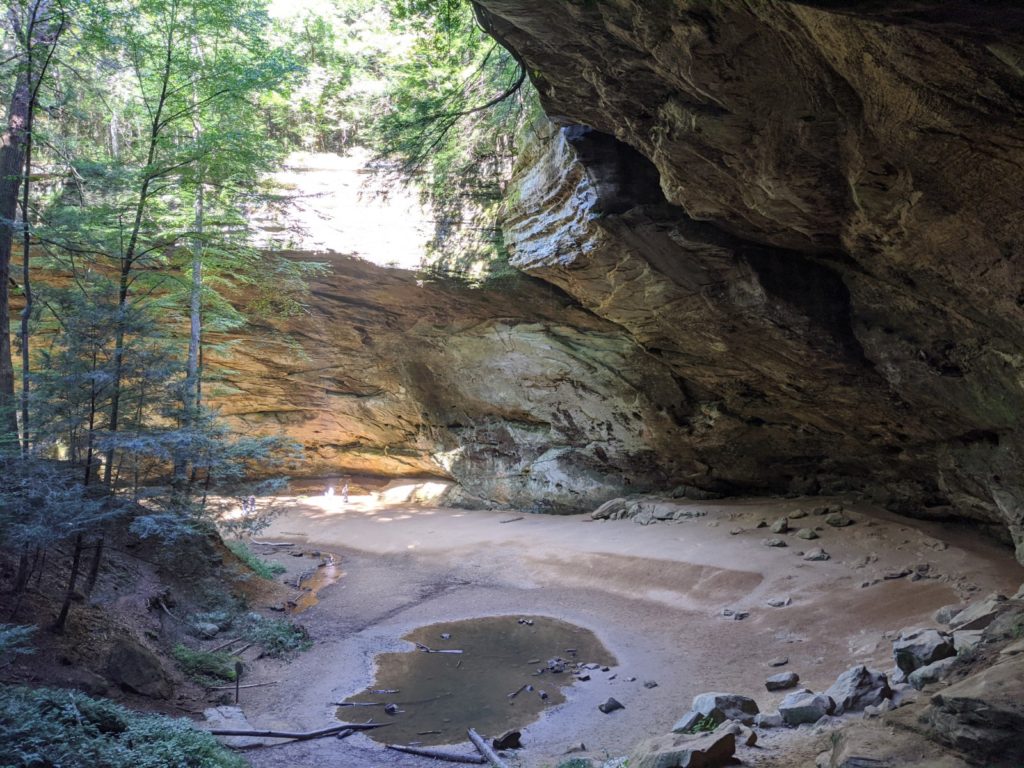 Researchers believe the Adena and other Native American tribes occupied the hills around the Hockhocking River as early as 7,000 years ago.
Today, many Hocking Hills geographic wonders are identified as being made of "Black Hand Sandstone." The rocks got this name because black painted handprints were found on cliff walls. It's thought they were made by Native Americans Scholars to show long-ago visitors how to find their way back out of the caves.
Outdoors Recreation for Every Interest
The park is full of recreational options, especially in summer. Hiking, fishing, bird watching, camping, canoeing, horseback riding and climbing hard stone cliffs are available. Many visitors stay one week and interlace a swim in nearby Lake Logan with other activities.
Almost any time of year, thrill at the chance to zip line over the forest and rappel down to the ground with Hocking Hills Canopy Tours in Rockbridge. After much coaching, we made it over the 10 stages and back down. We even got to watch a very popular local sport: cabrewing. Some young men were drinking beer while canoeing on the Hockhocking River below us.
Other options — if your legs tire from hiking — are a ride on the Hocking Valley Scenic Railroad in Nelsonville or a ride on a horse at the Spotted Horse Ranch in Laurelsville. Or, head about an hour north to Columbus, Ohio, a city with a lot of urban and cultural family attractions.
Top Hiking Trails at Hocking Hills
Here are some of our favorite trails, some of which are perfect for beginners and some of which combine to make longer and more rigorous hikes.
Old Man Cave – It's described as a moderate hike, but even children will have fun navigating the stone-paved walkways. Undulating sandstone cliff walls make a disorienting passage through fern, fallen trees and overhanging hemlock trees a real adventure. Imagine being the old man who ostensibly lived there. When the water's flowing, look for Devil's Bathtub, a whirlpool formed by rapidly falling water.
Cantwell Cliffs – This trail goes straight up and down on a knee-challenging, step and sand path to the depth of intricately eroded 150-foot-tall cliffs then back out again. A difficult and worthwhile achievement for all ages.
Rock House – The largest actual cave in the park, Rock House was home to Native Americans, primarily the Wyandot tribes. It was also allegedly a hideout for bandits and 19th century desperadoes who camped within its overhanging sandstone walls. Active families should tackle the moderate descent and walk back up since there are lots of nooks and crannies to explore once in the cave.
The Disabled Can Hike Some Accessible Trails
Trails are groomed and some are handicap accessible. To open within county guidelines, all are sign-posted and turned into one-way paths so mask-wearing hikers don't pass each other too closely.
Ash Cave Gorge – The concrete-paved trail, cleared to be handicap accessible, leads right to the 700-foot wide Ash Cave, one of Hocking Hills most impressive Black Hand Sandstone wonders. The cave is named for the ashes found inside, thought to be left by long-ago Native American dwellers. The handicap can reverse course and exit by the path to the parking area. All others can follow the signage and exit by the staircase that climbs up and recedes, up a bit more, then flattens into a sand and gnarly root path.
Cedar Falls – This lovely trail was misnamed by early tourists who thought the hemlocks clinging to the Black Hand Sandstone cliffs were cedar trees. Follow the flat trail for the most compelling view of the destruction caused by a hundred-year flood in 1998. Downed trees, concrete "steps" washed into the riverbed of Queer Creek (queer because it flows north) and a 50-foot waterfall greet all who enter the woods.
Forest Bathe a Bit Every Day
Most people come to Hocking Hills to hike because great care is taken with the trails so that any age and almost any ability can enjoy being outdoors.
If you're really up for it, there's more hiking at Conkles Hollow, a handicap accessible path inside the state's nature reserve. Or, work your way to Whispering Cave to see a 300-foot-wide cave and waterfall.
Both it and Hemlock Bridge are short but more difficult trails near the state park cabins.
The helpful Hocking Hills tourism website will guide you to even more fine walks or hikes, whatever suits your family.
The Dark Skies of Hocking Hills
John Glenn Astronomy Park presents a rare opportunity to see the stars in a dark sky environment. Local astronomy enthusiasts raised money to build an unusual star-gazing plaza whose circular shape and layout mimic classic sundials. The app JGAP (available for Apple or Android) explains how the central sphere represents Earth, the surrounding bench seat represents the distance Jupiter is from Earth, and the outer plaza is the equivalent of how far away the sun is from Earth.
There is usually regularly scheduled astronomy programming, but it has been halted to stop the spread of coronavirus. The best part of our visit was an introduction to the constellations by a knowledgeable volunteer with a super powerful laser pointer and sense of humor.
A Rustically Charming Place to Stay and Dine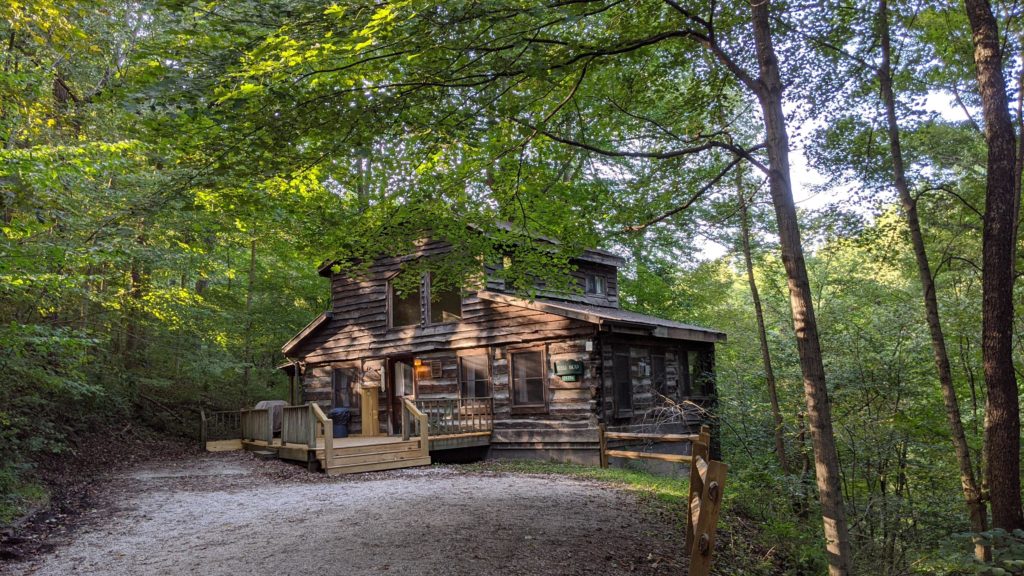 Most housing in the Hocking Hills area is in simple (some will say funky) cabins or campgrounds. The environment is so natural that you may encounter a sulphur smell when you first turn on running water, due to decaying organic matter in local wells. Don't worry, it's all part of the outdoors life in southeastern Ohio.
We were guests at the Inn & Spa at Cedar Falls, an especially charming collection of restored and upgraded cabins dating to 1840. There's a Western style wooden lodge dressed with pots of flowers, plus comfortably furnished cabins, cottages, yurts and a hotel wing surrounded by 75 acres of heavily wooded hills. New glamping options for for 2021 are geodomes — all-weather, globe-shaped spacious rooms with kitchenettes, a king bed and custom bath designed for two adults.
The two-story, two-bedroom Red Bud Cabin gave us plenty of space to spread out or decide who wanted to sit near the wood stove. Although the fully stocked kitchen allowed us to cook, we would not have missed the delicious breakfast included in rates. Smaller, newly built cottages with gas log stoves, whirlpool tubs and private decks in the woods are more romantic. The four yurts were also appealing but are often sold out way in advance.
Many visitors will only have the pleasure of sampling Cedar Falls' Kindred Spirits, arguably the region's finest restaurant with a seasonal menu.
We suggest you stay overnight for some forest bathing and allow yourself to be swept away by the wind rustling through the eastern hemlock trees.
Dear Reader: This page may contain affiliate links which may earn a commission if you click through and make a purchase. Our independent journalism is not influenced by any advertiser or commercial initiative unless it is clearly marked as sponsored content. As travel products change, please be sure to reconfirm all details and stay up to date with current events to ensure a safe and successful trip.
---