The weather report promised New Yorkers four consecutive 70+ degree sunny days to heal the hurt of nine months of pandemic purgatory and partisan political hostilities. I wondered, "Where do you go when you can't go away?"
Answer: You go out. I made my plans.
I plotted my escape from the inside out — leave my West Village apartment by 10am every day with an open mind and a to-do list, and set out on an outdoor safari, like tracking down the best bakery in the city or strolling through a neighborhood you've never visited before, that kind of jam.
Liberty Calling
I remembered hearing that the Statue of Liberty / Ellis Island tour had recently reopened in accordance with social distancing and COVID-19 safeguards in place. I would be outside all day, traveling by boat and… BANG! suddenly the missing where-and-how pieces in my day tripper puzzle fell into place.
Sometimes, you just get lucky and life makes the decision for you. I had cracked the code; I would spend the day crushing on Lady Liberty, rekindling my sorely-tested faith in Democracy, touring the National Museum of Immigration to uncover the truth about our mixed attitudes towards immigrants. I would deal with the political madness gripping our country by revisiting the history of our Democracy to see if and where we took a wrong turn. I would spend the New York holidays at sea.
Outdoors and Distant on a Lady Liberty Cruise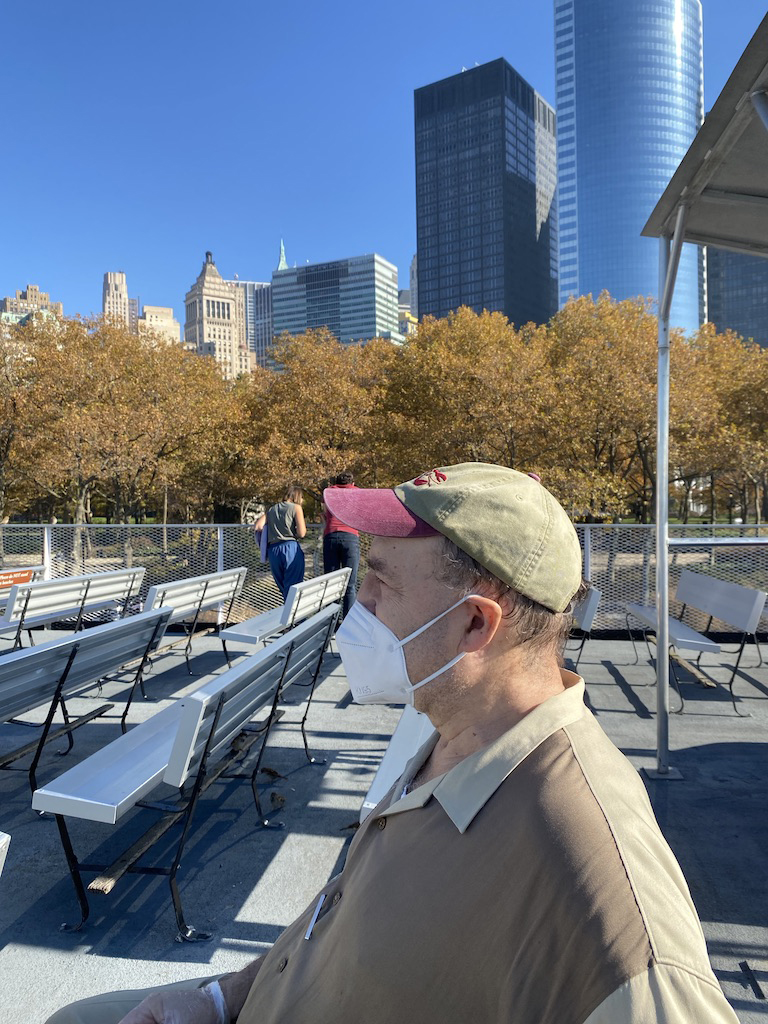 Q: What do you find when you don/t know what you're looking for?
A. Ten o-clock found me standing in front of the kiosk for Statue Cruises, National Park Service's ferry service operator between New York, the Statue of Liberty and Ellis Island. Their ferries start running at 9:30am and finish at 3:30pm.
The tour provides you with several hours to walk, listen (free audio guide), sit and ogle the Manhattan skyline across the harbor and take three (count 'em) open-air ferry rides (yes!) during the day.
[Full disclosure: the earlier you go the less people there are around you, and in this case less is more. I felt like I'd taken a chill pill, and strolled majestically as my own crowd around the Statue of Liberty and the National Museum of Immigration, taking my time and taking everything in. It was heaven on earth.]
Ticket prices on these accessible ferries start at $19.25 for adults; discounts include seniors 62+ at $14, children ages 4-12 at $9, children under age 3 ride free. Ticketing options are scaled like Disneyland so you should check out their website and book in advance.
Exhaling on Liberty Island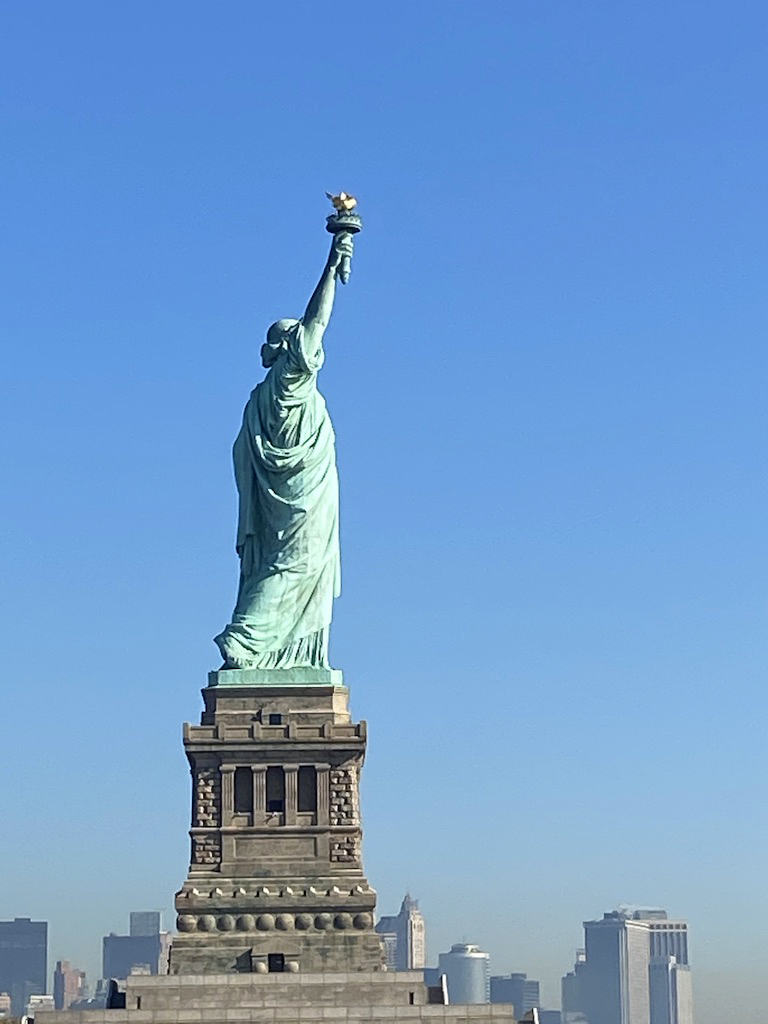 Walking around the Statue of Liberty is a humbling experience. First of all, she is large and in charge, I mean, this lady is bigger than any WNBA center (151ft. 1" vs. 7ft. 2'') and tougher than Wonder Woman (Lady Liberty is struck by lightning around 600 times a year and has never been knocked off her feet; talk about well grounded!)  
And no one puts Lady Liberty in a corner; she is the first thing that immigrants coming to America would see as they neared Ellis Island.
She's also got it going on upstairs. Those seven spikes sticking out of her crown? They represent all seven continents and the seven seas, so she is inclusive, she's got everybody's back.
Speaking of which, did you know that Alexandre-Gustave Eiffel, he of the Eiffel Tower in Paris, designed her skeleton? The highest compliment fashion doyenne Diana Vreeland could pay M. Eiffel would have been to tell him, "She has bones!"
Exploring the Statue of Liberty Museum
Did I mention Lady Liberty knows French as well as English? No lie, c'est vrai!
She was born in France and emigrated to America in 1886, sent by the French people to congratulate America on its 150th birthday (specifically, she was intended as a gesture of friendship following the American Civil War.)
When you stand in front of Lady Liberty, you'll see Emma Lazarus' timeless poem at the base on a bronze plaque, written to raise money for the construction of the Statue itself: "Give me your tired, your poor, your huddled masses yearning to breathe free…" That's Lady Liberty looking out for her homies, is what that is, and she's been on the job for 134 years!
Lady Liberty shares Bedloe's Island with a museum dedicated to her (yes, she's all that), a cafeteria and a couple of gift shops, each different from the other. If you are a souvenir savant you'll want to check them both out (good thing the cafeteria is between the two shops, so you can fortify yourself).
Finding Your Past on Ellis Island
If you want to look up an ancestor who arrived at Ellis Island you can do so at the National Museum of Immigration (digital archives include 65+ million arrivals), you will need to purchase (credit cards only) 30 minutes of computer time ($10) which gets you a private nook with four chairs around a nice monitor where you and family can look up your ancestors, which boat they came in on, the passenger manifest and other historical artifacts, as well.
There are two museum employees there who will help you figure it all out. There are also several rooms across all three floors of the museum, each with its own exhibit, and they will move you in ways only communing with distant relatives can. Ferries shuttle back and forth every hour, and the ferry (Miss Liberty) from NYC to Lady Liberty is about a 10-minute ride.
From Liberty to the Ellis Island Experience
The National Museum of Immigration is housed in one of the buildings that served myriad purposes for arriving immigrants, including quarantine quarters for those who arrived ill. The three floors are chock-full of exhibits ranging from displays of personal items of worth which the soon-to-be new Americans would sell upon arrival (family Bibles, hand-woven clothes, heirloom jewelry etc.) to professional items they had brought to start new businesses (ice cream makers, musical instruments, woodworking tools etc.)
The breath-taking, heart-breaking result you are left with is the realization that their hard and dangerous journey here was no different from that of today's refugees fleeing war, famine and ethnic animosity (think Syria, Ethiopia, Iraq, Yemen.)
There are multimedia exhibits as well, one of them dedicated to homeland hostility toward immigrants, which didn't start with our outgoing administration. The room is festooned with anti-immigrant posters, broadsides and newspaper stories ranging from post-WWI artifacts to Senator Joe McCarthy-era mementos and blacklists. It is sobering to realize that despite all the social and racial progress that's been made over the past 100 years, day-to-day life remains essentially the same for most people. It seems that history has two gears – evolution and revolution.
A Great Day Out for All Ages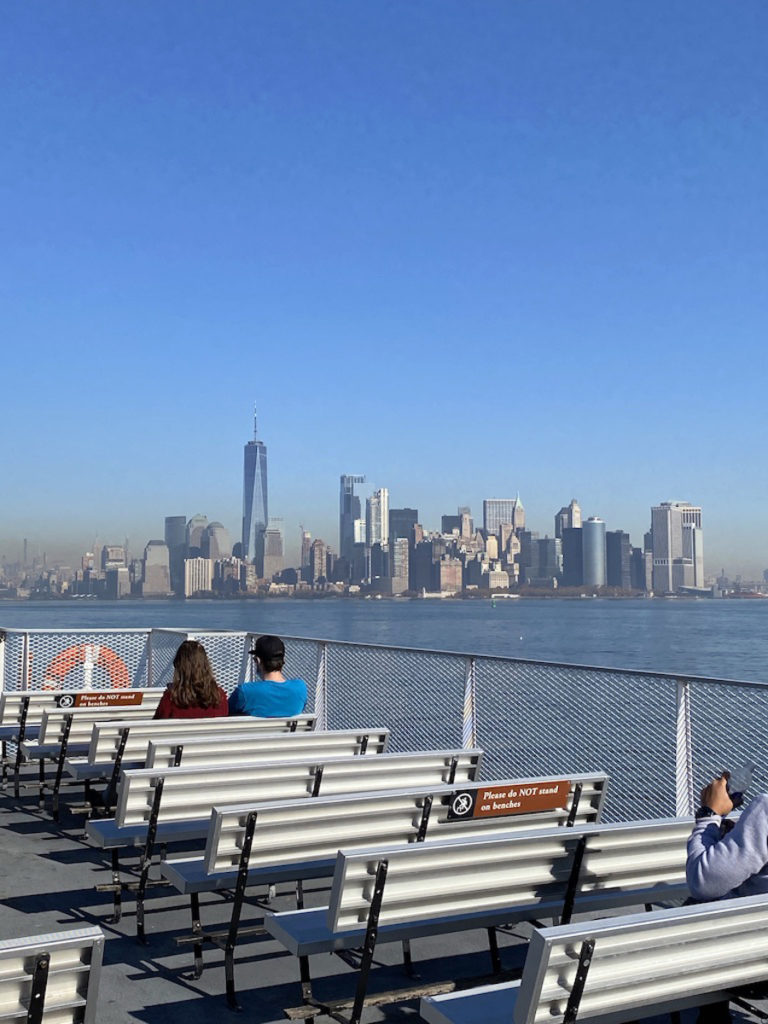 With the leaves and the Dow falling in tandem, I ended my Great Day Out on the ferry from Ellis Island back to Manhattan. My tour lasted four hours, which felt like a whole day since I had spent a beautiful day just walking and thinking about things as they are, and were, and will be in the years to come.
I felt like a new man as l took my leave of Ellis Island, keenly aware of how blessed and lucky I was, through no effort of my own, to live in America, with all its flaws and sorrows and huddled masses, yearning to be free.
Dear Reader: This page may contain affiliate links which may earn a commission if you click through and make a purchase. Our independent journalism is not influenced by any advertiser or commercial initiative unless it is clearly marked as sponsored content. As travel products change, please be sure to reconfirm all details and stay up to date with current events to ensure a safe and successful trip.
---