LaGuardia Terminal B represents the future of airports with spaces to feed the body and soul and artwork, safety features and conveniences to love.
To say future flyers will find holistic wellness in airports may be hyperbole, but the forward-looking, graceful and joyful Terminal B spoils travelers with unexpected physical and spiritual delights that every airport should emulate.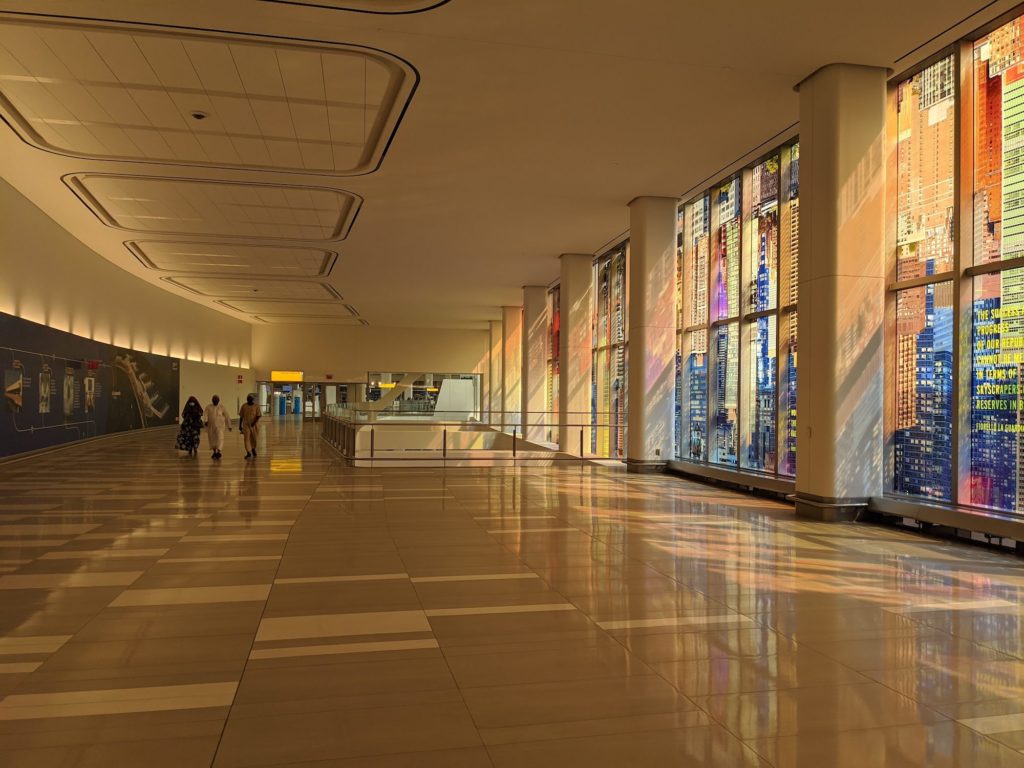 Soaring Spaces Make Families Feel Safer
Jacob Roberts, the frequent flying friend who called me to say, "You gotta' check out this new airport – it's amazing!" was right. What is more amazing is that, even pre-COVID-19, the Terminal B design team was rolling out the safe, socially distanced and hopeful air travel experience we all crave.
Families get a lot of attention at Terminal B. Colorful artwork and two pedestrian skybridges crossing 66 feet above the tarmac promise to entertain kids during endless delays. Anyone skittish about flying will especially appreciate how the exceptionally high — 60 feet — ceilings have imbued Terminal B with a Zen-like serenity.
Fliers Want Sanitized Travel Experiences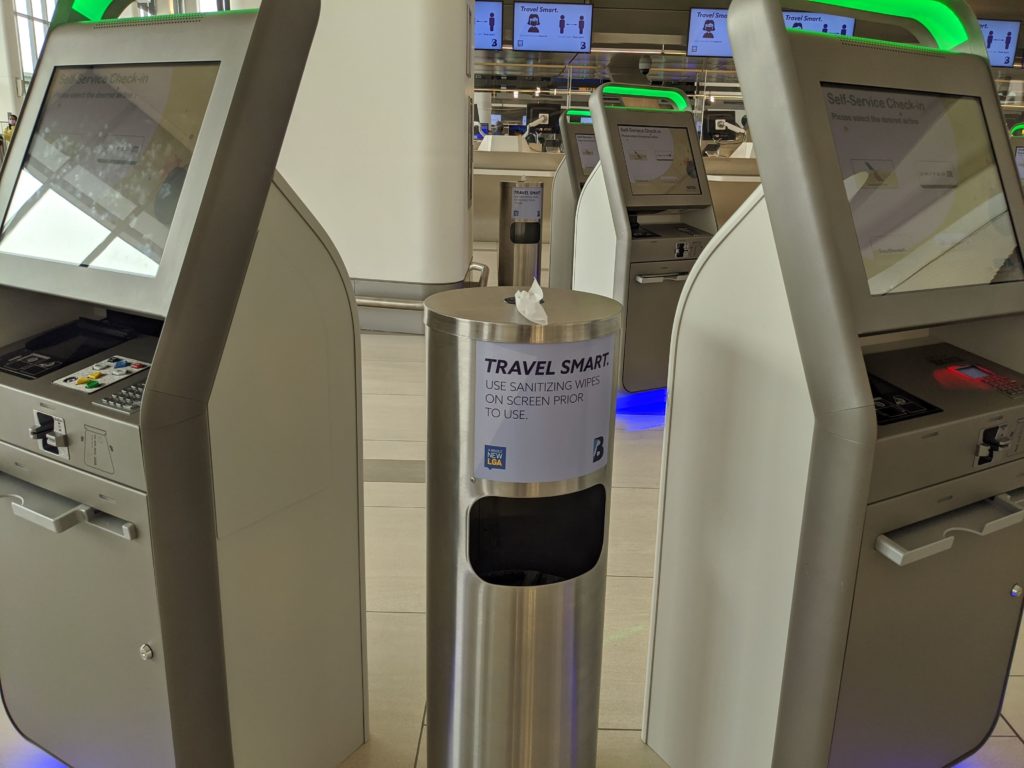 In addition to predictable, close to home destinations, a recent World Travel & Tourism Council (WTTC) report found travelers want improved health and hygiene. Terminal B delivers with demand control ventilation and a test UV light system for cleaning escalator handrails and elevator buttons. Think about those touchpads at the 105 check-in kiosks; fortunately, hand sanitizer and wipes dispensers are ubiquitous.
While many travel industry professionals cite the lack of space to permit adequate social distancing as an issue at most airports, that is not the case at LaGuardia. Light, air and personal space are the guiding design principles in the four-level, 850,000-square-foot terminal.
La Guardia Terminal B Puts New Technology to Good Use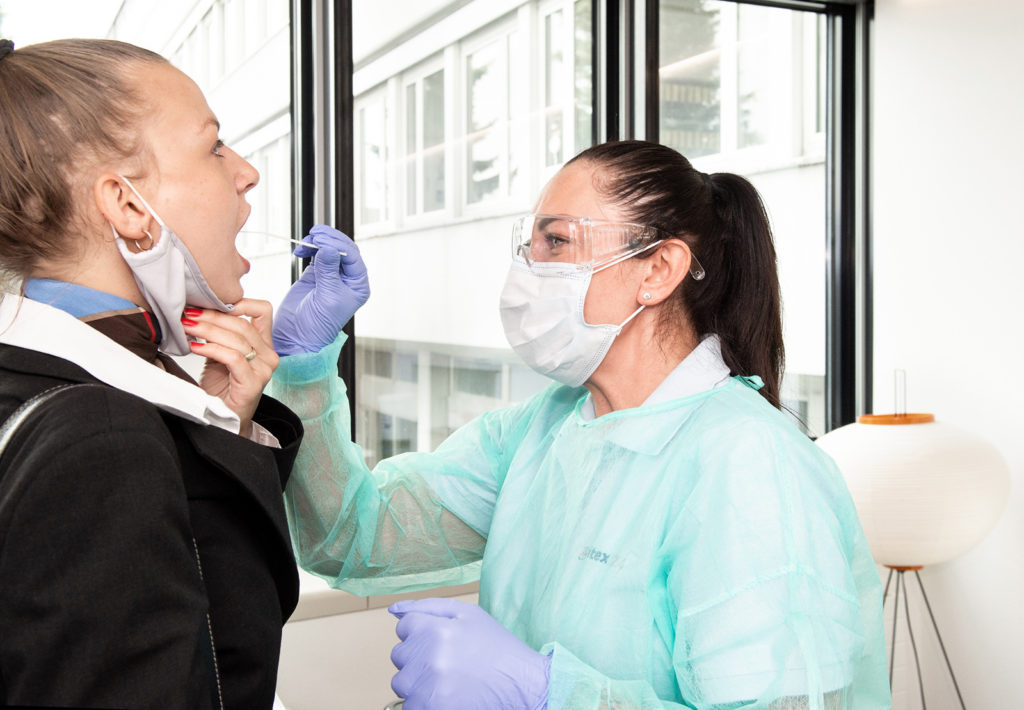 There's more to feeling safe at an airport than a temperature check and a rapid antigen test, anti-COVID-19 traveler testing tools which are being deployed to help airports and destinations identify infected travelers.
Preferences for a contactless experience are met with self-serve features ranging from printing a boarding pass to ordering at the food court. At present, Air Canada, American, Southwest and United Airlines agents are operating behind plastic shields at the 75 ticket counters. (Delta is currently renovating its own terminal.)
Unexpected grace notes like recessing luggage scales flush with the floor mean any traveler can weigh bags without other people handling them.
Security Enhanced and Made Easier at LaGuardia Terminal B
Many innovations at LaGuardia should be implemented at airports nationwide. For example, the People Counting and Tracking technology highlights where social distancing protocols are being violated and alerts staff to long wait times at TSA screening facilities.
New signage helps channel the crowds through 16 TSA lanes. A Smart Pad System and Advanced Imaging Technology improve accuracy and efficiency in passenger, carryon and checked luggage screening. New smart conveyor belts being used in the TSA test lab will soon handle bins filled by up to five passengers at a time, sequencing them as passengers go through the larger scanning portals, using artificial intelligence and robots to separate bins by perceived security risk.
A big plus for families: Level 4 has clusters of couches in a carpeted zone to recompose after clearing security. Travelers then move on to soothing boarding areas which are spaced to accommodate armchairs, a soft surface children's play area and engaging sculpture. A lively illuminated fountain begs contemplation.
Technology Eases the Family Airport Experience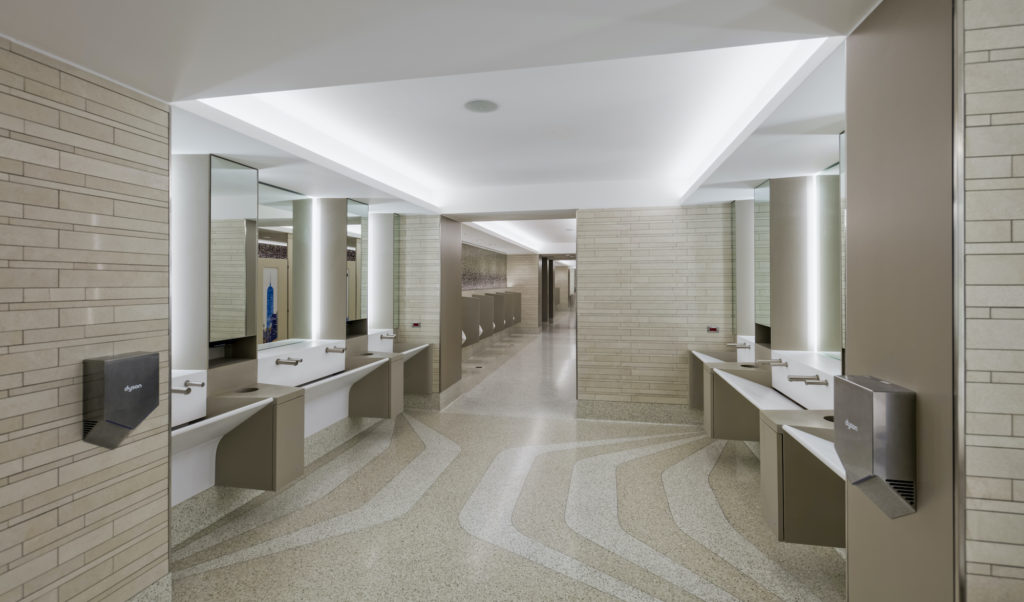 At LaGuardia Terminal B, families can forget the hassle of flying with kids. Five of the 17 large restrooms are designated for families. They're well designed with shelves above each sink to stash parcels. Expect hands-free toilets, faucets and soap dispensers that kids will want to play with while remaining germ-free.
No need to squeeze baby, siblings and luggage into a portable Mamavia nursing station, when there are dedicated rooms for nursing mothers.
And even four-legged family members have two restrooms, fun pet relief areas with fire hydrant sculptures as inspiration.
Frequent Flyers Welcome an Airport Dining Revival
When airlines stopped giving away bad food and selling better options, airport cuisine improved. Grab n' Go places like CIBO offered healthier portable meal options. Shake Shack, Wolfgang Puck, Marcus Samuelsson and others opened eateries worth the journey at major hubs.
At the New York-centric LaGuardia, look for hometown names such as Junior's Cheesecake, Eli Zabar, Dos Toros, Mulberry Street from NY Chef Marc Forgione, Brooklyn Diner, Think Coffee and more. More restaurants, shops, a food court, bar and services in the commercial and Duty-Free section will open when COVID-19 operating restrictions are eased.
Art to Uplift the Spirit and Inspire Hope in Travel's Potential
Airports know how important art can be, as seen in the new SLC terminal opening at Salt Lake City. To appreciate New York's newest masterworks of public art, just visit what Nicholas Baume, Director & Chief Curator of Public Art Fund, calls "a new civic landmark."
The most ethereal of the monumental, can't-miss-it works is "Shorter than the Day," a mirage-like mobile in the shape of a sphere. Artist Sarah Sze calls it a 'meditation on permanence and transience,' a feeling many travelers passing through the main hall will empathize with.
The delightful mosaic by Laura Owens recalls many New York moments on painted tiles:  an I Love NY T-shirt, a well-coiffed dog on a leash, famous landmarks, subway signs and street food. Many of the icons are well positioned for selfies or to engage with and study. Like old friends, they are reassuring in their own right.
Bathe in the glowing light of Sabine Hornig's "La Guardia Vistas" along the connector to the garage and ride share parking. In a stained-glass window for a cathedral consecrated to travel, the kaleidoscope of urban images is stamped with scripture from Fiorello LaGuardia, New York's mayor from 1934 to 1945. Many of his sayings are relevant today, reminding us of the welcoming beacon New York has long shone for immigrants.
At LaGuardia Terminal B, the Future of Air Travel is Bright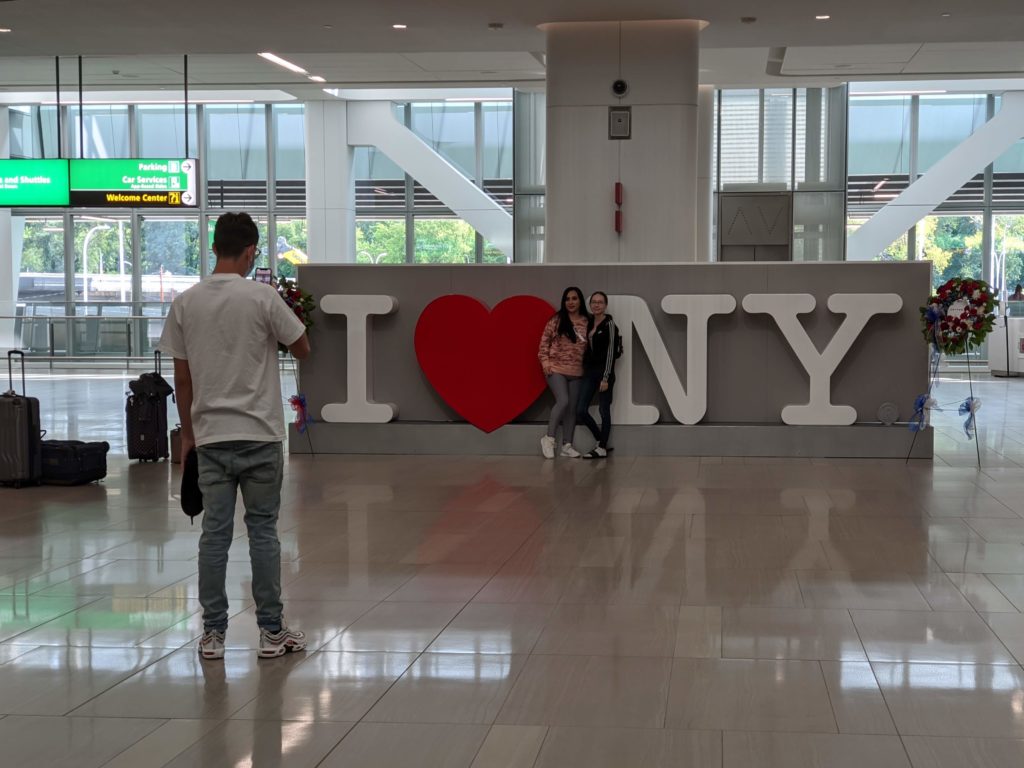 During the pandemic we have watched eco-systems thrive in under-touristed destinations. While Terminal B can't mitigate against the carbon footprint of air travel, it's being built as energy efficient as possible to achieve an LEED Gold certification upon completion. Even their new baggage handling system uses 37% less power than legacy systems to deliver checked luggage to arriving passengers.
According to the Port Authority of New York and New Jersey, LaGuardia Airport will eventually comprise 2.7 million square feet, 72 new gates across six concourses, two expansive new terminal arrivals and departures halls connected by the central hall, new AirTrain LGA service and 13.7 miles of new roadway. The landmarked Marine Air Terminal, currently used by JetBlue, will remain as is.
Developing a Lifelong Love of Travel
The Terminal B project, a public-private partnership between the Port Authority of New York and New Jersey and the private LaGuardia Gateway Partners is valued at US$5.1 billion. Given that the pandemic has curtailed business travel and dampened inbound tourism, it will be a long time before it pays off financially.
That doesn't mean this huge accomplishment shouldn't be celebrated now.
We celebrate the futuristic Terminal B because the moment an airplane taxis below a child's feet will be the moment they become a lifelong traveler.
Photographs by Ron Bozman, Media Noche, unless otherwise noted.
Dear Reader: This page may contain affiliate links which may earn a commission if you click through and make a purchase. Our independent journalism is not influenced by any advertiser or commercial initiative unless it is clearly marked as sponsored content. As travel products change, please be sure to reconfirm all details and stay up to date with current events to ensure a safe and successful trip.
---