They may study long-ago creatures some call "mythical," but paleontologists today are anything but dinosaurs. Instead, at the Jurassic Mile excavation site in Wyoming, we met dynamic and multi-talented scientists searching for a deeper understanding of our planet and its history.
The Mission Jurassic dig at Jurassic Mile is led by The Children's Museum of Indianapolis in partnership with University of Manchester, The Natural History Museum and Naturalis Biodiversity Center.
Everyone interviewed talked about how they'd been inspired to be scientists at a young age. We heard how their love of the natural world motivated these experts to pursue a career no one thought possible.
That's the message they want to share.
Paleobotanist Victoria Egerton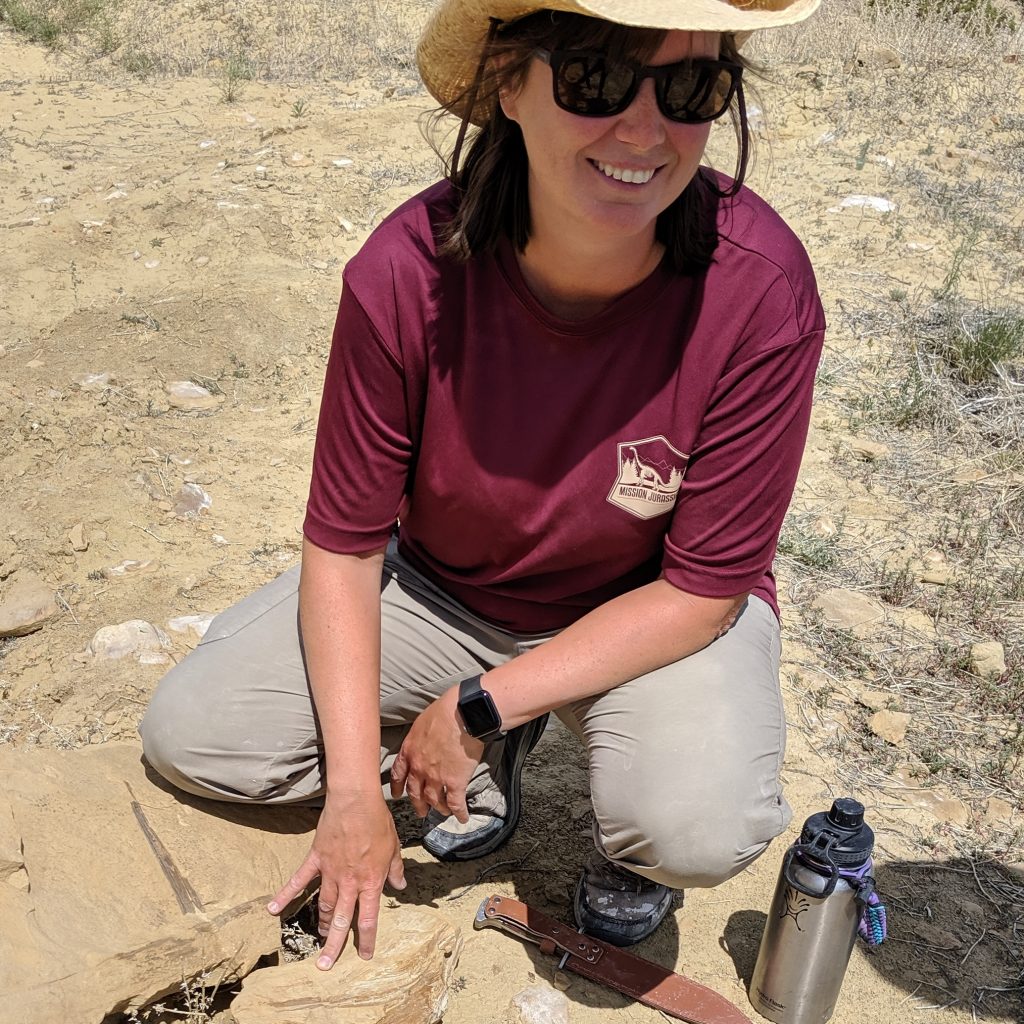 We were at the lower level or "ground floor" of the dig site when we met Dr. Victoria Egerton. She talked excitedly while showing us a tail bone — probably from a sauropod — sticking out of the mudstone. Like other found fossils, it was waiting to be encased in plaster for shipment.
The 9,000 square-foot area under study represents only a tiny fraction of the Jurassic Mile, a site rich with bones from several species as well as plants, captured in rock thought to be 150 million years old.
As a girl, Dr. Egerton became fascinated by the rocks her grandmother encouraged her to collect. Today, just 37, she teaches at England's University of Manchester where, she admits, they're more open to accepting women and LGBTQ colleagues than in the U.S.
"I know people judge me because I'm young looking and a woman," she says, "so I just go in with my head held high." Convinced that the study of dinosaurs is an ideal gateway to science, Dr. Egerton insists, "We have to tell kids you can do this."
Dr. Susie Maidment, Reluctant Princess
Prof. Paul Barrett and Dr. Susie Maidment are paleontologists from partner Museum of Natural History in London, where they work in the Department of Earth Sciences. So how did Dr. Maidment get to be what her museum describes as a "world-leading expert on armored dinosaurs"?
At age 7, little Susie wasn't sure whether she should be a princess or a scientist. Her grandfather, who knew of her interest in dinosaurs, suggested she become a dinosaur scientist and, she says, the rest is history.
She encourages young people interested in any science to work hard at school. "If you really want to become a paleontologist," Dr. Maidment said by email, "go for it."
Dr. Maidment is most excited by Mission Jurassic because she's working with her team's diverse experts such paleobotanists, invertebrate paleontologists, preparators and PhD students who, in turn, learned from the 17 years of experience excavating large vertebrates by The Children's Museum team.
"It's hard," she adds, recognizing all her colleagues' accomplishments, "but not impossible."
Anne Schulp, Curator at Naturalis
Professor Anne Schulp, education and outreach director at Naturalis Biodiversity Center of the Netherlands, agreed that, "Every institution needs partners, so you have a variety of interests and viewpoints to exchange, to connect and learn from each other." For him, Mission Jurassic's best discovery is articulated bones: fossils preserved in their original order and location at the animal's time of death.
Prof. Schulp acknowledges that finding fossils when hiking with his parents ignited his fascination with paleontology. He tells students today to study geology, biology and also learn some statistics, mathematics, chemistry and physics in their quest to become paleontologists.
Dr. Phil is into Paleontology and Imaging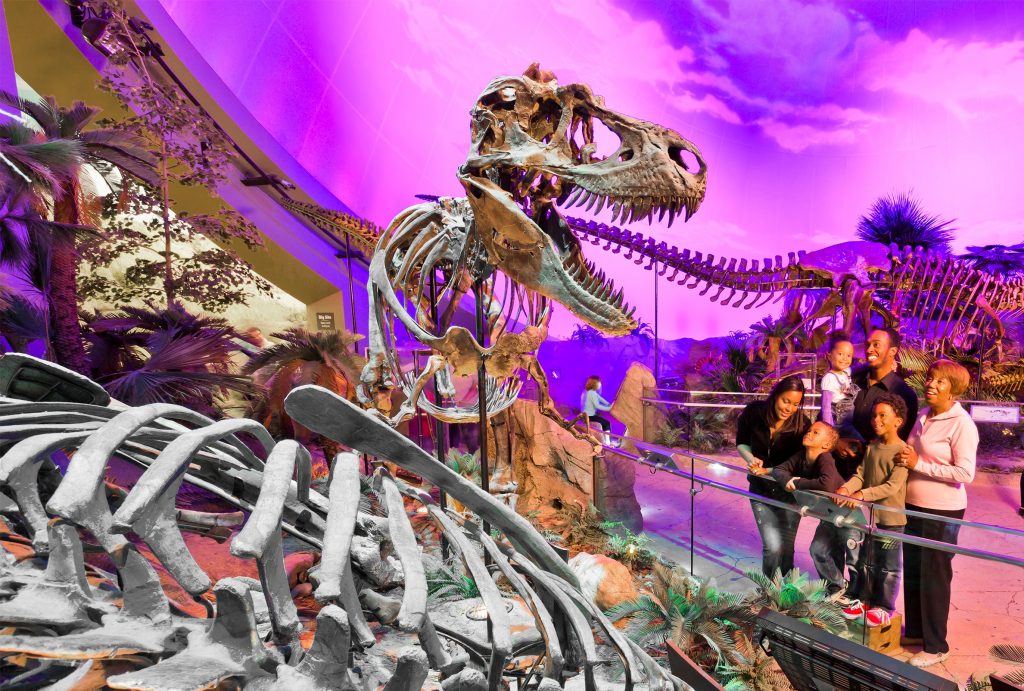 Prof. Phil Manning talked to us about his first visit five years earlier to the secret Morrison Formation site that would become the Jurassic Mile. He'd been lured to this part of the remote Big Horn Basin a few hours from Cody by treasure hunters trying to sell an Allosaurus skeleton.
Today a project lead, Prof. Manning explained that the youngest Jurassic period fossils were on the highest point of this private ranch, with older ones layered into the hills and still older ones, on the valley floor known as the Sundance Formation, thought to be a river bed dating back 165 million years.
The Children's Museum of Indianapolis, where Dr. Egerton and Prof. Manning are Scientists-in-Residence, began a $28 million project to excavate the site themselves in 2017. Having purchased a 20-year lease on the property, they invited other educational institutions to contribute their expertise, possibly uncover new species and excavate bones that could be exhibited at the museum and lent to partner institutions.
Prof. Manning was the first child in his family to go to university, driven to know more about a dinosaur skeleton he'd seen at London's Museum of Natural History. He lights up when he talks about fossilized dinosaur footprints — trackways — that have been uncovered and taken to partner Stanford University for synchrotron-based imaging. "Like the grooves in a record make music," he explains, "trackways reveal the characteristics, stride and biomechanics of the Sauropods."
Now head of the Natural History department at the University of Manchester, he imagines new museum displays where visitors will be able to walk in the actual footsteps of dinosaurs and understand the very different world of 150 million years ago, hoping the experience will spark the passion of a future Stephen Hawking or Albert Einstein.
Jessica Taylor Preps the Bones
"My father taught me to respect the ground I walk on," says Jessica Taylor, explaining how she became head preparator at The Children's Museum's Dinosphere gallery.
As a preparator, she works under a layer of plaster dust to make sure excavated fossils are mapped and recorded on site, then prepares "field jackets" of plaster to secure fragile bones for the journey to Indiana.
Ms. Taylor will happily return in September to her post at the window of Dinosphere's Paleo Lab, where museum-goers often ask if she's a real scientist.
"It's so important for young girls to see someone like them through the window."
Where Dinosaurs will Inspire Your Kids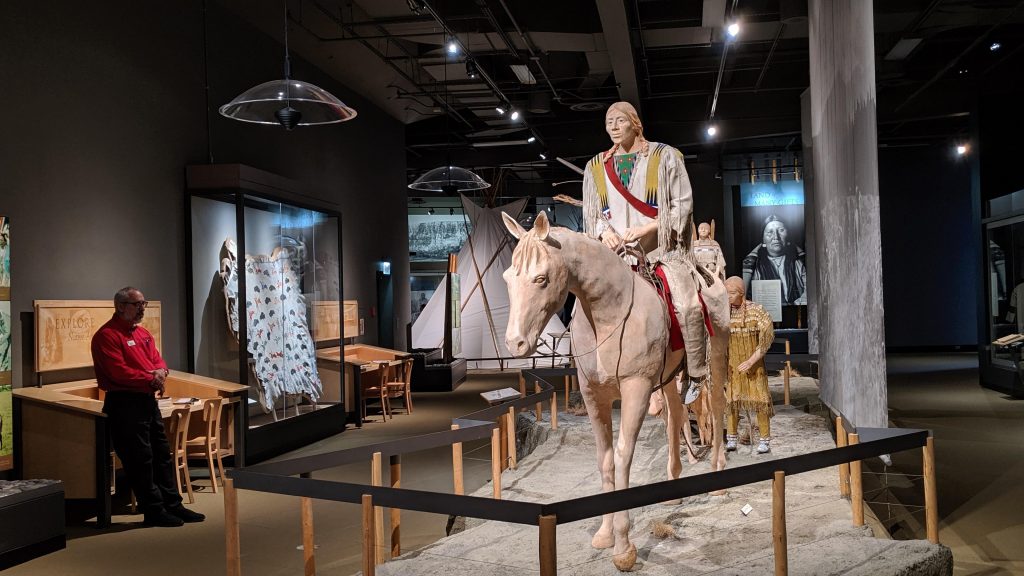 In upcoming dig seasons, The Children's Museum of Indianapolis anticipates running one or two, three-day family tours to Cody, Wyoming in June. The program includes meeting the museum's Scientists-in-Residence, Dr. Egerton and Prof. Manning, who talk about the specific dinosaurs they are investigating and give families an opportunity to get a closer look at a fossilized bone.
There are guided excursions to other nearby digs, a petroglyph site and time at the Cody's Buffalo Bill Center of the West, which features a rich, multimedia collection of Buffalo Bill Cody memorabilia, Western art, guns and a fascinating Native American wing.
Here are more ideas on where to see dinosaurs and inspire the future scientists in your family.
Dear Reader: This page may contain affiliate links which may earn a commission if you click through and make a purchase. Our independent journalism is not influenced by any advertiser or commercial initiative unless it is clearly marked as sponsored content. As travel products change, please be sure to reconfirm all details and stay up to date with current events to ensure a safe and successful trip.
---