Who wins when we compare the Okemo and Stowe mountain resorts in Vermont to see what they offer families and how they've changed under Vail Resorts' ownership? You do.
Overall, we found Okemo reliable and comfortably luxurious while Stowe is showier and more opulent than other New England mountain resorts. Is one better for your family? Vail wisely leaves the choice to you.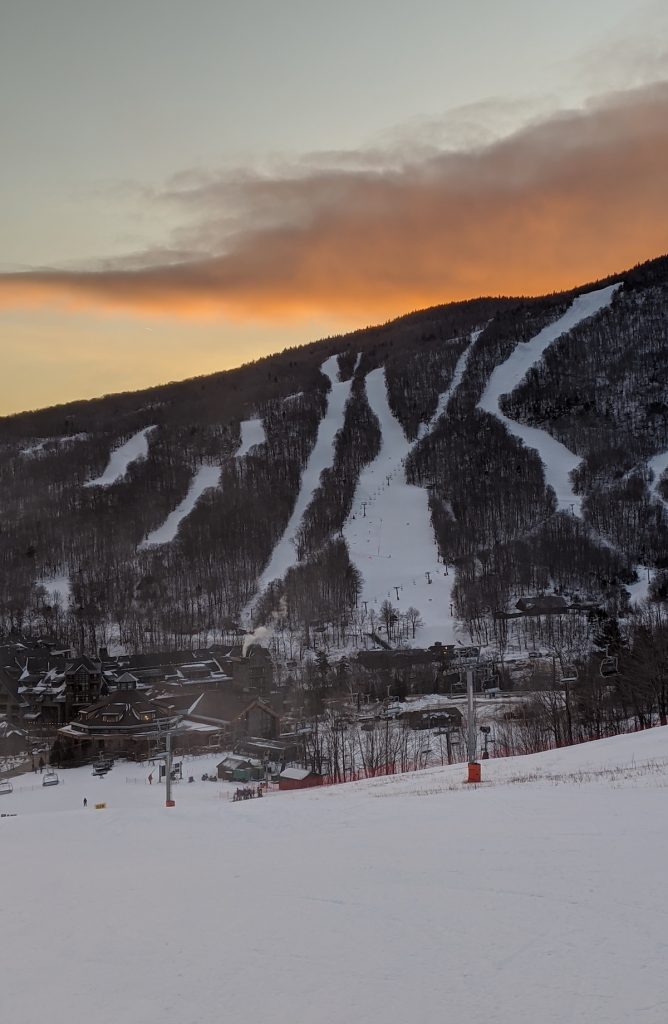 Okemo and Stowe, Indie Resorts at Heart
Stowe's vaunted reputation dates to the mid-1800s when the village's beautiful scenery, fresh air and convenient roads made it popular for summer tourism. Stowe Mountain Resort opened for snowsports in 1936 and after many ups and downs, the two peaks of Mount Mansfield and Spruce Peak were connected by gondola in 2006. That began the base village transformation into ski-in/ski-out real estate with luxury amenities. Vail Resorts arrived in 2017.
Okemo was founded in 1955 by local businessmen in the small village of Ludlow. It gained attention as a family-focused ski resort after its purchase by Dianne and Tim Mueller in 1982. They built condos on the land and in 2002, began developing a major new base with real estate and recreational facilities at Jackson Gore. Okemo was purchased by Vail in 2018.
What's the Vail Effect?
According to local sources, Vail Resorts' acquisition of Okemo and Stowe (plus Attitash and others in New Hampshire, Mount Snow in Vermont, Hunter in NY and several Pennsylvania resorts) is part of a plan to strengthen the appeal of Vail's annual passes to northeast snowsports fans. It has succeeded.
Vail, meanwhile, has brought operational efficiencies, innovative marketing, superlative customer relations and new management ideas. The company's practices have had an impact on mountain operations at both Okemo and Stowe, with rechargeable RFID-enabled lift tickets that use radio frequency identification so skiers and snowboarders can track their runs. They've worked with both ski schools to standardize teaching and terrain-based learning techniques to match all resorts.
Vail's 'nomobile' policy restricts usage of snowmobiles on ski and snowboarding trails when they're open to the public. New on-mountain Rest Area zones provide cover for weary athletes to pause and rest throbbing legs. And being part of Vail Resorts growing family of mountains has not smothered Okemo or Stowe's individuality, at least not yet.
Priceless: The Epic Pass
The cost of learning snowsports is so high that these resorts are counting on Vail's famous annual Epic Pass to encourage more skier visits and make day visits easier on the wallet. For example, the Epic Day Pass valid for up to seven days at any Vail Resort can save families up to 50% on daily lift tickets. Even buying lift tickets online seven or more days in advance can cut costs by 20%-30%.
New products for the 2020-21 season include the Northeast Value Pass, Northeast Midweek Pass and the Epic Local Pass, with special child, teen and senior pricing plus a complimentary Epic Pass for children age 4 and under who are signed-up ahead of the season. While all offer different levels of access to the top Northeast resorts, they share in Vail's new Epic Mountain Rewards program — 20% discount on food and beverage, lodging, group ski and ride school lessons, equipment rentals and more at the Company's North American owned and operated resorts.
So, what do you get at Okemo and Stowe for your money?
Okemo and Stowe by the Numbers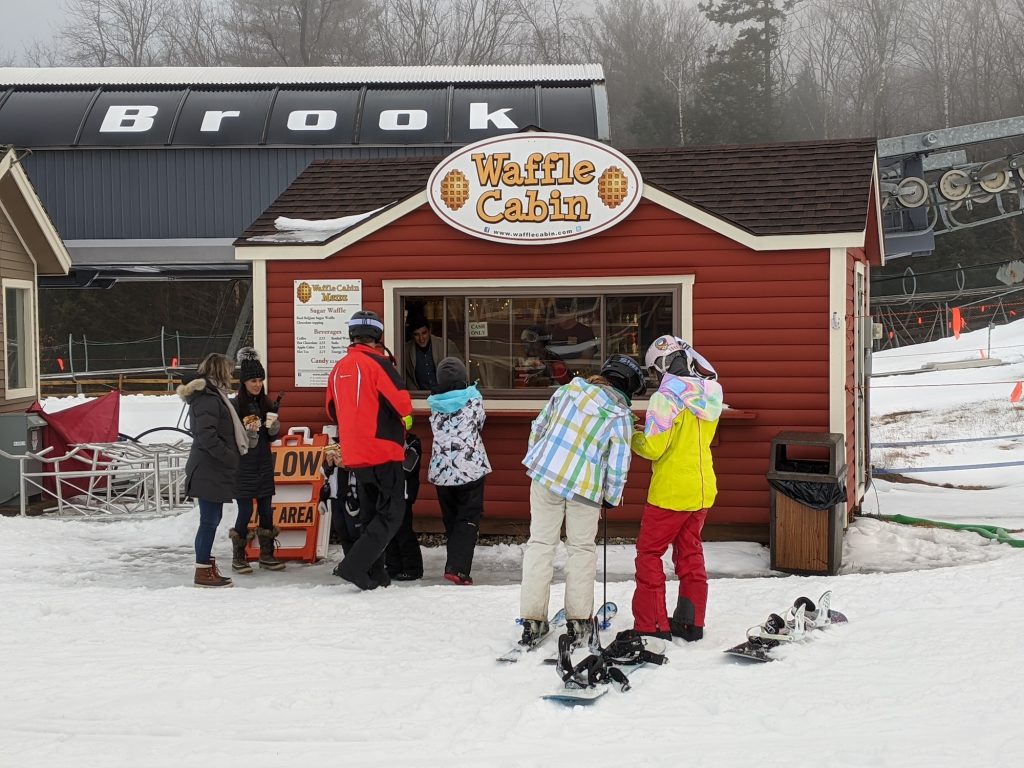 Skiers who've never been to either resort might assume from its reputation that Stowe is a much larger and steeper mountain than Okemo. That's not true. Taller, yes; Stowe's summit is at 4,395 feet and Okemo's is at 3,344 feet.
In size, however, Okemo has more of everything: Okemo has 121 trails v. Stowe with 116 trails; Okemo has 667 skiable acres v. Stowe's 485; Okemo has 20 lifts v. Stowe's dozen. These statistics pale in comparison with many of Vail's western resorts, but Vermont excels at something Vail needed to learn quickly – snowmaking.
Families traveling in the early or late season will want to know that Okemo has 98% (Stowe has 83%) terrain covered by energy efficient, state-of-the-art manmade snow machinery. Both resort teams have a lot of experience in snowmaking and expert grooming when mother nature doesn't not cooperate.
Okemo is Super Kid-Friendly and Cozy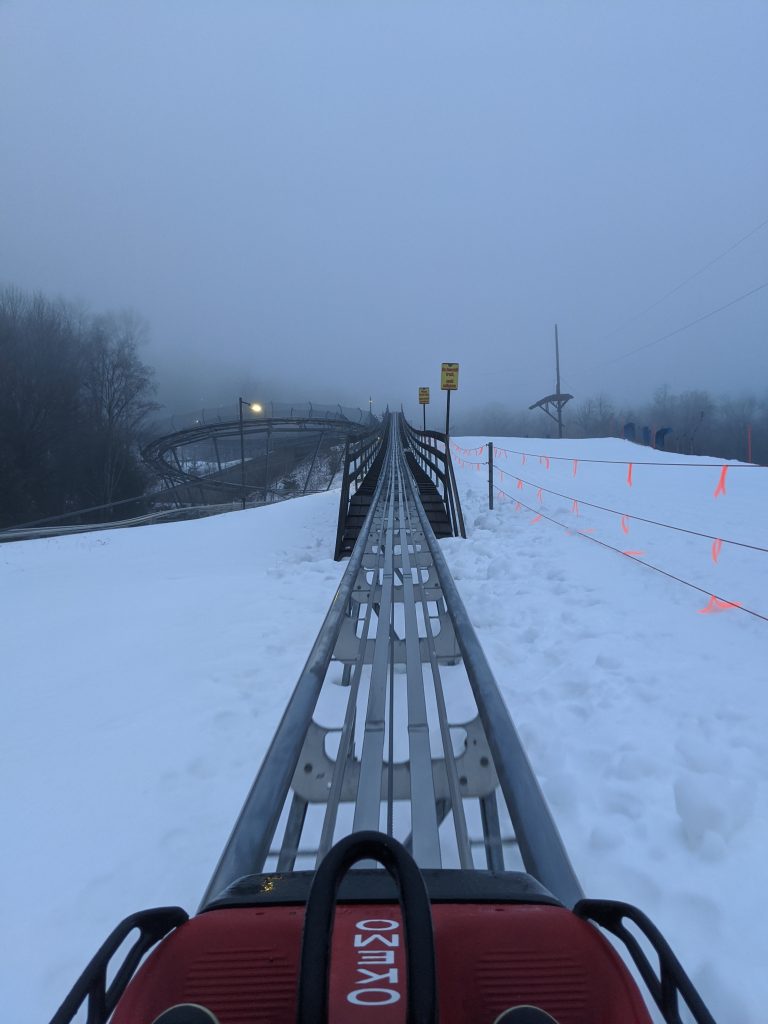 In terms of personality, Okemo is more child-centric. The Jackson Gore Lodge base is laser-focused on family with a food court, multi-bedroom units and lots of kids' activities. (The original Okemo Mountain base, long just a lodge with food outlets, a bar and lots of parking, is getting a Vail makeover for next season.)
Younger children especially thrive in a lodge that's so cozy, they can play in the lobby in pajamas while parents watch from the bar. The facilities for lift tickets, rental gear, kids ski school and lessons are attached to the lodge, making things easy.
Just outside, there's a Spring House recreation center for court sports, a gym workout and swimming. Nearby, the covered Ice House has a skating rink in winter that converts to tennis and basketball courts in summer. The thrilling alpine coaster – big adventure for younger kids who go as passengers – is nearby the lodge.
Stowe is Sophisticated and Challenging
Stowe is just fancier – Spruce Peak is a full-service base reminiscent of Vail's Beaver Creek Resort, from the spa to a torch-lit skating rink and members-only private club. It also houses the $30 million Adventure Center with daycare and learning programs for ages 3 and up, an indoor lounge, climbing wall and family restaurant. Stowe's quality facilities are on-trend with what affluent millennials want in a base village: elegant outerwear shops, a choice of fine dining and a speakeasy tucked behind an unmarked cellar door below the WhistlePig Pavilion.
Spruce Peak accommodations are oversize penthouses over the retail space, with two-story living areas, several bedrooms, lounges stocked for breakfast and tea, and mountain views everywhere. The staff is waiting to serve, to valet your car or your snowboards.
Although the base village feels too large to let young kids roam around on their own, it hosts a full schedule of festivals, events, free light shows and music that complements everything going on in Stowe village.
Okemo Welcomes Beginners
Beginners will thrive in Okemo's excellent ski school. Beginner terrain is right at the base area and separated from other runs by a chair lift that swoops more experienced skiers higher up the mountain.
Okemo's notable bubble lifts, which have heated seats and bright orange windscreens to keep snow and wind off passengers, are popular with all guests. Vail intends to move a bubble lift to serve skier traffic on the Okemo face and may (fingers crossed) replace an older lift with a new bubble enclosure.
Stowe Excites the Experts
The most telling statistic about these resorts is that nearly a third of Okemo's terrain is rated for beginners, while at Stowe it's only 16%. Mount Mansfield is famous for its Front Four, the original expert runs carved into its steep face. Beginners, intermediates and first-time visitors are funneled into the Spruce Peak base area which accesses easier terrain.
Here, too, Stowe's beginner terrain is kept separate from the other trails. Stowe's magic carpet runs through a clear tunnel to help beginners – on skis or snowboards — stay warm. And most impressive, during our visit, Stowe's groomers were making snow continuously so the green trails would stay soft.
Stowe Wins as a Real Destination
The biggest difference is that Stowe is associated with a real town, one that's so vibrant that most visitors stay there and commute by shuttle to the slopes.
The preserved 19th-century village attracts visitors year-round to its cool shops, bars and restaurants. (There's still about three times as many visitors in summer as in winter.) Stowe Mercantile rules one end of the main street, Route 100 a.k.a. Ski Highway, with its aisles of maple candy, note cards and mittens. Other Victorian storefronts house comprehensive cheese shops, woven arts, artisanal woodwork and foodie favorites like Plate.
Stop for a beer with the von Trapp Family; the descendants of the singing wonders portrayed in "The Sound of Music" have established a Vermont empire. Their legendary Trapp Family Lodge has a restaurant, small basement museum and gift shop, true, but it's more fun to grab a wood-fired pizza at the von Trapp Bierhall brewery.
We loved Flannel at Topnotch Resort, where enlightened Vermont fare (think maple wine and venison steaks) is served in front of floor-to-ceiling windows overlooking snow mounds and firepits kept lit for S'mores.
Feeding the Beast is Easy at Stowe
At Stowe Mountain, all abilities should meet for a meal at the gondola-served Cliff House, to enjoy Vermont cheese fondue, hearty charcuterie plates and burgers with spectacular views. The Solstice Chef's Table (select nights, reservations required) in the Lodge at Spruce Peak is another special experience. Adults can sit by the open kitchen for an eight-course show that might include red deer carpaccio or Australian prawns with harissa paired with an unfiltered biodynamic Vermont wine or a Zero Gravity lager. This is the friendly kind of place where older kids can sit at a table nearby and enjoy cod fritters and lobster ravioli while the grownups indulge.
And that speakeasy? LineHouse is open Thursday to Saturday nights with star mixologist Dan Hatheway tending to bespoke cocktails.
Eating Well at Okemo
Okemo has also upped its food offerings over the years, with healthier options. Picture an Impossible chili, jerk chicken sandwich and Vermont cheddar mac n'cheese served with an enviable wine list at Coleman Brook Tavern. For lunch, skiers and riders can meet at 43 Degrees North in the Solstice Lodge or try the new Robin's Roost café on the lower level of the Summit Lodge, where foodie-friendly options might include a sprinkling of pork belly and a dash of chipotle mayo.
The Bottom Line: Okemo v. Stowe
Stowe and Okemo present different and satisfying family vacation options. From this review, your family might choose to learn a snowsport at Okemo and then move up to Stowe when everyone has more skills. Many families do.
Vail Resorts, however, wants to replace that pattern with the desire to try all of their mountains.
And my family is ready to meet that challenge.
Dear Reader: This page may contain affiliate links which may earn a commission if you click through and make a purchase. Our independent journalism is not influenced by any advertiser or commercial initiative unless it is clearly marked as sponsored content. As travel products change, please be sure to reconfirm all details and stay up to date with current events to ensure a safe and successful trip.
---