Cruise vacations are noted for luxury, convenience, varied activities and distinctive ports of call.  Could a cruise be the answer to your 21st century multi-generational group's dilemma of "what should we do this year?"
Maybe as you read this, you are shaking your head in doubt: the cost, the extras, the food, and gratuities. However, when you look at the actual costs, they will be less than a stay at a top-rated resort, and you will receive five-star service. Thinking you'll just sit around, eat, read and maybe lie on the deck for some sun?  Wrong.  Totally wrong.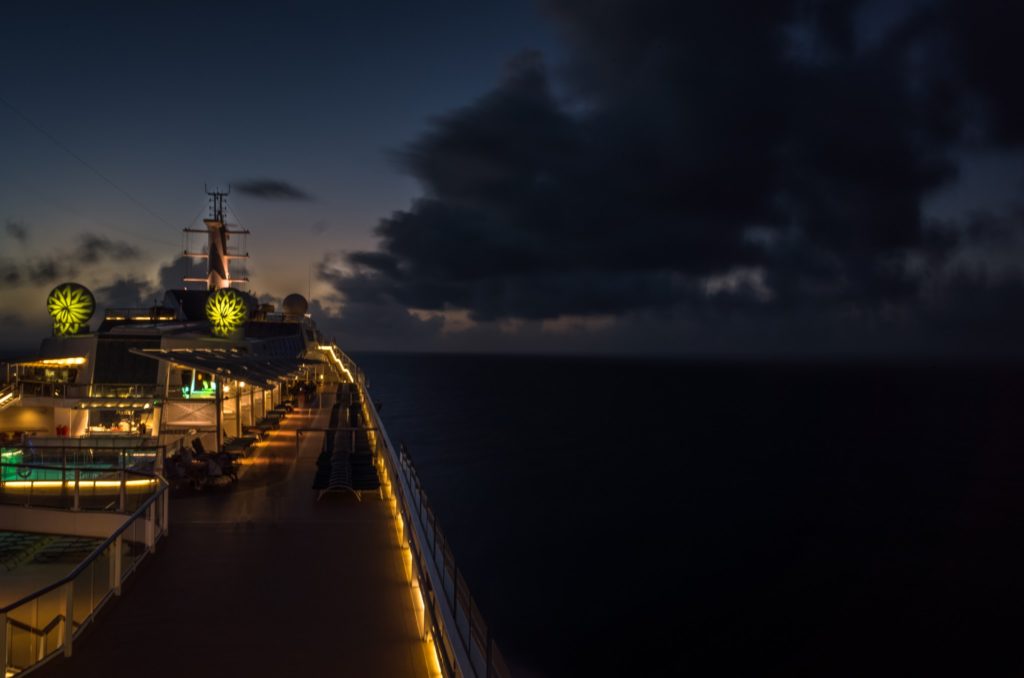 Family Travel Forum sent me, a well-traveled New Yorker, along with my friend Steve, on a week-long journey to the Eastern Caribbean on Celebrity Cruises MV Celebrity Equinox to experience first-hand what multi-generational travelers could expect on a voyage like this.
A Weeklong Cruise May Not be Enough!
Our sampling proved that a week was, indeed, too short a time for everything that you could possibly do on this cruise.  With three port stops (Puerto Rico, St. Thomas and St. Martin) and four days at sea, our cruise proved to be a great experience.
Four days at sea? What? Let us take a look at the week, and by the conclusion, you will have your answer.
My cruise companion, Steve, and I weren't new to cruising; we both were fortunate to have cruised before, although the previous journey had no port calls on its two-night sail.
Our Home Away from Home
The Equinox is notable for many reasons. We were under the command of Captain Kate McCue, one of six female captains in the cruise universe.  All onboard would listen for her daily 10am position updates along with information about the ship itself.
The Celebrity Equinox weighs almost 122,000 tons, with 14 decks available to its 2,850 passengers. Additionally, 1,250 men and women in staff handle any tasks necessary to make sure that all enjoy their time aboard. It was a formidable ship for the week-long voyage.  In current parlance, it is a "mid-size" vessel, small next to Celebrity's sister cruise line Royal Caribbean's Symphony of the Seas, with twice the number of passengers.
The ship is accessible for mobility-challenged travelers, and has earned certification with Autism on the Seas. The Fun Factory staff has undergone autism-friendly training ensuring that passengers with autism and other developmental disabilities have an enjoyable experience, and attention is paid to grouping the children by their abilities. Priority check-in, boarding and departure; pagers and phones for parents; dietary accommodations and sensory-friendly films and toys are some of the considerations available.
Dining Aboard a Ship
As on many cruise ships, there are several options at mealtime. This Celebrity ship has nine different dining venues whichoffered dietary choices including vegetarian, vegan, reduced salt and different cuisines from all over the world. From hot dogs and hamburgers to sesame-crusted ahi tuna, the food was well-prepared and the service was excellent.
Four extra-charge specialty restaurants provide an enhanced experience. Additionally, there is a restaurant aboard strictly for those passengers staying in suites, and another for those in Aqua Class, which offers more amenities for a higher fare.
Mealtime gave us the opportunity to check out all the venues. Besides the main Silhouette Dining Room and the more casual Oceanview Cafe (which serves from 6:30am to 1am), we also discovered the Mast Grill which grills hot dogs, hamburgers (vegetarian if you wanted) and trimmings from 11:30am to 6:00pm.  If you wish a light, healthy breakfast or lunch, the AquaSpa Cafe is the place to go.
A room service menu provides the answer to the question about how to get up, have breakfast and make those early shore excursions; also great when you feel hungry between meals. Most items on the room service menu are included in your fare.
If you feel like a splurge, the extra-cost specialty restaurants cover French, Asian, Italian and Japanese cuisines. Steve and I sampled the Tuscan Grille, which offered meats and pastas, and enjoyed a truly memorable dining experience.  The back of this restaurant at the stern looks out over the Atlantic Ocean, a view to create life-long memories for children and grandparents.
Family Welcoming Service for all
Neither of us were prepared for the incredible staff, a multinational team who were enthusiastic and engaged, and who succeeded in making passengers feel like welcomed guests, offering five-star service without the luxury payment.  Every passenger aboard was looked after as the staff answered all requests with a smile, cheery banter, and a can-do attitude lacking in much customer service elsewhere.
Our stateroom attendant, Bertelino, from Goa, India exuded this spirit, and totally understood the concept of service.
Accommodations for all Budgets
Staterooms run the gamut from inside cabins to luxurious suites with incredible views. Nearly 1,500 cabins in 11 main categories can accommodate two to four people. Accessible staterooms have wider doors, roll-in showers, grab bars, and special features for guests with disabilities.
We occupied a Veranda cabin with a 54-square-foot outdoor space beyond the over 190 square-feet in all. It was compact, but served all of our needs.
The beds were comfortable, and desk and sofa space gave the stateroom a spacious feeling. And, it was quiet.
Fun Aboard the Ship
Onboard activities run from trivia games to fine art auctions, gala shows in the Equinox Theatre (which is a huge well-appointed space) to intimate guitar performances in one of the quieter lounges. For all ages and interests, there is something engaging to do at most times.  And if you want to sip a cappuccino and read that latest novel, there is plenty of room to stretch out, inside or outdoors.
If you want a spa vacation, you are in luck. The Canyon Ranch aboard the Equinox is fully equipped for all of your spa needs, and will take 13- to 17-year-olds for treatment, accompanied by an adult.
Need to workout?  The Fitness Center, located conveniently near the Spa, has every machine that you can think of, with floor to ceiling windows to view the ocean as you exercise.
Especially for Kids
For the kids, the Fun Factory (for the younger set) and X Factory (for tweens and teens) is found in a unique niche with incredible views on the 15th deck. Age-appropriate spaces are open to kids from morning to night. Parents with toddlers under age 3 can mingle with other parent/toddler families. Those over 3 can enjoy supervised activities with no additional charge unless their time in the program includes a meal.
Planned kids' activities are available during non-meal hours, even on port call days, and there are slumber parties. Babysitting is also available for those who need it.
Going Ashore
Cruising is so great for multingenerational vacations because a wide range of shore excursions is available and each is noted as to how strenuous it is. For example, our first port call was San Juan, Puerto Rico where passengers can opt to take in the sights of Old San Juan and the surrounding areas which were devastated by last year's Hurricane Maria. Although there was evidence of rebuilding in many areas, Old San Juan retains its vibrant and energetic spirit. It was a great place for a first cruise stop.
Many tours on this Caribbean itinerary involve beaches and snorkeling, and we sampled the half-day excursion from the St. Thomas port call to Honeymoon Beach on St. John's. What made it a memorable trip was riding on a motorized catamaran sailboat to a point about 300 feet from the beach. There, everyone put on their snorkels and fins and jumped into the water to see the amazing aquatic life in the crystal-clear Caribbean. Children who can swim could certainly enjoy this fun-filled science lesson. Those that can't could ride on a small motorized boat and play on the beautiful sandy beach.
Another excursion taken was a 45-minute, 14-mile cruise on the fast ferry from St. Martin to St. Barthelemy, a French colony. This was the perfect trip for families with wide ranges in age. Gustavia, where the ferry arrives and leaves from, is a small community, with most businesses and restaurants at sea level, and no climbing or steps are necessary.  With many dining places available, it made for a pleasant day's outing.  There was an abandoned fort to visit, which did involve steps, and a beach close by as well.
With both booked excursions, we were met at the piers by a tour representative and there was a minimal walk at the point of tour departure. The ease of walking off the ship without tendering was an added bonus for all ages.
About those days at Sea…
According to Peter, a hospitality executive in New York who has cruised over 20 times as part of a three-generation family, at-sea days are a time for sleeping late, eating and drinking, and participating in team activities.
For Dale, a retired teacher who has gone on many cruises with her extended family, it is a time for spa treatments, reading, karaoke, and being together.  And if you are like Dale and crave some quiet time, there were many spaces created by the ship's designers for reading, quiet conversation or contemplation. Both were emphatic about how much a cruise offers in the way of diversions for all ages; both loved being with their families.
During the days at sea, other than the outdoor pool and the Oceanview Cafe, most areas of the ship did not have large amounts of people concentrated in one place, which made for a peaceful time. The number of elevators seemed sufficient for all the passengers.
Staying Busy and Fit at Sea
For activity-seeking multi-gen travelers, there is no reason to fret. On board the Equinox, from 7am until well after midnight, there is something to keep everyone busy on sea days.
For example, the day before arrival in Miami, the activity cascade began with three different fitness classes starting at 7am, hot glass blowing classes, lawn games (yes, this ship has two distinct lawn areas – walking on grass miles from any land mass is a unique feeling, for sure), Trivia, line dancing and more throughout the day and night.  The best part is that you can plan as much or as little as you wish.
For me, activity was enjoying the majesty of a ship the length of three football fields moving effortlessly (so it seemed) across the ocean at 24 mph. Watching the blue world of the sea is intoxicating, day or night.
Planning your Multigenerational Cruise
As you read this, you may be planning a multigenerational trip for next year.
Good news! In June 2019, the Celebrity Equinox will be back at sea after going to dry dock for refreshing. The staterooms and many of the suites will receive a new design, newly outfitted with RFID locks and capability for both Bluetooth and Celebrity's internet service. A new restaurant, Qsine, will add an iPad-assisted dining experience.
Celebrity Cruise Line is spending 500 million dollars on fleetwide refurbishments; this is one among their 14 cruise ships. Take at look at the Celebrity Cruises website to begin planning, and you just may find yourselves aboard Equinox or another vessel on your next vacation.
Dear Reader: This page may contain affiliate links which may earn a commission if you click through and make a purchase. Our independent journalism is not influenced by any advertiser or commercial initiative unless it is clearly marked as sponsored content. As travel products change, please be sure to reconfirm all details and stay up to date with current events to ensure a safe and successful trip.
---