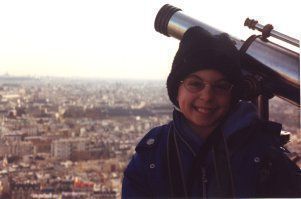 A Family Travel Forum father describes his journey to France with his 10-year-old daughter.

A three-day weekend offers many vacation possibilities. Add another day and you've got the makings of a short, off-season trip to Paris, by way of London. This was the journey I took recently with my 10-year-old daughter Morgan, a fifth grade student in Montgomery County's French Immersion program. Along with her bags, she packed a rather long list of homework assignments suited to her Gallic journey. What better way to improve her language skills than to shepherd her French-deprived father around Paris? And at a Washington-Paris round trip price of $358 for her, it proved too attractive an option to pass up.
We settled on a British Airways flight with a 10-hour layover in London. Arriving at Heathrow after a good night's sleep, we made straight (via the Paddington Express train where kids ride half price) for the Harry Potter corner at the Children's Centre bookstore just west of the Kensington High Street tube station, one of my favorite stops on frequent visits to London.
10 Hours in London
"No," a slightly crestfallen Morgan was told, "the fourth volume is not yet out, and won't be until summer." Early orders were not encouraged. I was hoping that we would have time to catch a Saturday matinee, but our flight's departure was about an hour too early for the shows of greatest interest. Be advised, it's no easier to get tickets for "The Lion King" in London than it is in New York. We headed instead for the stately British Museum. In keeping with my self-proclaimed Travelers Bible (devised as a consequence of trailing children around the world), we settled on a couple of specific exhibits in the cavernous building, along with whatever we happened to pass along the way.
I have always been enthralled by the Elgin Marbles, pieces of the Greek Parthenon on grand display. The museum was crowded on this slightly dreary February morning, but not enough to intrude on the exhibit, or the rooms full of Greek and Egyptian artifacts nearby. The Rosetta Stone too was very accessible. Morgan was more impressed with what the gift shop had on offer.
A Yankee in Paris
We arrived in France about 8pm. I pushed the hotel address into Morgan's hand and she made the necessary arrangements with the taxi driver. The ride into town brought us down an empty Champs Élysées and past the illuminated Arc de Triomphe. Our hotel sat in the shadow of the Tour Eiffel, in a little neighborhood with more inviting restaurants than could be sampled in our short stay. It was almost 10pm but we were hungry, and settled on Agnès, the name of the proprietor, cook, waitress, and dishwasher. There was only one other table occupied in the small establishment, imbued with the requisite amount of cigarette smoke, plus a small dog, evidently the restaurant mascot. Morgan took to the dog right away. Agnès and her patrons were suitably impressed by Morgan's French skills and rather appreciative of the fact that an American girl could speak French. I sat mute, smiling occasionally while the conversation swirled around me and the dog napped at my heels.
Like most visitors to the French capital, we knew more about its touristic attractions than the city in which most Parisians live. While the former are important, I tend towards the latter, walking for miles, exploring local architecture, the price of strawberries, and what department stores look like and sell. On this trip we were able to combine both elements Рexploring the Paris of today on foot and by the efficient, cheap, and extensive M̩tro underground and buses, as well as hitting some of the monuments for which Paris is famous.
The Nôtre Dame Cathedral, where Morgan paid particular attention to the extraordinary gargoyle adornments, was our first stop. On the Petit Pont nearby we spent an enchanting hour watching a trilingual juggler exhibit his artistry. Here, as elsewhere, most of the smallish crowds were French, contributing to the feeling that we were having an authentic Parisian experience. Our nighttime bateaux mouches ride down the Seine was one of Morgan's favorite experiences. These tourist boats can be hell during the crowded summer months or on a particularly hot day. But the 9pm sailing on a midweek day in February was all but empty. As the boat made its way past Musée D'Orsay, the Louvre, and a replica of the Statue of Liberty, there was a gratifyingly minimal effort by our host to tell us what was on view. Morgan knew what she wanted to see: the Tour Eiffel illuminated at night, and no one had to tell her where it was. We visited the Tower in daytime as well, taking the elevator to the second stage. I would suggest avoiding the lines and walking up. One gets a much more intimate view of the structure from the stairwell, which we decided to walk down.
Paris Museums Par Excellence
Even the French wait in line to enter Le Musée du Louvre. I had heard of an alternative entrance to the main one through the Pyramid, but couldn't find it. After a few minutes standing however, I roused myself to ask yet again. "Oh yes," said the policeman, "if you have a ticket you can enter via the Passage Richelieu." The moral of this story is to buy a multi-day museum pass ahead of time, and don't take no for an answer. The Louvre is an extraordinary place, a palace with no competitors. One could spend days exploring its treasures, among which is the building itself. But we were on a mission to see the Mona Lisa, and nothing, not Hammurabi's Code or Aphrodite, was going to divert Morgan from this objective.
We reached our goal, and with little effort Morgan was able to wriggle into the first row of the disciplined crowd of onlookers, and gaze at the famous lady …. for all of two minutes. Time to go eat. We found a wonderful café just around the corner, surrounded by Italian sculptures. Never have I sipped tea in such exalted surroundings.
At the Centre Pompidou, Morgan was content to look at the museum's exposed superstructure from afar, preferring instead to enter a nearby tourist shop with its keychains and sweatshirts.
The Best Part: Morgan
The Musée Picasso, Rodin and the Impressionists will have to wait. I was not interested in pressing visits to places that she herself was not interested in, or that her stamina wouldn't easily permit. I do not expect that this will be her, or my, last trip to Paris.
Even if it were, the best part for me was having some time alone with Morgan, while she is still young enough to want to hold my hand as we stroll along the Seine.
Author and Middle East specialist Geoffrey Aronson travels frequently with his family from their base in Washington DC. Read about their other adventures at www.familytravels.com
Dear Reader: This page may contain affiliate links which may earn a commission if you click through and make a purchase. Our independent journalism is not influenced by any advertiser or commercial initiative unless it is clearly marked as sponsored content. As travel products change, please be sure to reconfirm all details and stay up to date with current events to ensure a safe and successful trip.
---